I like the Marcy Air-1 Air Resistance Bike features durable rectangular steel tubing. This model's frame is quite sturdy and can hold up to 300 pounds in maximum user weight without fail. There is also the fact that the Marcy Air-1 Fan Bike comes with stabilizers so you can adjust the legs to be even on uneven ground.
Another thing that I like about Air-1 is that it comes with mobile handlebars. Most other exercise bikes only focus on your legs and the cardio side. However, these mobile handlebars allow the Marcy Air-1 Air Resistance Bike to give your arms and upper body a workout.
The Marcy Air-1 Air Resistance Bike comes with an oversized and extra-padded seat. This will help keep your bottom comfortable and prevent soreness while riding. Moreover, the seat is also highly adjustable to suit users of various sizes.
Although the Air-1 not an exercise bike with a full range of bells and whistles, it's perfect for home use, offering the possibility to perform a wide range of cardio exercises. It also includes a fitness monitor, showing time, distance, RPM, speed, and calories burned simultaneously.
Learn more in my complete review below!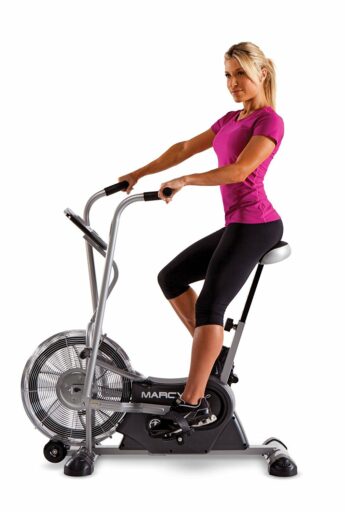 Product: Marcy Air-1 Air Resistance Bike
Price: For a great deal on this bike, merely go here on Amazon
Warranty: 2 years limited
My rating: 8.5/10
Affiliate Disclosure: As an Amazon Affiliate Program participant, I earn commissions on purchases made through links in this post. Full disclosure
Details and Specifications
Assembled dimensions: 45L x 25W x 47.5H (114L x 63.5W x 121H cm)
Assembled weight: 80.5 lbs (36.5 kg)
Supported weight: 300 lbs (136 kg)
Handlebars: Mobile
Seat: 2-way adjustable
Resistance: Air
Drive: Chain / Belt
Fitness Monitor: Time, speed, RPM, distance, calories, calendar, clock, temperature
Warranty: 2 years limited
Air-1 Frame Construction
First, the Marcy Air-1 Air Resistance bike falls into the category of upright bikes. So differently put, it's not for spin workouts. But it features a sturdy frame made of steel tubing, the only plastic parts in the frame construction being the covers of the drive elements and the end covers of the base tubes.
Speaking of the base tubes, they're both equipped with adjustable stabilizers. Thus, you don't have to place it on a rubberized mat for further stability. However, a mat is advisable, just like many other fitness equipment items.
The bike itself is not extremely heavy. It weighs only 80.5 lbs (36.5 kg) when fully assembled, which means it's approximately twice the average road bike's weight. This weight adds to its overall stability. However, its front base has a set of large silicone wheels for transport. So, handling and relocating the bike after you've finished your workout shouldn't be a problem.
This Marcy exercise bike doesn't have a folding frame. But it's far from being a large fitness machine. It's only 45″ (114 cm) long and 25″ (63.5 cm) wide and doesn't require a large usage area. Its recommended usage area is 5′ x 4′ (153 x 122 cm).
All the steel parts in the bike's construction feature a silver powder coating finish (resistant to corrosion and scratching). The only portion with a different finish is the seat post, which is chrome-coated. The PVC covers of the drive system are black, and the other covers and the console.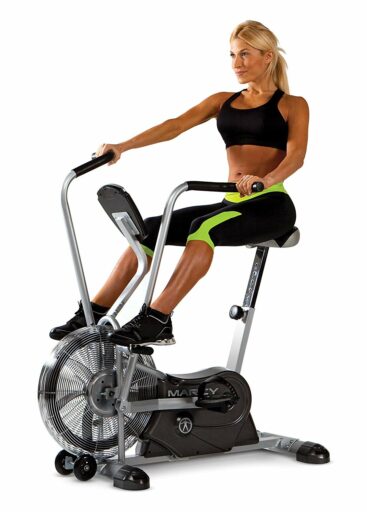 Seat
The Marcy Air 1 exercise bike has a reasonably large seat, generously padded, offering much more comfort than a slim spin bike seat. However, it attaches to its post via three bolts. Therefore, it's not exactly a standard bike seat.
However, if you would like to replace it, there should be various bike seats with universal attachment systems, which should be compatible with this exercise bike. In addition, the comfort of the included seat is improvable by adding a gel seat cover.
The seat is only two-way adjustable (up and down). It offers an adjustment span of 12″ (30.4 cm). When set up in its lowest position, it stands approx. 29″ (73.6 cm) above floor level, while at its top place, it's 41″ (104 cm) high. The distance between the adjustment holes is one 1/2″ (3.8 cm).
Therefore, the seat alone could accommodate users up to 6'5″ (195 cm). But for users taller than 6'2″ (188 cm), the handlebars' grips will be relatively low to deliver optimal comfort. So, in conclusion here, this bike is recommended for users between 5'0″ and 6'2″ (153 – 188 cm).
The seat is easily adjustable. Its adjustment is via the large knob on the frame tube, which is easy to grip, pull, and turn. However, considering the saddle is attached to its post via three bolts, its angle cannot be adjusted as most standard bike seats.
Air-1 Handlebars
Regarding handlebars, this exercise bike only has a set of two mobile ones. These are non-adjustable, and in case you're wondering, they cannot be locked; they will continue to move for as long as you pedal. They're finished with rubber foam grips to deliver optimal comfort.
The bike's mobile arms integrate foot-resting pegs in their lower section. Therefore, you can only use the bike's mobile handlebars in your workout by placing your feet onto them without pedaling.
The arms connection points to the bike's front fork and the sidebars that connect the pedals to the arms come with integrated stainless steel, sealed ball bearings to deliver a smooth motion.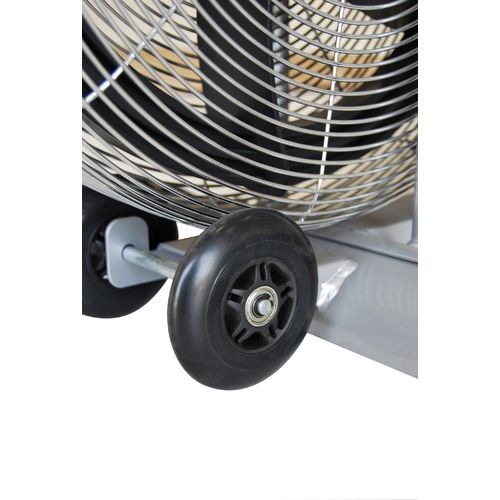 Drive
The Marcy Air 1 Air Resistance bike features a drive system that integrates a chain and a belt. It has an idler pulley that connects to the cog of the crankset via a standard bike chain. Conversely, the idler pulley connects to the bike's fan via a rubber belt, which adds a bit of tension and stability to the pedaling motion and the motion of the arms.
The bike's fan is made of a thick, durable plastic material. It's smaller than the fan of the Schwinn Airdyne AD6, and due to this fact, it generates less resistance. But on the other hand, the level of noise that it makes during a more intense workout session is also lower. You can be sure that it won't cover your TV's sound.
The Marcy Air-1 has a 3-piece, solid steel crankset, similar to the ones in road bikes. Its arms have weighted, self-leveling pedals with adjustable straps. The pedals are made of heavy-duty PVC material but have a metallic core.
Pedaling in reverse is possible, which is quite a plus as you can put a lot of diversity into your workouts by alternating normal pedaling with backpedaling. When pedaling in reverse, the console will continue to measure distance, calories, and all the other metrics.
The fan does generate an airflow that provides some cooling during more intense pedaling sessions. The fan cage is not equipped with any cover to block the airflow. However, the current flow to your feet and lower legs, not towards your face or upper body, so it shouldn't be bothersome if you don't need it.
Air-1 Resistance
Regarding resistance, this upright exercise bike doesn't feature any adjustment system. It doesn't have a resistance control knob like the magnetic spin bikes. The resistance generated is strictly related to how fast you pedal and move the bike's handlebars. Therefore, if you want more resistance, all you have to do is pedal faster.
The Marcy Air 1 fan exercise bike is a general idea for light to medium cardio workouts. It doesn't generate extreme resistance but can help you break a sweat if you engage in faster-pedaling sessions or undertake an interval training regimen.
Fitness monitor
The fitness monitor supplied with the Marcy Air-1 Air Resistance bike offers more than a simple unit. First, it has a 6-panel display, simultaneously showing time, distance, RPM, speed, and calories burned. The distance is calculated only in miles, while speed is shown only in MPH.
The monitor has a SCAN function, which is enabled by pressing its MODE button to rotate each value on the top, larger window. It doesn't have any preset workout programs, but it does offer the possibility to set up goal values for time, distance, and calories.
The monitor requires two 1.5V (AA) batteries. It's relatively easy to operate. It has only three buttons MODE, SET, and RESET. The MODE button activates the SCAN function.
The SET button allows you to set updates, clock, and various desired target values for time, distance, and calories. And finally, RESET will enable you to clear the monitor's metrics to zero. Then, when the bike is not in use, the display shows the temperature, clock, and date.
Air-1 Assembly and Maintenance
The bike's assembly is relatively straightforward. Its main body and the fan, pulley, crank, belt, chain, and other internal parts, come pre-assembled.
So, for assembly, you only have to mount the bike's body on its base bars and add the monitor mast, the seat post, the seat, the handlebars, and the fitness monitor.
Consequently, this shouldn't take more than one hour. All the tools required for the assembly come with the bike, while the manual provides clear and concise assembly instructions.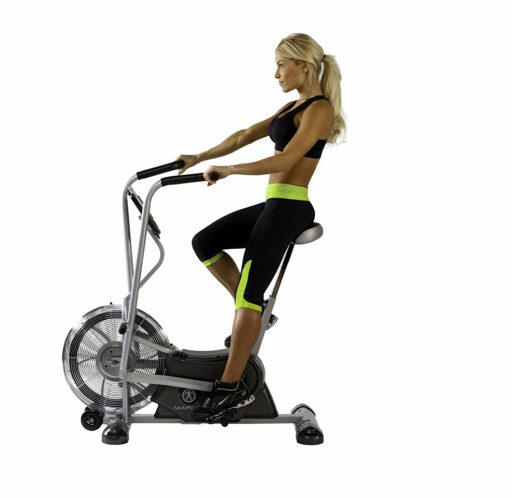 Maintenance requires the periodic lubrication of the chain. Also, a regular check for loose parts and bolts is advisable.
Pros
Sturdy frame, being able to support users up to 300 lbs;
Adjustable stabilizers with rubber caps on both base bars;
Transport wheels;
Large, ergonomic seat with an adjustment span of 12″;
Smooth air resistance for light to medium workouts;
6-panel fitness monitor display showing time, speed, distance, calories, and RPM;
Goal settings for time, distance, and calories;
Pedals with standard 9/16″ threads, easy to find replacements for them;
Little maintenance is required;
Easy to set up;
Excellent warranty.
Cons
The fitness monitor does not have a backlight;
The fitness monitor does not have a pulse reading function;
There is no tablet or bottle holder.
Marcy Air-1 Air Resistance Bike Summary
The Marcy Air-1 is an upright air-resistance bike designed for home use. It features a sturdy frame, able to support users up to 300 lbs, and it comes equipped with a large, padded seat, offering excellent comfort. It also includes a fitness monitor that can help you keep track of your progress or set up time, calories, and distance targets.
It's a bike for light to medium workouts, perfect for interval training, gaining stamina, recovery training, and weight loss. Moreover, it's one of the most affordable air resistance bikes you can find now, offering excellent value for the price.
I hope you found this article helpful and informative. Please speak up if you have anything you'd like to share on the topic or opinions about my website.? I look forward to your comments, questions, and the sharing of ideas.
Please remember that you should consult your physician to determine if you have any medical or physical conditions that could risk your health and safety or prevent you from using the equipment properly. In addition, your physician's advice is essential if you are taking medication that affects your heart rate, blood pressure, or cholesterol level.