Maintain your cardiovascular health with the Sunny SF-T7942 Foldable Walking Treadmill. Step onto the space-saving walking area (43. 3 inches by 14. 17 inches) equipped with shock absorption technology. This walking treadmill can reach speeds between 0. 5 mph and seven mph.
Grab the onboard integrated HR pulse sensors to monitor your heart rate while you exercise. Watch the fitness console LCD to keep track of your time, speed, distance, calories burned, and pulse. Use the console buttons to control start-stop operations and speed on the treadmill.
Designed for longevity, the Sunny SF-T7942 Foldable Walking Treadmill has a built-in maintenance reminder to remind you when to lubricate your treadmill. In addition, this compact treadmill can support users up to 220 lb. After your workout, fold the treadmill upright to save space. Then, use the transportation wheels to glide the cardio machine from room to room.
Learn more in my complete review below!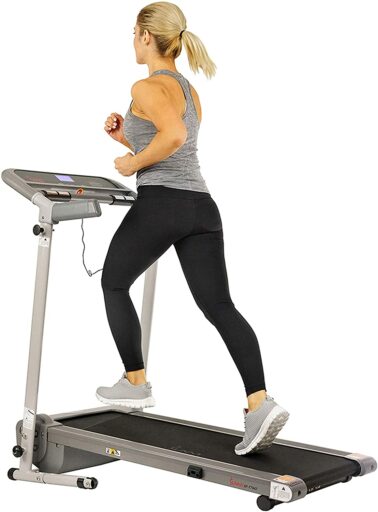 Product: Sunny SF-T7942 Foldable Walking Treadmill
Price: For a great deal on this treadmill, merely go here to Sunny Health & Fitness.com
Warranty: Frame 3 years / Parts 180 days
My rating: is 8/10
Affiliate Disclosure: As a Sunny Health & Fitness Affiliate Program participant, I earn commissions on purchases made through links in the post. Full disclosure
Details and Specifications
Assembled dimensions: 50L x 27W x 47H inches (127L x 68W x 119H cm)
Tread belt dimensions: 43L x 14W inches (109L x 35W cm)
Assembled weight: 77.2 lbs (35 kg)
Supported weight: 220 lbs (100 kg)
Motor: 1.25 HP, 0.5 – 7.0 MPH
Incline: Fixed
Console: Time, speed, distance, calories, pulse, goals
Warranty: Frame 3 years / Parts 180 days
SF-T7942 Frame Construction
The Sunny SF-T7942 Foldable Walking Treadmill features a cylindrical, oval, and rectangular tubing steel frame. All the steel parts in its construction come coated with a durable gray paint finish.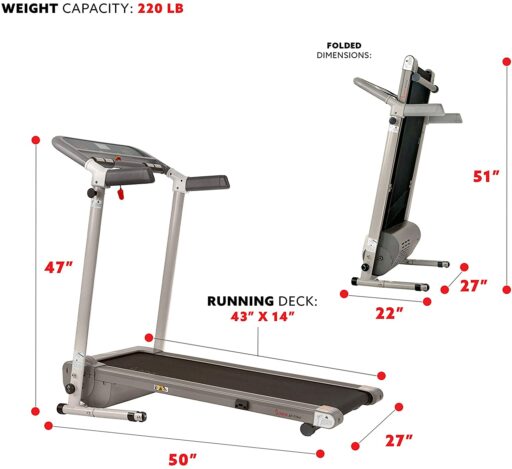 The unit also integrates several plastic parts. For example, the side rail covers, the motor cover, and the console casing are rigid thermoplastic materials.
Unlike the Sunny Health & Fitness SF-T7632, the SF-T7942 model features a set of short handrails. Also, the front bar of the machine comes equipped with HR pulse sensors.
The treadmill is relatively tiny compared with other models. With all the parts assembled, it is 50″ (127 cm) long and 27″ (68 cm) wide. So, for instance, it can fit pretty well even in a small room. However, leaving two feet of clearance on each side and at the rear of the deck is advisable for easy access and safe usage.
The unit's deck can fold up. With the deck folded, the unit's footprint is reduced to 22″L x 27″W (56 x 68 cm), while its height gains a few inches. The machine does not have a hydraulic mechanism, but the deck is pretty light, so it is not difficult to unfold. Also, the deck is secured to the left upright frame bar via a locking pin when folded up.
Last but not least, this Sunny treadmill is reasonably light. Its net weight is 77.2 lbs (35 kg). Therefore, one person can quickly move it because it also has a set of small wheels integrated into its front base.
Deck Construction
First, the Sunny SF-T7942 foldable walking treadmill does not have a manual or motorized incline system. Therefore, you cannot adjust the angle of its deck. However, it does have a fixed incline. Furthermore, its deck is not horizontal; it sits approximately 6-7 degrees. Therefore, this feature adds quite a bit of difficulty to your workouts.
Since it's a small treadmill, the Sunny SF-T7942 does not offer a super-sized running surface. Its active area is only 43″L x 14″W (109 x 35 cm). Thus, it's not the best choice for tall users or users with large feet. In addition, its deck has a maximum user weight limit of 220 lbs (100 kg).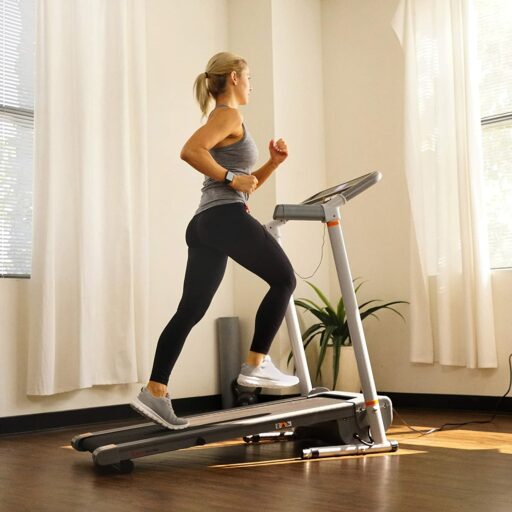 For example, the machine does not have a fancy cushioning system like the Bowflex T7. However, its deck integrates six rubber cushions (three on each side), reducing some of the shock generated during each foot strike. Therefore, a jog or walk on this treadmill is less impactful than a jog or walk on asphalt or concrete.
In addition, the deck is multi-layered, featuring a rubberized and textured top layer designed for an improved grip. The internal rollers are not too thick in diameter, but they have a crowned design that provides superior traction and increases the belt's lifespan. Furthermore, they also integrate high-grade ball bearings for a smooth belt motion.
SF-T7942 Drive motor
The Sunny SF-T7942 is an electric treadmill. It integrates a similar type of motor as the Sunny SF-T7610 model. It's a light-capacity motor offering a peak power of 1.25 HP and should be able to perform well for a lengthy walk or jog. In addition, the manual advises the user to allow it to rest for at least 10 minutes after every two hours of continual use.
The motor offers a speed range between 0.5 MPH and 7.0 MPH. The console speed adjustment Up/Down arrows are bi-functional. A short press will adjust the speed of the belt in increments of 0.1 MPH, while pressing and holding the arrow will adjust the speed in increments of 0.5 MPH. Unfortunately, there are no preset speed controls on the dashboard.
The motor itself is not too loud. However, during a walking workout, you will hear your cadence. Nevertheless, depending on your weight, running technique, and other factors, when running at full speed, the noise generated by your rhythm will become louder but not loud enough to cover the sound of your TV in a moderate volume setting.
Of course, the power consumption is also minimal since the machine doesn't have a super powerful motor. As a general idea, even if you'll be using it daily for more than one hour, your electricity bill should not increase by more than a few dollars a month.
Console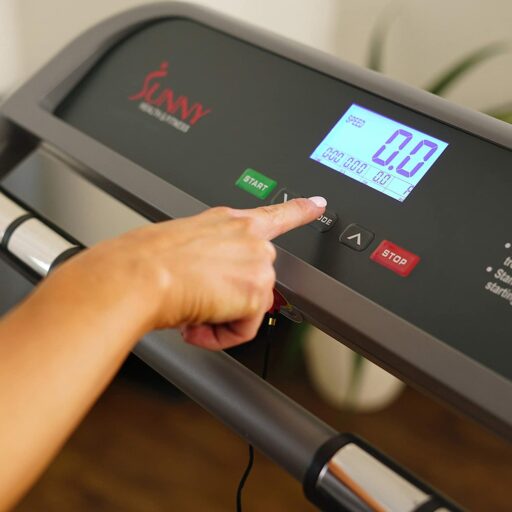 The Sunny SF-T7942 foldable walking treadmill comes equipped with a simple console. It features an LCD with a blue LED backlight that tracks time, speed, distance, calories, and pulse. In addition, these display simultaneously, which is a plus.
The speed and distance are in Imperial units (MPH and miles). Unfortunately, you cannot see them in metric units. Furthermore, the pulse reading function is hand-grip only; therefore, the console cannot read your pulse from a wireless heart rate chest strap or armband.
The console has no preset programs or Bluetooth or Wi-Fi connectivity, and you cannot sync it with your phone or any fitness apps. However, it does offer the possibility to select workout goals for time, distance, and calories burned.
The Mode button covers this function. After choosing a workout goal for any metrics, the console will count down from the selected value until it reaches zero.
The console also has a lubrication reminder function. An "Oil" icon will appear on the LCD after every 188 miles of use. However, the lubricant does not come with the machine, but any treadmill silicone lubricant should suffice.
Last but not least, the console does not have speakers or a workout fan, but the lower edge of its dashboard can serve as support for your phone or tablet. Unfortunately, a smart device has no connection ports (no AUX, no USB).
SF-T7942 Assembly and Maintenance
The unit's deck comes pre-assembled. The two upright frame bars are pre-attached to the deck, so you only need to unfold them and secure them properly. The only parts that require user assembly are the two front base bars, the console, and the top rail covers.
Therefore, it shouldn't take more than 30 minutes of your time. All the necessary tools come with the treadmill, and the manual provides step-by-step assembly instructions.
For maintenance, it is essential to keep the belt/deck lubricated. It would be best if you also cleaned the belt to prevent any textile fibers or other debris from catching in the motor or the rollers. Then, you only have to periodically check the machine for loose or broken parts and retighten them.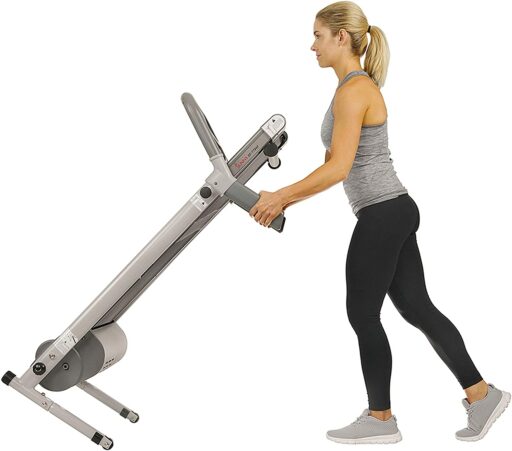 Pros
Small footprint;
Sturdy deck – can support users up to 220 lbs;
Folding design;
Transport wheels on the front base;
Cushioned deck;
Fixed incline for added walking difficulty;
Pulse sensors integrated into the front bar;
Speed increments of 0.1 MPH and 0.5 MPH;
Multi-window LCD with a backlight;
The console tracks time, distance, speed, pulse, and calories burned;
Workout target functions for time, distance, and calories;
Lubrication reminder function;
A minor assembly is required;
Little maintenance is needed;
Excellent warranty.
Cons
There are no workout programs;
The incline is non-adjustable.
Sunny SF-T7942 Foldable Walking Treadmill Summary
The Sunny Health & Fitness SF-T7942 is a light-capacity treadmill for home use. It comes equipped with a 1.25 HP motor, offers a speed range of 0.5 – 7.0 MPH, an active area of 43″L x 14″W, and a fixed incline. In addition, its console tracks the essential workout metrics and offers the possibility of selecting workout targets for time, distance, and calories.
Furthermore, it's a machine for walking or power walking and light jogging, stamina development, muscle toning, and weight loss. Moreover, it's not the most affordable treadmill in this feature range, but it offers relatively decent value for the price and comes with an excellent warranty.
I hope you found this article helpful and informative. Would you please speak up if you have anything you'd like to share on the topic or any opinions about my website? I look forward to your comments, questions, and the sharing of ideas.
Please note that you should consult your physician to determine if you have any medical or physical conditions that could risk your health and safety or prevent you from using the equipment properly. In addition, your physician's advice is essential if you are taking medication that affects your heart rate, blood pressure, or cholesterol level.