The Spirit Fitness XIC600 Indoor Cycling Bike integrates a rotary knob resistance that provides immeasurable control for your indoor cycling workout. You experience a smooth ride in using this product and feel incredibly safe. It uses premium-grade materials for extraordinary durability, and the design will attract users' eyes.
With components of similar quality to expensive outdoor bikes, you can train on the XIC600 indoor cycling bike in the comfort of your own home. A heavy-duty 48.5 lb (22 kg) precision balanced chrome plated flywheel, belt drive system, and superior cranks create a smooth, quiet, and durable design.
The seat and handlebar adjustments provide infinite settings (fore/aft/up/down) via the fast adjustment levers allowing you to precisely adjust your bike to your specific needs. Standard: wireless fitness monitor, dual water bottle holders, comfort groove racing saddle, and PVC-coated multi-grip handlebars. So start training to your full potential with your own XIC600 Indoor Cycle!
Learn more in my complete review below!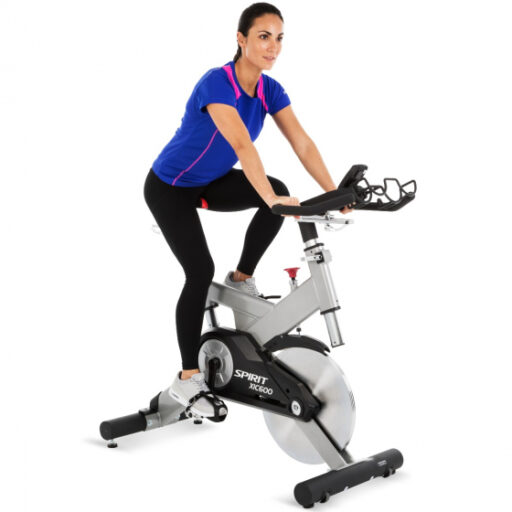 Product: Spirit Fitness XIC600 Indoor Cycling Bike
Price: For a great deal on this bike, merely go here to Amazon.com
Warranty: Frame lifetime / Parts 3 years / Labor 1 year
My rating: 9.25/10
Affiliate Disclosure: As an Amazon Affiliate Program participant, I earn commissions on purchases made through links in this post. Full disclosure
Details and Specifications
Assembled dimensions: 41L x 21W x 40.5H inches (104L x 53W x 103H cm)
Assembled weight: 141 lbs (64 kg)
Flywheel weight: 48.5 lbs (22 kg)
Supported weight: 300 lbs (136 kg)
Seat: 4-way adjustable
Drive system: Belt
Resistance: Friction, leather pad
Fitness Monitor: Time, speed, RPM, distance, calories, pulse, clock, goals
Extras: Device holders, bottle holders
Warranty: Frame lifetime / Parts 3 years / Labor 1 year
XIC600 Frame Construction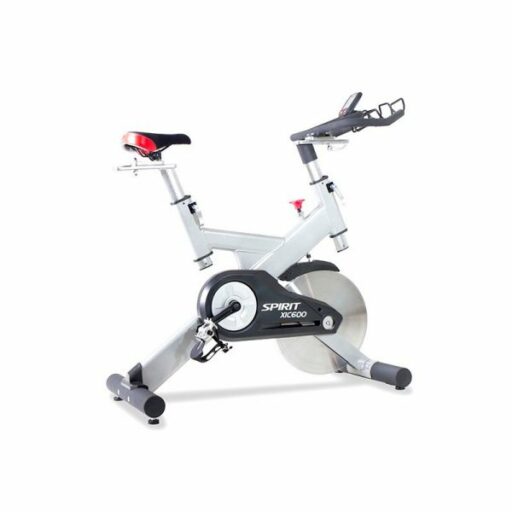 The Spirit Fitness XIC600 indoor cycling bike features a one-piece X-type steel tubing frame. It combines cylindrical, oval, and rectangular bars in its construction for improved sturdiness and aesthetics.
The mainframe section and the base stabilizers come coated with a corrosion-resistant and chip-resistant silver paint finish. The seat post, the handlebar post, and the flywheel feature a chrome finish.
The fully assembled bike is not too bulky, so it can fit pretty well even in a small room or apartment. It is approximately 41″ (104 cm) long and 21″ (53 cm) wide. It is advisable to leave at least two feet of clearance all around it for easy access and safe usage.
In terms of weight, the Spirit Fitness XIC600 is one of the heaviest indoor cycling bikes for home use available at the moment. Its net weight is 141 lbs (64 kg). Thus, two people are required to carry the packaged bike. However, once assembled, one person can quickly relocate the bike with the wheels integrated into its front stabilizer.
Due to the impressive weight and low center of gravity, the bike provides superior stability. As a result, you can be sure it won't wobble or move even if you engage in a high-intensity spin workout.
Its base bars feature adjustable levelers, so you can perfectly stabilize it on any floor. However, it is advisable to place and use this exercise bike on a rubber mat or carpet due to its weight.
Seat and handlebars
The Spirit Fitness XIC600 indoor cycling bike has an adjustable four-way (up, down, front, back) seat. Its vertical post has multiple adjustment positions, while its horizontal slider adds several extra inches of front-to-back adjustment.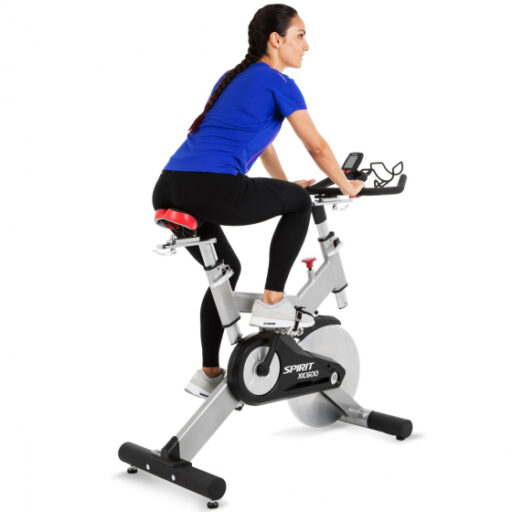 Therefore, the bike comfortability accommodates users between 5'0″ and 6'5″ (153 – 196 cm) with no problem, allowing for a complete leg extension. It also has a maximum user weight capacity of 300 lbs (136 kg).
The included saddle is slightly larger than the slim racing saddle and has extra padding. In addition, its rear part integrates approx. 2″ (5 cm) of foam cushioning provides more comfort during seated workouts than the slim seats. It also has a median cutout for improved breathability.
The saddle has a standard collar-type attachment system. Therefore, it is easy to remove, and compatible replacements are widely available. You should be able to find a saddle with a similar collar attachment system in any bike shop.
The bike comes equipped with a multi-grip handlebar. It offers the possibility to adopt a climbing grip, a close grip, and a racing grip. It also has a small loop bar in the middle that allows a tight parallel grip. In addition, a layer of PVC foam material fully covers it to provide a comfortable grip. It also integrates a dual bottle holder.
Just like the seat, the handlebar is 4-way adjustable. Its vertical post has several adjustment positions, and its horizontal slider provides a few inches of front-to-back adjustment. In addition, both the seat and the handlebar have a lever-based adjustment system. Therefore, it takes only a few seconds to adjust them to fit your size perfectly.
XIC600 Drive system
The Spirit XIC600 indoor cycling bike features one of the heaviest flywheels available. It weighs 48.5 lbs (22 kg), providing a steady and consistent pedaling motion. In addition, it's precision-balanced, having several steel alloy discs welded together.
The flywheel is bi-directional. Thus, you can pedal in reverse if you want. But like most other spin bikes, coasting is impossible on this exercise bike. When pedaling in reverse, the resistance remains constant, given by the friction generated by the bike's brake pad.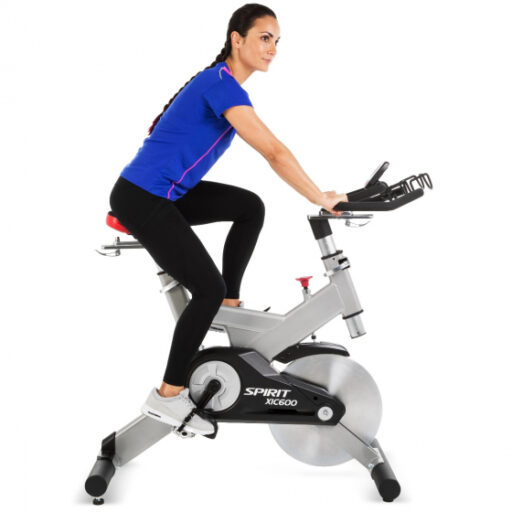 The bike's drive system uses a heavy-duty poly-v belt. There are several advantages to this type of drive system. For example, a belt does not require lubrication and generates less vibration than a chain.
The bike comes with a solid 3-piece crankset featuring long steel arms, similar to road bikes. The pedals are aluminum alloy. Furthermore, they don't have SPD clips for spin shoes but do have adjustable toe cages.
They also support users up to 300 lbs (136 kg) for any spin workout. They feature standard 9/16 threads, so compatible options are widely available if you want to replace them.
The exact pedal Q-Factor (spacing between the pedals) is not specified, but it is narrow. Thus, your feet' position is natural, without being too far apart. Therefore, you won't have to deal with extra lateral stress on the knees or ankles.
Resistance system
The Spirit Fitness XIC600 indoor cycling bike features a friction resistance system with manual action. Therefore, you don't need to connect the cycle to an external power source, and you don't need an adapter for it. But unfortunately, the bike cannot adjust the resistance automatically.
The bike's resistance system consists of a large leather brake pad connected to the tension knob through the mainframe tube. For instance, by twisting the knob clockwise, the brake pad applies more friction to the flywheel, which increases the pedaling difficulty.
The bike's brake system is stepless. It does not have pre-determined levels (or clicks). Therefore, you can tighten the pad on the flywheel to the point you can barely pedal. The knob also has an emergency brake function; you can press it down to immediately stop the flywheel from spinning.
It's important to note that the brake pad will eventually wear out and require replacement. However, this is the case with any bike with a friction resistance system. Also, to benefit from a smooth and quiet pedaling motion, it is necessary to periodically apply some lubricant (3-in-1 oil or 10W oil) on the flywheel.
XIC600 Fitness monitor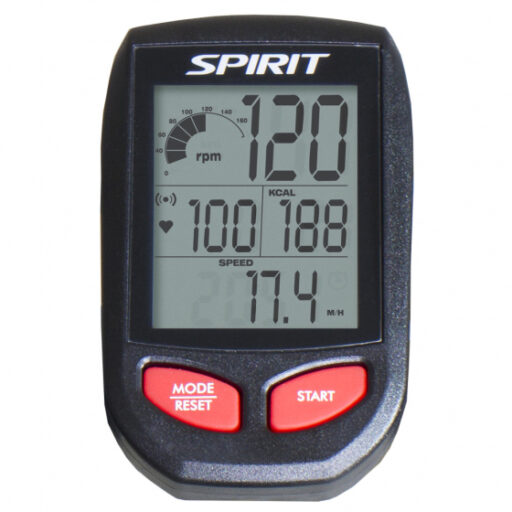 The Spirit Fitness XIC600 indoor cycling bike has a reasonably decent fitness monitor. To begin with, it features an LCD divided into four sections. The top section indicates RPM; the middle two sections show pulse and calories burned, while the lower section indicates speed, distance, time, and clock.
The speed and distance can either be set to metric or English units. Unfortunately, the pulse reading function is telemetric only. Therefore, you will have to wear a wireless HR chest strap (not included) for it to read your pulse. In addition, the handlebar does not integrate pulse sensors.
The fitness monitor is relatively easy to use. It has only two buttons Mode/Reset and Start. The Mode/Reset button allows you to change speed, distance, time, and clock on the lower display.
It also covers the unit's reset function; you can press and hold it for a few seconds to clear all the values on the monitor. Finally, the Start button initiates the workout and allows you to confirm input data.
The fitness monitor does not have pre-set workout programs but does have two goal settings for time and BPM. If you select a time goal, the monitor will count down from the specified value until it reaches zero.
You can choose a maximum BPM and a minimum BPM for the BPM set-up if you want to exercise within a specific heart rate interval. You can also input your weight and gender so that the monitor calculates your calories burned more accurately.
The fitness monitor and the included speed sensor require AAA batteries, which come with the bike. The monitor should wake up when it detects flywheel movement or when you press the mode button. It also automatically turns off after a few minutes of inactivity on the bike.
XIC600 Assembly and Maintenance
The main body of the bike comes pre-assembled, with the flywheel, resistance system, crankset, and belt already attached. You only have to add the two base bars, the handlebar, the bottle holder, the fitness console, and the pedals. Consequently, it shouldn't take more than 20 minutes of your time. The manual provides clear assembly instructions and all the necessary tools for the bike.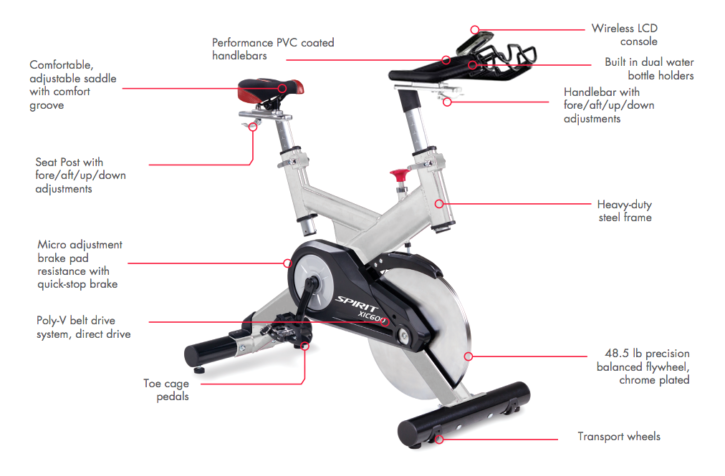 For maintenance, you should periodically lubricate the brake pad by applying 3-in-1 oil on the edge of the flywheel. It is also advisable to wipe the dust from the frame, keep liquids away from the fitness console, periodically check for loose parts and retighten as needed.
Pros
Sturdy frame, similar to light-commercial bikes;
Can support users up to 300 lbs;
Aesthetic design;
Transport wheels on the front base;
Adjustable stabilizers on both bases;
Superior micro-adjustability – 4-way adjustable seat and handlebars;
Lever-based adjustment system for both the seat and the handlebars;
Foam-padded seat with a middle groove for optimal comfort and breathability;
Multi-grip handlebar covered PVC foam for optimal comfort;
Dual bottle holder included;
Standard friction resistance;
Extra-heavy, 48.5 lbs flywheel for a consistent momentum;
Heavy-duty crank, able to support any user up to the maximum listed weight in upright pedaling position;
Durable metallic pedals with toe cages;
Smooth and quiet belt drive;
Fitness monitor included – it can track time, speed, RPM, distance, pulse, clock, and calories;
Goal settings for time and heart rate;
Easy to assemble;
Assembly tools included;
Little maintenance is required;
Excellent warranty.
Cons
The handlebars do not have integrated pulse sensors;
An HR chest strap accessory does not come with the bike;
The fitness monitor LCD does not have a backlight.
Spirit Fitness XIC600 Indoor Cycling Bike Summary
The Spirit Fitness XIC600 is an indoor cycling bike made for residential use. It will support almost any spin workout. It features a friction resistance system, a 48.5 lbs flywheel, belt drive, superior micro-adjustability, and a fitness monitor that tracks RPM, pulse, calories burned, time, speed, distance, and clock.
Moreover, it's an excellent trainer for intense cardio workouts, interval training, strength and stamina development, muscle toning, and weight loss.
I hope you found this article helpful and informative. Would you please speak up if you have anything you'd like to share on the topic or any opinions about my website? I look forward to your comments, questions, and the sharing of ideas.
Please note that you should consult your physician to determine if you have any medical or physical conditions that could risk your health and safety or prevent you from using the equipment properly. In addition, your physician's advice is essential if you are taking medication that affects your heart rate, blood pressure, or cholesterol level.