The Diamondback 510Ic Indoor Bike has received praise for its sturdy frame and quiet operation. The anti-flex steel frame is backed with a limited lifetime warranty and should remain durable even after years of aggressive use. Also, the 510Ic has a maximum user weight capacity of up to 300 pounds and will accommodate most users.
The Diamondback 510Ic features a 32 lb chrome plated flywheel, which creates a secure, quiet, vibration-free workout. Also, the Diamondback 510Ic Indoor Cycling Bike comes with 16 levels of resistance, which are computer-controlled, thereby providing consistency in your everyday exercises.
The 510Ic comes with a bright blue and white LCD fitness monitor, making it easy for any user to keep track of their workout with all the information readily available. The 510Ic provides real-time metrics, including miles traveled, heart rate level, calories burned, time, and speed. In addition, the monitor also has 14 built-in workout programs.
The Diamondback 510Ic is ideal for cost-conscious shoppers who want to start cycling at home. It's also suitable for beginners seeking indoor exercise on the bike. It's durable and provides enough workout variety and challenge levels to keep you motivated.
Learn more in my complete review below!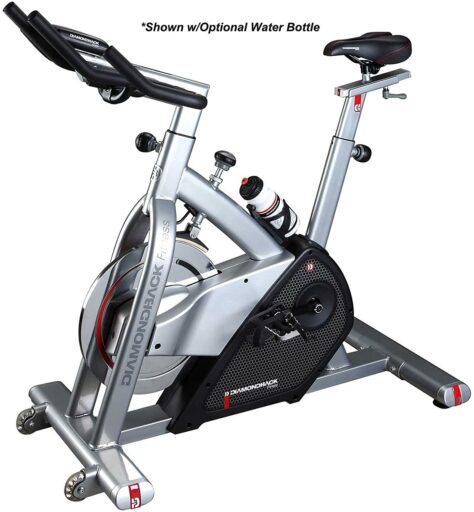 Product: Diamondback 510Ic Indoor Cycling Bike
Price: For a great deal on this bike, merely go here on Amazon
Warranty: Frame lifetime limited (5 years) / Brake lifetime limited (5 years) / Parts and electronics 3 years / Labor 1 year / Wear 90 days
My rating: is 9/10
Affiliate Disclosure: As an Amazon Affiliate Program participant, I earn commissions on purchases made through links in this post. Full disclosure
Details and Specifications
Assembled dimensions: 42L x 23W x 46H inches (106.6L x 58.5W x 117H cm)
Assembled weight: 104 lbs (47 kg)
Flywheel weight 31 lbs (14 kg)
Supported weight: 300 lbs (136 kg)
Drive: Belt
Resistance: Eddy current, 16 levels
Fitness Monitor: 14 workout programs
Extras: Bottle holder, tablet holder
Warranty: Frame lifetime limited (5 years) / Brake lifetime limited (5 years) / Parts and electronics 3 years / Labor 1 year / Wear 90 days
510Ic Frame
The Diamondback Fitness 510Ic indoor cycling bike features a high-tensile steel frame, protected by industrial-grade powder paint coating and highly resistant to corrosion. The belt, crank, and part of the base frame come covered by durable ABS guards. It's a one-piece, triangular frame with precision-welded joints for maximum sturdiness. In addition, it combines ovalized and rectangular tubes in its construction for improved aesthetics.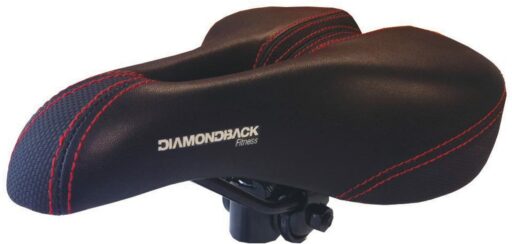 The bases of the frame feature leveling and rubber feet to ensure maximum stability even during heavy spinning sessions. Also, the front base has silicone wheels to ease the relocation and handling of the bike when fully assembled.
Overall, the bike isn't extremely bulky. It has a floor footprint of 23″W x 42″L and can fit pretty well even into a small room. However, it is pretty heavy, weighing 104 lbs (~47 kg). Therefore, two people should carry and assemble the bike. In addition, its weight is pretty significant as it adds stability.
Seat and handlebars
The Diamondback Fitness 510Ic indoor cycling bike includes a saddle designed for superior comfort. Its top features a thick layer of polyurethane for improved cushioning.
Furthermore, it has two suspension springs at the rear to adapt better to the user's movement during seated workouts. In addition, it also has a center cutout for improved breathability.
It's important to note that the saddle has a standard collar-based connection system. Therefore, compatible options are widely available if you ever need to replace them.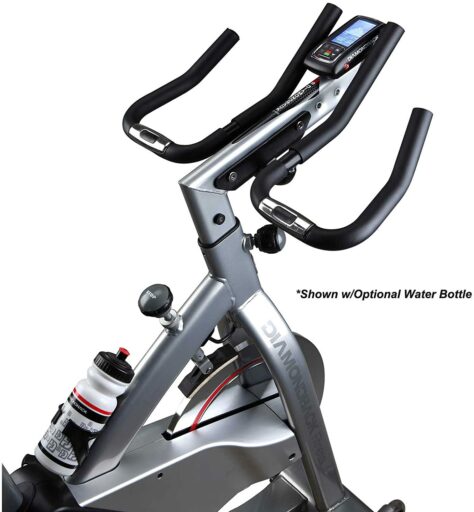 The bike's seat is adjustable (up, down, front, back). Its front-to-back slider slightly inclines to provide better positioning for taller users. The vertical post offers multiple adjustment positions. Thus, the bike can accommodate users up to 6'5 ″ (196 cm) with no problem. In addition, it has a weight capacity of 300 lbs (136 kg), which also applies to the seat.
The handlebar offers four-way adjustability, just like the seat. In addition, its vertical post offers several adjustment positions, while the front-to-back slider adds several inches of adjustment.
The handlebar features a multi-grip design. It integrates two extended side grips and two long aero bars. The lower grips come equipped with pulse sensors, and the included fitness monitor can monitor your heart rate if you hold on to them. Also, the whole handlebar assembly has a layer of rubber foam material to provide a more comfortable and secure grip.
510Ic Resistance system
The Diamondback 510Ic indoor cycling bike features a servo motor-assisted magnetic tension system. Therefore, the resistance elements do not touch, so there's no friction or wear-and-tear, while the pedaling motion is smooth and quiet. The resistance is electrical; the bike offers 16 levels of resistance, adjustable exclusively via the bike's fitness monitor.
You can use the bike without any resistance setting, without using the fitness monitor, and in this case, the resistance is pretty similar to riding a road bike on a straight road.
When setting the resistance on levels 1 thru 3, the pedaling is relatively easy, ideal for a warm-up. After that, however, pedaling is rather difficult, simulating a steep climb on the highest resistance setting.
The enclosed resistance system is within the drive system's case. The large, wool-felt brake pad visible on the outside on top of the flywheel is just the bike's emergency brake. So, please do not mistake it for the bike's primary resistance system.
This emergency brake is an important feature. For instance, the flywheel doesn't automatically stop when you want to stop pedaling, especially if you're in a lower resistance setting. If you strap your legs onto the pedals, they will follow the pedaling motion for a few more spins. In this case, you must stop the flywheel by pressing the emergency brake.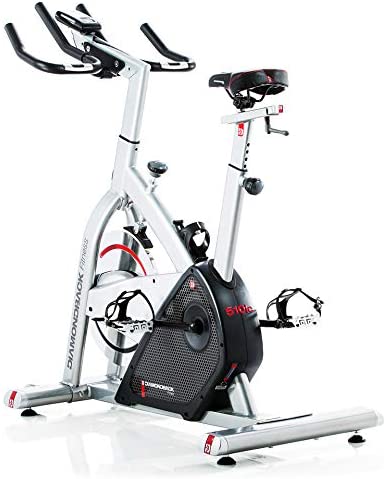 Drive system
This Diamondback Fitness 510Ic indoor cycling bike features a substantial, steel-made crank assembly. The crank arms are solid enough to support a 300 lbs (136 kg) user pedaling while standing up. Furthermore, they support any spin workout. The crank components come finished with aluminum pedals, with toe cages and straps.
The pedals do not have cleats for spin shoes, but they have standard threads. So, compatible options are widely available online or in bike shops if you want pedals with SPD clips.
Lastly, this indoor exercise bike is belt-driven, featuring a 5PK1320mm, heavy-duty rubber belt. Therefore, the bike doesn't require lubrication or maintenance regarding its drive system.
Furthermore, it features a 32 lb flywheel for consistent momentum. The flywheel is also perimeter-weighted to provide smooth motion, reducing the StairMaster feel, especially when pedaling on high resistance settings. If you're wondering, you can pedal in reverse with the same resistance as you pedal forward. However, you cannot coast on this bike.
510Ic Fitness monitor
The fitness monitor included with the Diamondback Fitness 510Ic indoor cycling bike offers quite an impressive range of features compared to the average monitor. To begin with, it has an LCD with an LED backlight for improved readability.
The LCD divides into several sub-sections to show multiple workout metrics simultaneously, so you won't have to use a scan mode to rotate them. It tracks time, speed, distance, RPM, watts, calories, and pulse. The speed and distance are in English units (MPH and miles); metric units have no set.
Unfortunately, the fitness monitor is not telemetric and does not have Bluetooth connectivity. Therefore, it cannot communicate with wireless HR chest belts or armbands. So, you will have to hold on to the sensors integrated into the handlebar for pulse reading.
Since the bike is motorized, the resistance is only adjustable from the fitness monitor using the Up/Down arrow keys. Also, the console does not require batteries. The bike comes with an adapter, and the monitor only draws power from the source when connected. The adapter connector is at the rear of the bike. And if you're wondering, its specs are 9V DC 500mA.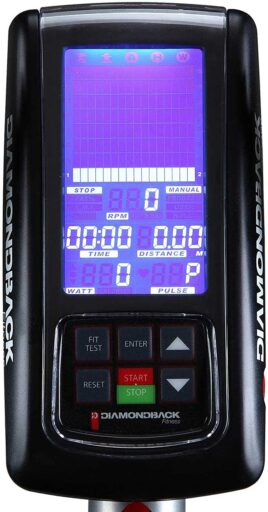 Workout programs
The fitness monitor does not have online connectivity and is not compatible with any fitness apps. However, it has its program database to keep you motivated. It offers 14 workout programs. These are 1 Manual, 8 Preset, 1 User, and 4 Heart Rate programs.
The manual program allows you to adjust the resistance as you like during your workout and select goals for time, distance, calories, and pulse. The Preset workouts offer various workout settings; the top display shows the profiles of each program when selected. During a preset program, the bike will auto-adjust the resistance.
The user program allows you to create and save your custom workout profile. And finally, the four Heart Rate programs include three preset ones for 55%, 70%, and 90% HRC, while the 4th allows you to select a custom HRC.
The monitor also makes available a Fitness Test or a Recovery function. For example, this function measures the amount of time your heart rate takes to return to normal after the workout, and it will give you a fitness rating between F1 – excellent and F6 – poor.
510Ic Assembly and Maintenance
The drive and resistance system come pre-assembled, closed within the plastic case, and attached to the frame. Therefore, the assembly requires connecting the bike's bases, seat, and handlebars along with their posts, pedals, and fitness monitor.
Consequently, the whole task should take 30-45 minutes of your time. Tools for assembly come supplied with the box and the assembly manual.
For maintenance, the bike doesn't require much. You have to keep the frame clean, wipe the workout sweat that might drop on it, re-tighten the bolts from time to time, and that's about it.
Pros
Heavy-duty construction – can support 300 lbs (136 kg);
Aesthetic design;
Transport wheels on the front base;
Adjustable stabilizers on both bases;
Ergonomic PU seat;
4-way adjustable seat and handlebars;
Silent belt drive;
31 lbs, bi-directional flywheel;
Eddy current, automatic resistance system;
16 distinct levels of resistance;
LCD fitness monitor with LED backlight;
14 workout programs;
Tablet holder included;
Bottle holder included;
Easy to assemble;
Little maintenance is required;
Outstanding warranty.
Cons
The fitness monitor does not have online connectivity;
The fitness monitor is not telemetric.
Diamondback 510Ic Indoor Cycling Bike Summary
The Diamondback 510Ic is a heavy-duty indoor cycling bike made for home use. It has an automatic magnetic resistance system that offers 16 tension levels, a reasonably heavy flywheel, a fitness monitor with multiple workout programs, and superior micro-adjustability.
In addition, it's a bike designed to support any spin bike, great for intense cardio sessions, muscle toning, interval training, and weight loss. Moreover, it's not the most affordable indoor cycle but offers excellent value for the price.
I hope you found this article helpful and informative. Would you please speak up if you have anything you'd like to share on the topic or any opinions about my website? I look forward to your comments, questions, and the sharing of ideas.
Please note that you should consult your physician before starting any exercise program to determine if you have any medical or physical conditions that could put your health and safety at risk or prevent you from using the equipment properly. In addition, your physician's advice is essential if you are taking medication that affects your heart rate, blood pressure, or cholesterol level.