Take your cardiovascular workout to the next level with the Efitment IC038 Cycling Bike. Build cardiovascular health and engage muscles throughout your body as you consistently cycle. Designed for long-lasting workout sessions, the maximum user weight capacity on the stationary bike is 275 lbs.
Magnetic resistance provides smooth and contactless tension for the IC038 indoor cycling bike. Magnetic resistance bikes require virtually no maintenance. Control workout intensity with the easily adjustable magnetic resistance knob. Enjoy a smooth and nearly quiet cycling experience with the belt-drive mechanism that engages the 28.7lb flywheel.
The Efitment IC038 Cycling Bike features an onboard digital fitness monitor that tracks your time, speed, distance, pulse, and calories burned. Grab the integrated pulse grip sensors to monitor your target heart rate while you exercise. Control your workout entertainment and watch videos when placing your phone or tablet in the device holder.
The IC038 accommodates leg inseams between 26.5 inches and 37 inches, and this bike can adjust to your height using its 4-way adjustable seat and 2-way adjustable padded handlebar. Maintain stability when you slide your feet into the universal foot cages. Use the built-in levelers to ensure optimal stability on any home surface.
Learn more in my complete review below!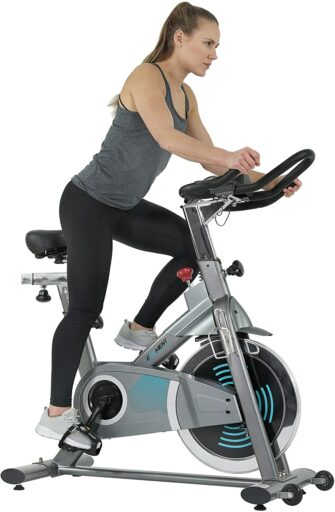 Product: Efitment IC038 Indoor Cycling Bike
Price: For a great deal on this bike, merely go here on Amazon
Warranty: 3 years
My rating: is 8/10
Affiliate Disclosure: As an Amazon Affiliate Program participant, I earn commissions on purchases made through links in this post. Full disclosure
Details and Specifications
Assembled dimensions: 46.5L x 21W x 47H inches (118L x 53W x 119H cm)
Assembled weight: 89 lbs (40.3 kg)
Flywheel weight: 28.7 lbs (13 kg)
Supported weight: 275 lbs (125 kg)
Handlebars: 2-way adjustable
Seat: 4-way adjustable
Drive mechanism: Belt
Resistance: Magnetic
Fitness Monitor: Time, speed, distance, odometer, calories, pulse
Warranty: 3 years
IC038 Frame Construction
The Efitment IC038 indoor cycling bike features a heavy-duty frame construction to support any spin workout. It has a triangular frame of ovalized and precision-welded steel tubing for improved sturdiness.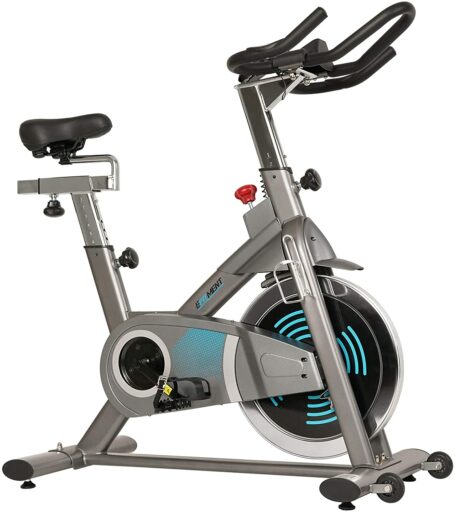 The bike's mainframe is coated with a durable paint finish, highly resistant to corrosion. The color used is metallic gray, except for the seat and handlebar posts, which are chrome-plated. Unfortunately, these are the only colors available for this exercise bike. The flywheel is also chrome-plated with side ABS covers.
Like most other spin bikes, the Efitment IC038 is not an extremely large fitness machine. With all the parts assembled, it is only 46.5″ (118 cm) long and 21″ (53 cm) wide. However, it is advisable to allow at least two feet of clearance all around it to ease access.
The bike is lighter than a commercial-grade indoor cycling trainer. However, it weighs approximately 89 lbs (40.3 kg), twice the average road bike's weight. Plus, it has a low center of gravity, providing superior stability.
The bike's base bars come equipped with adjustable levelers. So you'll be able to stabilize your bike on an uneven floor quickly. Also, the front base integrates a set of large silicone wheels, which facilitate the bike's relocation, if necessary.
One last aspect to mention here is the small horizontal bar connecting the seat tube to the main oblique tube. This bar can serve as a step-up or stretching point for specific workouts. Not all spin bikes have this feature, so it's quite a plus.
Seat
The Efitment IC038 indoor cycle has a seat designed for superior comfort. To begin with, it is a bit wider than the slim spin or race seats and integrates a thick layer of cushioning to alleviate the stress on your tailbone.
Not only that, but the rear section of the saddle also features two suspension springs, which enable it to flex and adapt to your movement during seated workouts.
The top of the saddle is contoured and has a central cutout for improved breathability. Also, the seat cover is durable, double-stitched faux leather.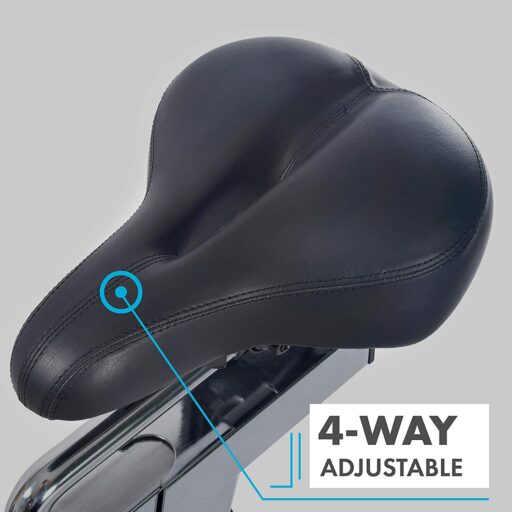 The bike's seat is four-way adjustable (up, down, front, back). In addition, its vertical post features nine adjustment positions, while its horizontal slider has five other places.
Therefore, the bike can accommodate users with an inseam between 26.5″ and 37″ (67 – 94 cm). Thus, it should fit users between 5'0″ and 6'4″ (153 – 193 cm). It also supports users up to 275 lbs (125 kg).
I have one last thing to note here about the bike's saddle regarding its connection system. The seat features a standard, collar-type attachment system. Therefore, it's easy to remove, and its replacement options are widely available.
Thus, if you will ever need or want to replace the bike's seat, you should be able to find a compatible one in just about any bike shop.
IC038 Handlebars
The bike's handlebar offers up/down adjustability instead of the seat. Its post has six adjustment positions, with approximately 1″ (2.5 cm) increments. In addition, the handlebar provides multiple grip possibilities. The sidebars allow a climbing grip, an off-road grip, and a standard grip.
The handlebar assembly also features a long, loop-type aero bar, which can also serve as a tablet holder or attach a tablet holder to it.
A layer of rubber foam material covers the entire handlebar assembly for a secure and comfortable grip. The side grips integrate metallic pulse sensors, a feature that not all spin bikes have. Furthermore, the included fitness monitor has a pulse reading function.
Resistance system
The Efitment  IC038 indoor cycling bike has a manual magnetic resistance system. It consists of a magnetic brake pad attached to the tension knob on its central bar.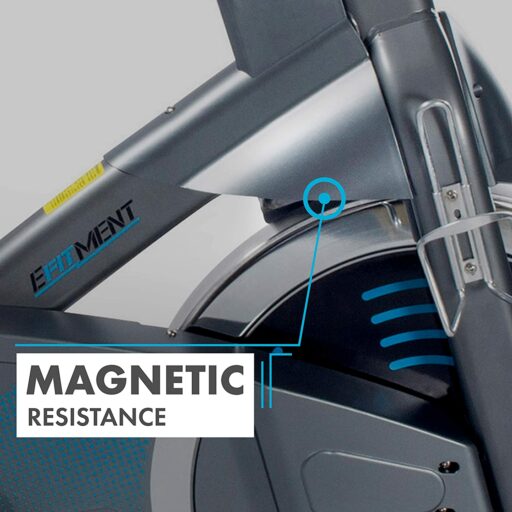 The bike is not motorized, so manually adjust the resistance. In addition, by turning the knob clockwise, the brake moves closer to the flywheel, increasing the intensity of the created magnetic field and increasing pedaling difficulty.
Like most magnetic upright bikes, the bike's brake system doesn't have pre-determined tension levels. Therefore, you turn the knob until you find the desired pedaling difficulty. The tension knob also acts as an emergency brake. If you need to stop the flywheel from spinning, you can press the knob down.
The bike has a slightly lighter flywheel than most spin bikes with friction resistance. It's still pretty heavy, though; it weighs 28.7 lbs (13 kg). It is also perimeter-weighted for enhanced inertia, essential for spin workouts.
The flywheel allows reverse pedaling. However, you cannot coast on the bike. So, when pedaling in reverse, you will benefit from the same resistance as when pedaling forwards.
IC038 Drive system
Like most other exercise bikes equipped with a magnetic resistance system, the Efitment IC038 features a belt drive system. A belt transmission comes with a few advantages. For example, it generates less vibration than a chain and promotes a smooth and quiet pedaling motion. It also doesn't require periodic lubrication.
Since it's a bike designed for spin workouts, the IC038 features a solid crankset. Its crank arms are steel-made, and the pedals are also aluminum alloy. Therefore, they can support users up to 275 lbs (125 kg) while standing up with no problem.
The pedals don't have SPD clips for spin shoes but do have adjustable toe cages. They also have standard 9/16 threads, so compatible replacements are widely available.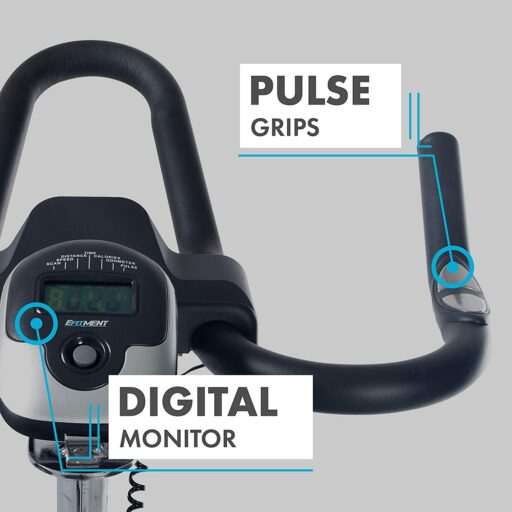 Fitness monitor
The Efitment IC038 features a modest fitness monitor. For instance, the monitor cannot adjust the bike resistance, does not have preset workout programs, and is not compatible with any online fitness apps.
It is battery-powered and uses two AAA batteries, which come included. In addition, it features an LCD that tracks time, distance, total distance, speed, calories, and pulse.
Unfortunately, the monitor is not telemetric. Therefore, it can only track your pulse if you hold on to the sensors integrated into the handlebars. It does not work with any wireless HR chest straps or armbands. Furthermore, the speed and distance are in MPH and miles. There is no option for metric units.
The fitness monitor only has one button. You can scroll through the workout metrics and select what you want to view by pressing it repeatedly. In the same way, you can choose Scan Mode.
When this function is selected, all the workout metrics display in a sequence, each appearing on display for 4 seconds. Press and hold the button for a few seconds to reset the monitor.
The monitor also has a sleep mode function. If it doesn't detect any bike activity for 4 minutes, it will automatically turn off to save the battery. It starts up when you begin pedaling or when you press the button.
IC038 Assembly and Maintenance
The main body of the bike comes pre-assembled. However, some of the parts still require user assembly. For example, you will have to attach the two base bars, the pedals, the seat post, the handlebar post, and the fitness monitor.
So, it seems that it shouldn't take more than 30 minutes of your time. The manual provides clear, step-by-step instructions and schematics. Also, an essential toolkit comes included with the bike.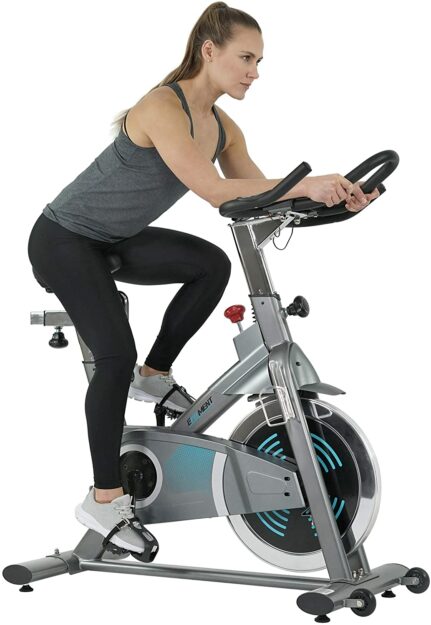 Since the bike features a magnetic resistance and belt drive system, it doesn't require transmission lubrication or brake pad replacement. Likewise, the bike's maintenance doesn't require much. You only have to clean it, periodically check for loose parts, and retighten them as needed.
Pros
Heavy-duty construction – can support users up to 275 lbs;
Appealing design;
Bases with adjustable stabilizers;
Transport wheels on the front base;
Cushioned and contoured saddle for extra comfort;
4-way adjustable seat;
Perimeter-weighted flywheel for improved inertia;
Heavy-duty crankset;
Aluminum alloy pedals with toe cages for foot stability;
Multi-grip handlebar with integrated aero bars;
Pulse sensors integrated into the side handlebar grips;
Frictionless magnetic resistance;
Fitness monitor included – it can track time, distance, total distance, speed, calories, and pulse;
Quiet operation, great for apartment use;
Bottle holder included;
Easy to assemble;
Little maintenance is required.
Cons
The fitness monitor LCD does not have a backlight;
The monitor does not have goal target settings;
The handlebar is only up/down adjustable.
Efitment IC038 Indoor Cycling Bike Summary
The Efitment IC038 is a heavy-duty indoor cycling bike perfect for home use. It features a manual magnetic resistance system, a 28.7 lbs flywheel, a high-comfort cushioned saddle, and a modest fitness monitor.
Moreover, it's an excellent bike for high-intensity cardio workouts, interval training, stamina and strength development, muscle toning, and weight loss. It's not one of the most affordable indoor cycling bikes but costs considerably less than a light-commercial model, so it offers excellent value for the price.
I hope you found this article helpful and informative. Please speak up if you have anything you'd like to share on the topic or any opinions about my website? I look forward to your comments, questions, and the sharing of ideas.
Please remember that you should consult your physician before starting any exercise program to determine if you have any medical or physical conditions that could put your health and safety at risk or prevent you from using the equipment properly. In addition, your physician's advice is essential if you are taking medication that affects your heart rate, blood pressure, or cholesterol level.