Get into shape with the top-of-the-line Sunny P8150 Indoor Cycling Bike. This premium bike offers all the necessities for an intense yet enjoyable workout in the comfort of your own home. The quality of its heavy-duty steel crank and frame will withstand time and go the distance with users of all sizes and levels.
The P8150 40 lb (18.1 kg) flywheel provides an intense and vigorous workout session. For instance, heavier flywheels maintain continuous momentum more effectively, resulting in a smooth and efficient ride. In addition, the leather brake pad allows various tension levels to suit your unique workout and fitness goals.
The Sunny P8150 indoor cycling bike features dual-sided pedals compatible with cycling shoes and will accommodate high-performance clip-in cleats and traditional fitness shoes. Avoid foot slippage at increased levels of speed and intensity! The seat is 4-way adjustable for setting up your bike for height and proximity to the handlebars.
Learn more in my complete review below!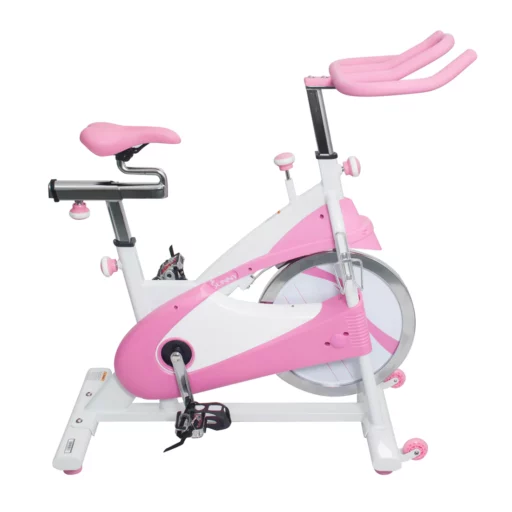 Product: Sunny P8150 Indoor Cycling Bike
Price: For a great deal on this bike, merely go here to Sunny Health & Fitness.com
Warranty: Frame 3 years / Parts 180 days
My rating: is 8/10
Affiliate Disclosure: As an Amazon Affiliate Program participant, I earn commissions on purchases made through links in this post. Full disclosure
Details and Specifications
Assembled dimensions: 47L x 20W x 47H inches (119L x 51W x 119H cm)
Assembled weight: 104.7 lbs (47.5 kg)
Flywheel weight: 40 lbs (18.1 kg)
Supported weight: 265 lbs (120 kg)
Handlebars: 2-way adjustable
Seat: 4-way adjustable
Pedals: Dual-action (SPD and toe cages)
Drive system: Belt
Resistance: Friction, leather-pad
Extras: Bottle holder
Warranty: Frame 3 years / Parts 180 days
P8150 Frame Construction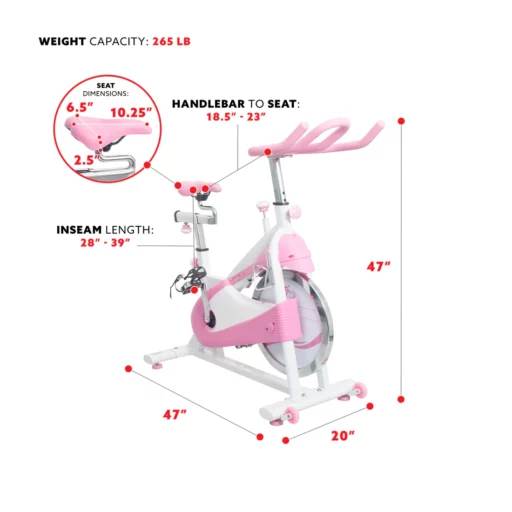 The Sunny P8150 indoor cycling bike's heavy-duty construction supports most spin workouts. Its steel tubing frame combines oval, rectangular, and cylindrical tubes in its construction. The mainframe comes double-coated with a durable white paint finish, while the seat and handlebar posts are chrome-plated.
The bike also integrates several plastic parts. The drivetrain cover, the brake cover, the heads of the adjustment knobs, and several other small parts are durable thermoplastic polymers. In addition, they have a pink & white color theme for an extra aesthetic touch. These are the only colors available for the P8150 bike.
The fully assembled bike is more extensive than other spin bikes made for home use. It is approximately 47″ (119 cm) long and 20″ (51 cm) wide. It is also advisable to allow at least two feet of clearance around the bike for easy access.
Furthermore, the bike is also pretty heavy. Its net weight is 104.7 lbs (47.5 kg). Therefore, two people should carry and assemble the bike. However, on the other hand, once completed, one person can quickly relocate the bike via the two wheels attached to its front base stabilizer. Also, both base stabilizers have adjustable levelers.
Seat and handlebars
The Sunny P8150 indoor cycling bike has a standard spin saddle. It's a rigid yet flexible nylon shell with a top cover of polyurethane or other high-density foam material. Furthermore, it has contours for improved breathability.
The saddle has a collar-type attachment system. Thus, you can easily remove it if necessary. In addition, compatible options are widely available if you ever want to replace them.
The seat assembly of the Sunny P1850 is four-way adjustable (up, down, front, back). Its vertical post has nine adjustment holes, while its front-to-back slider adds several inches of horizontal adjustment.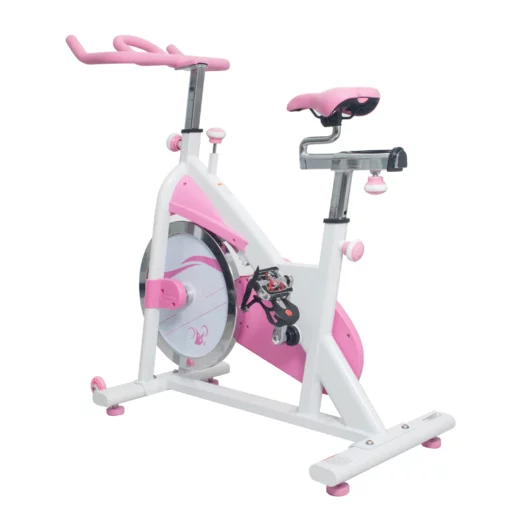 The applicable user inseam length for this exercise bike is 28″ – 39″ (71 – 99 cm). Therefore, the bike comfortably accommodates users between 5'0″ and 6'5″ (153 – 196 cm). Furthermore, it also has a maximum user weight limit of 265 lbs (120 kg).
The bike comes with a multi-grip handlebar. It offers the possibility to adopt a climbing grip, an off-road grip, a standard grip, a close parallel grip, and an aero grip. In addition, it has a layer of PVC foam, pink in color, to match the rest of the bike.
Unfortunately, it does not have pulse sensors, and the bike does not include a fitness monitor. However, a similar Sunny bike to the P8150 comes with a fitness monitor. In addition, the Sunny Health & Fitness SF-B1876 has magnetic resistance and a few other extra features.
The bike's handlebar is only two-way adjustable (up, down). Furthermore, it does not have a horizontal slider like the seat. Its maximum height is approximately 47″ (119 cm). Its vertical post offers five adjustment positions.
P8150 Resistance system
The Sunny P8150 indoor cycling bike comes equipped with a friction resistance system. It is not motorized, so you don't need a power cord or adapter. Unfortunately, the cycle does not have a console, Bluetooth, or WiFi connectivity and cannot adjust the resistance automatically.
The bike's resistance system consists of a brake assembly connected to the main tube of the frame right above the flywheel. The brake features a leather pad and links to the bike's tension knob.
Therefore, when you turn the knob clockwise, the brake pad applies more friction to the flywheel. Conversely, turning the knob to the left reduces the drag for more effortless pedaling.
The bike's tension knob has no clicks or pre-set resistance levels. Instead, tighten or untighten it until you get the pedaling difficulty you want.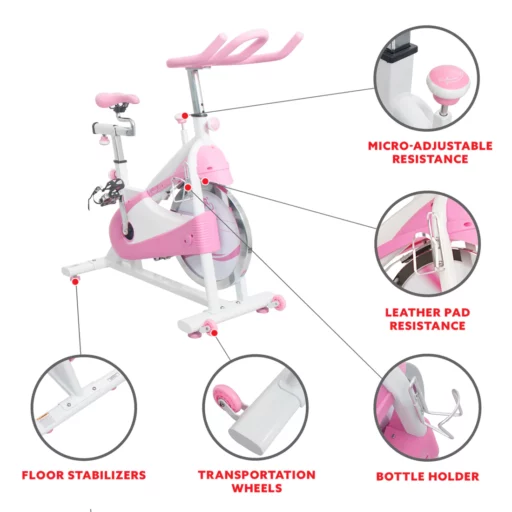 Like other friction-resistance spin bikes, the P8150 can deliver a high resistance, simulating a steep hill climb. Plus, the tension knob can act as an emergency brake. Therefore, you can press it down to immediately stop the flywheel spinning.
Like most spin bikes with a friction resistance system, the brake pad of the Sunny P8150 will wear out over time and require replacement. However, since it's a leather pad, it will take a long until it completely wears out. In addition, the pad may need a little lubrication by applying a few drops of silicone lubricant to the edge of the flywheel.
Drive system
First of all, the Sunny P8150 indoor cycling bike comes with a belt drive system. It integrates a 5PK1320 poly-v belt for improved traction and is highly resistant to stretching and abrasion. Unlike a chain drive, the belt does not require lubrication. Furthermore, it also generates less vibration than a chain during pedaling.
The bike comes with a heavy-duty crankset. It features long, flattened crank arms similar to those on road bikes. They're steel-made and chrome-coated.
Their Q-Factor (spacing between the crank arms) is pretty narrow (177 m). Therefore, your feet aren't too far apart when on the pedals, and the pedaling motion doesn't generate extra lateral stress on your knees and ankles.
The included pedals are dual-sided. They have adjustable toe cages on one side and SPD clips for spin shoes. In addition, their threads are standard 9/16, so if you ever want to replace them, you should be able to find compatible pedals in most bike shops.
The bike's flywheel is chrome-plated with ABS plastic side covers. It is pretty heavy; it weighs 40 lbs (18.1 kg), providing consistent momentum. Furthermore, it is perimeter-weighted for aggressive inertia and great for spin workouts.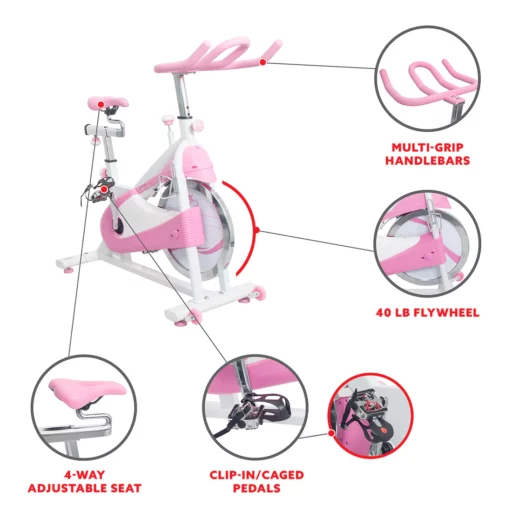 The flywheel is bi-directional to alternate forward pedaling sessions with backward pedaling sessions. However, coasting is not possible on this bike; this stands for most spin bikes, and the Sunny P8150 makes no exception. When pedaling in reverse, the resistance remains constant, given the brake pad's degree of friction to the flywheel.
P8150 Assembly and Maintenance
The bike's main body comes pre-assembled. The seat, the flywheel, the crankset, the belt, the brake, and the covers are pre-attached. You only need to add the two base stabilizers, the pedals, the handlebar, and the bottle holder.
Consequently, it shouldn't take more than 20 minutes of your time. The manual provides clear assembly instructions, and an essential toolkit comes with the bike.
For maintenance, you only need to clean the bike and wipe the sweat that may drop on the frame, especially on the chrome-plated parts. In addition, the brake pad may require lubrication from time to time. It is also advisable to periodically inspect the bike, check for loose bolts or damaged parts, and retighten or replace them.
Pros
Sturdy construction – can support users up to 265 lbs;
Elegant design;
Rubberized, adjustable levelers;
Transport wheels integrated into the front base stabilizer;
Multi-grip handlebar with aero bars;
Heavy (40 lbs) flywheel with a perimeter-weighted design for high inertia;
4-way adjustable seat;
Smooth and quiet belt drive;
Solid crankset, solid enough for all-range of spin workouts;
Narrow Q-Factor (177 mm) for reduced lateral impact on your joints;
Dual-action pedals, with SPD clips on one side and toe cages on the other side;
Bottle holder included;
Easy to assemble;
All the tools necessary for the assembly included;
Little maintenance is required.
Cons
A fitness monitor does not come with the bike;
The handlebar is only two-way adjustable.
Sunny P8150 Indoor Cycling Bike Summary
The Sunny P8150 is a home-use indoor cycling bike. It has a 40-lb flywheel, a friction resistance system, and a comfortable 4-way adjustable seat.
In addition, it includes a set of dual-sided pedals and can support users up to 265 lbs. Moreover, it's a bike for spin workouts, high-intensity cardio training, stamina development, strength development, and weight loss.
I hope you found this article helpful and informative. Would you please speak up if you have anything you'd like to share on the topic or any opinions about my website? I look forward to your comments, questions, and the sharing of ideas.
Please note that you should consult your physician to determine if you have any medical or physical conditions that could risk your health and safety or prevent you from using the equipment properly. In addition, your physician's advice is essential if you are taking medication that affects your heart rate, blood pressure, or cholesterol level.