Working out at home has never been more comfortable with the compact Sunny SF-T7610 Folding Treadmill. This easy-to-assemble motorized light-capacity walking treadmill has a compact design that lets you put it virtually anywhere in your home. With a running space of 39″ L x 14″ W, a shock absorption track, and a speed range of 0.5 to 5mph, the SF-T7610 has all the essential needs for a brisk walk.
Stepping down a treadmill deck creates an impact force transmitted back up your leg, causing runner fatigue. The Sunny SF-T7610 folding treadmill shock absorption system lessens this shock allowing you to work out longer and feel less fatigue in your legs and body.
Tracking your progress on the Sunny SF-T7610 treadmill is simple, with the featured fitness console tracking time, distance, speed, and calories burned. Exercising with your electric treadmill helps keep you focused on achieving personal fitness goals.
Learn more in my complete review below!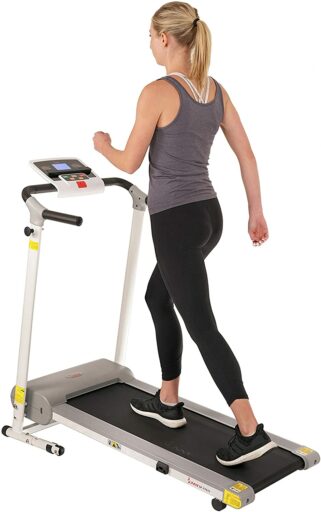 Product: Sunny SF-T7610 Folding Treadmill
Price: For a great deal on this treadmill, merely go here to Sunny Health & Fitness.com
Warranty: Frame 3 years / Parts 180 days
My rating: 8.5/10
Affiliate Disclosure: As a Sunny Health & Fitness Affiliate Program participant, I earn commissions on purchases made through links in this post. Full disclosure
Details and Specifications
Assembled dimensions: 49.6″L x 26.5″W x 47″H (126L x 67W x 119H cm)
Tread belt dimensions: 39″L x 14″W (99L x 35.5W cm)
Assembled weight: 70 lbs (31.7 kg)
Weight capacity: 220 lbs (100 kg)
Motor: 1.25 HP, 0.5-5.0 MPH
Incline: Fixed, 4°
Console: Time, distance, speed, calories, goals
Extras: Tablet holder
Warranty: Frame 3 years / Parts 180 days
SF-T7610 frame and deck
As mentioned, the Sunny SF-T7610 folding treadmill is a light-capacity treadmill designed for walking workouts. Therefore, its deck doesn't have a super high weight limit. However, it does support up to 220 lbs (100 kg).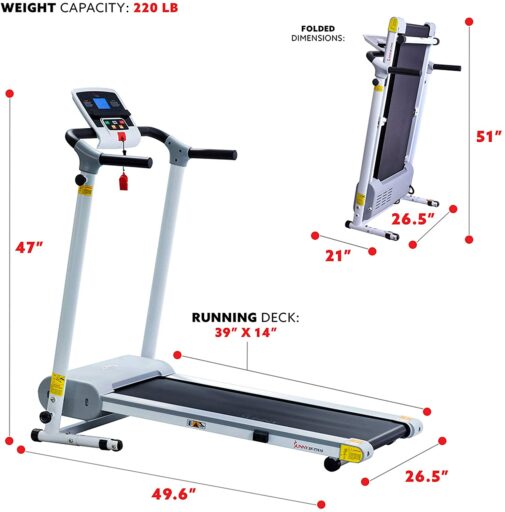 The machine's frame is steel tubing with several ABS covers. All the steel parts come coated with a corrosion-resistant white paint finish. The motor cover and the covers of the side rails are made of durable gray ABS material.
The fully assembled unit is relatively small compared to other treadmills. It is only 49.6″ (126 cm) long and 26.5″ (67 cm) wide, so it doesn't take up too much space. However, leaving at least two feet of clearance on each side of the deck and at least three feet at the rear is advisable for safe usage and easy access.
This Sunny treadmill also has a folding frame. Its deck folds up and locks into place between the two upright bars. Therefore, the unit's length is approximately 21″ (53 cm), while its height becomes 51″ (129.5 cm). This way, it offers better storage possibilities.
However, it is essential to mention that the two handgrips and the machine's front base bars do not fold, so the unit cannot be stored under a bed like the 3G Cardio 80i unless the clearance is more significant than 22″ (56 cm).
Since it's a light-capacity treadmill, the Sunny SF-T7160 isn't too heavy, weighing approximately 70 lbs (31.7 kg). Plus, its front base integrates a set of small wheels, allowing you to relocate it when folded up.
Walking surface and incline
The Sunny SF-T7610 folding treadmill has a heavy-duty, high-traction belt. It offers a walking area of 39″ L x 14″ W (99L x 35.5W cm). Thus, it should accommodate users up to 6'0″ (183 cm) with no problem, providing a good range of motion.
The deck doesn't have the superior deck cushioning of a commercial-grade machine, but it integrates three shock absorption elements: one at the rear, one in the middle, and one at the front.
Thus, the unit does reduce the shock generated by each foot strike; a walk on its platform is more forgiving on your joints than a walk on concrete or asphalt.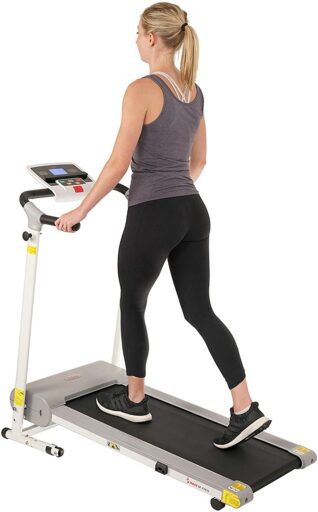 The Sunny SF-T7610 does not have an incline system. However, its deck does have a 4° fixed incline, designed to challenge the body and add a bit of difficulty to your workouts. It is essential to highlight the incline is not adjustable. Unlike the more expensive models, the SF-T7610 has no manual rear adjustable base or a motor for automatic incline adjustment.
Lastly, the unit doesn't have a very high step-up height. At its highest point in the front, the walking surface is approximately 7″ (18 cm) above floor level, while at the rear, its peak is approximately 4″ (10 cm). Therefore, you shouldn't need to worry about ceiling height issues.
SF-T7610 Drive motor
The Sunny SF-T7610 folding treadmill comes equipped with a light-capacity motor. It offers a peak power of 1.25 HP. It is powerful enough to support up to 220 lbs (100 kg) users for prolonged exercise without overheating or losing performance. In addition, the motor assembly also features a small flywheel for added motion stability.
The unit's motor offers a speed range between 0.5 and 5.0 MPH. The console provides buttons for gradual speed adjustment only. There are no quick speed selection keys. Instead, the total speed adjustment controls (Up, Down) allow you to adjust the speed in increments of 0.1 MPH. You can press them once for a speed adjustment of 0.1 MPH or press and hold them for continuous adjustment.
In terms of generated noise, the motor isn't too loud. For example, you'll barely hear the cadence during a walking workout. However, if walking at the highest speed, your tempo and the unit will become louder, but it's not loud enough to cover your TV's sounds in a moderate volume setting.
Console
The Sunny SF-T7610 folding treadmill comes equipped with a simple console. It doesn't have any preset programs, nor does it have online connectivity. However, it features an LCD with a blue LED backlight for superior readability. In addition, the display divides into multiple sub-sections to show all the workout metrics at once.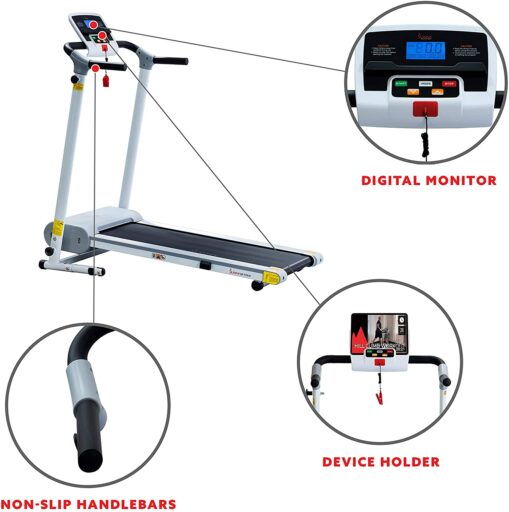 The LCD indicates time, distance, speed, and calories burned. Unfortunately, it has no pulse reading function, so you must use a separate device to monitor your pulse during workouts. Also, speed and distance are shown only in Imperial units (mph and miles); there is no setting for Metric units.
The console has no workout programs but offers goal settings for time, distance, and calories burned. The Mode button allows you to enter setup mode and select a goal or countdown value for these workout metrics. After choosing a goal, the console will count down until it reaches zero.
Two other notable functions to note here. One is the lubrication reminder. The unit's deck needs to be lubricated every 188 miles. The console will notify you to lubricate the deck after reaching this distance.
The other is the power-saving function; if there hasn't been any machine activity for more than 10 minutes, the console enters its power-saving mode or sleep mode. To turn it back on, you can press any of the buttons.
Last but not least, the machine's console incorporates a tablet holder. This accessory is large enough to accommodate any tablet. Unfortunately, the unit does not have a USB port for charging your device and cannot communicate with a tablet or a smartphone.
SF-T7610 Assembly and Maintenance
The treadmill comes almost completely assembled. You only need to attach its front base bars and hand grips and adjust the belt's position if necessary.
Consequently, the task shouldn't take more than 10-15 minutes of your time. The manual provides all the required instructions, and an Allen wrench comes included.
For maintenance, the deck requires lubrication after every 188 miles traveled. It also needs lubrication before the first use. Other than this, it is advisable to keep the belt clean and periodically check for loose bolts and retighten as needed.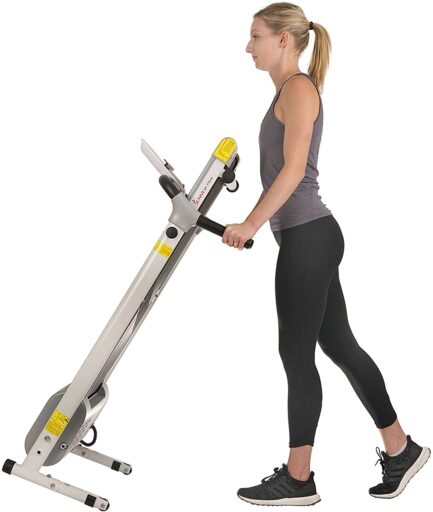 Pros
Small footprint;
Folding design;
Low deck profile (7″ highest point);
Transport wheels on the front base;
Shock absorption elements integrated into the deck;
Fixed incline (4°) for added walking difficulty;
Speed increments of 0.1 MPH give you the
possibility to find the perfect pace for your workout;
Multi-window LCD with a backlight;
The console tracks time, distance, speed, and calories burned;
Goal settings for time, distance, and calories;
Lubrication reminder function;
Tablet holder included;
Minor assembly is required;
Little maintenance is needed;
Decent warranty.
Cons
The console does not have any workout programs;
The console does not have a pulse reading function;
A tablet placed on the tablet support will cover the console LCD.
Sunny SF-T7610 Folding Treadmill Summary
The Sunny Health & Fitness SF-T7610 is a light-capacity walking treadmill designed for home use. It features a folding frame, a 1.25 HP drive motor hatch with a speed range between 0.5 and 5.0 MPH, basic deck cushioning, and 4 degrees fixed incline.
In addition, its console tracks time, distance, speed, and calories burned, offering countdown settings. Moreover, it's an affordable treadmill, reasonably decent for light cardio workouts, muscle toning, stamina development, and weight loss.
I hope you found this article helpful and informative. Would you please speak up if you have anything you'd like to share on the topic or any opinions about my website? I look forward to your comments, questions, and the sharing of ideas.
Please remember to consult your physician to determine if you have any medical or physical conditions that could put your health and safety at risk or prevent you from using the equipment properly. In addition, your physician's advice is essential if you are taking medication that affects your heart rate, blood pressure, or cholesterol level.