The reliable Sunny SF-RB4880 Recumbent Bike from Sunny Health & Fitness is a self-powered recumbent bike with plenty to offer the midrange shopper. With a weight capacity of 300lbs, it's a quality bike, offering users a smooth, quiet, and stable ride.
Modifying the 24 levels of resistance on this in-home cardio machine is easy. First, turn the resistance knob clockwise or counterclockwise to cycle through 24 levels of computer-controlled magnetic resistance. Then, use the resistance dial to precisely control the magnetic resistance.
The Sunny SF-RB4880 Recumbent Bike comes with a fitness console that features a multi-panel LCD with an LED backlight to track your time, speed, rotation per minute, distance (kilometers or miles), calories burned, pulse, and wattage. For pulse monitoring, sensors integrate into the seat-side handlebars for ease of use.
The SF-RB4880 comes equipped with a bike seat for long-lasting exercise sessions. The step-through design makes this easy to mount. First, grab the ergonomic handlebars to keep your balance. Next, place your feet in the foot pedals, which also have adjustable straps. The foot straps keep your feet saddled in place so you can focus on the workout without feeling unbalanced.
Learn more in my complete review below!
Product: Sunny SF-RB4880 Recumbent Bike
Price: For a great deal on this bike, merely go here to Sunny Health & Fitness.com
Warranty: Frame 3 years / Parts 180 days
My rating: 9/10
Affiliate Disclosure: As a Sunny Health & Fitness Affiliate Program participant, I earn commissions on purchases made through links in this post. Full disclosure
Details and Specifications
Assembled dimensions: 66L x 26W x 44.5H inches (168L x 66W x 113H cm)
Assembled weight: 112 lbs (50.8 kg)
Weight capacity: 300 lbs (136 kg)
Seat: Adjustable
Resistance: Eddy current, self-powered, 24 levels
Console: 6 training modes, 12 program presets, BMI, Recovery
Extras: Sound system, USB charging port, tablet holder,
Warranty: Frame 3 years / Parts 180 days
SF-RB4880 Frame construction
The Sunny SF-RB4880 features a heavy-duty frame construction made of durable steel tubing. In addition, it has a one-piece chassis, which considerably improves its overall sturdiness.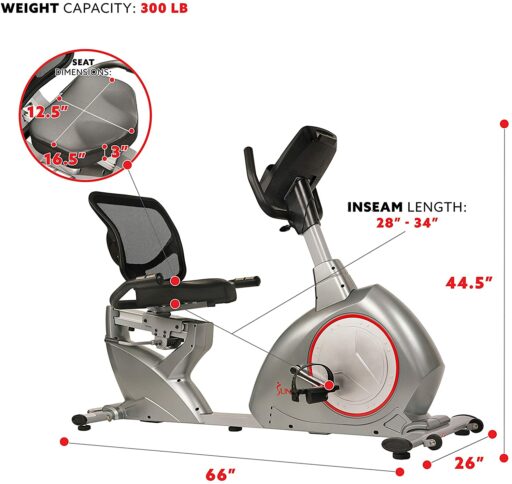 It is also a pretty heavy bike; its net weight is approximately 112 lbs (50.8 kg). However, this weight substantially enhances its stability.
The bike has adjustable levelers on both its base bars, plus an additional one in the middle of its longitudinal frame bar. These stabilizers have large rubberized pads that prevent the unit from sliding or moving and prevent floor damage.
Although this Sunny exercise bike is rather heavy, its relocation isn't too tricky once fully assembled. Its front base has a set of rubberized wheels, while the rear support features a lifting handle. Therefore, you won't have to handle more than 30% of its total weight when moving it.
Most of the bike's frame comes coated with a corrosion-resistant and chip-resistant paint finish. The only exception is the sliding rail of the seat, which is aluminum alloy. The bike's construction also integrates several ABS covers, such as concealing the drive system or over the seat base.
The fully assembled bike is relatively large. It is approx 66″ (168 cm) long and 26″ (66 cm) wide. Therefore, you will need a usage area of at least 90″ x 60″ (228 x (152 cm) for it.
One last aspect to mention here is the step-through design. You can easily pass through the frame and take a seat; this can be quite a plus for users with specific disabilities.
Seat and handlebars
The bike's seat provides superior comfort. It is pretty close to the support provided by an office seat. Its bottom cushion integrates approx 3″ (8.5 cm) of foam padding. It's pretty significant as well, 16.5″ (41 cm) wide and 12.5″ (36 cm) deep, providing plenty of contact surface.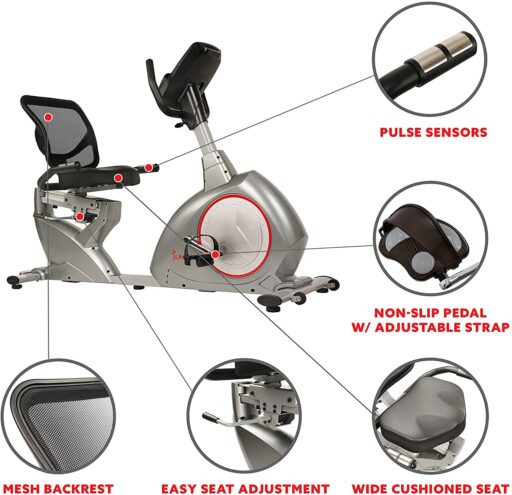 The backrest features a flexible yet highly durable mesh structure. Therefore, it will quickly adapt to the shape of your body while also providing excellent breathability.
The whole seat assembly is adjustable. It is attached to an aluminum rail and has a lever-based adjustment system. Therefore, you can easily unlock and re-lock it into the desired position without having to stand up.
The seat adjustment span accommodates users with an inseam between 28″ and 34″ (71 – 86 cm), in other words, users between 5'0 ″ and 6'2 ″ (153 – 188 cm). It's also durable enough to support users up to 300 lbs (136 kg).
It's important to mention that the unit's backrest does not adjust independently from the seat's rest. It doesn't recline, nor can it be set to a higher or lower position. Instead, it connects directly to the seat frame's steel backbone and moves along with the rest of the seat on its rail.
The Sunny SF-RB4880 features two handlebars attached to the front mast and connected to the seat assembly under the console.
The front handlebars are adjustable. You can adjust their angle from the knob that keeps them in place. The seat handlebars are non-adjustable; they attach to the seat's frame. However, their grips include pulse sensors.
SF-RB4880 Resistance system
The Sunny Health & Fitness SF-RB4880 features a self-powered, eddy current resistance system. Therefore, the bike doesn't need an external power source, and its console doesn't need any batteries.
All the energy necessary to activate the resistance, power up the console, and even charge your smartphone or tablet generated when you pedal. It is essential to mention that when you use the bike for the first time, you will have to pedal for several minutes to generate enough power for the console.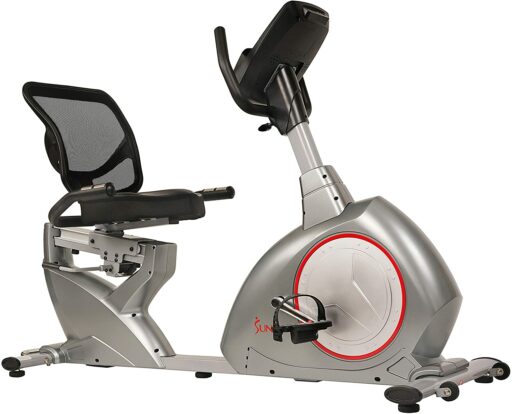 The internal resistance elements are a small servo motor and a magnetic brake integrated into the flywheel assembly. Thus, the motor adjusts the magnetic field's intensity when changing the resistance, resulting in pedal tension. Also, if one of the preset programs is in use, the console will auto-adjust the resistance.
This Sunny exercise bike makes available 24 resistance levels. The first one is reasonably light, great for anyone who requires recovery training. Conversely, the 24th tension level provides considerably more resistance, recommended for anyone who wants to boost their cardiovascular rate and lose weight.
The internal flywheel's exact weight isn't listed; it's relatively heavy for a recumbent bike. However, it is perimeter-weighted and provides a pretty consistent momentum. It is also bi-directional; thus, you can pedal in reverse if you want.
Drive system
Most exercise bikes with a magnetic resistance system have a belt drive system, and the Sunny SF-RB4880 does not make an exception. It integrates a durable, stretch-resistant belt that delivers superior traction. In addition, you don't have to lubricate it since it doesn't use a chain transmission. Also, the pedaling motion is tranquil and vibration-free.
Finally, the bike has a durable crankset with oversized non-slip pedals and adjustable straps. In addition, the pedals feature a weighted design, so they always turn face-up when you remove your feet from them.
SF-RB4880 Console
The bike comes equipped with a mid-range console. Unfortunately, it doesn't have online connectivity, nor is it compatible with any online fitness apps. However, it has plenty of programs to keep you motivated.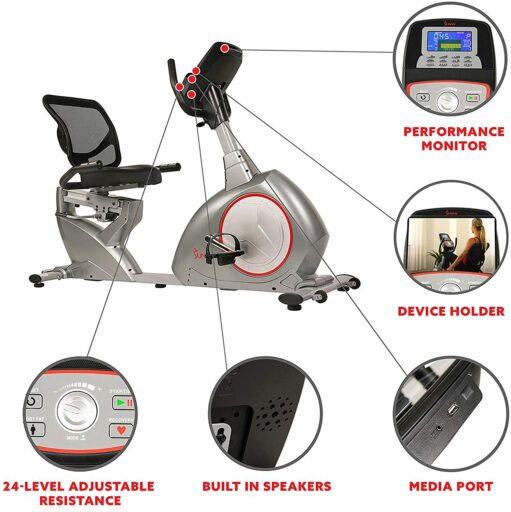 The console features a multi-panel LCD with an LED backlight. It shows multiple workout metrics, including time, distance, speed, RPM, calories, watts, and pulse. To display speed and distance values, you can either select metric or English units.
You will have to use the integrated sensors; the console is not telemetric, so it cannot read your pulse through a wireless HR chest belt.
Workout programs
The console has several workout programs. The first one is the Manual program, in which you can pedal freely, adjusting the resistance as you like throughout your session. The following three workout modes are Beginner, Advanced, and Sporty. Each one has four preset modes so that you can challenge yourself.
And finally, there is a Cardio program and a Watt program. The Cardio program has three preset values: 55%, 75%, 90%, and a custom setting. The Watt program is to help you measure your energy output.
The console also has a BMI function and a Recovery function. The BMI calculator allows you to calculate your body fat percentage based on your weight, height, and gender.
The Recovery function requires the pulse sensors; at the end of your workout. It measures how long it takes your pulse to return to normal after the exercise, and, based on the result, it will give you a fitness rating between F1 (excellent) and F6 (poor).
The unit has a straightforward interface. The large dial in the middle serves resistance adjustment, entering setup mode, and program selection. The Reset button clears all the values on the console to zero.
The Start/Stop button initiates a selected program and gives you the possibility of putting your workout on hold if you need a break. In contrast, the last two buttons offer direct access to the Body Fat calculator and Recovery function.
Amenities
The console also has three other notable features. First, the tablet shelf is above the keypad, and the second is the sound system. It consists of two speakers and an AUX input to connect your smartphone or tablet to improve your music's sound quality. And finally, there is also a USB port to connect your smartphone or tablet to recharge its battery.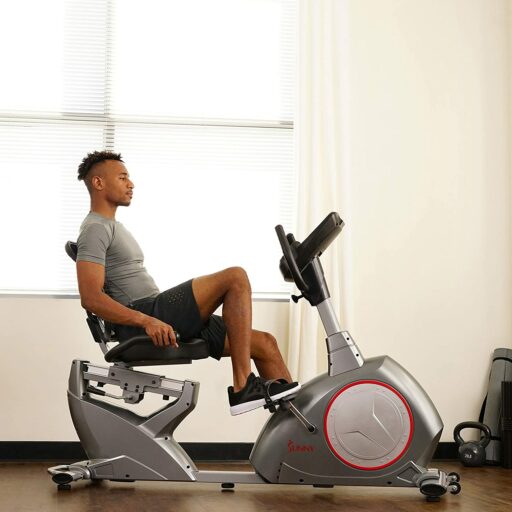 SF-RB4880 Assembly and Maintenance
The main body of the bike comes pre-assembled. You only need to attach the base bars, the console mast, the front handlebars, the console, the seat frame, the seat cushion, the backrest, the pedals, and several other covers.
Therefore, it may take more than an hour of your time. However, the task is relatively easy to carry out; it provides precise assembly instructions and schematics. Also, an essential toolkit comes included with the bike.
Maintenance doesn't require much. You only have to keep the unit clean, keep liquids away from the console, and periodically check for loose or broken parts.
Pros
Sturdy, steel frame – 300 lbs capacity;
Adjustable, rubberized stabilizers on both bases;
Transport wheels on the front base;
Lifting handle on the rear plate;
Step-through frame design for easy access to the seat;
Seat handlebars with pulse sensors;
Adjustable front handlebars;
Thick cushioning on the seat pad for extra comfort;
Flexible and breathable mesh backrest;
Lever-based rail adjustment system for the seat;
Weighted pedals with adjustable straps;
Self-powered eddy current resistance system;
24 resistance levels available;
Mid-range console with an LCD which can track time, distance, speed, RPM, Watts, calories, and pulse;
Six workout modes with four presets for the Beginner, Advanced, and Sporty modes;
Body Fat calculator;
Recovery function;
Tablet holder included;
Sound system included;
USB port included;
Reasonably easy to assemble;
Little maintenance required;
Excellent warranty.
Cons
No bottle holder;
A tablet placed on the tablet holder will cover the LCD;
You will have to pedal for a few minutes for the first use until the console gets enough power to display your workout data.
Sunny SF-RB4880 Recumbent Bike Summary
The Sunny Health & Fitness SF-RB4880 is a self-powered, magnetic recumbent bike offering 24 eddy current resistance levels and a console with multiple workout programs. In particular, it excels in comfort factors featuring a consistently cushioned seat with a flexible mesh backrest. Its console also has a sound system, a tablet holder, and a USB charging port.
Moreover, it's a sturdy bike, great for light to mid-range cardio workouts, interval training, stamina development, recovery training, muscle toning, and weight loss.
I hope you found this article helpful and informative. Would you please speak up if you have anything you'd like to share or any opinions about my website? I look forward to your comments, questions, and the sharing of ideas.
Please note: Before starting any exercise program, you should consult your physician to determine if you have any medical or physical conditions that could put your health and safety at risk or prevent you from using the equipment properly. In addition, your physician's advice is essential if you are taking medication that affects your heart rate, blood pressure, or cholesterol level.