The Horizon Fitness T303 Smart Treadmill features a solid steel frame that makes it a heavier, more durable machine able to stand up to constant, heavy footfalls. This treadmill has a maximum user weight capacity of 325 lbs (147 kg). In addition, its 3-zone variable response cushioning helps to reduce the impact on your joints.
The T303 deck size of 20″ x 60″ is longer than the average residential treadmill and will comfortably accommodate taller runners and those with longer gaits. Featuring a 3.0 CHP drive motor, the T303 lets you run like the wind and allows for high-intensity interval training and conditioning. The 0-12 MPH speed range is more than adequate to attain a more advanced runner's fitness goals.
You can keep on top of your workout data via 3 LED windows and a user-friendly backlit LCD screen that displays calories burned, distance, heart rate, incline, pace, segment time, speed, and total time—looking for a more interactive workout? Sync the T303 with your tablet via Bluetooth and use the free AFG Pro Fitness app to control your exercise.
The Horizon Fitness T303 smart treadmill comes with eight preset workout programs. Aside from manual mode, these include Fat Burn, Hill Climb, My First 5K, Distance, Heart Rate, Calories, and Interval. Although the quantity of programming is slightly light, the included programs cover the necessary bases for users to remain challenged and motivated without an external connection.
Learn more in my complete review below!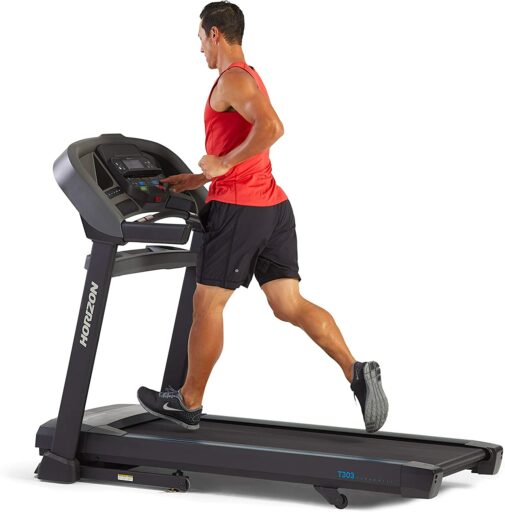 Product: Horizon Fitness T303 Smart Treadmill
Price: For a great deal on this treadmill, merely go here on Amazon
Warranty: Frame lifetime / Motor lifetime / Parts 3 years/ Labor 1 year
My rating: is 9/10
Affiliate Disclosure: As an Amazon Affiliate Program participant, I earn commissions on purchases made through links in this post. Full disclosure
Details and Specifications
Assembled dimensions: 75L x 34W x 58H inches (190L x 86W x 147H cm)
Assembled weight: 194 lbs (88 kg)
Tread belt dimensions: 60L x 20W inches (152L x 51W cm)
Maximum user weight: 325 lbs (147 kg)
Motor: 3.0 CHP, 0.5-12 MPH
Incline: Automatic, 0% – 12%
Deck cushioning: 3-Zone Variable response
Console: 8 workout modes, Bluetooth
Extras: Sound system, cooling fan, USB charging port, tablet holder, accessory trays
Warranty: Frame lifetime / Motor lifetime / Parts 3 years/ Labor 1 year
T303 Frame Construction
The Horizon Fitness T303 smart treadmill features a heavy-duty steel frame close to a light-commercial model. Its construction combines rectangular and oval steel tubes and several durable thermoplastic parts (such as the side rail or motor cover). Also, unlike the other T series models, it includes an extra accessory tray that unites its two upright bars.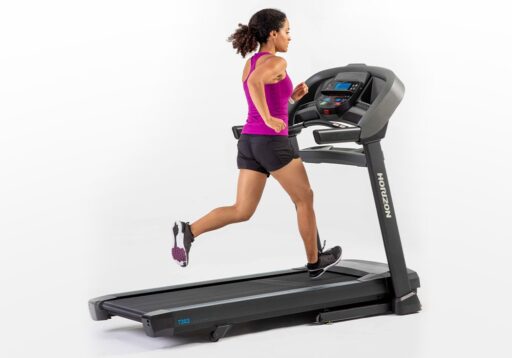 The fully assembled treadmill is relatively large. It is approx 75″ (190 cm) long and 34″ (86 cm) wide. Thus, it may not fit too well in a small room. Plus, leaving at least two feet of clearance on each side and at the front of the deck and at least three feet at the deck's rear for safe usage is advisable.
The machine is quite heavy as well. It weighs approximately 194 lbs (88 kg) with all the parts assembled. Thus, the transport of the packaged unit requires at least two people. However, once completed, it can easily be moved by only one person as its front base frame features transport wheels.
This Horizon Fitness treadmill features a folding design. Its deck is foldable to save space. In addition, it comes equipped with the FeatherLight folding mechanism, which involves a hydraulic cylinder that slowly lowers the deck when unfolded to prevent floor damage. With the deck folded up, the machine's footprint reduces to approx—1/3 of its total length.
Deck
The Horizon Fitness T303 smart treadmill has a heavy-duty deck rated for a maximum user weight limit of 325 lbs (147 kg), which is not bad for a home-use treadmill. In addition, the deck features the same 3-Zone Variable Response Cushioned deck as the other treadmills of the T series.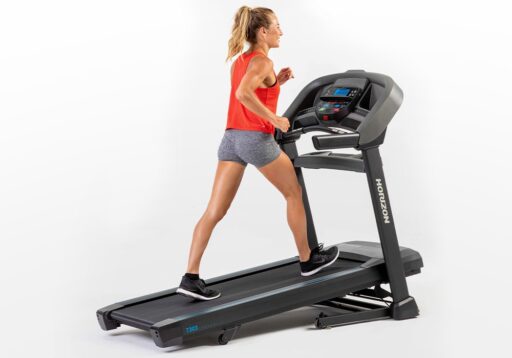 The front zone is the impact zone, with more cushioning to alleviate each foot strike's shock. The center area offers moderate cushioning for a better transition, while the rear is slightly harder to promote a better push-off.
The machine offers a large running surface of 60″L x 20″W (152 x 51 cm). Therefore, it should accommodate users up to 6'5″ (196 cm) with no problem allowing a complete range of motion. The integrated belt is 2-ply, 1.4 mm, with a top silicone layer for an improved grip.
The integrated rollers have a tapered design, which helps prolong the belt's lifespan and deliver superior traction. They are relatively large in diameter. The rear roller is 42 mm (1.65″), while the front roller is 46 mm (1.8″). They integrate high-grade sealed ball bearings for a smooth belt motion.
T303 Incline system
The Horizon Fitness T303 smart treadmill comes equipped with a power incline system. Therefore, you can adjust the incline while running on the treadmill, and the treadmill can automatically adjust the pitch.
The incline system consists of a small lift integrated under the deck's front part and a motor (different from the drive motor). The motor uses the lift to elevate the deck's front element when the incline is adjusted.
The machine's incline range is 0% – 12%. It's not a super incline range like the incline offered by commercial-grade treadmills, but it can still be a considerable degree of difficulty to your workouts. The adjustment increments are 0.5%. The console features incline controls for gradual adjustment but have quick selection incline buttons for the 0%, 1%, 2%, 4%, 6%, 8%, 10%, and 12% inclines.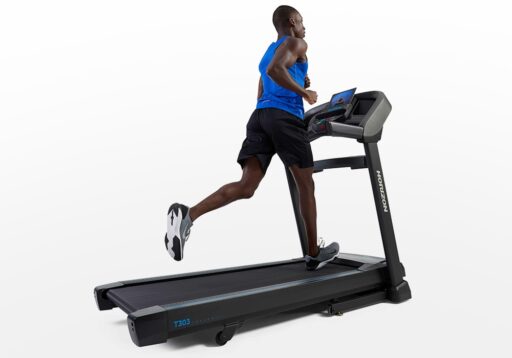 The height of the step-up deck is seven 1/4″ (18 cm) when the deck is 0% incline. However, with the pitch set to 12%, the deck's front part is several inches above the floor level. Thus, using the machine in a room with a ceiling height of at least 20″ (51 cm) higher than the tallest user's height is advisable.
Drive motor
The Horizon Fitness T303 smart treadmill has a heavy-duty 3.0 CHP motor. This motor will withstand prolonged workout sessions without overheating or losing performance, even if used at the highest speed settings.
After each foot strike, the drive system recalibrates to help you remain in the same rhythm without feeling surge or lag. It also integrates a small flywheel, improving the stability of the belt and rotation motion.
Like the other Horizon Fitness T series machines, this motor offers a speed range between 0.5 and 12 MPH. The speed adjustment increments are 0.1 MPH. Therefore, it results in a smooth transition from one-speed level to another, giving you plenty of time to adjust your pace.
The console makes available controls for gradual and quick adjustment, just like the incline system. For example, the "+" and "-" keys on the right offer 0.1 MPH speed adjustment possibilities, while the quick keys allow you to select 2 MPH, 3 MPH, 4 MPH, 5 MPH, 6 MPH, 8 MPH, 10 MPH, or 12 MPH.
T303 Console
The console of the Horizon T303 treadmill offers an impressive range of features. First, it has two displays, one LCD and one LED. The top LCD indicates time, speed, incline, distance, calories, and pulse.
It also shows the program's segmented grid use and the distance as a 1/4 mile race track. The bottom LED display divides into three sections. The left section shows incline and distance, the middle section shows segment time and total time, and the right section shows speed.
Add a personal twist to take your workout further than ever. Whether you like to sweat to music, movies, or on-demand classes, Horizon makes it easy to stay connected to the content that moves you.
Advanced Bluetooth quickly connects to multiple devices to stream media through the integrated speakers, track your heart rate, and more. In addition, a Bluetooth HR chest strap, armband, or integrated HR pulse sensors facilitate tracking your pulse. However, the machine does not include the wireless HR chest strap or armband accessory.
Built-in device holder makes it easy to keep your tablet or phone in view for entertainment and instructor-led exercise classes. In addition,  the rapid-charge USB port keeps your device fully powered during long workouts.
The treadmill makes eight distinct workout modes, each with its quick selection key on the console. These workout modes are Manual, Hill Climb, My First 5K, Fat Burn, Custom, Target Distance, Target Calories, and Target Heart Rate.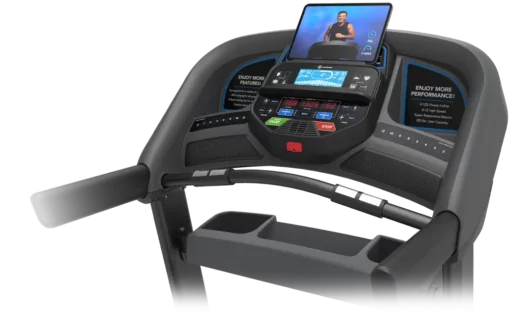 Some of these workout modes have multiple settings or levels of difficulty. For example, the Fat Burn mode has ten difficulty levels with speed settings up to 2.5 MPH for the first level and up to 8 MPH for the 10th level, while the Target Distance Mode has preset distance goals between 1 mile and a marathon.
The console also makes available two quick keys for interval programs. These are programmable interval buttons to help you customize the treadmill to match whatever workout you like to do the most.
Amenities
Other notable console features are the personal workout fan, the sound system, the device holders, and the USB port. The workout fan integrates above the safety-critical section. It has a quick key on the console and provides moderate cooling, which may be welcome during a more intense workout.
The sound system consists of two prominent speakers. You can sync your smartphone or tablet via Bluetooth to play your music through these speakers, but the console also has an AUX port, and the box includes an AUX cable.
The device holders have two shelves, one below the LCD and the other above. They should be able to support your tablet or smartphone. The USB port only offers the recharging function for your device. You cannot import or export your workout data on a USB stick.
T303 Assembly and Maintenance
The machine's running platform with the two (incline and drive) motors, belts, rollers, cushioning elements, and other parts comes pre-assembled. Therefore, you only need to attach the two upright bars, the extra accessory tray between them, the joint covers, and the console.
Consequently, it shouldn't take more than an hour of your time. The manual provides clear, step-by-step assembly instructions and diagrams. In addition, all the necessary tools for the task also come with the treadmill.
For maintenance, the deck requires periodically and before the first use. A bottle of silicone lubricant comes included with the machine. It is also advisable to keep the belt clean to prevent any textile fibers or debris from getting caught in the motors or the rollers and periodically inspect the machine to ensure it still functions properly.
Pros
Sturdy deck – can support users up to 325 lbs;
Folding frame, space-saving design;
FeatherLight soft drop folding mechanism;
Transport wheels on the machine's bases;
3-Zone Variable Response, deck cushioning;
Power incline, 0% – 12%;
3.0 CHP motor, with auto-calibration;
Speed range between 0.5 and 12 MPH;
Speed can be adjusted at increments of 0.1 MPH, allowing you to find the perfect pace for your workout;
Quick keys for speed and incline;
Pulse reading function;
Eight workout modes;
Quick interval keys;
Various amenities such as cooling fan, speakers, tablet holder, and accessory trays;
Bluetooth connectivity;
Compatible with various fitness apps such as Peleton, Studio, and Zwift for online progress tracking and training;
USB charging port;
One bottle of lubricant included;
Tools for assembly and belt adjustment are included;
Quiet operation;
Reasonably easy to assemble;
Little maintenance is required;
Excellent warranty.
Please note that the tablet pictured in some images and the fitness app memberships are not included.
Cons
The HR chest strap does not come included with the machine.
Horizon Fitness T303 Smart Treadmill Summary
The Horizon Fitness T303 is a heavy-duty treadmill designed for home use. It has a 3.0 CHP motor, a power incline (12 levels), a 3-zone cushioned deck, and a console with eight workout modes. The console also has Bluetooth connectivity and is compatible with various fitness apps such as Peleton, Studio, and Zwift for online progress tracking and training.
Moreover, it's a complete treadmill, great for users of all levels, perfect for light to high-intensity cardio, muscle toning, interval training, stamina development, and weight loss.
I hope you found this article helpful and informative. Would you please speak up if you have anything you'd like to share on the topic or any opinions about my website? I look forward to your comments, questions, and the sharing of ideas.
Please remember to consult your physician to determine if you have any medical or physical conditions that could put your health and safety at risk or prevent you from using the equipment properly. In addition, your physician's advice is essential if you are taking medication that affects your heart rate, blood pressure, or cholesterol level.