The ProForm SMART Endurance 920 E Elliptical is for anyone weighing up to 325 pounds. It has a power-adjustable stride and a pretty smooth-running magnetic resistance system, unlike most ellipticals. It's also equipped with a power incline for the pedals and has one of ProForm's HD touchscreens with an Android web browser.
It has the most solid drives in its series, a 25 lbs (11.3 kg) flywheel, so it's the smoothest-running and supports a broader range of challenge levels for strength training. In addition, the 920 E supports 18″ to 22″ strides as well, making it an ideal fit for users of all heights.
The built-in 7″ Smart HD Touchscreen makes it easy to watch your workout stats add up with just the swipe of your finger. Swipe through your speed, time, distance, calories burned, heart rate, and resistance stats. Now you can watch your fitness progress—and then tweet about it—all in the same place.
The ProForm SMART Endurance 920 E brings out your playful side, including a 30-day family membership to iFit Coach. Get full access to an expansive collection of heart-pumping, trainer-led workouts designed to burn calories and build muscle. Now you can get results and start living a more active lifestyle.
Learn more in my complete review below!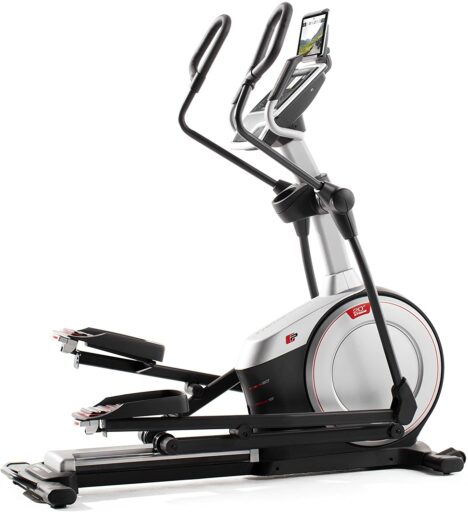 Product: ProForm SMART Endurance 920 E  Elliptical
Price: For a great deal on this elliptical, merely go here on Amazon
Warranty: Frame lifetime / Parts 3 years / Labor 1 year
My rating: 9/10
Affiliate Disclosure: As an Amazon Affiliate Program participant, I earn commissions on purchases made through links in this post. Full disclosure
Note: The tablet pictured in the images does not come with the elliptical.
Details & Specifications
Assembled dimensions: 68L x 37W x 71H inches (173 x 94 x 180 cm)
Assembled weight: 190 lbs (86 kg)
Flywheel weight: 25 lbs (11.3 kg)
Supported weight: 325 lbs (147 kg)
Power Adjustable Stride Length: 18″ to 22″ (48 cm to 56 cm)
Pedals: Cushioned, adjustable (3 levels)
Incline: Digital adjustment, 0°-20°
Resistance: Eddy current, digital adjustment, 24 levels
Console: 7″ touchscreen, 32 built-in programs, iFit Coach ready
Amenities: Bottle holder, tablet holder, sound system, CoolAire fan
Warranty: Frame lifetime / Parts 3 years / Labor 1 year
920 E Frame
The ProForm SMART Endurance 920 E is a front-drive elliptical trainer. Its frame construction is similar to the lighter model 520 E. However, it's a more massive machine and has a higher weight capacity.
With the frame fully assembled, it weighs more than 190 lbs and provides stability. Also, the machine has a maximum user capacity of up to 325 lbs (147 kg).
The machine's frame is steel tubing. The steel frame in its frame construction has a durable paint finish, resistant to abrasion and corrosion. The colors used are black for the structure's base and the moving parts and white for the front mast.
The machine isn't too difficult to move once assembled despite its weight. The rear base bar integrates a lifting handle, while the front base comes with two wheels, which facilitate its relocation. You won't have to handle more than 25% of its total weight using these wheels.
The unit is pretty extensive, as well. It's approximately 68″ (173 cm) long and 37″ (94 cm) wide; the outer mobile grips give its widest point. It's also advisable to leave at least two feet of clearance around the machine for safe operation. Therefore, it's not precisely a trainer for a small room or apartment.
Pedals and Handlebars
The machine's pedals are heavy-duty ABS material with a metallic base. They feature an all-around front border to provide extra stability and optimal foot positioning. In addition, they're at an inward angle of approx — 2 ° to give a natural posture and eliminate any additional lateral stress on your joints.
The pedals have thick cushions on their surface, which reduce the impact to zero and provide extra foot adherence. And maybe one of the best aspects of the unit's pedals is their adjustability. Each pedal has three angle settings and a small pin at its rear, allowing you to make the adjustment you like quickly.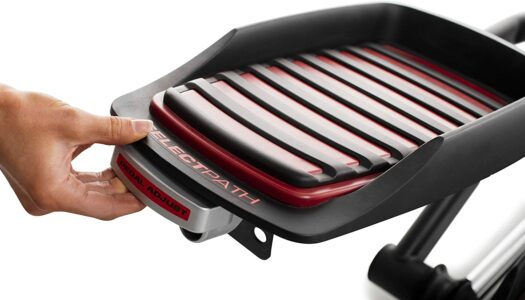 The ProForm SMART Endurance 920 E comes with two handlebars, one fixed and one mobile. The fixed handlebars connect directly to the front mast, right at the console's base. They integrate pulse sensors. The moving arms feature large loop grips to provide multiple hand positions and allow you to vary your posture during exercising.
The joints between the pedal bars and moving arms are equipped with high-grade ball bearings to supply a smooth motion. In addition, the rollers of the pedal bars feature large wheels, which also integrate sealed ball bearings.
920 E Incline & Stride
The 920 E elliptical features a motorized incline system. It consists of a small lift placed at the front of the rail assembly and connected to an internal motor. Moreover, the incline has digital adjustment and is only adjustable from the console. Some of the programs control the machine's incline, so the unit will auto-adjust the incline when using one of these programs.
The machine makes available 20 levels of incline, between 0° and 20°. The adjustment increments are approx 1°, but the console unit offers quick incline adjustments for the 0°, 5°, 10°, 15°, and 20° positions. Moreover, this unit does not have incline controls integrated into the handlebars.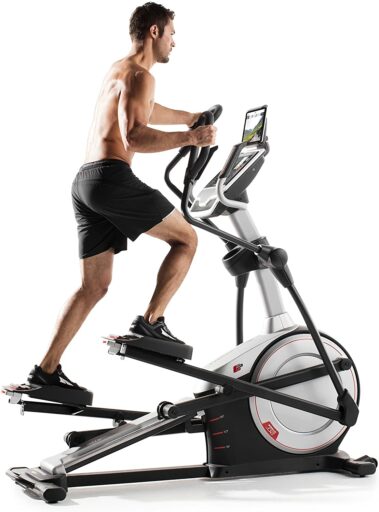 The machine delivers an approximate elevation of 30″ (76 cm) above floor level, with the incline set at maximum. Therefore, the ceiling height in the room where you will be using this elliptical trainer should be at least 35″ (89 cm) higher than your size.
The ProForm SMART Endurance 920 E  comes equipped with an 18″ to 22″ (48 cm to 56 cm) power adjustable stride length that allows for a better individual fit for the whole family. Now you don't have to compromise fit for function. With the ProForm SMART Endurance 920 E, the entire family can enjoy a stride length that works for them.
Drive & Resistance
The 920 E has a 25 lbs (11.3 kg) flywheel, which is quite heavy for an elliptical. However, it has a perimeter-weighted structure, which leads to very smooth motion and a consistent pedaling feel. It's also bi-directional; this means you can pedal in reverse to put a lot of diversity into your workouts.
The transmission between the internal pulley and the flywheel is possible by a heavy-duty poly-v belt. Thus, the pedaling motion is tranquil. In addition, the belt doesn't require lubrication and generates considerably less vibration (almost none) than a chain drive.
The trainer's resistance system is motorized magnetic. Therefore, the resistance is automatic, and the machine requires a connection to a power source. The internal magnetic brake does not create friction, so the ride is smooth and quiet. There's virtually no wear and tear between the resistance elements and the flywheel.
There are 24 resistance levels available. The first few settings offer a low level of difficulty, which is excellent for users with specific disabilities or the elderly. The 22-24 settings provide considerable challenge, which is increasable by adding an incline.
The console features gradual and quick selection resistance controls for the incline. The quick selection controls cover the 3, 6, 9, 12, 15, 18, 21, and 24 tension settings.
920 E Console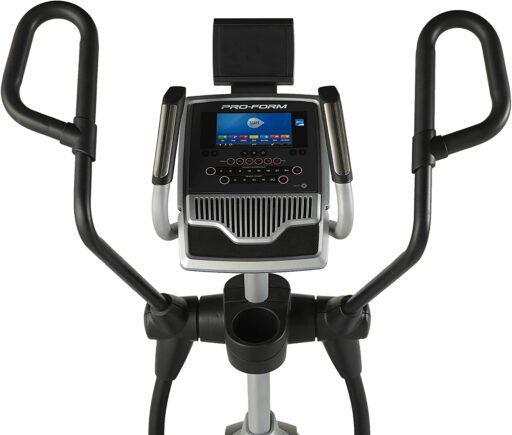 The ProForm SMART Endurance 920 E comes with a pretty impressive console. It incorporates a 7″ LCD, which has touchscreen commands like any regular tablet. In addition, it has a lock-screen function for child safety, a demo mode to get you started, and a ton of other features. However, zoom-in and out commands are not available.
The console has its incorporated browser and wireless connectivity. It links to your wireless network and allows you to browse the web or directly connect to iFit (subscription required).
For example, iFit offers custom workouts, completes challenges, competes with other users, or uses a virtual trail created via GoogleMaps. But, of course, after the free 30-day family membership, you'll have to subscribe to continue using iFit.
Nonetheless, if you don't want to subscribe to iFit, the console has incorporated 32 workout programs. They have four categories, plus the Manual mode. Each program category has its button on the console, so you can quickly access the program you want. The applications are for weight loss, peak workouts, performance, and intervals as a general idea.
The console tracks essential workout metrics, including time, distance traveled, speed, RPM, calories, and pulse. You can set up goals for time, distance, and calories. There are both metric and English settings for speed and distance.
Also, the unit is telemetric; it can communicate with almost any Bluetooth HR transmitter. Unfortunately, an HR chest strap does not come with the machine, so you'll have to use the integrated pulse sensors if you do not opt for one.
Amenities
In terms of amenities, the console has several. First of all, it integrates a sound system that consists of two speakers placed at the bottom of the unit. This sound system is compatible with most MP3 players, smartphones, or tablets. In addition, there is an audio jack on the front of the unit and volume controls.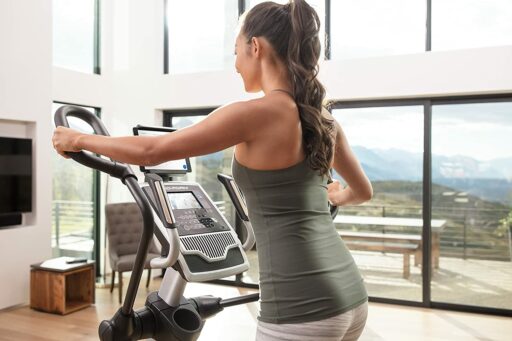 A CoolAire fan comes included as well. It has several intensity settings and offers a pretty decent cooling. Finally, a tablet holder also comes included. It attaches to the top of the console and can accommodate any tablet.
920 E Assembly & Maintenance
The main body of the machine comes pre-assembled. You only have to add the base bars, the console mast, the pedal bars, the mobile handlebars, the console, and several cables.
Consequently, it may take more than an hour of your time, but the included manual provides precise assembly instructions. In addition, an essential toolkit comes with the elliptical. However, you will also need your own Phillips screwdriver and an adjustable wrench.
For maintenance, it's advisable to keep the rails of the machine clean to prevent any damage to them. It's also advisable to periodically check for loose or broken parts and remove the dust and sweat that may fall onto the frame or console.
The machine's internal components don't require any lubrication or maintenance, at least not for a very long time.
Pros
Sturdy frame – 325 lbs capacity;
Professional-looking design;
Adjustable levelers;
Transport wheels;
Cushioned, angle-adjustable pedals;
25 lb perimeter weighted flywheel for a consistent momentum and smooth pedaling;
Quiet operation, ideal for apartment use;
24 levels of eddy current resistance;
20 levels of automatic incline (0° – 20°);
18″ to 22″ (48 cm to 56 cm) Power Adjustable Stride Length;
7-inch LCD console with touchscreen operation;
Integrated browser;
Wireless connectivity;
32 workout programs;
Goal tracking functions for time, distance and calories;
Pulse sensors integrated into the fixed handlebars;
Cooling fan included;
The sound system included;
iFit ready console, 30-day family membership included;
Media tray and tablet holder included;
The bottle holder comes included;
Reasonably easy to assemble;
Little maintenance is required;
Excellent warranty.
Cons
An HR chest strap does not come included.
ProForm SMART Endurance 920 E Elliptical Summary
The ProForm SMART Endurance 920 E is a heavy-duty elliptical trainer. It comes equipped with a motorized incline, resistance, and 18″ to 22″ (48 cm to 56 cm) power adjustable stride length. In addition, it excels in comfort factors, featuring cushioned, adjustable pedals.
Moreover, it offers 24 resistance settings, 20° of incline, 32 onboard workout programs, and wireless connectivity. Its 7-inch HD console has touchscreen technology and incorporated browser, and it's iFit ready (includes a free 30-day family member). Furthermore, it's a pretty complete elliptical machine, great for users of all levels.
I hope you found this article helpful and informative. Would you please speak up if you have anything you'd like to share on the topic or any opinions about my website? I look forward to your comments, questions, and the sharing of ideas.
Please note: Before starting any exercise program, you should consult your physician to determine if you have any medical or physical conditions that could put your health and safety at risk or prevent you from using the equipment properly. In addition, your physician's advice is essential if you are taking medication that affects your heart rate, blood pressure, or cholesterol level.