The First Degree Fitness Monaco Challenge AR (Adjustable Resistance) Fluid Rower is crafted and engineered by professional rowers and artisans. Only the highest degree of quality components are used – ensuring complete satisfaction in function, performance, and reliability.
With its patented Fluid Technology, FDF has incorporated the most authentic emulation of sensation, sight, and sound of actual on-water rowing captured in the private setting of your own home. The FDF Monaco Challenge AR Fluid Rower provides a smooth and consistent sensation throughout the range of motion of the exercise experience.
The Monaco Challenge AR features an advanced computer monitor providing the rower with measurable performance output.  With the updated USB connectivity and your computer, you can record your workout sessions, connect with the internet for online racing, and access the web-based logging and ranking system.
The FDF Monaco Challenge AR Fluid Rower provides an ergonomically designed seat on precision bearings and rollers for smoothness. In addition, the footboard comes with advanced heel support and innovative soft-grip handles to eliminate stress on the hands and wrist during your workout.
Learn more in my complete review below!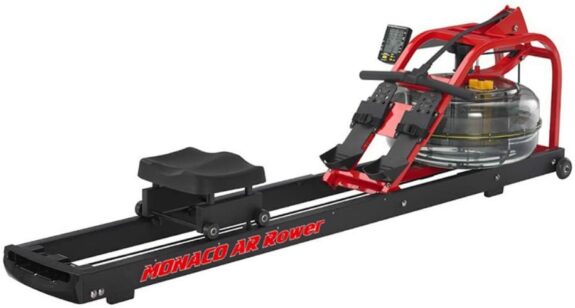 Product: FDF Monaco Challenge AR Fluid Rower
Price: For a great deal on this rower, merely go here on Amazon
Warranty: Frame 5 years / Tank & seals 3 years / Mechanical 2 years / Wear parts 1 year
My rating: 8.75/10
Affiliate Disclosure: As an Amazon Affiliate Program participant, I earn commissions on purchases made through links in this post. Full disclosure
Details and Specifications
Assembled dimensions: 81.5L x 20.5W x 23H inches (207L x 52W x 58H cm)
Assembled weight: 78 lbs (35.3 kg) w/o water; 115 lb (52 kg) w/ water
Supported weight: 330 lbs (150 kg)
Frame: Steel
Footrests: Adjustable, with straps
Resistance: Water, adjustable (4 levels)
Fitness computer: Time, distance, strokes per minute, watts, calories/hour, 500m split time, HR capable, USB port
Warranty: Frame 5 years / Tank & seals 3 years / Mechanical 2 years / Wear parts 1 year
Monaco Frame construction
The First Degree Fitness Monaco Challenge AR fluid rower has a frame built chiefly from steel parts, featuring a very sturdy and durable construction. Since it's a dual-rail rower, it offers superior stability. It's not equipped with adjustable stabilizers but does feature a set of four rubber pads that improve its stability.
The fully assembled rower, with water in the tank, is relatively heavy. It weighs over 100 lbs. Most of the weight is at the front where the water tank is.
Additionally, the front of the machine also has a set of transport wheels. These wheels facilitate its handling and transport once assembled. By leaning the frame forward onto its wheels, you will handle less than half its total weight.
This First Degree Fitness rowing machine doesn't fold, as is the case for other rowing machines. However, the structure of the water tank's metallic casing makes vertical storage possible. When stored vertically, the machine's footprint becomes 23″L x 20.5″W (58 x 52 cm). You don't have to remove the water from the tank for the rower to be stored vertically.
In the operating position, the rower is relatively large, especially lengthwise. It is 81.5″L x 20.5″W (207 x 52 cm) and requires at least two feet of clearance all around it for ease of use. However, this length is also a plus, as the machine can accommodate the tallest users, promoting a complete and adequate leg extension.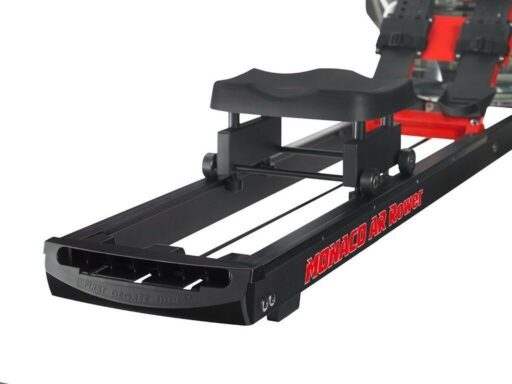 Seat, Pulling Handle, and Footrests
The FDF Monaco Challenge AR Fluid Rower comes with a contoured and full seat, integrating a padding layer to provide optimal comfort for all workouts.
The seat's frame glides on four low friction Delrin® rollers for a cleaner and smoother operation. In addition, they incorporate stainless steel precision bearings for a prolonged lifespan. The top of the seat is at "office chair" height for ease of exit and entry. It stands at approx. 16″ (40 cm) above floor level.
The footrests are attached to the front upper metallic frame. They are adjustable, being able to accommodate feet of all sizes. In addition, each footrest has a heel guard and an adjustable strap to ensure maximum foot stability during workouts.
The footrests do not pivot. But they're set at a standard angle of approx. 60°, providing a natural positioning of the feet during exercising on the machine.
The pulling handle is slightly curved to promote a more natural grip and reduce some of the wrists' stress. A sheet of rubber foam covers it for a comfortable and secure grip. It's attached to a heavy-duty nylon strap, designed to last for many years of use.
Last but not least, all the metallic components in the frame construction feature a corrosion-resistant powder coating. The colors used are red for the frame part that guards the water tank and black for the rails.
Monaco Water tank and resistance system
The First Degree Fitness Monaco Challenge is a fluid rower. It generates resistance by spinning a 3-blade impeller inside its water tank. Just like any other rowing machine with water resistance, this model provides a dynamic response during rowing.
The resistance varies from one stroke to another, depending on how fast you pull. The impeller delivers an instant catch, consistent resistance, and no dead spots, similar to an actual boat's rowing.
This rowing machine comes basically with the same water tank as the Apollo Pro II rower. It's a heavy-duty polycarbonate water tank with a capacity of 4.5 gals (17 liters).
The tank has two chambers, the "storage" chamber and the "active" one. There is a dial on top of the tank, which allows you to quickly add or remove water from the "active" chamber, to adjust the machine's overall resistance. Therefore, if you have all the water in the "active" chamber, the machine will generate maximum resistance.
Conversely, if you set the dial to the minimum level, 3/4 of the water will pass into the "storage" chamber, and the machine will generate 3/4 less resistance.
The machine's resistance system also involves a transmission belt, which doesn't require any lubrication and doesn't generate any extra noise. As a result, the operation of the rower produces a minimal amount of noise compared to an air rowing machine. Most users also find the sound of the spinning impeller inside the water tank soothing.
The water tank is easy to fill up. It has a small hole on top, sealed by a rubber plug—a small pump (is included) with the rower to fill or empty the water tank.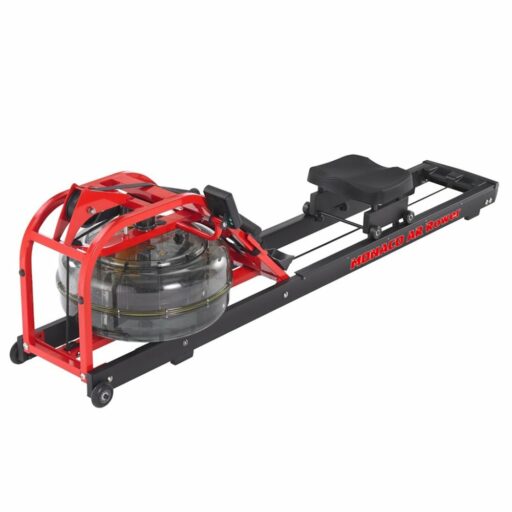 Console
This FDF Monaco Challenge AR fluid rower comes with a fitness computer that offers much more than a basic one. The unit features a multi-panel LCD, which shows all the workout metrics at once, so you won't have to use a SCAN function to alternate them.
It indicates 500M time, strokes per minute, distance, pulse, watts, and calories per hour. The console's resistance should be the same as the water tank's resistance to benefit from a more accurate calorie reading.
For the distance, the console offers the possibility to add 1000m for each large button press. Also, this button covers the console's reset function. By holding it down for three sec., the unit will reset.
But maybe one of the best aspects of this console is the USB port feature, which allows its connection to the internet or a PC via USB cable. This way, you can record your workouts, save your workout data, and use various rowing apps.
The app "NetAthlon 2 XF for Rowers" lets you race with other Internet-connected rowers in a Virtual Reality 3D environment or train solo.
The console is not telemetrically enabled. However, if you need to monitor your heart rate, you will need an optional receiver and an HR chest strap. They are readily available and sold separately.
The console unit is battery-powered and uses 2x AA batteries included.
Monaco Assembly and Maintenance
The water tank with the impeller and the other elements of the resistance system is pre-assembled. Therefore, the assembly requires you to connect the two side rails via the rear brace, add the transport wheels, mount the water tank with the console on top of them, connect the bungee cord to the brake and place the seat on top of the rails.
This shouldn't take more than 30 minutes. The included manual provides very concise assembly instructions and assembly tools (are also included).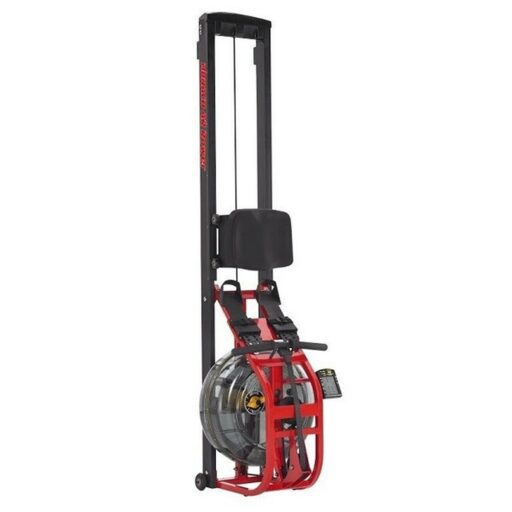 Maintenance requires a periodic inspection for loose bolts and parts and retighten or replace as necessary—also, the bungee cord's integrity and rowing strap. Also, the water in the tank may require chlorine treatment.
Pros
Sturdy frame able to support users up to 330 lbs (150 kg);
Elegant, aesthetic design;
Dual rail construction for extra stability;
It stores vertically to save space;
Easy to handle and transport;
Water-resistance system, delivering a dynamic response and a natural rowing feel;
Dual-chamber water tank, with four distinctive water resistance levels;
Contoured, padded, and large seat for superior comfort;
The seat top has an "office seat" height for ease of entry and exit;
Console with a multi-panel LCD, showing the time, 500m time, pulse, distance, strokes per minute, calories per hour, and watts simultaneously;
A USB connection for online workout data tracking or using online apps;
Its operation is smooth and quiet;
Rowing machine for users of all levels;
Little maintenance required;
Easy to assemble;
Excellent warranty.
Cons
An HR chest strap transmitter and the receiver do not come included.
FDF Monaco Challenge AR Fluid Rower Summary
The FDF Monaco Challenge AR is a fluid rowing machine featuring adjustable resistance, dual-rail construction, and a multi-function console with online connectivity.
Moreover, it offers workout possibilities from light to Olympic level, being perfect for users of all fitness levels. And finally, it's not exactly one of the most affordable fitness machines, but it offers outstanding value for the price.
I hope you found this article helpful and informative. If you have anything you'd like to share or any opinions about my website, please speak up. I look forward to your comments, questions, and the sharing of ideas.