The Endurance FB300 Fan Bike by Body-Solid is a simple fan bike made for cardio and lower body exercises. This bike is excellent for users of all fitness or recovery levels. Use for both strength training and rehabilitation of the lower body or to build endurance through cardio.
The Endurance FB300 is entirely adjustable and comfortable to transport when moving from room to room and for storage or sanitation purposes. The seat can be adjusted forward, backward, up, or down. This design allows any sized user to easily change the bike to a comfortable position and provides an effective workout.
The LCD is easy to use, read, and adjust while in use, and the display screen features quick program buttons and can display heart rate, speed, RPM, time, watts, and calories. In addition, the display console is straightforward and includes all essential keys for quick programming.
The Endurance FB300 fan bike is also an optimal cardio training machine for High-Intensity Interval Training. During HIIT workouts, the rider will engage in intense, short-burst timed intervals with maximum exertion to push the body to the limit. The Endurance FB300 Fan Bike also features 10/20, 20/10, and Custom Interval programming for Tabata training.
Learn more in my complete review below!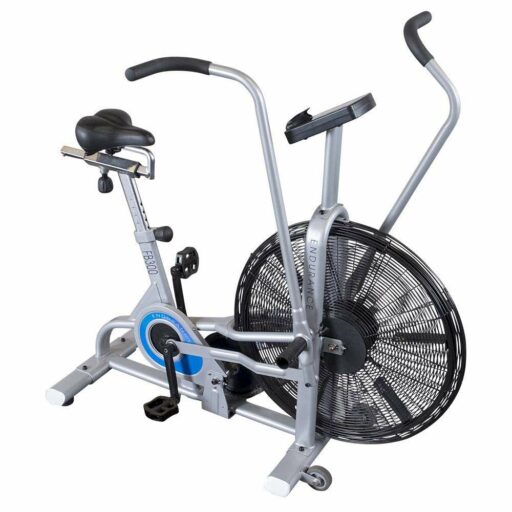 Product: Endurance FB300 Fan Bike by Body-Solid
Price:  For a great deal on this bike, merely go here on Amazon
Warranty: Frame 15 years / Parts 3 years / Electronics 2 years / Wear parts 6 months / Labor 1 year
My rating: 9/10
Affiliate Disclosure: As an Amazon Affiliate Program participant, I earn commissions on purchases made through links in this post. Full disclosure
Details and Specifications
Assembled dimensions: 49L x 24W x 50H inches (125L x 61W x 127H cm)
Assembled weight: 96.8 lbs (44.7 kg)
Supported weight: 300 lbs (136 kg)
Handlebars: Mobile
Seat: 4-way adjustable
Drive: Chain
Resistance: Air
Console: 3 interval programs, four target programs
Included accessories: Bottle holder
Warranty: Frame 15 years / Parts 3 years / Electronics 2 years / Wear parts 6 months / Labor 1 year
FB300 Frame construction
The Endurance FB300 fan bike combines ovalized and round bars in its building for improved sturdiness and aesthetics. Most of its frame is heavy-duty steel tubing coated with a corrosion-resistant paint finish. The color used is light gray, with the "Endurance" logo painted blue.
The Endurance FB300 Dual Action Fan Bike suits various fitness levels, from the novice to the expert rider. It is perfect for both rehabilitation and high-intensity workouts.
The FB300 offers a comfortable fit for various users. The seat post is completely adjustable forward, back, and vertical, allowing virtually any sized user to safely adjust the machine to its ideal position.
The bike offers a reasonably heavy construction; with the frame and the other parts fully set up, it weighs approximately 97 lbs (45 kg). Therefore, its assembly may require two people, but on the other hand, all this weight provides superior stability.
Plus, both its base bars come with adjustable levelers and large rubber pads for balance. Therefore, the unit has an excellent grip on the floor, so it won't move or rock even if you engage in a more demanding cardio workout.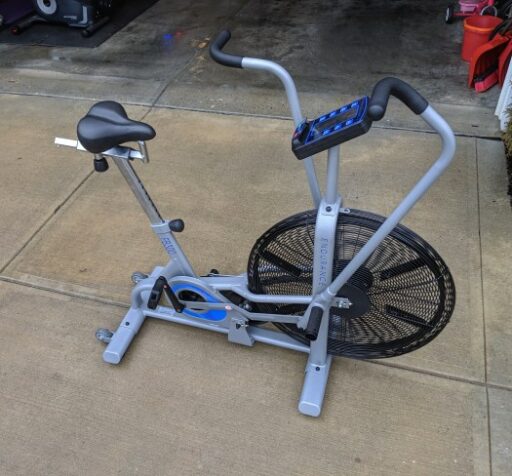 Regarding dimensions, the FB300 fan bike is not extremely large. It's approximately 49″ (125 cm) long and 24″ (61 cm) wide. With this in mind, you should assign a usage area for it of a least 80″ x 60″ (203 x 152 cm).
Seat and handlebars
The Endurance FB300 fan bike comes with a high-comfort seat. The saddle features a generous layer of cushioning and a highly durable vinyl top, and it has rear shock absorption springs and a longitudinal groove for improved breathability.
It's also relatively large, offering plenty of contact surfaces. As a result, even users who are new to cycling shouldn't experience discomfort while using this exercise bike.
The bike's seat offers 4-way adjustability (up, down, forward, and backward). Its vertical post has ten adjustment notches with approx. 1″ (2.5 cm) is in-between. Plus, its horizontal slider provides several inches of front-to-back adjustment.
The bike should be able to accommodate users between 5'2″ and 6'6″ (157 – 198 cm) with no problem, allowing a complete leg extension and range of motion for the arms. The seat and the unit's whole frame have 300 lbs (136 kg) user weight capacity.
The Endurance FB300 fan bike has moving handlebars only. They cannot be locked in place, and they run for as long as you're pedaling or the flywheel is spinning. They have a layer of rubber foam material to provide a secure grip.
FB300 Drive and resistance
The Endurance FB300 fan bike features a dual drivetrain that uses two chains and an intermediary pulley. One of the chains is on the right side, connecting the main crankset to the intermediary pulley. The other is on the opposite side, joining the intermediary pulley to the flywheel.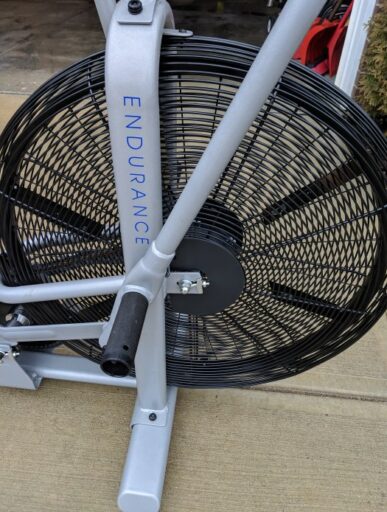 This type of drivetrain considerably improves pedal smoothness and adds difficulty to the pedaling motion. Even since it uses chains, the unit's drive system can last a lifetime if properly maintained.
The bike comes with a large, 27″ (68.6 cm) in diameter flywheel. It's the most massive flywheel (so far) used to construct an air resistance bike. In addition, it delivers a dynamic response during pedaling, which means that the harder you pedal and move the handlebars, the more resistance you will get.
Although the bike fan is considerably more massive than other bikes, it does not provide an enormous momentum as the gigantic and perimeter-weighted flywheel of a spin bike. Thus, this bike may not be the best choice if you want to improve your leg muscle strength.
Nonetheless, by moving your arms and exercising, and following one of the interval programs on the console, you can benefit from a very consistent cardio workout.
The bike has a set of heavy-duty pedals and cranks. They should be able to support the user in a standing-up position while pedaling with no problem. The pedals are durable nylon material. Unfortunately, they do not have any straps or clips for spin shoes, but they have standard threads, so you can always replace them if needed.
Console
The LCD (without backlight) divides into multiple windows. Therefore, it shows time, total time, distance, calories, pulse, watts, speed, and RPMs all at once; you don't have to use a scan function to rotate them. In addition, the speed and distance can be in either metric or standard units.
The console offers three interval programs and four target programs. The interval programs are for 10/20, 20/10, and custom. And, for the custom interval program, you can set up the duration of the rest and work intervals.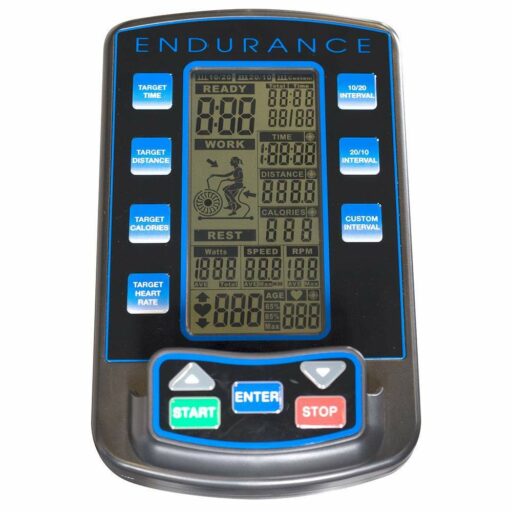 The target programs offer the possibility to select a goal for time, distance, calories, and heart rate. After choosing a target for any of these workout metrics, the console will display the selected target's remaining value as you exercise.
For pulse reading, the bike does not have any sensors. However, the console is telemetric. In addition, it can track your heart rate through a wireless chest strap transmitter, which is not (included).
Apart from the seven program buttons, it also has five function buttons. These are Start, Stop, Enter, Up, Down. For example, the Start button allows you to initiate your workout.
The arrow (Up, Down) buttons serve to increase and decrease values during target selection mode. The Enter button covers the selection/confirmation function. Finally, the Stop button allows you to reset the values on the console if pressed for 2 sec. After pressing the Stop button once, the current program will end, and the display will show your workout summary.
Heart Rate Target Program
The Heart Rate Target works a bit differently. During your workout, the display will switch between 65% and 85% heart rate. If your heart rate goes below 65% or above 85%, the console beeps until your heart rate is between 65% and 85%. Of course, to use this program, you will need an HR chest strap.
FB300 Assembly and Maintenance
The bike's main body, including the flywheel, the drive system, and the seat post, is already in one piece. Therefore, the assembly only requires you to add the base bars, the moving arms, the seat, the console mast, and the console.
Therefore, it shouldn't take more than one hour. In addition, all the tools required for the assembly come with the bike, while the manual has detailed instructions and schematics.
For maintenance, it's advisable to lubricate the chains periodically. However, they are pre-lubricated, so this shouldn't be necessary for at least a few months. The fan and its casing may accumulate dust, but you can easily vacuum it from the outside without removing parts.
Other than this, you should keep the bike clean, keep liquids away from the console, and periodically check for loose or broken pieces and replace or retighten if necessary.
Pros
Sturdy frame, able to support users up to 300 lbs;
Adjustable levelers on both bases;
Transport wheels on the front base;
Durable, corrosion-resistant paint finish;
Mobile handlebars for arms workouts;
Ergonomic, contoured seat, 4-way adjustable;
Air resistance system, great for interval workouts;
Dual chain drivetrain for smoother pedaling and extra pedaling difficulty;
Stable pedals with standard threads;
Fitness console which can track seven workout metrics, including RPM, speed, time, distance, pulse, watts, and calories;
Three interval programs – 10/20, 20/10, custom;
Four target settings for time, distance, calories, and heart rate;
Telemetric console;
Little maintenance required;
Easy to assemble.
Excellent warranty.
Cons
The HR chest strap does not come included with the bike;
The LCD does not have a backlight;
A tablet placed on the shelf of the console will cover the LCD.
Endurance FB300 Fan Bike Summary
Fan bikes are currently experiencing high competitive appeal and demand due to their usage in CrossFit and high-intensity interval training programs. While there are countless variations of this timeless stationary bike from nearly every cardio equipment manufacturer, the root mechanics and functionality have remained the same for over four decades.
The Endurance FB300 Fan Bike by Body-Solid features a 27″ fan and a sturdy steel frame with a maximum user weight capacity of 300 lbs. In addition, it offers superior ergonomics and micro-adjustability.
One last aspect to note regards the foot resting pegs. Again, not all fan bikes have this feature. They're placed at the joints between the moving arms and the pedal bars and offer the possibility to rest your legs while you only use the moving handlebars.
Moreover, it's an excellent bike for high-intensity cardio workouts, interval training, muscle toning, endurance gain, and weight loss. It's not one of the most affordable air resistance bikes but does offer excellent value for the price.
I hope you found this article helpful and informative. Would you please speak up if you have anything you'd like to share on the topic or any opinions about my website? I look forward to your comments, questions, and the sharing of ideas.