Regarding exercise bikes, the Exerpeutic Folding Magnetic Upright Bike ticks all of the right boxes. It's best suited to new and intermediate-level exercisers; anyone can use it. However, very experienced cyclists may not find the top resistance levels enough of a challenge.
There's no getting around the benefits of the stationary bike for weight loss and toning. However, buying an inferior bike, or one that doesn't suit your needs, will waste money. With this model, you will be getting a bike up there with the best available for the price.
The Exerpeutic Folding Magnetic Upright Bike offers an extensive workout in a small space. This upright exercise bike's two main selling features are obviously "pulse" and "folding." In addition, this Exerpeutic exercise bike can monitor your heart rate via the integrated pulse sensors located in the handlebars.
The other selling feature of the Exerpeutic bike is its ability to fold up and store away quickly. The design of this bike allows it to fold up to about ½ of its original footprint. Therefore, it is excellent for people with little exercise space or who don't want their equipment on display. Once folded, this bike is easily transported and stored in a closet or, in some cases, under a bed.
Learn more in my complete review below!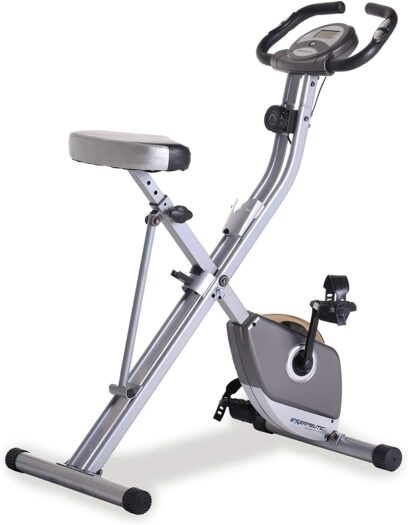 Product: Exerpeutic Folding Magnetic Upright Bike
Price: For a great deal on this bike, merely go here on Amazon.
Warranty: 1-year frame / 90 days on parts
My Rating: 9/10
Affiliate Disclosure: As an Amazon Affiliate Program participant, I earn commissions on purchases made through links in this post. Full disclosure
Details and Specifications
Dimensions: Height: 46." / Width: 19″ / Length: 31."
Item weight: 39 lbs
Max user weight: 300 pounds
Precision-balanced flywheel and V-belt drive provide smooth and quiet operation and will not interfere with watching TV or listening to music.
It folds to ½ the size for easy storage.
They have extended leg stabilizers to prevent any movement or tipping when exercising.
Eight levels of magnetic resistance provide a more comfortable or more challenging workout.
Heart pulse sensors allow you to monitor your heart rate.
A three-piece high-torque cranking system provides a smooth and consistent pedaling motion.
A larger pedal design with safety straps prevents any foot slippage when exercising.
A large comfortable seat cushion.
Transportation wheels for easy relocation.
Ideal for users between 5'3″ to 6'1″.
Warranty: Frame: 1 year, / All Other Components: 90 days
Frame and parts
The first impression of exercise bikes isn't crucial, but it is still essential. They have to look like they can support your weight without becoming wobbly when you get on them.
Fortunately, this particular Exerpeutic Folding Magnetic Upright Bike is sturdy and well-built, with the frame constructed out of heavy-duty steel tubes, supporting a maximum user weight capacity of up to 300 lbs.
Its ergonomic seat is refreshingly broad and soft thanks to generous padding, making the comfort level comparable to those usually on gym bikes. However, the seat can be too large if you're a petite person.
The leg stabilizers prevent the bike from tipping over during the workout, and they come equipped with wheels and are light enough to make it easy to transport from one room to another.
And have I mentioned the folding aspect? After you finish your workout, you won't have to worry about what to do with that exercise bike right in the living room since you can fold it and put it away.
Resistance
Thanks to its three-piece "high torque" crank system, the bike runs smoothly, ensuring the pedaling motion won't suddenly stop midway through. Together with the eight different resistance levels, this allows for exceptionally smooth pedaling.
The V-belt drive and the flywheel are responsible for giving you a quiet workout without those annoying screeching sounds. You can watch TV simultaneously because the bike's sound won't interfere with your favorite shows. This Exerpeutic bike has a nice little cup to hold your remote control.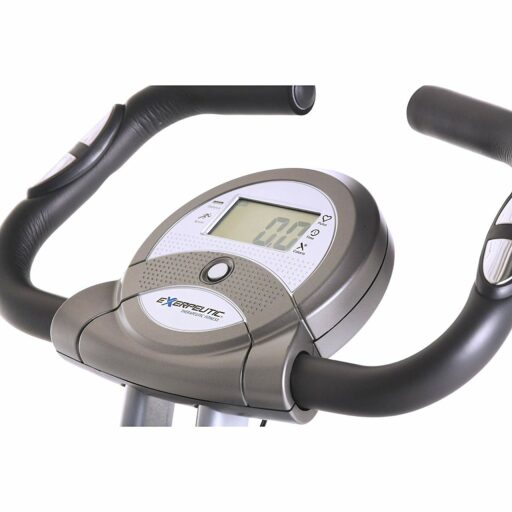 Console
This bike has an easy-to-read LCD computer, displaying workout data such as calories burned, distance, time, speed, pulse, and an odometer. Another standout feature of this upright bike is the built-in heart rate and pulse sensors on the handlebars.
Keeping track of your heart rate is essential when you exercise, regardless of whether you work out five times a week or are just starting to adopt a healthier lifestyle.
Computer Features:
Easy to read large computer LCD.
Workout data includes:
Calories Burned
Distance
Time
Speed
Pulse
Odometer
The Exerpeutic Folding Magnetic Upright Bike is probably one of the least expensive bikes with the ability to monitor your heart rate. In addition, this bike has sensors in the grips that will keep you in a cycling position while still tracking your heart rate.
Therefore, it's an excellent option because it allows you to see how much intensity you're putting into your exercise and enable you to burn fat or work on your cardio.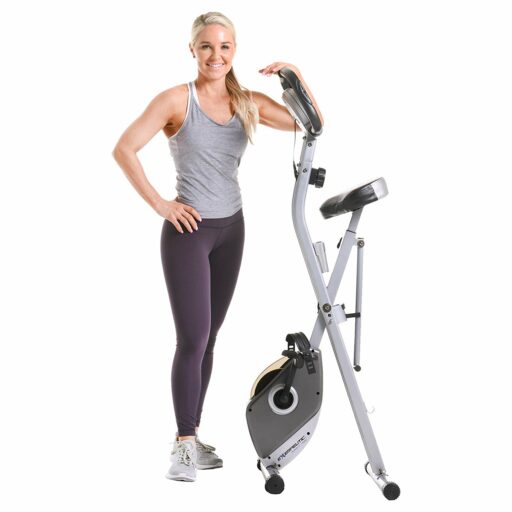 Shipping and Assembly
Shipping costs will vary for the Exerpeutic bike depending on where you purchase it and your preferred delivery. However, some retailers, such as Amazon.com, will provide free shipping.
There are only four steps to the assembly of the bike. First, using the three wrenches Exerpeutic provides, you must attach the stabilizer levelers, the seat and post, the pedals, and the handlebars. The assembly manual is straightforward, and one person should assemble this bike in less than an hour.
Pros
Design;
Heart Rate Monitoring;
A variety of resistance options to customize your workout;
Easy to use and adjust for comfort;
Versatility for a variety of body shapes and sizes;
Compact size;
Easy to use and adjust;
Quiet and smooth ride.
Cons
It's not for intense workouts.
Exerpeutic Folding Magnetic Upright Bike Summary
For under $200, the Exerpeutic Folding Magnetic Upright Bike is an excellent option for home use. It has a robust design with a 300 lb weight capacity. It also is one of the cheaper exercise bikes that you'll be able to find that offers a way to measure your pulse.
I hope you found this article helpful and informative. Would you please speak up if you have anything you'd like to share on the topic or any opinions about my website? I look forward to your comments, questions, and the sharing of ideas.
Please remember that you should consult your physician to determine if you have any medical or physical conditions that could risk your health and safety or prevent you from using the equipment properly. In addition, your physician's advice is essential if you are taking medication that affects your heart rate, blood pressure, or cholesterol level.