The Exerpeutic Magnetic Recumbent Bike features a rigid welded mainframe with an extended weight capacity of 310 lbs. The bike features extended adjustable leg stabilizers to prevent movement or tipping while cycling for added stability. In addition, a step-thru design provides easy on-and-off capability, providing a more effective and comfortable workout.
The Exerpeutic bike features an adjustable and motorized magnetic resistance system. Therefore, you can easily regulate the resistance levels from the fitness monitor of the bike. The magnetic resistance has 16 levels of resistance adjustment. Thus, you can efficiently switch to any of the levels per your needs.
The Exerpeutic Magnetic Recumbent Bike has a large fitness monitor LCD that displays distance, time, speed, pulse, and calories burned. In addition, the bike also has 24 preset workout programs that automatically regulate the bike's resistance. Depending on the workout programs, you can perform light or intense workouts, cardiovascular and interval training, etc.
The Exerpeutic bike seat is cushioned and features a backrest for added support as you cycle. The seat sits on a chrome slide rail and can easily adjust with a single-handed adjustment lever for different users. This recumbent bike's adjustability makes it suitable for users ranging from 4 ft 11″ up to 6 ft 6″ tall.
Learn more in my complete review below!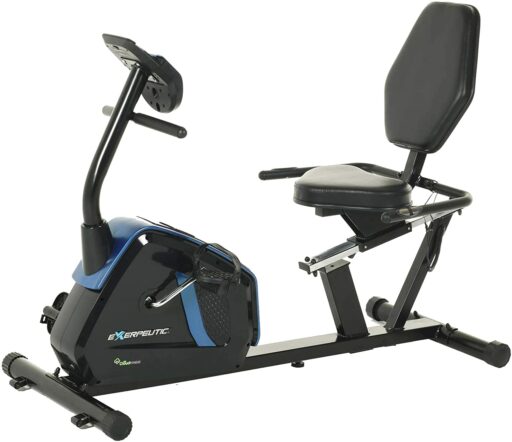 Product: Exerpeutic Magnetic Recumbent Bike
Price: For a great deal on this bike, merely go here on Amazon
Warranty: Frame 1 year / Parts 90 days
My rating: 8.5/10
Affiliate Disclosure: As an Amazon Affiliate Program participant, I earn commissions on purchases made through links in this post. Full disclosure
Details and Specifications
Assembled dimensions: 58L x 23.5W x 38.5H inches (147L x 60W x 98H cm)
Assembled weight: 71.6 lbs (32.4 kg)
Supported weight: 310 lbs (140 kg)
Seat: Adjustable
Resistance: Eddy current, 16 levels
Fitness Monitor: 24 preset programs, two user profiles, goals, Bluetooth
Extras: Device holder, bottle holder
Warranty: Frame 1 year / Parts 90 days
Frame Construction
The Exerpeutic recumbent bike features a steel frame combining cylindrical and rectangular tubes in its construction. In addition, all the steel parts come coated with a rust-resistant black paint finish. The only exception is the slide rail of the seat, which has a chrome finish.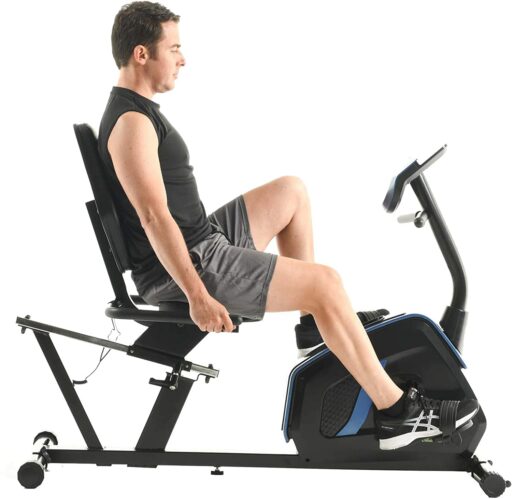 Of course, the side covers of the drive and resistance mechanism are durable thermoplastic materials. They combine black and blue panels.
The bike is relatively large, especially lengthwise. It is approx 58″ (147 cm) long and 23.5″ (60 cm) wide. Plus, it is advisable to assign at least two feet of clearance all around it for safe usage and ease of access. Therefore, it may not fit too well in a small room.
The fully assembled bike isn't hefty. However, it weighs approximately 71.6 lbs (32.4 kg), twice the average road bike's weight. Plus, it has a low center of gravity, which adds stability. As a result, the bike is easy to move once assembled. In addition, its front base comes equipped with two small transport wheels.
It's important to mention that this Exerpeutic recumbent exercise bike has a step-through design. Therefore, it can be helpful for users with disabilities as it allows much more accessible entry and exit.
Seat and handlebars
The Exerpeutic bike has a seat designed for optimal comfort—the seat and backrest pad feature a thick foam padding layer with a durable vinyl cover. The seat is approx. 14″ (35.5 cm) wide provides plenty of contact surface.
The seat's base frame is durable enough to support 310 lbs (140 kg). Its rail provides several inches of adjustment. The bike has a user height range of 4'11" – 6'6 ″ (150 – 198 cm).
Also, you can easily adjust the seat while the user is seated. It has a large knob on the right side to grip and turn comfortably. It's important to mention that the backrest does not adjust independently from the rest of the bike's seat.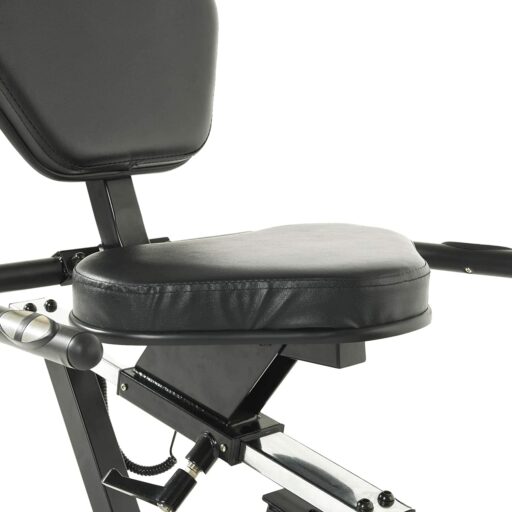 The Exerpeutic recumbent bike features two sets of handlebars. One is attached to the seat assembly, and the other to the front mast of the bike. The seat handlebars integrate HR pulse sensors, and their cable goes through the frame to the fitness monitor.
The front handlebars feature short grips, slightly curved towards the user to reduce the impact on the wrists. However, neither of the handlebars is adjustable. Instead, both have a layer of rubber foam material on their grips for extra comfort.
Resistance system
The Exerpeutic recumbent bike comes equipped with an eddy current resistance system. Therefore, you must connect it to a power source to power up its console and adjust the resistance. In addition, the fitness monitor can change the resistance automatically. Also, a power adapter comes included with the bike.
The bike's resistance system consists of a servo motor and a magnetic brake integrated into the bike's flywheel mechanism. The motor connects to the fitness monitor, so when you adjust the resistance or when a program is in use, it shifts the magnetic brake pull onto the flywheel, which adds to or reduces the pedaling difficulty.
The bike makes available 16 levels of resistance. The first few levels deliver a light workout load, great for exercising heart and lung function. Conversely, the top levels allow you to achieve a higher calorie burn and an increased cardiovascular rate in a shorter time.
The exact weight of the internal flywheel is not specified. But considering that the bike weighs only ~71 lbs (32.4 kg), its wheel probably doesn't weigh more than 20 lbs (9 kg). Most of its weight is in its perimeter for extra stability and more consistent momentum. It is also bi-directional, so you can pedal reverse if you want.
Drive system
Like most other exercise bikes equipped with a magnetic resistance system, the Exerpeutic bike features a belt drive system. However, this type of drivetrain comes with three main advantages. First of all, you don't have to lubricate it. Second, the belt generates less vibration than a chain; third, the pedaling motion is whisper-quiet.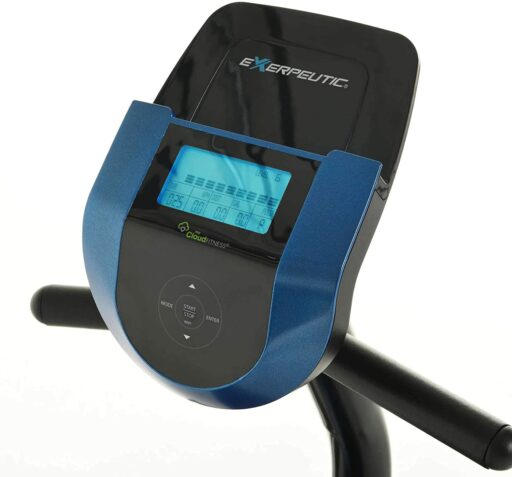 The bike features a durable 3-piece crankset with a large pulley and two solid steel crank arms. Also, the pedals are self-leveling, with a non-slip surface and adjustable straps.
Fitness monitor
The Exerpeutic bike comes equipped with a mid-range fitness monitor. To begin with, it features an LCD with a blue LED backlight for improved readability. In addition, the display divides into several sub-sections to show as many workout metrics as possible, so you don't have to use a scan mode to rotate them.
It tracks time, distance, total distance, calories, RPM, speed, watts, and pulse, while the top part shows the program's profiles in us. For example, the distance is miles; however, you can select either km/h or Imperial (mph) units for speed.
Unfortunately, the fitness monitor is not telemetric. Therefore, you cannot sync it with a Polar or ANT+ chest strap. So, to read your pulse, you must hold on to the HR pulse sensors integrated into the seat handlebars.
The monitor features 24 preset programs. Each program is for a specific type of workout. For example, some simulate a hill climb, others have an interval layout, while others focus on helping your burn more calories.
Two user profiles are also available. Each user can input their age, height, weight, and gender data so that the monitor can calculate and display a more accurate calorie burning.
Amenities
An important feature to note here is Bluetooth connectivity. This allows you to sync your exercise bike with your smartphone or tablet, track your progress online, or view your workout history via the MyCloudFitness app for iOS and Android. Try it free for 30 days, then $14.99 a month. The 30-day free membership gives you access to the following:
Hundreds of coaching videos led by top trainers
Bike scenic routes in Paris, Central Park, and more with World Tour Maps
Row with an Olympic champion on the water in beautiful San Diego
New Content is added monthly
The MyCloudFitness app is reshaping wellness with personalized workout programs, award-winning trainers, workout tracking, on-demand fitness classes, world tour maps for cycling and rowing, and live fitness reports.
With a MyCloudFitness subscription (free for 30 days), you can view hundreds of workouts with top trainers, get personalized programs, and World Tour Solo allows you to work out in Paris, Central Park, and more. Take a day trip or ride at night with the Exerpeutic Magnetic Recumbent Bike and Scenic workout videos; you can transport anywhere you want without leaving your home's comfort.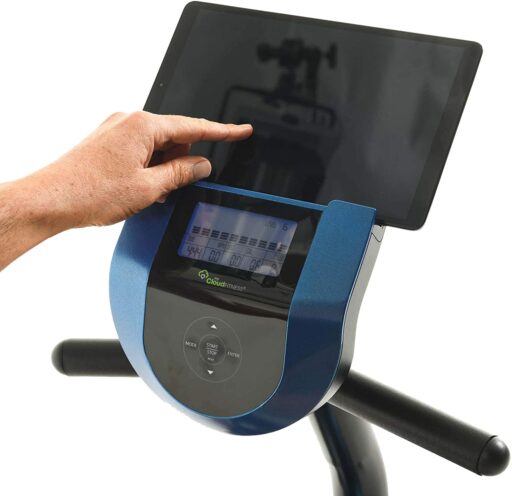 The monitor has no integrated sound system, fans, or fancy features. However, its top features a small shelf for your smartphone or tablet.
Assembly and Maintenance
The front unit of the bike, with all the drive and resistance elements, comes pre-assembled. However, the rest of the parts require user assembly. You must attach the two base bars and assemble and connect the seat, the front mast, the fitness monitor, and the pedals.
Therefore, it may take more than an hour, but the manual provides precise assembly instructions. A set of necessary tools also comes included.
Once fully assembled, you don't have to worry too much about maintenance. The internal parts don't require lubrication (or shouldn't for a very long time. All you have to do is keep the bike clean, wipe the sweat from the frame at the end of the workout, and periodically check if all the parts are functioning accordingly.
Pros
Robust construction – can hold users up to 310 lbs;
Step-thru design for easy access to the seat;
Adjustable rear stabilizers;
Transport wheels;
Comfortable seat with thick padding on both the backrest and lower cushions;
Adjustable seat – can accommodate users between 4'11″ and 6'6″;
EKG sensors integrated into seat handlebars
Eddy current (automatic) resistance with 16 available settings;
Very smooth, almost silent belt drive;
Large fitness monitor LCD with blue LED backlight, which improves its readability;
24 workout programs;
Two user profiles;
Three goal settings;
Bluetooth-enabled monitor compatible with the MyCloudFitness app;
Tablet holder included;
Bottle holder included;
Easy to assemble;
Little maintenance is required.
Cons
The fitness monitor doesn't have a USB port for recharging your phone.
Exerpeutic Magnetic Recumbent Bike Summary
The Exerpeutic Magnetic Recumbent Bike is ideal for home use. It features an automatic magnetic resistance system with 16 difficulty levels, a comfortable seat with a pretty long adjustment span, and a fitness monitor with a 24 workout program. In addition, the monitor also has Bluetooth connectivity and is compatible with the MyCloudFitness app.
It's a great exercise bike for light to medium-intensity cardio training, muscle toning, recovery training, weight loss, and stamina development. Moreover, it's considerably cheaper than a commercial-grade bike and offers excellent quality.
I hope you found this article helpful and informative. Would you please speak up if you have anything you'd like to share or any opinions about my website? I look forward to your comments, questions, and the sharing of ideas.
Please remember to consult your physician to determine if you have any medical or physical conditions that could put your health and safety at risk or prevent you from using the equipment properly. In addition, your physician's advice is essential if you are taking medication that affects your heart rate, blood pressure, or cholesterol level.