The Sunny SPM Rowing Machine SF-RW5941 offers multiple ways to improve your fitness. Get a tremendous conventional rowing experience or switch things up with various upper body workouts all on the same machine. Having this unique multifunction exercise equipment at home that can benefit the entire body is a great way to stay in shape and healthy.
The SF-RW5941 features 16 adjustable manual magnetic resistance levels that provide versatility and customization for rowers of all levels. Isolate and target your upper body muscle groups by using the floor plates for different standing row positions.
The Sunny SPM Rowing Machine comes equipped with a fitness console that tracks Time, Count, Total Count, Calories, and Scan. Stay focused on your fitness goals and exercise metrics. However, it does not have a pulse reading function, so if you need to monitor your pulse, you'll have to use a separate device.
The SF-RW5941 offers a wide cushioned seat with extra padding that helps relieve pressure in the tail bone due to sitting, helping prevent circulation from being cut off. Enjoy maximum stability when you strap your feet onto the adjustable footrests so you can stay focused on working out.
Learn more in my complete review below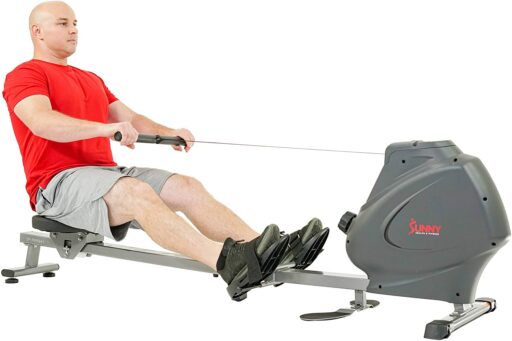 Product: Sunny SPM Rowing Machine SF-RW5941
Price: For a great deal on this rower, merely go here on Amazon
Warranty: Frame 3 years / Parts 180 days
My rating: 8.5/10
Amazon Affiliate Disclosure: I may earn commissions on purchases made through links in this post.
Details and Specifications
Assembled dimensions: 76.8L x 22.8W x 22.8H inches (195L x 58W x 58H cm)
Assembled weight: 52.9 lbs (24 kg)
Weight capacity: 250 lbs (113 kg)
Frame: Steel
Resistance type: Magnetic, 16 levels
Fitness Console: Time, count, total count, calories, goals, scan
Extras: Device holder, bottle holder
Warranty: Frame 3 years / Parts 180 days
SPM Frame construction
The Sunny SPM rowing machine SF-RW5941 features an all-steel frame combining rectangular and oval tubes in its construction. The only notable non-metallic parts are the footrests and the covers of the drive and resistance elements. All the steel frame parts come coated with a rust-resistant paint finish; the color used is gray.
The rower comes equipped with a reasonably long rail. Considering the footrests' position, it can accommodate users with an inseam up to 43″ (109 cm). Thus, the rower should accommodate users comfortably up to 6'6″ (198 cm), allowing a complete leg extension. It is also sturdy enough to support users up to 250 lbs (113 kg).
The machine's assembled footprint is 76.8″L x 22.8″W (195 x 58 cm). It is advisable to assign a usage area with a clearance of at least two feet on each side and at the rear of the rower for unhindered usage.
On the other hand, the rower is foldable. The rail with the seat folds vertically to save space. With the rail folded up, the unit's footprint remains 41.3″L x 22.8″W (104 x 58 cm) while its height reaches 47.2″ (120 cm).
This Sunny rower is not too heavy. Its net weight is 52.9 lbs (24 kg). Thus, one person can carry and assemble the machine. Its front base has a set of small wheels that help with relocating the fully assembled machine. Also, its rear stabilizer comes with a set of adjustable levelers.
Seat and handlebars
The Sunny SPM rowing machine comes equipped with a heart-shaped seat. Its top section is approx 15″ (38 cm) wide and 11″ (28 cm) front-to-back, featuring a layer of foam cushioning of 2″ (5 cm). The cushion has a layer of durable vinyl material, which is also sweatproof.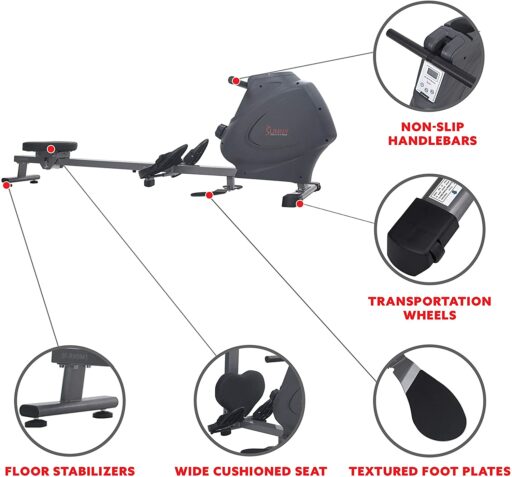 The base frame of the seat is steel-made. It comes with three sets of rollers that integrate sealed bearings for a smooth seat motion. Two sets of rollers slide on top of the rail, the third under it for improved stability. The side panels partially shield the rollers of the seat frame for enhanced safety.
The machine's rail is not horizontal. It has a bit of incline, which means that the seat is slightly higher from the floor when it is at the rail's back. At its highest point, it is at approx. 9″ (22.8 cm) above floor level.
The rower comes equipped with two reasonably large footrests made of durable polypropylene material. They have a textured surface, heel guards, and adjustable straps for improved foot stability.
They feature a pivoting design; this means they can tilt on their axis, allowing your feet to adjust their position during each stroke slightly. They have rear stoppers so that they won't tilt backward over approx—45 °.
The Sunny SF-RW5941 rower has an extra-base stabilizer with two flattened footplates covered with an anti-slip material. You can stand on these two footplates to perform bicep curls, standing rows, and other exercises. Not all rowers have this feature, so it's a plus.
Last but not least, the rower comes with a standard pulling handle. It consists of a short and straight metallic bar with foam sleeves on its grips, and it does not integrate pulse sensors or any controls. It attaches to a heavy-duty nylon strap, which is highly resistant to abrasion.
Since the machine uses a belt, not a chain like other rowers, you won't have to lubricate it, and the usage of the rower is considerably quieter.
SPM Resistance system
The Sunny SPM rowing machine comes equipped with a manual magnetic resistance system. It doesn't require an external power source, a power cord, or an adapter. However, it also doesn't have pre-set programs and cannot adjust the resistance automatically.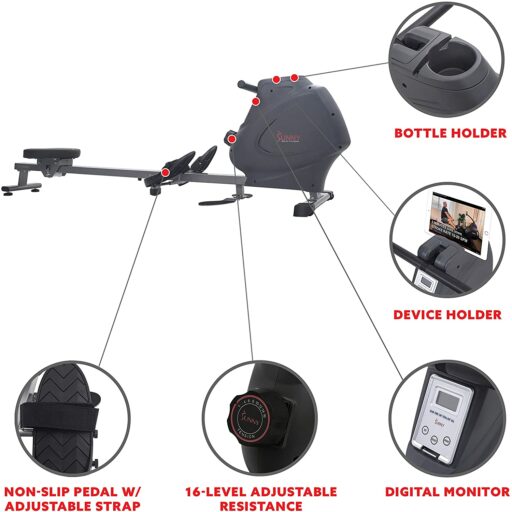 The internal resistance system consists of a magnetic brake integrated into the flywheel and connected to the tension knob on the rower's front unit. By turning the knob clockwise, the magnets move closer to the flywheel and increase the workout load.
The rower makes available 16 resistance levels. The lowest one delivers a relatively light resistance, great for beginners or users who require recovery training. Conversely, the 15-16 resistance settings provide a pretty decent workout load, great for anyone who wants to improve strength or train at a professional level.
Like most other rowers with a full-magnetic resistance system, the Sunny SF-RW5941 does not offer a dynamic response. In other words, the resistance does not depend on your stroke rate. For example, if you pull faster on a water resistance rower, you will get more resistance.
For magnetic rowers, this is not the case. The resistance load depends only on the selected tension level. However, this only changes the rowing feel slightly, and regardless of it, you will still benefit from a consistent, full-body cardio workout.
One last notable advantage of the full-magnetic resistance system is the quietness of the ride. Since the brake is magnetic, there is no internal friction or drag. Therefore, the usage of the rower is almost entirely silent.
Console
The Sunny SPM rowing machine comes equipped with a standard rower fitness console that offers a few extra features over a basic unit.
First, it has an LCD that tracks time, count (strokes for the current workout), total count (total amount of strokes from the first use), and calories burned. It does not have a pulse reading function and also does not show distance or time/500m.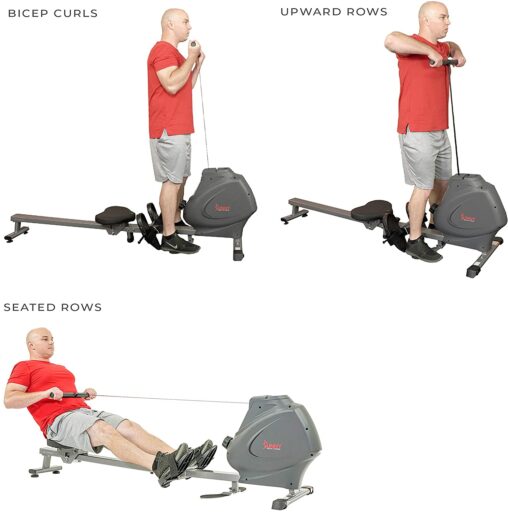 The console comes with three buttons: Set, Reset, and Mode. The Set button allows you to enter the setup mode and select workout goals for time, count, or calories. After choosing a goal, the unit will count down from the specified value until zero.
By pressing the Mode button repeatedly, you can scroll through the metrics and select the one you want to view on display. There's also a Scan Mode, which rotates all the values showing each one for 6 seconds. And finally, the Reset button allows you to reset all the console values to zero except total count.
The console is battery-powered. It requires two AAA batteries, which come included. It starts when you begin rowing or press one of the buttons, and it also automatically turns off after four minutes of inactivity on the machine.
SPM Assembly and Maintenance
The front part of the rower with the resistance mechanism comes pre-assembled. You only have to attach the front stabilizer, the footrests, insert the seat on the sliding rail, attach the rail to the front part of the rower, and finally connect the rear stabilizer.
This shouldn't take more than 30 minutes of your time. The task is straightforward, the manual provides clear assembly instructions and illustrations, and all the necessary tools come included.
It is advisable to keep the unit clean, especially the rail, to prevent any damage to the seat's wheels for maintenance. The internal elements do not require any maintenance. It is also advisable to periodically inspect the machine to ensure that all the moving parts work properly and all the joints still hold tight.
Pros
Sturdy frame for a light rower – can support users up to 250 lbs;
Folding design;
Adjustable levelers on the rear stabilizer;
Transport wheels integrated into the front stabilizer;
Padded seat for optimal comfort;
Pivoting footrests for a perfect foot position with each stroke;
Extra footplates for standing rows or bicep curls;
Relatively long rail – can accommodate users up to 6'6″;
Quiet and smooth magnetic resistance system;
16 levels of resistance for light to medium workouts;
Fitness console included – it can track time, count, total count, and calories;
Goal setting functions for time, count, and calories;
Device holder included;
Bottle holder included;
Batteries for the console come included;
Easy to assemble;
Little maintenance is required.
Cons
No pulse reading function;
No distance or time/500m functions;
The LCD does not have a backlight.
Sunny SPM Rowing Machine Summary
The Sunny SPM rowing machine SF-RW5941 is a magnetic resistance rower made for home use offering 16 levels and a fitness console with goal functions. It has a reasonably long rail for inseams up to 43″, which is also foldable.
Moreover, it's an excellent machine for a full-body cardio workout, stamina development, and weight loss. And finally, it's an affordable unit, currently available for less than $300, a decent alternative to a gym-grade rower.