Tackle new fitness challenges with the Sunny SF-T7873 Folding Treadmill with Auto Incline by Sunny Health & Fitness. It's for intense running and endurance-driven walking sessions; this machine has a maximum user weight capacity of up to 285 lbs.
The SF-T7873 comes with cushioning technology that significantly reduces the impact on joints. For example, stepping down on a treadmill deck creates an impact force transmitted back up your shins, legs, and thighs. Therefore, Sunny's shock absorption system lessens this shock while providing a friendly, comfortable running surface.
The Sunny SF-T7873 Treadmill has a 5-inch LCD with an LED backlight that displays your speed, time, distance (miles and kilometers), incline, calories burned, and heart rate. Mix up your workout with the nine preset programs and use the body fat calculator to set your workout goals to the ideal body mass.
The soft-drop hydraulic mechanism on the SF-T7873 is a great feature that gently lets the deck lower itself to the floor. The soft drop hydraulic mechanism assures safe, hands-free unfolding. Fold your treadmill for storage and unfold it when it's time to work out.
Learn more in my complete review below!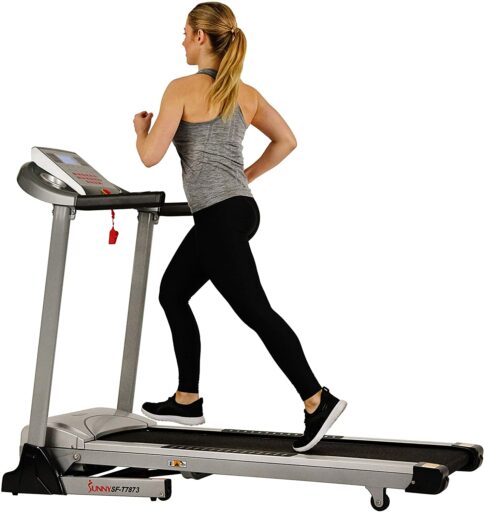 Product: Sunny SF-T7873 Folding Treadmill
Price: For a great deal on this treadmill, merely go here to Sunny Health & Fitness.com
Warranty: Frame 3 years / Parts 180 days
My rating: 8.25/10
Affiliate Disclosure: As a Sunny Health & Fitness Affiliate Program participant, I earn commissions on purchases made through links in the post. Full disclosure
Details and Specifications
Assembled dimensions: 62L x 38W x 52H inches (157L x 96W x 132H cm)
Running surface: 52.5L x 16W inches (133L x 40.6W cm)
Assembled weight: 125.7 lbs (57 kg)
Supported weight: 285 lbs (129 kg)
Motor: 2.5 HP, 0.6 – 11 MPH
Incline: Automatic, 0-15°
Console: 9 preset programs, 1 HRC program, Body Fat Test
Extras: Sound system, bottle holders
Warranty: Frame 3 years / Parts 180 days
SF-T7873 Frame Construction
Like most other treadmills, the Sunny SF-T7873 features a steel frame. Its base is rectangular tubing, while the upright bars that sustain the console are oval. In addition, they come coated with a rust-resistant and chip-resistant paint finish.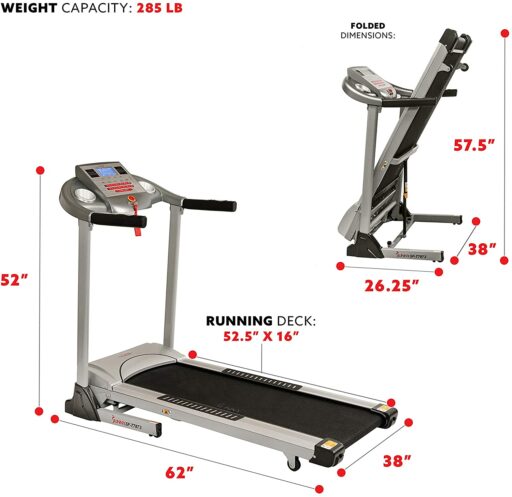 The treadmill also has several ABS covers, though. The base joint covers, the motors covers, the side rail covers, and the console dashboard are made of ABS material.
Compared to other treadmills, the Sunny SF-T7873 is not too large. Its footprint is approx. 62″L x 38″W (157 x 96 cm). However, leaving at least three feet of clearance at the rear of the deck and at least two feet on each side is advisable to ease access and safe usage.
The treadmill has a folding design, so you can fold it once you've finished your workout to save space. With the deck folded up, its footprint becomes 26.5″L x 38″W (67 x 96 cm) while its height reaches approx—57″ (145 cm).
Also, the folding mechanism uses a hydraulic component. Thus, the deck lowers slowly to prevent injury or damage when you unfold it.
The front base of the frame features a set of adjustable stabilizers. However, the middle base and the rear stabilizers come equipped with wheels. The mid wheels are for relocating the machine.
Deck construction and incline
The Sunny SF-T7873 folding treadmill offers a running surface of 52.5″L x 16″W (133L x 40.6W cm). It's not too large but should comfortably accommodate users up to 6'0″ (183 cm). Taller users should also use the machine but not perform a complete motion range.
The deck also has a maximum user weight capacity of 285 lbs (129 kg), which is not bad for a home-use treadmill.
The machine uses a multi-ply belt. The top layer of the belt comes rubberized to provide a superior grip. Also, even though there aren't any cushioning elements on the sides of the deck, the Sunny SF-T7873 has several rubber pads under the side rail covers, which reduce a bit of the impact generated by each foot strike.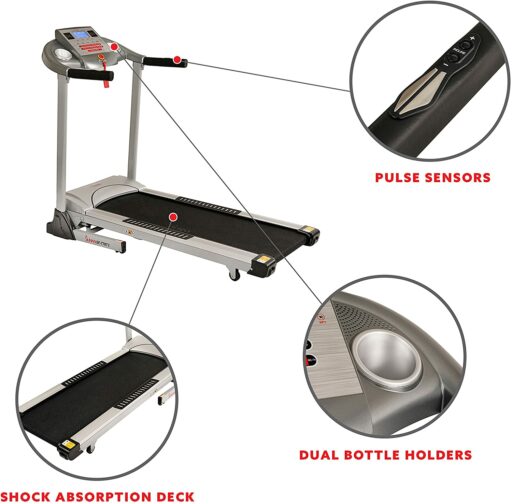 This Sunny treadmill comes equipped with an automatic incline system. Thus, the incline is adjustable while walking or running on it. It also means that the console can adjust the pitch automatically.
The machine's incline system consists of a slight lift and a motor (different from the drive motor). The motor triggers the lift to elevate or lower the deck's front section as you adjust the incline (or the console changes the pitch).
The deck's incline is adjustable from the controls integrated into the machine's left handgrip or the +/- controls on the console. There are also controls for quickly selecting the 2%, 5%, 9%, and 12% incline levels.
The machine makes available an incline range of up to 15%. However, it is essential to note that with the incline set to 0%, the deck is not 100% horizontal. It still has a bit of pitch and a step-up deck height of approx—9″ (23 cm).
However, with the incline set at maximum, the front part becomes elevated by several inches. Therefore, it's best to place and use the machine in a room with a ceiling that exceeds your height by at least 16″ (41 cm).
SF-T7873 Drive motor
The Sunny SF-T7873 is an electric treadmill. It comes equipped with a 2.5 HP drive motor. Although it doesn't offer commercial-grade treadmill motor power, it performs well. Accordingly, the manual specifies turning off the machine for at least 10 minutes after every 2 hours of use.
The treadmill's default starting speed is 0.6 MPH, and the motor offers up to 11 MPH speed levels. The speed adjustment is in 0.1 MPH increments, so you can quickly adapt your pace when you change the speed.
Like the incline, the machine has speed adjustment controls integrated into the right handgrip. There are also gradual adjustment speed controls on the console and quick adjustment speed controls for 1 MPH, 3 MPH, 5 MPH, and 9 MPH.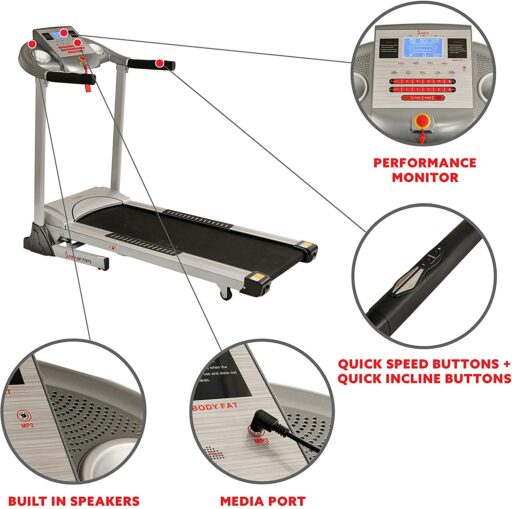 Since it's not a super powerful motor, the machine's power usage is also relatively small. Therefore, even if you use it daily, it shouldn't add more than a few dollars to the electricity bill. Also, when used, the motor doesn't create much noise, but your cadence generates some noise depending on how fast you go.
Console
The Sunny SF-T7873 folding treadmill features a console with a pretty simple interface. First, it has an LCD with an LED backlight that indicates time, distance, speed, incline, calories, and pulse. Speed and distance are either imperial units (MPH, miles) or metric units (km/h, kilometers).
You can either hold on to the sensors integrated into the treadmill's side grips or use a wireless 5.3 kHz HR chest strap transmitter for pulse monitoring. Unfortunately, this accessory does not come with the machine.
The treadmill offers several workout programs. First, it has the standard Manual mode, which allows you to walk or run freely, manually making speed and incline adjustments as you go. In Manual mode, you also can select countdown targets for time, distance, and calories burned.
Next, the console offers nine preset workout programs (P1 – P9). These have a "Prog" button on the console, and each program has the segment profile shown on the console dashboard. In addition, each program adjusts the belt's speed and the deck's incline. The default duration for each program is 30 minutes, but you can change this as you like.
The console also makes available an HRC program and a Body Fat Test. These, too, are accessible through the "Prog" button. The HRC program will prompt you to select a desired heart rate target and automatically adjust the belt's speed to keep you close to the chosen HRC value.
The HRC program does not change the incline, but you can make incline adjustments automatically while running this program.
The Body Fat Test will prompt you to input your data, such as height, weight, and age. Based on this data, it will calculate your body fat percentage. Therefore, it can help you set your workout goals to the ideal body mass.
The integrated sound system and bottle holders are two other notable console features. The sound system consists of two speakers and an AUX input on the right side of the console. In addition, you can connect your smartphone or tablet via cable to the console to play your music through the console speakers.
The two bottle holders are placed right under the speakers. They have a relatively large diameter and should accommodate any hydration bottle.
SF-T7873 Assembly and Maintenance
The treadmill comes pre-assembled and folded. You only have to unfold it, secure the two upright bars into position, add the base joint covers, adjust the belt tension (if necessary), and lubricate the deck. The manual provides clear instructions and includes a set of tools.
The treadmill's belt requires cleaning to prevent debris from being caught in the motor or the rollers for maintenance. In addition, the deck needs periodic lubrication every two months if the machine is used for more than 5 hours per week or every six months if less than 3 hours per week.
Pros
Sturdy construction – can support users up to 285 lbs;
Folding deck, space-saving design;
Transport wheels;
Cushioned deck for a low-impact ride;
Automatic incline (0%-15%);
Speed settings up to 11 MPH;
Speed adjustment increments of 0.1 MPH;
Quick keys for speed adjustment for multiple speed settings;
Pulse reading function;
Bottle trays built into the dashboard;
Nine preset workout programs;
HRC program;
Body Fat Test program;
Goal settings for time, distance, and calories;
The LED backlight on the console display;
Very easy to assemble;
Little maintenance is required.
Cons
The console does not have a tablet holder;
The console does not have a USB charging port for your device;
The console does not have online connectivity.
Sunny SF-T7873 Folding Treadmill Summary
The Sunny Health & Fitness SF-T7873 is a motorized treadmill for home use. It has a 2.5 HP motor featuring a speed range of 0.6-11 MPH, an automatic incline system with 15 levels, and a console with multiple workout programs. In addition, it also has a folding deck.
Moreover, it's a decent machine for medium to high-intensity cardio workouts, muscle toning, stamina development, and weight loss. It's not the most affordable treadmill in this feature range, but it does offer pretty decent quality for the price.
I hope you found this article helpful and informative. Would you please speak up if you have anything you'd like to share on the topic or any opinions about my website? I look forward to your comments, questions, and the sharing of ideas.
Please remember to consult your physician to determine if you have any medical or physical conditions that could risk your health and safety or prevent you from using the equipment properly. In addition, your physician's advice is essential if you are taking medication that affects your heart rate, blood pressure, or cholesterol level.