Exerpeutic 5000 Recumbent Bike features a convenient open step-thru design to safely mount and dismount this recumbent bike. It is also safe on your joints, especially the knees, and makes an excellent option for those with mobility issues. In addition, it has a robust construction with a maximum user weight capacity of up to 325 pounds (147 kg).
The 5000 has a large airsoft seat with an alternating pressure chamber system that lets the air flow through for a relaxed and comfy ride and has a decent molded mesh backrest. Therefore, it helps eliminate pressure points and soreness for a much longer workout. Accordingly, this large seat measures 13L x 17W x 3.5H inches.
The Exerpeutic 5000 Recumbent Bike is a great cardiovascular workout bike that gets your heart rate up, works on your legs properly, and lets you burn calories and fat efficiently over regular use. You'll find 24 motorized magnetic resistance levels, 24 pre-set workout programs for different needs, and three goal-based workout settings based on time, calories burned, and distance.
The 5000 has a fitness monitor that shows the distance traveled, current speed, calories burned, time exercised, RPM, ODOmeter, watts, and pulse rate through the handlebar sensors. In addition, you can download the MyCloudFitness application free of charge on your iOS or Android smartphone or tablet to monitor your progress by tracking your workout stats on your mobile device.
Learn more in my complete review below!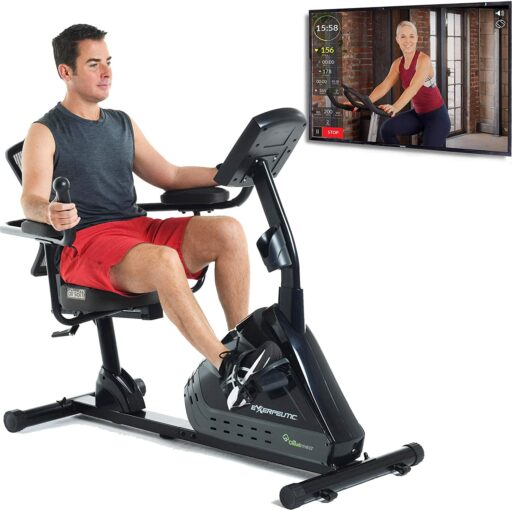 Product: Exerpeutic 5000 Recumbent Bike
Price: For a great deal on this bike, merely go here on Amazon
Warranty: Frame 1 year / Parts 90 days
My rating: is 8/10
Affiliate Disclosure: As an Amazon Affiliate Program participant, I earn commissions on purchases made through links in this post. Full disclosure
Details and Specifications
Assembled dimensions: 58L x 30W x 41H inches (147L x 76W x 104H cm)
Assembled weight: 71 lbs (32 kg)
Supported weight: 325 lbs (147 kg)
Seat: 2-way adjustable
Resistance: Eddy current, 24 levels
Fitness Monitor: 24 workout programs, recovery, Bluetooth, MyCloudFitness compatible
Extras: Device holder, bottle holder
Warranty: Frame 1 year / Parts 90 days
5000 Frame construction
The Exerpeutic 5000 recumbent bike features a frame made of steel tubing. It combines oval, cylindrical, and rectangular tubes in its construction.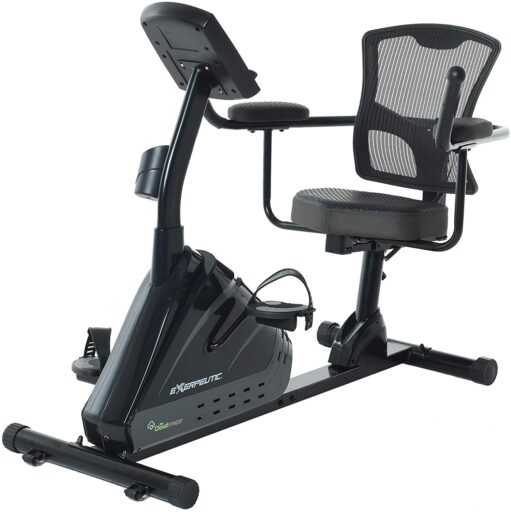 It is a two-piece frame; the front holds the drive system and the fitness monitor, and the rear part contains the seat. These two pieces connect in the middle via two screws.
The bike also integrates several parts of durable thermoplastic material. The most notable ones are the covers of the drive system and several other small covers. In addition, all the steel tubes in the bike's construction come double-coated with a rust-resistant black paint finish.
The bike is not extremely large but a bit larger than some other models. It is approximately 58″ (147 cm) long and 30″ (76 cm) wide. Plus, it is advisable to leave at least two feet of clearance for safe usage and to make it more accessible.
Furthermore, it is also pretty heavy, weighing approximately 71 lbs (32 kg). On the other hand, its front base stabilizer comes equipped with a small set of wheels, facilitating its ease of movement.
Last but not least, the bike has a step-through frame design. In particular, there is a gap between the seat and the machine's drive system, so users can easily position themselves on the seat. This type of construction is quite a plus for users with disabilities or the elderly.
Seat and handlebars
The Exerpeutic 5000 recumbent bike has an AirSoft seat for superior comfort. Therefore, the seat pad is relatively large, approximately 13″D x 17″W (33 x 43 cm), so it provides plenty of contact surface.
It has 3″ (7.6 cm) cushioning and integrates several air cell elements, which improve its comfort. In addition, its top is a vinyl weave, very breathable, while its side sections are a layer of synthetic material.
The backrest features a frame made of a flexible yet sturdy thermoplastic material (probably polypropylene). In addition, it has a synthetic mesh structure, also highly flexible, which adapts with ease to your body's shape while also providing superior breathability.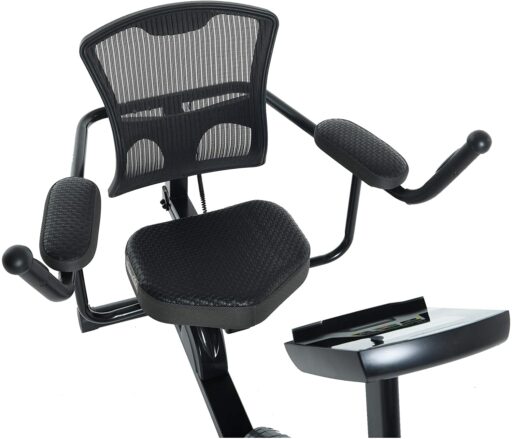 The whole seat assembly is adjustable. It is attached to a horizontal rail, which has several adjustment positions. The applicable inseam range for this bike is 5'0″ – 6'3″ (153 – 190 cm), so users within this inseam range should benefit from a complete range of motion.
The seat also has a maximum user weight capacity of up to 325 lbs (147 kg), which is not bad for a home-use exercise bike. However, it's also important to note that the backrest has no reclining feature and does not adjust independently from the seat.
This particular recumbent bike lacks front handlebars. However, it has two large armrests, improving its overall comfort. The armrests have foam cushions with the same synthetic weave as the seat. In addition, the armrests' front sections have vertical grips with integrated metallic HR pulse sensors and ball grips at the top.
However, the armrests are non-adjustable. They are also not parallel. At the front, they are approximately 27″ (68.5 cm) apart, while close to the backrest, the distance between them is approximately 21″ (53.3 cm). Their height and angle are non-adjustable.
5000 Resistance system
The Exerpeutic 5000 recumbent exercise bike has a motorized magnetic resistance system. Therefore, you can only adjust the resistance from the monitor; the monitor has pre-set programs and can automatically adjust the resistance. It also means that the bike requires an external power source. An adapter with a power cord comes included with the bike.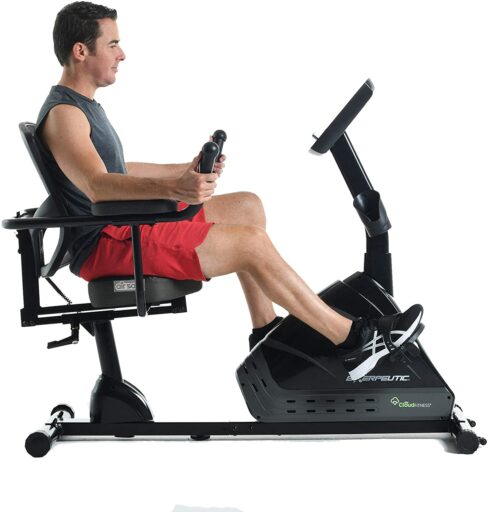 The bike's resistance system consists of a small servo motor connected to the fitness monitor and a magnetic brake integrated into the flywheel system. Therefore, when you adjust the monitor's resistance automatically, the motor changes the magnets' pull, increasing or decreasing the pedaling difficulty.
The bike offers 24 levels of resistance. The first five levels provide minimal impact and drag for recovery training. Conversely, the 20-24 levels simulate a steep hill climb, offering the possibility to engage in a more intense workout for stamina building and weight loss.
Drive system
The weight of the internal flywheel is not specified, considering that the bike weighs approximately 71 lbs (32 kg) and probably weighs less than 20 lbs (9 kg). In addition, it has a balanced structure and provides consistent momentum. Furthermore, it also allows reverse pedaling, but coasting is not possible.
The bike comes equipped with a belt drive system. It integrates a poly-V PJ360 J6 rubber belt. This type of transmission comes with several advantages. For example, you don't have to lubricate it. Also, it provides slightly less vibration than a chain drive.
The bike's crankset is pretty durable. However, just as for any recumbent bike, it is not for standing up on the pedals. Instead, it has long cylindrical arms with a Q-Factor of approx. 6″ (152 mm). The pedals are made of durable thermoplastic material with inner metallic elements. In addition, they are self-leveling, have a textured surface, and adjustable straps.
5000 Fitness monitor
The Exerpeutic 5000 recumbent bike comes equipped with a multi-function fitness monitor. It features an LCD with an LED backlight for improved readability. In addition, its display divides into multiple sub-sections to show most workout metrics at once.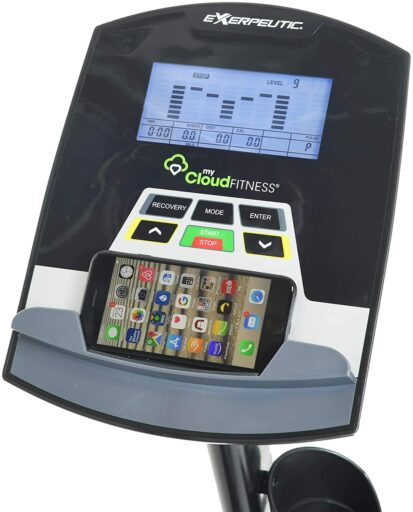 It tracks time, speed, RPM, distance, total distance, calories, watts, and pulse. The speed and distance are set to Imperial units by default but can change to Metric units.
The fitness monitor is not telemetric. Therefore, you must hold on to the HR pulse sensors integrated into the handgrips to read your pulse. Unfortunately, it cannot read your pulse from a wireless HR chest strap.
Workout programs
There are 24 pre-set workout programs on the fitness monitor. When using one of these programs, the bike will automatically adjust the resistance according to its difficulty segments.
Each program covers a specific type of workout. For example, some of them have an interval layout. Others gradually increase the resistance up to a point, then gradually decrease it. In contrast, others focus on helping you keep a high and constant heart rate. Then, there is also the Manual program, which allows you to adjust the resistance as you like throughout your workout session.
Goal settings and a Recovery function are also available. You can select a workout goal for time, distance, and calories. After establishing a goal, the monitor will count down the desired value and notify you when you complete it.
The Recovery function is used at the end of the workout and involves the pulse reading function. The monitor evaluates the time your heart takes to return to a normal RPM and, based on the result, will give you a fitness rating between F1-excellent and F6-poor.
MyCloudFitness app
An important feature to note here is Bluetooth connectivity. This allows you to sync your exercise bike with your smartphone or tablet, track your progress online, or view your workout history via the MyCloudFitness app for iOS and Android. Try it free for 30 days, then $14.99 a month. The 30-day free membership gives you access to the following:
Hundreds of coaching videos led by top trainers
Bike scenic routes in Paris, Central Park, and more with World Tour Maps
Row with an Olympic champion on the water in beautiful San Diego
New Content is added monthly
The MyCloudFitness app is reshaping wellness with personalized workout programs, award-winning trainers, workout tracking, on-demand fitness classes, world tour maps for cycling and rowing, and live fitness reports.
With a MyCloudFitness subscription (free for 30 days), you can view hundreds of workouts with top trainers, get personalized programs, and World Tour Solo allows you to work out in Paris, Central Park, and more. Take a day trip or ride at night, and with Scenic workout videos, you can transport anywhere, anytime you want, without ever leaving the comfort of your home.
5000 Assembly and Maintenance
The bike's drive and resistance elements are pre-assembled, but most of the frame and the other parts require user assembly. You will have to connect the two frame pieces and attach the seat, the armrests, the backrest, the pedals, the front mast, and the fitness monitor.
Therefore, it may take more than an hour of your time, but the task is not too difficult. Plus, the manual provides clear assembly instructions and schematics, and all the necessary tools come with the bike.
Maintenance doesn't require much at all. You need to remove the dust from the bike and verify from time to time if all its bolts hold tight in place and retighten if necessary. The internal parts do not require any lubrication.
Pros
Sturdy construction – can support users up to 325 lbs;
Step-through design;
AirSoft 3″ cushioning on the seat;
Flexible and sturdy mesh backrest;
Adjustable seat – applicable inseam length 5'0″ – 6'3″;
Cushioned armrests with upright and ball grips;
Pulse sensors integrated into the handgrips;
Weighted pedals with adjustable straps;
Motor-assisted magnetic resistance;
24 distinct resistance levels;
Quiet belt drive;
The fitness monitor tracks time, speed, distance, total distance, calories, watts, RPM, and pulse;
24 pre-set workouts;
Goal setting functions;
Recovery function;
Bluetooth connectivity;
Compatible with the MyCloudFitness app;
Device holder included;
Bottle holder included;
Little maintenance is required;
Easy to assemble.
Cons
No front handlebars;
The fitness monitor does not have a USB charging port;
The fitness monitor's calorie reading is not too accurate.
Exerpeutic 5000 Recumbent Bike Summary
The Exerpeutic 5000 is a recumbent exercise bike made for home use. It offers 24 levels of motor-assisted magnetic resistance, a high-comfort seat, and a Bluetooth fitness monitor compatible with the MyCloudFitness app. It also has a sturdy construction and a maximum user weight capacity of up to 325 lbs (147 kg).
Moreover, it's a reasonably decent recumbent bike for light to medium-intensity workouts, muscle toning, stamina development, interval training, and weight loss.
I hope you found this article helpful and informative. Would you please speak up if you have anything you'd like to share on the topic or any opinions about my website? I look forward to your comments, questions, and the sharing of ideas.
Please remember to consult your physician to determine if you have any medical or physical conditions that could risk your health and safety or prevent you from using the equipment properly. In addition, your physician's advice is essential if you are taking medication that affects your heart rate, blood pressure, or cholesterol level.