The Stamina E1000 InMotion Elliptical eliminates any "reason" to procrastinate about the health of your body and mind. Instead, the incredibly compact, portable, affordable elliptical lets you conveniently work up a healthy sweat nearly anywhere.
Ever wonder why elliptical machines are in demand at the gym? Elliptical workouts burn a similar number of calories as jogging, efficiently increasing stamina and energy while toning your hips, buttocks, thighs, and legs. However, unlike jogging, ellipticals help you reach your fitness and weight loss goals through a low-impact routine.
The Stamina E1000 InMotion Elliptical also includes free access to the smart audio coaching app müüv. müüv helps you move 500+ minutes per month with the right mix of cardio, strength, and flexibility for a healthy and sustainable lifestyle. In addition, you'll get personalized audio coaching that progresses for you and is fun to do.
The Stamina E1000 InMotion Elliptical is useable for sitting, standing, or pedaling in reverse motion, making it easy to get a convenient and versatile workout. Exercise on the Stamina E1000 helps you burn calories, tone lower-body muscle, and improve your cardiovascular health, all in a joint-friendly manner.
Learn more in my complete review below!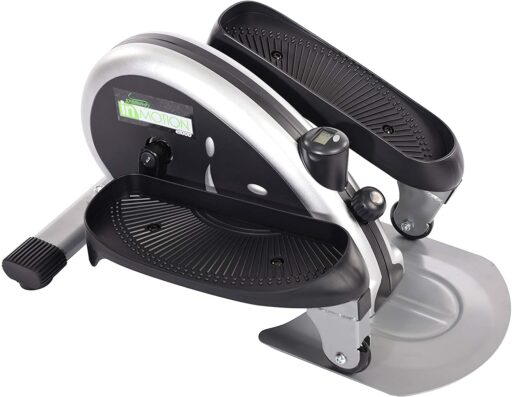 Product: Stamina E1000 InMotion Elliptical
Price: For a great deal on this elliptical, merely go here to Amazon.com
Warranty: Frame 1 year / Parts 90 days
My rating: 8.5/10
Affiliate Disclosure: As an Amazon Affiliate Program participant, I earn commissions on purchases made through links in this post. Full disclosure
Details and Specifications
Assembled dimensions: 24.5L x 17W x 12.5H inches (62.2L x 43W x 31.7H cm)
Assembled weight: 24 lbs (10.8 kg)
Supported weight: 250 lbs (113 kg)
Footplates: Ribbed, non-slip
Resistance: Adjustable, felt-pad
Fitness monitor: Included
Warranty: Frame 1 year / Parts 90 days
E1000 Frame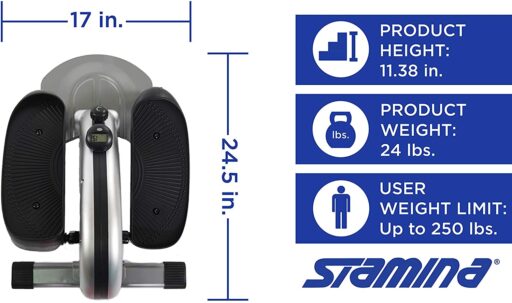 Plastic shrouds enclose the steel frame of this Stamina E1000 InMotion Elliptical. It consists of three main parts: the chassis, the rear stabilizer, and the front base plate. The rear stabilizer features tiny, rubberized feet, while the front base has a foam sheet to increase the machine's stability and prevent it from sliding when you use it.
Since it's a portable elliptical trainer, it has a minimal footprint. It takes only 24.5″L x 17″W (62 x 43 cm) of floor space. It's also only 12.5″ tall (32 cm) and fits under any desk or table if you want to use it while seated. The pedals stand approx—7″ (18 cm) above the floor level at their highest point.
The protective covers of the drive and brake mechanisms are ABS plastic. They're available in various color combinations, such as orange-black, green-black, and silver-black.
Drive and resistance
The Stamina E1000 InMotion elliptical features a friction resistance system with a felt pad under the flywheel. The felt pad connects to the tension knob via a steel cable. As you turn the knob, the pad will press onto the flywheel adding more resistance.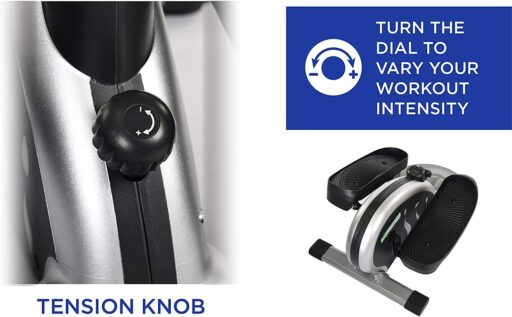 The felt pad is worn, but it's pretty thick and should last several years, even if you work on your E1000 elliptical for at least a couple of hours daily.
The Stamina E1000 features a balanced, perimeter-weighted flywheel that offers decent momentum. It weighs approx. 8.8 lbs (4 kg), and without any resistance, you will feel some consistency in the pedaling motion.
The machine is belt-driven, so the operation is quiet, and the transmission shouldn't require any maintenance. The belt that connects the pulley to the flywheel is a heavy-duty v-belt, resistant to stretching and made to serve its purpose for many years.
The axle and cranks of the elliptical are steel-made, solid enough to support users up to 250 lbs (113 kg) in a complete, stand-up position. Therefore, the InMotion E1000 is not only made for seated workouts, but you can pedal while standing up if you don't exceed the 250-pound weight capacity.
The oversized footplates comfortably accommodate shoes of all sizes. They're a durable polyurethane material featuring a ribbed, non-slip design to provide superior adherence. But unfortunately, they don't have cushioning or articulation like the full-motion ellipticals.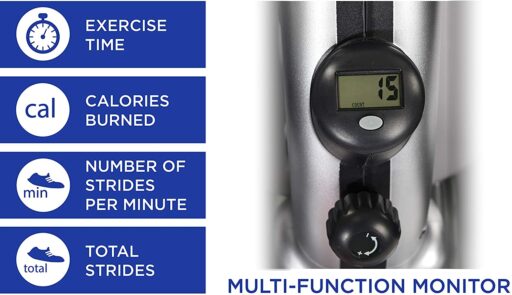 In addition, they attach to the metal arms via two screws each. The arms integrate rubber wheels at their front ends, which glide onto the front metallic plate of the machine for a smooth motion.
Lastly, pedaling in reverse is also possible on the Stamina E1000 InMotion Elliptical. The resistance remains the same as when pedaling forward. Therefore, you can diversify your workouts if you want.
E1000 Fitness Monitor
Even though it's simple, the Stamina E1000 InMotion Elliptical includes a fitness monitor. The monitor displays distance, the number of strides (count), time, and calories burned. In addition, it's easy to operate, featuring only one button.
It allows you to choose the SCAN function, which cycles through all the values, keeping each one on screen for 6 seconds. But you can also select one of the values to display on the LCD at all times.
The fitness monitor is battery-powered, and it requires a 1.5v LR44 battery. The monitor turns on when it detects pedal movement or if you press the button and will automatically shut down after 4 minutes of inactivity. The monitor will keep the values from the last workout.
müüv smart audio coaching app
This product also includes free access to müüv, the smart audio coaching app. müüv helps you move 500+ minutes per month with the right mix of cardio, strength, and flexibility for a healthy and sustainable lifestyle. In addition, you'll get personalized audio coaching that progresses for you and is fun to do. The all-in-one app includes a follow-along assembly video, customized workouts tailored to your equipment, and an ad-free music listening experience from iHeartRadio. Download the müüv app on the Apple App Store or the Google Play store.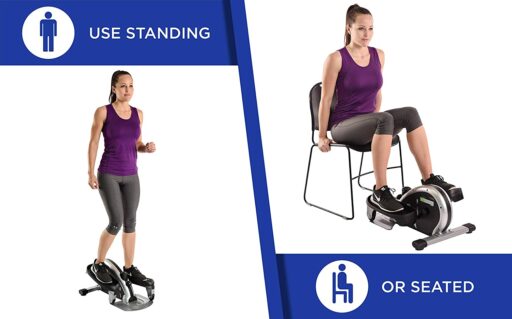 Assembly and Maintenance
The drive mechanism and resistance system are pre-assembled and enclosed by plastic shrouds for assembly. The pedal arms and console are also attached. Therefore, you will have to connect the rear base, the footrests, and the front gliding plate. The whole task shouldn't take more than 15 minutes. Tools and assembly manuals come with the elliptical.
The unit requires almost no maintenance. For this matter, you have to check and retighten the screws in place occasionally. Also, if the resistance pad or the joints begin to squeak, a few lubrication drops may be required.
Pros
Sturdy frame and cranks for a small elliptical, able to hold users up to 250 lbs in stand-up workout position;
Compact design;
Small footprint, easy to fit under a desk;
Lightweight and portable;
Adjustable resistance;
Fitness monitor included;
müüv smart audio coaching app;
Quiet operation;
Very easy to assemble;
Little maintenance is required.
Cons
Resistance pads and joints may begin to squeak after a while and require lubrication.
Stamina E1000 InMotion Elliptical Summary
Although it doesn't offer the workout possibilities of a full-motion elliptical, like the Schwinn 470, the Stamina E1000 InMotion Elliptical can help you bolster your cardio, tone up your leg muscles, especially calves, and even lose some weight.
Moreover, it's great for anyone who wants to be physically active while working behind a desk and for users who must undergo recovery training. Furthermore, it features sturdy construction; thus, it should serve you well for many years with proper use. And finally, since it currently costs less than $150, it's pretty safe to say that it offers excellent value for its price.
I hope you found this article helpful and informative. Would you please speak up if you have anything you'd like to share on the topic or any opinions about my website? I look forward to your comments, questions, and the sharing of ideas.
Please remember to consult your physician to determine if you have any medical or physical conditions that could risk your health and safety or prevent you from using the equipment properly. In addition, your physician's advice is essential if you are taking medication that affects your heart rate, blood pressure, or cholesterol level.