The  3G Cardio Elite UB Upright Bike is one of the sturdiest, yet it doesn't take up much room. A heavy-duty, steel-reinforced upright column provides strength and stability. A compact step-through frame allows users to get on quickly and off the bike. The Elite UB is a light commercial model made for durability and can handle a 350-pound user.
The Elite UB Upright Bike utilizes a magnetic resistance system that provides smooth and quiet pedaling. There are 16 resistance levels to keep you challenged and 16 programs to keep your workouts varied, including 12 preset, three heart rate, and 1 watt, plus the ability to customize your programs.
The 3G Cardio Elite UB's console is easy to use with a simple dial interface. It features a large digital format electronics display that is easy to read and displays motivating workout stats as you cycle, including time, RPM, Watt, distance, calories, and heart rate. In addition, the console allows for four user profiles, so four people can keep track of their workout stats.
The Elite UB bike features both pulse grip sensors in the handlebars and is telemetry enabled with a wireless heart-rate strap to help you stay within your target heart-rate zone as you cycle.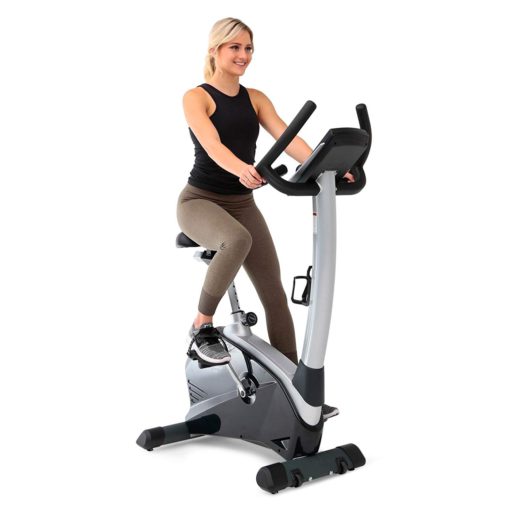 Learn more in my complete review below!
Product: 3G Cardio Elite UB Upright Bike
Price: For a great deal on this bike, merely go here on Amazon
Warranty: Frame lifetime / Parts 7 years / Labor 1 year (see light-commercial warranty below)
My rating: 9.25/10
Affiliate Disclosure: As an Amazon Affiliate Program participant, I earn commissions on purchases made through links in this post. Full disclosure
Details and Specifications
Assembled dimensions: 41″L x 22 1/2″W x 55″H (104L x 57W x 140H cm)
Assembled weight: 91 lbs (41 kg)
Supported weight: 350 lbs (159 kg)
Handlebars: Fixed, with pulse sensors
Seat: 4-way adjustable
Pedals: With adjustable straps
Resistance: Motorized magnetic, 16 levels
Console: 16 programs (plus manual mode), four user profiles
Amenities: Bottle holder, accessory holder, tablet shelf
Warranty:
In-Home: Frame lifetime / Parts 7 years / Labor 1 year
Light Commercial: Parts 3 years / Labor 1 year
Elite UB Frame Construction
Since it's a light-commercial fitness machine, the 3G Cardio Elite UB upright bike features an extremely sturdy frame, supporting users up to 350 lbs (159 kg). Its main chassis is steel tubing, with a full console mast and a durable seat post. The side shrouds of the internal mechanism are made of hard plastic, though.
The 3G Cardio UB is not an extremely large fitness machine like most upright bikes. However, its fully assembled frame takes only 44″L x 22 1/2″W (104 x 57 cm) of floor space. Therefore, it can be an excellent choice for a cardio machine if storage and usage space are issues. However, keeping at least two feet of clearance all around the bike when exercising is advisable to prevent any hindrance or accidents.
The bike isn't hefty, either. But it weighs 91 lbs (41 kg), which is twice the average road bike's weight. This weight is reflected in its stability, though. The bike won't rock or wobble even if you pedal as fast as possible. Plus, its base bars are equipped with adjustable stabilizers, while the front base has transport wheels, so relocating the bike after your workout shouldn't be a problem.
The bike's frame is double-coated with corrosion-resistant and scratch-resistant paint. Although the paint finish is resistant to corrosion, it's important to mention that the cycle is for indoor use. If kept outside, moisture may damage the internal components or the console. The colors used in the bike's finish are silver for the console mast and seat bar, while the frame's base is dark gray. Unfortunately, these are the only colors available for this bike.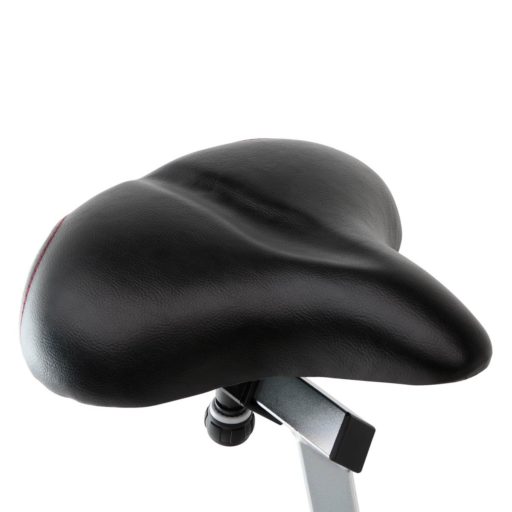 Seat and handlebars
The 3G Cardio Elite UB upright bike has a full seat, integrating a generous cushioning layer. In addition, it has a contoured surface made of durable, sweat-proof faux leather. Therefore, the seat delivers much more comfort than a slim spin bike seat.
The seat itself is pretty standard, though. Replacement options are widely available if you still feel that it doesn't offer the comfort you want. Also, you can boost its support by adding a gel seat cover on top of it.
The seat is 4-way adjustable – up, down, front, and back. Its upright bar offers ten adjustment positions. The distance between the adjustment holes is approx. 1.5″, while the horizontal slider of the seat also provides several inches of adjustment.
Thus, the bike can accommodate users between 5'0″ and 6'5″ (153 – 196 cm) with no problem. In addition, the seat's upright bar assembly is durable, holding users up to 350 lbs (159 kg).
The bike's handlebars are non-adjustable, but they offer a multi-grip design with the possibility of a parallel, horizontal, or upright grip. In addition, the lower section of the handlebars integrates stainless steel pulse sensors, so the console will be able to track your pulse by holding on to them.
A layer of high-density foam entirely covers the handlebars. They provide a comfortable, anti-slip, and secure grip.
Elite UB Resistance system
The 3G Cardio Elite UB upright bike has a motorized eddy current resistance system like the Life Fitness C1 or ActionLine A81829. Therefore, the resistance adjustment is automatic and adjustable from the console. You must also connect the bike to a power circuit to provide resistance, the voltage requirements being 100V – 240V – 50/60Hz. An adapter with a power cord is (included).
The resistance system consists of a magnetic, metallic flywheel, a magnetic brake pad, and a servo motor. As you select a specific resistance setting from the console, the servo motor will adjust the magnetic brake pad's position to provide more or less drag to the flywheel. The flywheel and the brake pad will never contact, so the wear and tear are non-existent. Also, the brake doesn't generate any noise.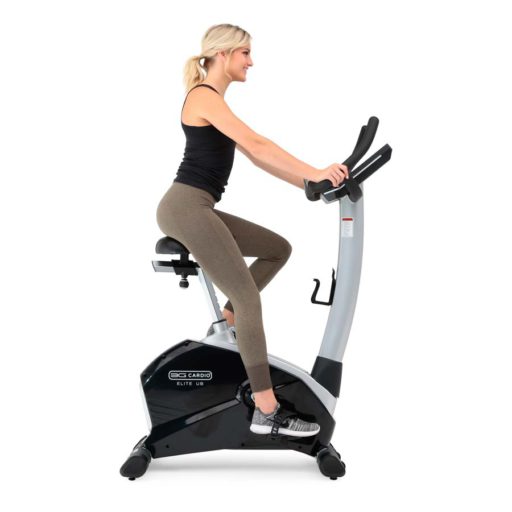 The resistance adjustment is easy to do. The console has a large dial that covers this function. Also, several preset programs will automatically adjust the resistance if selected.
This 3G Cardio upright bike offers 16 levels of resistance. The 14-16 settings deliver some tension, simulating a steep climb and allowing you to perform intense cardio workouts with a high muscle burn. Conversely, the first 1-3 tension levels deliver a light resistance, perfect for recovery training or warming up.
Drive system
Like most bikes with an eddy current brake, the 3G Cardio Elite UB has a belt drive system. Specifically, there are two main advantages related to a belt drive. One, it's quiet; the pedaling motion generates almost no noise. And, two, it doesn't require any lubrication.
The integrated belt is highly durable, resistant to stretching, and should hold for many years, even if the bike gets used within a gym club's premises for many hours daily.
The integrated flywheel is perimeter-weighted, delivering exceptionally smooth and steady motion without the "stair-master" effect. Thus, it's a mid-range weight flywheel and provides a reasonably consistent momentum.
It's bi-directional, also allowing you to pedal in reverse, diversifying your workouts.
The bike has a durable, 3-piece crankset with solid steel crank arms. But even though this is a solid piece, standing up on the pedals is not recommended. Specifically, this is an upright bike intended for seated use only.
The pedals supplied with the bike have a metallic core and a heavy-duty nylon shell and are weighted and self-leveling. They have a small weight underneath, enabling them always to turn face-up if you remove your feet from them. In addition, they come with adjustable straps and standard feature threads.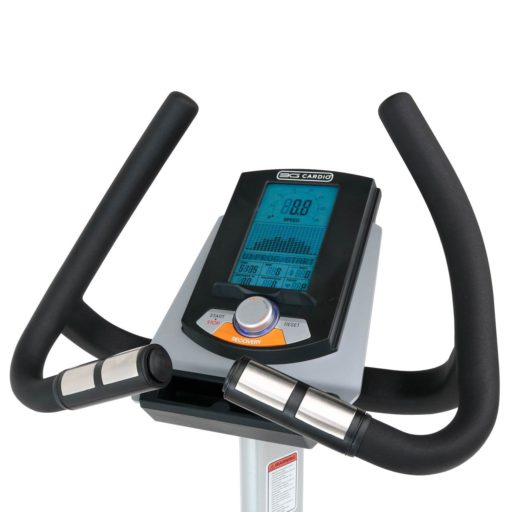 Elite UB Console
The 3G Cardio Elite UB upright bike has the same console as the recumbent version, the 3G Cardio Elite RB. In addition, it has a large LCD with a blue LED backlight and significant, easy-to-read digits.
It's a multi-panel display, so all the workout metrics are shown simultaneously, so you won't have to use a SCAN function to switch them all the time. The screen displays time, distance, speed, RPM, watts, calories, and pulse.
The console is telemetric. It can read your pulse via the included wireless chest strap transmitter. But if you don't want to use this accessory to monitor your heart rate, you can still use the handlebars' EKG sensors.
Distance and speed are both miles/km and mph/kph. Plus, the unit has user data input settings. For example, it allows you to input gender, age, height, and weight data, which is crucial for determining the calories burned and the energy output.
The console is straightforward to operate. The turn-knob makes the resistance adjustment and gives value to your goals on the console. In addition, the Start / Stop button allows you to pause and resume your workout without interrupting the program, a function that you may find helpful if you alternate bike workouts with other exercises.
The Reset key speaks for itself; it clears all the unit values to zero if needed. And finally, the recovery function has a button.
Workout Programs
The 3G Cardio UB exercise bike doesn't have any online connectivity features. However, the console unit offers 16 programs to keep you motivated, plus the manual mode allows you to adjust the resistance as you exercise freely.
Among the included programs, I count 12 preset programs, which offer different workouts focusing on weight loss, peak performance, intervals, etc. In addition, there are also three heart rate programs and a 1-watt program available.
These workout programs are goal settings, four user profiles, and available recovery functions. The goals function allows you to select a countdown target for time, distance, calories, pulse, and exercise until you reach the chosen goal.
The four user profiles allow you to create and save four custom programs and use them whenever you like; if up to 4 persons use the machine, each can keep their data and program.
A recovery function also measures your heart rate at the end of your workout to provide a recovery status between F1 (best) – and F6 (worst), which helps you decide your fitness level.
Elite UB Assembly and Maintenance
The main body of the bike is pre-assembled. The elements of the bike's drive and resistance systems are pre-assembled to the frame's base and sealed by protective covers. So, in terms of assembly, you only have to add the bike's base, the seat post, the seat, the console mast, the handlebars, the console, and the pedals.
Therefore, this shouldn't take more than 30 minutes. Furthermore, the manual provides excellent assembly instructions, and all the tools needed for the task come with the bike.
You only have to keep the bike clean, periodically check its parts' integrity, or look for loose bolts for maintenance. The internal components are pre-lubricated from the factory and shouldn't need lubrication for an extended period.
Pros
Durable, commercial-grade construction;
Aesthetic, professional-looking design;
Can support users up to 350 lbs;
Adjustable stabilizers;
Transport wheels at the front;
Ergonomic, large seat;
The seat is 4-way adjustable;
Multi-grip handlebar;
EKG sensors integrated into the handlebars;
Motorized magnetic resistance system with 16 settings available;
Very smooth, almost silent belt drive;
Balanced, perimeter-weighted, mid-range flywheel for consistent momentum;
Weighted pedals with adjustable straps;
A large LCD with a backlight;
12 preset programs, three heart rate programs, one 1-watt program, and one manual program;
Four user profiles;
Countdown settings for time, distance, calories, and heart rate;
Telemetric console (can read pulse via an HR chest strap);
HR chest strap included;
Tablet holder included;
The bottle holder included the following;
Maintenance-Free;
Excellent warranty.
Cons
It doesn't have quick resistance settings (only the turn dial on the console);
No cooling fan;
It doesn't have a sound system;
No online connectivity.
3G Cardio Elite UB Upright Bike Summary
The 3G Cardio Elite UB is a light-commercial upright bike featuring a motorized eddy current resistance system with 16 settings and 16 workout programs. Its telemetric console has a recovery function, four user profiles, and a large, backlit LCD.
It's also a sturdy bike, supporting users up to 350 lbs. Thus, it's perfect for light to intense cardio training, intervals, endurance training, muscle toning, and weight loss. It's not exactly an affordable exercise bike, but it does offer excellent value for the price.
I hope you found this article helpful and informative. Would you please speak up if you have anything you'd like to share on the topic or any opinions about my website? I look forward to your comments, questions, and the sharing of ideas.
Please remember that you should consult your physician to determine if you have any medical or physical conditions that could risk your health and safety or prevent you from using the equipment properly. In addition, your physician's advice is essential if you are taking medication that affects your heart rate, blood pressure, or cholesterol level.