The RENPHO R-Q002 Upright Bike is an AI-Powered bike that tailors itself to your power level and biometric data to provide a completely personalized selection of training programs. It can automatically modify resistance based on your power output, goals, and cadence to get the best results possible for your workout. Suitable for all ages at any fitness level.
The RENPHO AI-Powered bike features a knob-style, 80-step fluid, digitally-controlled resistance system. The automatic resistance adjustment will work with all classes on the AI Gym app because it uses target metrics you see displayed on your rides. However, you can also manually use the digital knob to control other functions, such as cadence.
Connect with popular cycling apps via Bluetooth, such as Zwift, Peloton (iOS only), Kinomap, FulGaz, XERT, and more. Ride and sweat it out with hundreds and thousands of professional bikers by competing with the Zwift community. RENPHO AI-Powered bike has a built-in USB charging port that you can use to charge your Smartphone, Tablet, or iPad while you work out.
The RENPHO R-Q002 AI-Powered Bike has a premium seat that provides extra comfort with its ergonomic design and memory foam padding. The seat incrementally adjusts to maximize comfort and offer a personalized fit for riders of all sizes. In addition, this bike comes with a standard pedal mount so that you can replace them with toe cages or SPD based on your riding preference.
Learn more in my complete review below!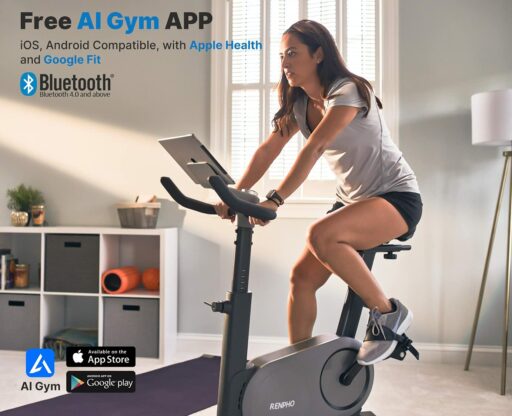 Product: RENPHO R-Q002 AI-Powered Upright Bike
Price: For a great deal on this bike, merely go here to Amazon.com
Warranty: 1 year limited
My rating: is 9/10
Affiliate Disclosure: As an Amazon Affiliate Program participant, I earn commissions on purchases made through links in this post. Full disclosure
Details and Specifications
Assembled dimensions: 40L x 20W x 49H inches (102L x 51W x 124H cm)
Assembled weight: 77 lbs (35 kg)
Weight capacity: 265 lbs (120 kg)
Seat: 4-way adjustable
Handlebars: 2-way adjustable
Resistance: Smart motor damping, 80 gears
Console: RPM, cadence, power, resistance, calories, Bluetooth, compatible with multiple apps
Extras: Tablet holder
Warranty: 1 year
R-Q002 Frame Construction
The RENPHO R-Q002 features a pretty sturdy oval steel tubing frame. In addition, all the steel parts in its construction come double-coated with a gray, corrosion-resistant, chip-resistant paint finish.
The bike's drive train and resistance mechanism have several large covers of durable thermoplastic material. It does not have a step-through design like other upright bikes, but its mid-section is not too high above the floor, so you can easily step over it. The drivetrain covers are black and gray to fit the colors of the frame.
The RENPHO R-Q002 exercise bike is not a large fitness machine. With all the parts assembled, it is approximately 40″ (102 cm) long and 20″ (51 cm) wide. With the handlebar extended, its highest point reaches approximately 49″ (124 cm). However, it is advisable to leave at least 24″ (61 cm) of clearance all around it for easy access and safe usage.
The bike is pretty heavy. Its net weight is 77 lbs (35 kg), so two persons should carry and assemble the packaged unit.
However, one person can quickly move the bike once completed, as its front base features two transport wheels that facilitate its relocation. Also, both its base stabilizers have adjustable levelers. RENPHO still recommends placing the bike on a mat; however, a mat does not come with the bike.
Seat and handlebars
The RENPHO R-Q002 upright bike includes a saddle built for optimal comfort. It is 10″ (25.4 cm) long and 8″ (20.3 cm) wide, so it provides plenty of contact surface.
It has a contoured design with a median groove for improved breathability. Also, its attachment system is standard (collar type), so compatible options are widely available at any bike store if you ever want to replace them.
The bike's seat assembly offers four-way adjustability (up, down, front, and back). In addition, its vertical post offers an adjustment span of approx. 9″ (22.8 cm) for an inseam range between 26″ and 35″ (66 – 88.9 cm).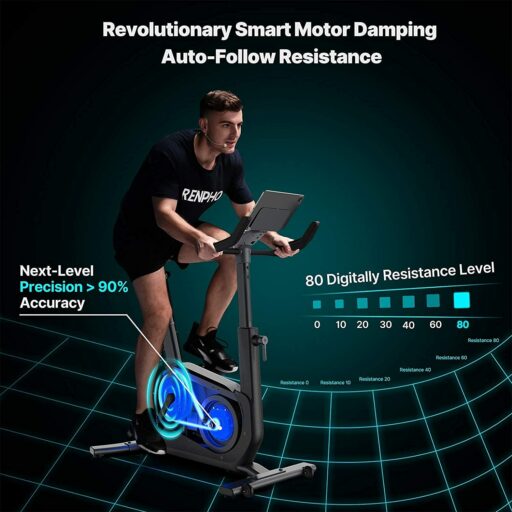 Also, the horizontal slider adds several inches of front-to-back adjustment. Therefore, the bike comfortably accommodates users between 5'0″ and 6'5″ (153 – 196 cm) with no problem, allowing a complete leg extension. It also has a maximum user weight capacity of 265 lbs (120 kg) which is not bad for a home-use exercise bike.
The RENPHO R-Q002 AI-Powered upright bike offers vertical adjustability for the handlebar, a feature many other upright bikes do not have. As the seat post, the vertical shaft of the handlebar provides several adjustment positions. However, the handlebar does not offer any angle adjustability or front-back adjustability.
The bike's handlebar offers the possibility to adopt three main grips. These are standard grip, racing grip, and climbing grip. In addition, a layer of urethane foam covers it to provide a secure and comfortable grip. However, it does not integrate pulse sensors, and the bike has no pulse reading function.
R-Q002 Resistance system
The RENPHO R-Q002 AI-Powered upright bike comes equipped with an automatic magnetic resistance system. Thus, the bike can automatically adjust the resistance. It comes with an adapter (AC100-240V, 0.6A 50/60Hz; 12V / 1.5A) and requires a connection to a power source.
The bike's resistance system consists of a servo motor and a magnetic brake. Therefore, when you use the Zwift fitness app (subscription required) or the free RENPHO AI gym app and the Bluetooth connection, the bike will auto-adjust the magnets' pull on the flywheel depending on the program or virtual track in use. However, if you choose not to use the Bluetooth connection, you can adjust the resistance manually from the console knob.
The bike offers superior micro-adjustability; it makes 80 gears available. The first gears offer a light pedaling difficulty, great for recovery training, warm-ups, and muscle toning. Conversely, the bike simulates a steep climb, offering quite a challenge even for the most seasoned athletes using the highest resistance levels.
Drive system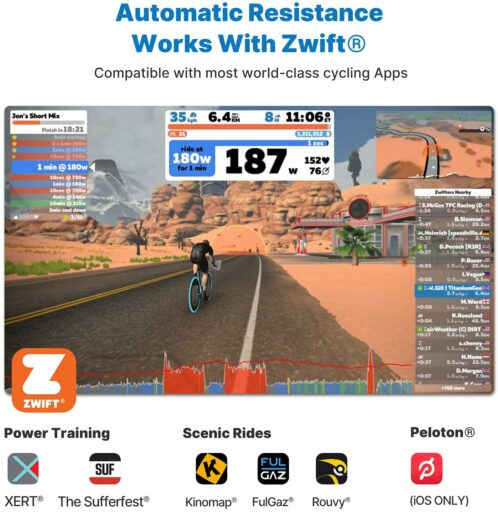 The RENPHO R-Q002 integrates a 13.2 lbs (6 kg) flywheel enclosed by the side covers of the bike's main body. It is precision-balanced, providing a smooth pedaling motion and consistent momentum.
It's important to note that the bike's flywheel allows coasting. Therefore, you can rest your feet if necessary, as the pedals will stop like an actual road bike, even if the internal flywheel is still spinning.
The RENPHO bike features a belt drive system similar to other magnetic resistance exercise bikes. It uses a poly-v belt which is resistant to stretching and abrasion. Therefore, as it usually is for a chain drive, you don't have to worry about taking the covers apart to lubricate the transmission.
The bike has a sturdy crankset featuring steel arms similar to road bikes. They are shorter, though; their length is 6.7″ (17 cm). It's important to note that even if the crankset and pedals are durable enough for most users to stand up while pedaling, this type of workout is not advisable. It may lead to faster wear and tear of the pedals and other crank elements. It is, after all, an upright bike, not a spin bike.
The bike has a narrow Q-Factor (spacing between the pedals) of 6.3″ (160 mm). Therefore, your feet are comfortable, like bikes with a broader Q-Factor, without lateral knee or ankle stress.
Finally, the included pedals feature a heavy-duty thermoplastic outer shell with inner metallic elements. They are weighted, so they always self-level if you remove your feet from them. They also have adjustable straps if you'll need to secure your feet.
R-Q002 Console
The RENPHO R-Q002 AI-Powered upright bike comes equipped with a minimalistic console. It integrates into the bike's resistance adjustment knob. In addition, it features an LCD that tracks RPM, time, cadence, power, resistance, and calories burned.
The console itself does not have pre-set programs. It also does not have a pulse reading or track distance function. However, it has Bluetooth connectivity and connects to the free RENPHO AI Gym, iOS, and Android apps.
This app shows various extra metrics and offers access to personal trainer coach courses, free training plans, health updates, fitness data reports, etc. Plus, it provides virtual paths to ride on while the bike will automatically adjust the resistance depending on the ups and downs of the terrain.
The bike's console connects to popular cycling apps, including Zwift, Peloton (iOS only), FulGaz, Kinomap, XERT, and more. Thus, if you have a subscription for one or more apps, you can use them while riding this bike. Plus, you can sync it with Apple Health or Google Fit for improved workout history tracking.
A USB port is also available under the front section of the console. Therefore, you can connect your tablet or smartphone to the bike for recharging as you pedal.
Assembly and Maintenance
The main body of the bike, with all the drive and resistance elements, comes pre-assembled. You only have to install the two base stabilizers, the seat, the handlebar with the console, and the pedals.
Therefore, it shouldn't take more than 30 minutes of your time. All the necessary tools come with the bike, and the manual provides precise assembly instructions.
You only have to keep the bike clean, periodically check for loose bolts and parts, and retighten it for maintenance. The internal mechanism does not require lubrication or other types of care.
Pros
Sturdy construction – can support users up to 265 lbs;
Aesthetic design;
Small footprint;
Adjustable levelers on both base stabilizers;
Transport wheels;
Two-way adjustable handlebar;
Four-way adjustable seat;
Cushioned and contoured saddle;
Frictionless magnetic resistance with both automatic and manual adjustment;
Superior resistance micro-adjustability (80 gears);
Maintenance-free belt drive;
Weighted pedals with straps;
The smart console included – it tracks time, RPM, cadence, power, resistance, and calories burned;
Free RENPHO AI Gym app with 70+ courses, five different training modes, HD scenic rides, and more;
The RENPHO AI Gym app does not require membership;
Compatible with multiple other cycling apps like Zwift, Kinomap, Peloton, XERT, FulGaz, and more (subscription required);
Compatible with Google Fit and Apple Health;
USB charging port;
Tablet holder included;
Easy to assemble;
Little maintenance is needed.
Cons
No pulse reading function;
The fitness monitor does not have a distance reading function, but the AI gym app tracks distance.
RENPHO R-Q002 AI-Powered Upright Bike Summary
The RENPHO R-Q002 is a smart upright exercise bike featuring an automatic magnetic resistance system with 80 different gears. In addition, it offers superior adjustability for the seat and handlebars, a sturdy construction, and a Bluetooth-enabled console compatible with top cycling apps such as Zwift, Peloton, Kinomap, XERT, and more. It also comes with a free AI gym app that doesn't require a subscription and offers multiple training courses, scenic rides, different training modes, workout history tracking, and more.
Moreover, it's an exercise bike for home use for light to high-intensity cardio workouts, muscle toning, interval training, stamina development, and weight loss.
I hope you found this article helpful and informative. Would you please speak up if you have anything you'd like to share on the topic or any opinions about my website? I look forward to your comments, questions, and the sharing of ideas.
Please remember to consult your physician to determine if you have any medical or physical conditions that could put your health and safety at risk or prevent you from using the equipment properly. In addition, your physician's advice is essential if you are taking medication that affects your heart rate, blood pressure, or cholesterol level.