Start an in-home cardio workout with the Sunny Pro Indoor Cycling Bike by Sunny Health & Fitness. First, feel confident and secure when you slide your feet into the universal toe cages on the stationary bike. Then, enjoy a smooth and challenging workout experience when you pedal against the consistent chain-drive mechanism using the large muscles of your hips and thighs.
Maintain cycling momentum on the Sunny bike with the sturdy 40-pound chrome flywheel. Increase workout resistance smoothly, effectively, and quietly with the micro-adjustable dual felt-pad resistance. It has a heavy-duty metal frame; this bike supports a maximum user weight of 275 lbs.
Tailor your workout on the Sunny Pro Indoor Cycling Bike with the four-way adjustable seat and two-way adjustable handlebars for comfort and performance. Switch up your routine and easily change your cycling position on the home exercise bike with the multi-grip handlebars.
If you're looking for an indoor cycling bike with an excellent price/quality ratio, the Sunny Pro Indoor Cycling Bike is one to put on your checklist. It's a heavy-duty piece of equipment, a spin bike made for anyone who wants to sweat a lot and burn those unwanted calories.
Learn more in my complete review below!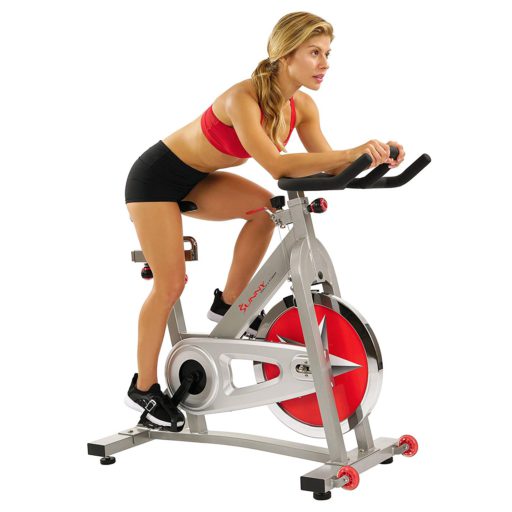 Product: Sunny Pro Indoor Cycling Bike (SF-B901)
Price: For incredible deals on this bike, merely go here to Sunny Health & Fitness.com
Warranty: Frame 3 years / Parts 180 days
My rating: 8.25/10
Affiliate Disclosure: As a Sunny Health & Fitness Affiliate Program participant, I earn commissions on purchases made through links in the post. Full disclosure
Details and Specifications
Assembled dimensions: 48.5L x 20W x 46.5H inches (123L x 51W x 118H cm)
Product weight: 108 lbs (49 kg)
Flywheel weight 40 lbs (18 kg)
Supported weight: 275 lbs (125 kg)
Handlebars: Adjustable
Seat: Adjustable
Pedals: With Straps
Drive mechanism: Chain
Brakes: Direct-contact, lateral wool-felt pads
Resistance: Adjustable
Bottle holder: No
Fitness Monitor: No
Warranty: Frame 3 years / Parts 180 days
SF-B901 Frame and parts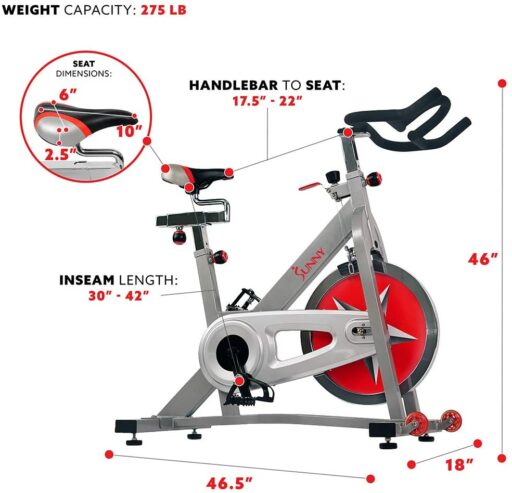 The steel-made frame of the bike is very sturdy, offering superior stability when working out. So even if you're a taller or heavier user, you shouldn't have to worry about falling or losing balance. Since it's not an exceptionally light piece of equipment, it does come with transport wheels on the frame's front base.
The bike isn't too sizeable. It's only 48.5″ in length and 20″ in width. Therefore it should fit into almost any room unless you're tight on space.
The handlebar is vertically adjustable and generously padded with foam, offering a good grip even when your hands are sweaty. In addition, the design of the handlebar provides various holding possibilities. For example, you can adopt a forward, steep leaning position, or you can work out in a nearly full upright position.
The seat is 4-way adjustable. It can be moved from back to front and even vertically. It comfortably accommodates users beginning at 5′ (152cm) and up to 6'5″ (195 cm) tall. On its lowest setting, the distance between the seat and the lowest to the floor pedal is 32.5″  (82 cm).
Pedals are anti-slip and come with straps that help fix your feet in place. In addition, they're sturdy enough to allow stand-up training even for heavier users.
SF-B901 Resistance
Like most indoor cycling bikes, the Sunny SF-B901 offers the highest intensity workout possible on a stationary bike. The flywheel weighs 40 pounds, enhancing the bike's stability and rendering the exercise pretty smooth. The brakes are the direct-contact type, featuring two brake pads that close laterally on the flywheel.
There are no specified tension levels on the resistance mechanism of the bike. Resistance is adjusted onto the brake pads from nearly no resistance, up to the impossibility to pedal. Resistance modification is manual, but you can do this while pedaling.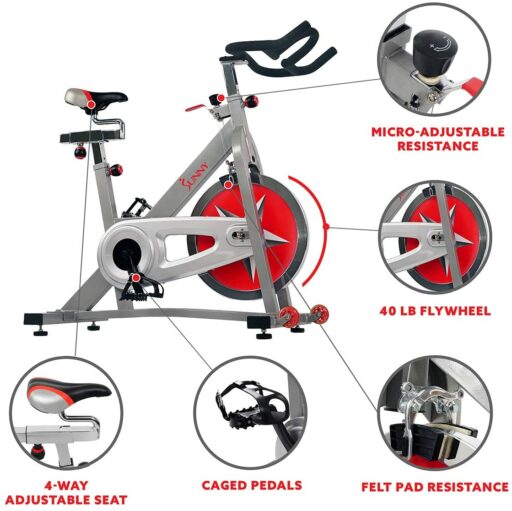 Therefore, even if there aren't any "clicks" on the adjustment knob, you will know when the setting is just right for your training.
SF-B901 Assembly and Maintenance
The assembly of this Sunny SF-B901 is far from being confusing. Some of the parts are pre-assembled. For example, the flywheel comes attached to the frame, with the chain and the crank arms connected. The bike sits on narrow bases for shipping, which needs to be removed and replaced with the bike's standard bases.
So, all you'll need to assemble are the seat and handlebar posts, the seat and handlebar themselves, the bike's bases, and the pedals. This shouldn't take more than 30 minutes. Also, the box includes the tools you need for the assembly and the instructions manual.
In terms of maintenance, the Sunny SF-B901 does not require much. The brake pads will last for years, even with a few hours of daily use.
If the brakes begin to emit squeaky noises, all you have to do is apply powder graphite to the brakes or silicone spray. Or, if they wear out, they may require replacement. If the chain becomes squeaky, spraying a bit of grease on it should do.
Pros
Quick resistance changes make this bike ideal for HIIT and Tabata drills;
40 lb flywheel;
Variable resistance;
Heavy-duty crank and smooth chain drive mechanism;

Sunny Pro Indoor Cycling Bike

Sturdy base frame design prevents any unwanted movement at higher resistance levels;

The ergonomic seat is 4-way adjustable;
The handlebar is 2-way adjustable;
Easy to assemble;
Affordably priced;
Smooth cycling motion.
Cons
It doesn't have a fitness monitor to track stats.
Sunny Pro Indoor Cycling Bike SF-B901 Summary
The main strength of this Sunny Pro Indoor Cycling Bike SF-B901 is its fantastic price/quality ratio. On top of that, it's an excellent exercise bike, very stable and durable. With proper maintenance, this bike can last a lifetime. It's also easy to assemble, use, and maintain.
It serves its purpose one hundred percent. It's a high-intensity training bike, which can help you burn up to 1,000 calories per workout. It's excellent for cardio workouts or to use in a variety of exercising programs.
I hope you found this article helpful and informative. If you have anything you'd like to share or opinions about the content on my site, please speak up. I look forward to your comments, questions, and the sharing of ideas.