The Keiser M3i Indoor Cycling Bike is one of the most popular cycling bikes for commercial or home use. Keiser bikes are known for their high quality and durability and choose many gyms for Cycling Classes.
The high-quality Keiser M3i has a rear-mounted flywheel, which gives the experience of riding a real bike. Its rear-mounted flywheel is protected from sweat that could corrode metal parts. This indoor cycle will provide an excellent cardiovascular workout with a low impact on your joints.
The Keiser M3i features a chrome-plated flywheel, which creates a secure, quiet, vibration-free workout. It also features adjustable magnetic resistance that simulates actual riding. The M3i has a belt drive system for a smooth ride with minimal maintenance. Unlike most cycling bikes, the Keiser M3i has an electronically controlled magnetic resistance system (24 levels of resistance). The 24 gear Magnetic Eddy Current Brake resistance is the best type, with nothing to replace or wear out.
Wireless Telemetry is enabled for Polar HR straps to monitor heart rate on the console. The padded seat is 4-way adjustable, as are the multi-position handlebars. The M3i has a solid frame (heavier bikes give a more stable ride). New features include Bluetooth connectivity, four-way seat adjustments with finer adjustments, improved handlebars, and newly redesigned pedals.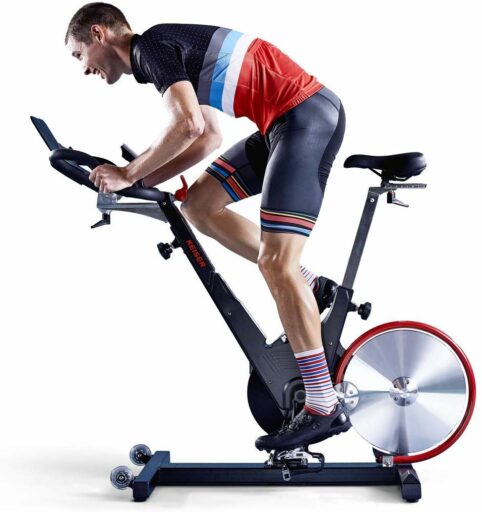 Learn more in my complete review below!
Product: Keiser M3i Indoor Cycling Bike
Price: For a great deal on this bike, merely go here on Amazon
Warranty: Frame 10 years / All-inclusive three years / Wearable parts and labor six months
My rating: 9.5/10
Affiliate Disclosure: As an Amazon Affiliate Program participant, I earn commissions on purchases made through links in this post. Full disclosure
Details and Specifications
Assembled dimensions: 48.25″L x 26″W x 45″H (123L x 66W x 114H cm)
Assembled weight: 85 lbs (38.5 kg)
Flywheel weight: 8 lbs (3.6 kg)
Supported weight: 300 lbs (136 kg)
Seat: 4-way adjustable
Handlebars: 4-way adjustable
Pedals: With toe cages and SPD clips
Drive system: Belt
Resistance: Manual magnetic, 24 levels
Fitness meter: Time, distance, total distance, RPM, calories, watts, pulse, Bluetooth
Extras: Tablet holder, bottle holder
Warranty: Frame 10 years / All-inclusive three years / Wearable parts and labor six months
M3i Frame construction
The Keiser M3i indoor cycle features a v-shape frame, which comes with two main advantages. One, it allows the oblique, upright adjustment of both the handlebar and seat posts, and due to this fact, it can accommodate users of all sizes. And two, it has a low center of gravity, which considerably improves its stability.
The bike's frame is heavy-duty steel tubing. It has a maximum user weight capacity of up to 300 lbs (136 kg). It has rust-resistant and abrasion-resistant paint, so if stored and used accordingly (indoors only), it should maintain its fundamental aspect for an extended period.
With the seat and the handlebars set to their lowest positions, the bike's length is 48.25″ (123 cm), and its tallest point (given by the handlebar) is 45″ (114 cm). However, the bike's maximum length (with both seat and handlebars up to their top position) is 60.5″ (154 cm), while its height reaches approx — 50.75 (129 cm) above floor level.
Its width is 26″ (66 cm) and remains unchanged regardless of how you adjust the bike. Keiser recommends leaving a clearance of at least 24″ (61 cm) all around the cycle for safe operation along with these dimensions.
The bike's base is a one-piece H-shaped element. This considerably improves its overall sturdiness. Its front and rear parallel bars have adjustable stabilizers which have large rubber caps. Therefore, you should be able to level the unit perfectly on any surface.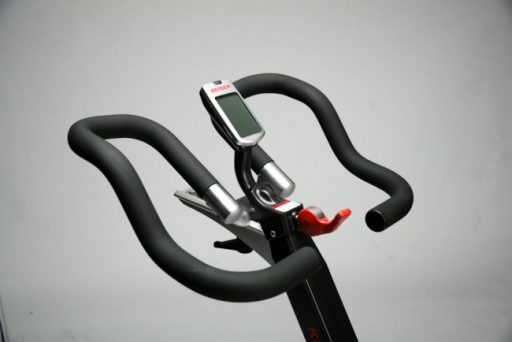 Seat and handlebars
Like most other indoor cycling bikes designed for spin workouts, the Keiser M3i doesn't come with an incredibly comfortable seat.
The saddle included with the bike is a relatively slim one but has a contoured surface and integrates a padding layer to deliver optimal comfort. It's also a standard seat, so replacements for it are widely available.
The bike's seat is 4-way adjustable (up, down, front, back). Both its horizontal slider and its upright post provide plenty of adjustment positions. Its bar, slider, and overall construction support users up to 300 lbs (136 kg).
The Keiser M3i features a multi-grip handlebar with a unique design. Its urethane is dipped to deliver a comfortable and secure grip. Just like the seat, the handlebar is 4-way adjustable. This exercise bike offers exceptional micro-adjustability. It can accommodate users between 4'10" and 7'0″ (147 – 213 cm).
Both the handlebar and seat are easy to adjust since adjusting knobs are straightforward to grip and turn. Therefore, it takes less than a minute to adapt the bike perfectly to your size.
M3i Resistance system
The Keiser M3i features a magnetic resistance system. Its magnetic brake consists of two opposing magnets placed on a rotating housing, one on each flywheel side. The brake connects via a steel wire to the lever on the handlebar tube.
The magnets' housing will rotate by pressing the lever forward, enabling the magnets to cover an entire portion of the flywheel, generating a magnetic field of higher intensity and creating more drag. Conversely, pulling the brake lever towards you will enable the magnets' assembly to rotate in the opposite direction, moving the magnets away from the flywheel and generating less drag. If pushed all the way forward, the lever acts as an emergency brake, automatically stopping the wheel.
The bike's resistance system offers 24 levels of resistance or 24 gears. However, when changing the resistance, you won't hear or feel a click on road bikes. The 1-3 levels deliver a light workout, while the top 20-24 degrees allow you to exercise high-intensity routines.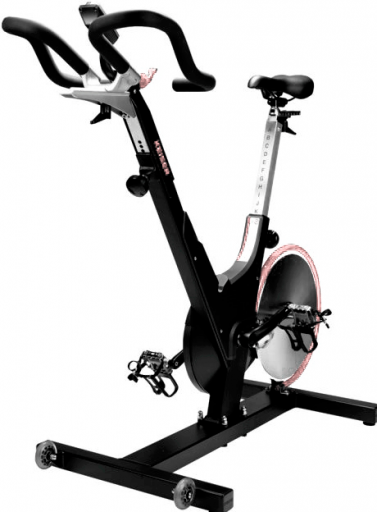 The bike's resistance system is exclusively manual. The unit doesn't require a connection to a power source. Furthermore, the console connects to the brake; it "feels" the selected gear and will display it on its bottom panel.
Drive system
As I've mentioned earlier, the Keiser M3i indoor cycle features a rear drive. In other words, the main element of the drive system (the flywheel) is at the back of the bike. There's quite an essential advantage to this feature. Since the wheel is at the rear, not at the front, the user's sweat won't drop on it, preventing corrosion.
As opposed to other indoor cycling bikes, the Keiser M3i doesn't have a weighty flywheel. The Keiser's wheel weighs only 8 lbs (3.6 kg). It's also not perimeter-weighted, and therefore, it doesn't generate very aggressive inertia. However, since the bike has quite a unique resistance system, you can ensure that it delivers very consistent workouts.
The flywheel is bi-directional. In other words, you can pedal in reverse, and this way, diversify your exercising routines.
The transmission consists of a heavy-duty, stretch-resistant poly-v belt. A belt drive comes with several advantages. To begin with, it doesn't require lubrication. It generates almost no vibration during pedaling. It's virtually silent, and overall, it delivers an extraordinarily smooth pedaling motion.
The bike's crankset is a highly durable piece. It has solid steel arms that can withstand the user in a complete standing-up pedaling session. Keiser has again revolutionized indoor cycling down to the last detail with the newly redesigned game-changing bike pedal. The pedals feature toe cages on one side and clips for spin shoes on the other.
M3i Console
The fitness console included with the Keiser M3i offers quite a few more features than the older version. To begin with, it features a large, multi-panel LCD, which shows several workout metrics simultaneously. The unit's display integrates an LED backlight and has a sensor for it, which detects the ambient light levels, turning it on when needed.
The display shows watts, kilocalories, heart rate, the time elapsed, distance, total distance (odometer), RPM, and the bike's current resistance gear (or level). The console will swap between Watts/KCal, Trip Distance/Odometer showing each one for 8 seconds on their display section. The distance is in either metric or imperial units; the unit will prompt you to select this preference when you start pedaling.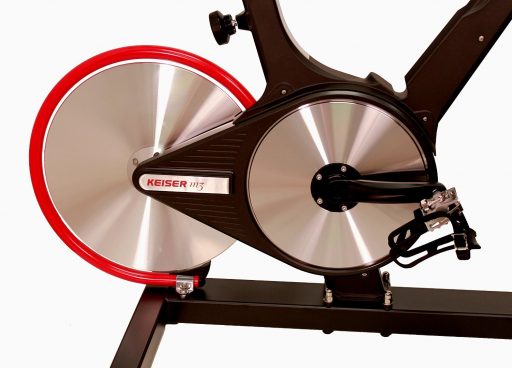 This exercise bike does not integrate pulse sensors. However, the meter is telemetric, so you must wear a Polar HR chest strap transmitter, which is not (included) to read your pulse rate.
One of the new features of the Keiser console is its Bluetooth function. This gives you the possibility to sync it with your tablet, laptop, or smartphone to directly stream your workout data to various M3i compatible apps, such as the Keiser M Series fitness app, to monitor your progress. Or, you can connect to a 3D immersive cycling experience such as BKOOL.
The M3i fitness console is battery-powered. It uses 2 AA batteries, which (are included). It doesn't have any buttons, so setting it up is done by using the shift lever. The manual will thoroughly instruct you on how to do this. It has a sleep mode to enter after 60 seconds of inactivity on the bike, and it starts when you begin pedaling.
M3i Assembly and Maintenance
The bike's main body, including seat, crank assembly, and handlebar post, comes already assembled in the box. All you have to do is attach this main body of the bike to the one-piece base, then add the flywheel, pedals, console, handlebar assembly, crank and wheel guards, and several other smaller pieces.
It's not very difficult to assemble, and the manual provides clear step-by-step instructions for it. The assembly requires your tools.
Since it's a magnetic resistance exercise bike, there's no wear and tear to the resistance system, so you won't have to worry about replacing parts there. It's a pretty much maintenance-free trainer. All you have to do is periodically check for loose bolts and retighten if necessary. It would help if you also wiped off the sweat from the frame after use.
Pros
Heavy-duty frame for superior sturdiness and stability;
Excellent weight capacity – 300 lbs;
Adjustable base stabilizers, with large rubber pads;
Transport wheels included;
4-way adjustable seat;
4-way adjustable handlebars, urethane dipped, and with a multi-grip design;
Can accommodate users between 4'10" – 7'0″;
Solid crank assembly;
Newly redesigned, dual-sided pedals, with SPD clips on one side and toe cages on the other;
Smooth, quiet, and vibration-free belt drive;
Frictionless magnetic resistance, offering 24 distinct levels;
Rear-drive, which prevents sweat from dripping onto the flywheel or the brake;
Multi-panel fitness console that can track watts, kilocalories, heart rate, the time elapsed, distance, total distance (odometer), RPM, and the current resistance gear;
The console is also Bluetooth enabled so that you can stream your workout data to the Keiser fitness app;
The bottle holder included;
Tablet holder included;
Little maintenance required;
Easy to assemble;
Excellent warranty.
Cons
A wide Q-Factor of 197 mm;
The flywheel is not perimeter weighted.
Keiser M3i Summary
The Keiser M3i is an indoor cycling bike designed for spin workouts. It offers high micro-adjustability, a frictionless magnetic resistance system, and a Bluetooth console that can track all your workout metrics.
It's an award-winning exercise bike, the result of over a decade of research and development. Thus, it's perfect for light to intense cardio workouts, muscle toning, interval training, stamina development, and weight loss. And finally, even though it's not exactly one of the most affordable exercise bikes, its overall quality and range of features match the price.
I hope you found this article helpful and informative. If you have anything you'd like to share or opinions about the content on my website, please speak up. I look forward to your comments, questions, and the sharing of ideas.