The Sole Fitness SB900 Indoor Cycling Bike takes users to the next level of exercising and satisfactory indoor and outdoor cyclists. Understanding the needs of both types of users, Sole combined them to design a comfortable, affordable bike allowing users to have the dual experience in the comfort of their own home or Light Commercial setting.
A heavy-duty 48-pound chrome-plated flywheel and magnetic braking design will ensure a quiet and smooth ride. Sole's whisper peaceful resistance gives users a smooth transition between resistance levels while maintaining an extremely quiet workout. In particular, it allows users to worry less about fitness equipment noise and focus more on reaching fitness goals.
Comfort is paramount whether you prefer the road bike or are an indoor cycle enthusiast. The SB900 comes with a 4-way adjustable seat and handlebars that move up and down and fore and aft in comfort. Also, users can use toe clips or clipless (SPD) pedals.
The integrated fitness console displays RPM, time, KCal, distance, and speed. In addition, it is also compatible with a wireless HR chest strap, ensuring users that they're staying within their heart rate training zones and working on getting optimal results. Displaying workout info on a large screen is vital for meeting workout goals and means fewer distractions and more achievement.
Learn more in my complete review below!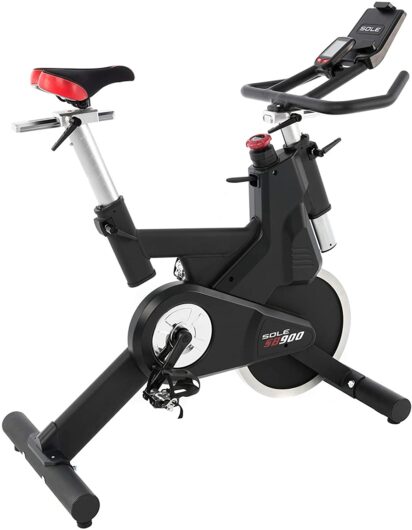 Product: Sole Fitness SB900 Indoor Cycling Bike
Price: For a great deal on this bike, merely go here to Sole Fitness.com
Warranty: Frame lifetime / Electronics 3 years / Parts 3 years / Labor 1 year
My rating: 8.5/10
Affiliate Disclosure: As a Sole Fitness Affiliate Program participant, I earn commissions on purchases made through links in the post. Full disclosure
Details and Specifications
Assembled dimensions: 42L x 21W x 40H inches (116L x 53W x 102H cm)
Assembled weight: 133 lbs (60 kg)
Flywheel weight: 48 lbs (22 kg)
Supported weight: 300 lbs (136 kg)
Seat: 4-way adjustable
Handlebars: 4-way adjustable
Drive mechanism: Belt
Resistance: Magnetic
Fitness Monitor: Time, speed, KCal, RPM, distance, pulse
Extras: Device holder
Warranty: Frame lifetime / Electronics 3 years / Parts 3 years / Labor 1 year
SB900 Frame Construction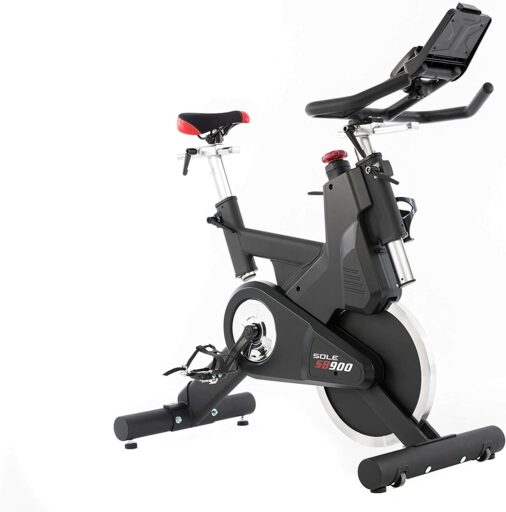 The Sole Fitness SB900 indoor cycling bike is for spin workouts. However, unlike most other models, it does not have the standard triangular frame. It's instead an X-type frame with a slightly higher center of gravity. It has a similar construction to the Sole SB700 model I've covered here, but this bike has magnetic resistance.
The bike has a steel tubing frame. It combines oval and cylindrical tubes in its construction for improved aesthetics. The mainframe comes double-coated with a black paint finish (unlike the older versions, which had a burgundy red finish). The seat post, the handlebar post, and the flywheel are chrome-plated.
The bike also integrates several plastic parts. The most notable ones are the drivetrain cover, the brake cover, several other covers, and the tablet holder. These are durable thermoplastic materials.
Like most other spin bikes, the Sole SB900 is not a large fitness machine. Its fully assembled footprint is approx. 42″L x 21″W (116 x 53 cm). It is advisable to allow at least a few feet of clearance all around it for easy access.
The bike is pretty heavy. Its net weight is approx—133 lbs (60 kg). Therefore, two people should carry the box or use a hand truck.
However, once assembled, one person can quickly move the bike. That's because its front base comes equipped with transport wheels. In addition, its weight provides superior stability, and its base bars have adjustable levelers.
Seat and handlebars
The Sole Fitness SB900 has a four-way adjustable (up, down, front, back) seat. Furthermore, its vertical post offers several adjustment positions, while its horizontal slider adds a few inches of front-to-back adjustment.
Therefore, the bike accommodates users between 5'1″ and 6'5″ (155 – 196 cm). In addition, it also has a maximum user weight limit of 300 lbs (136 kg).
The included saddle is for superior comfort. First, it integrates a thick foam cushioning layer, and its cover combines synthetic fabric with red faux leather. It features a contoured design with a groove in the middle for improved breathability.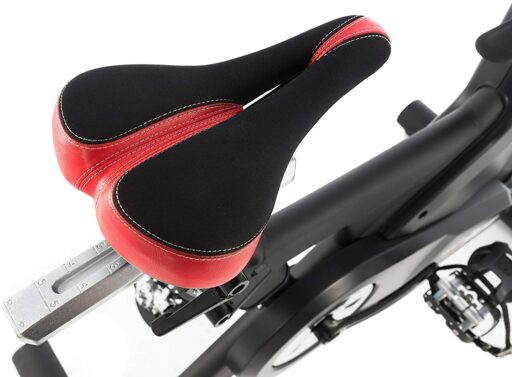 It's also important to note that the bike's saddle is pretty easy to install and remove. Its attachment system is standard, collar-based. Therefore, you should find a wide range of compatible saddles if you want to replace them.
The bike's handlebar offers four-way adjustability (up, down, front, back), just like the seat. Its highest position is approximately 45″ (114 cm) above the floor. Its horizontal slider adds several inches of front-to-back adjustment.
The handlebar features a multi-grip design. It offers the possibility to adopt a climbing grip, an off-road grip, a standard grip, and a close parallel grip. You can also adopt an aero grip if you don't install the tablet holder.
A layer of PVC foam material fully covers the handlebar. Unfortunately, it does not have pulse sensors, but the fitness monitor can read your pulse from a wireless transmitter.
SB900 Drive system
The Sole Fitness SB900 indoor cycling bike has a chrome-plated flywheel featuring ABS side covers. The flywheel has a perimeter-weighted design which is excellent for spinning as it provides a consistent pedaling motion and high inertia. However, it weighs 48 lbs (22 kg), one of the heaviest flywheels on a spin bike.
The bike comes equipped with a belt drive system. Therefore, you don't have to worry about its lubrication. Also, the belt generates less vibration than a chain, contributing to the ride's overall smoothness.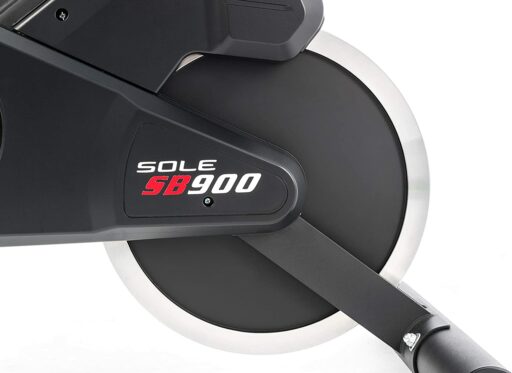 The bike's drivetrain allows for reversing pedaling. However, the resistance remains constant when pedaling in reverse, depending on the selected tension level. Therefore, coasting is not possible on this bike. Also, when pedaling in reverse, the monitor continues to track your data.
The bike comes equipped with a heavy-duty crankset. Its arms are steel-made, coated with a black paint finish, and they're approx. 170 mm (6.7″) long. Also, the bike's Q-Factor (spacing between the pedals) is approx. 180 mm (7″) is narrow, so you shouldn't experience lateral knee stress during pedaling.
The included pedals are made of durable aluminum alloy. They have SPD elements for spin shoes and toe cages. They also have 9/16 threads, so you can easily find replacements if you need to change them.
Resistance system
As I've mentioned, the Sole Fitness SB900 bike features a magnetic resistance system instead of the Sole SB700 model, which has a friction resistance system. In addition, it is not a motorized bike, so you don't need to connect it to a power source.
The bike's resistance system has a magnetic brake attached to the frame above the flywheel. This brake connects to the bike's resistance knob on the frame. Therefore, when you turn this knob left or right, the distance between the magnets and the flywheel changes, which leads to more or less resistance.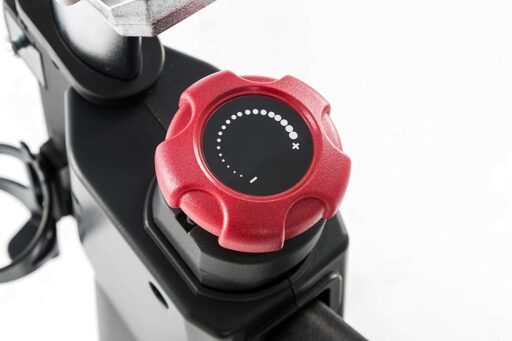 The bike's braking system includes a small lever and felt pad. When you press this lever down, the felt pad comes in contact with the flywheel and stops it from spinning. This emergency brake is necessary as the flywheel is heavy, and trying to stop it with your feet from the pedals may lead to injuries.
The main advantage of the magnetic brake is that the magnets do not touch the flywheel. Thus, they don't wear out, and the flywheel spins freely, leading to a smooth and quiet pedaling motion.
SB900 Fitness monitor
The Sole Fitness SB900 indoor cycling bike has a fitness monitor that offers a few extra features over a simple one. To begin with, it features an LCD divided into several sub-sections to show as many workout metrics as possible at once. It tracks time, speed, distance, RPM, calories, and pulse.
The bike has no integrated pulse sensors, so the monitor can only read your pulse if you wear a wireless (ANT+) HR chest strap. Unfortunately, this accessory does not come with the bike. In addition, the speed and distance can be metric units or Imperial units.
The fitness monitor is pretty easy to use. It has two buttons. The left button covers the Mode/Reset functions, while the right button covers the Start/Confirm functions. Unfortunately, the monitor does not have pre-set workout programs and plays no role in the bike's resistance adjustment.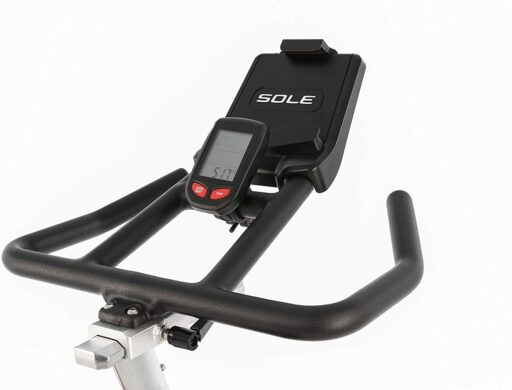 However, you can set a heart rate target with an alarm to keep yourself in a specific HR interval. In addition, you can input your weight and gender for a better calorie calculation. The monitor also has a clock function that displays when the unit is idle.
The fitness monitor is battery-powered, and it requires two AAA batteries. The internal RPM sensor is also battery-powered and requires two AAA batteries. The fitness monitor starts recording your data when it detects flywheel movement. It also enters idle mode after a few minutes of inactivity on the bike.
Enhance Your Workout With STUDIO
Sole Fitness workouts are done for all levels and range from 10 minutes to 60 minutes. In addition, Sole utilizes heart rate metrics and data from your equipment across all of your workouts to help you exercise smarter.
Connect your Bluetooth-enabled Sole Treadmill, Elliptical, and Spin Bike to get real-time metrics such as Speed, Incline, RPM, and Power. Also, connect any Bluetooth Heart Rate Monitor to see real-time metrics of how your heart rate responds to workouts.
Train with the world's best instructors from the country's top fitness studios. Our instructors will motivate and push you to your following personal best in running, cycling, boxing, rowing, and more.
Give it your best and go toe-to-toe with other beginners or pros on STUDIO's community-powered leaderboard. Your heart rate determines your position, evening the playing field while pushing you to your next record.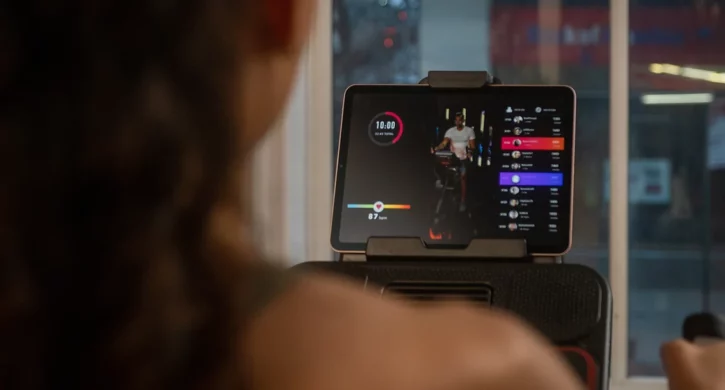 Over 3,000+ boutique fitness classes led by leading fitness instructors, with more added daily. Pick up the pace with treadmill or outdoor runs, then switch it up for cycling, rowing, strength, boxing, and more.
You'll earn FITCOIN during every workout. The harder you push, the more you'll make. Redeem prizes, offers, and rewards with your hard-earned FITCOIN. You don't have to do it alone. Sweat with the community, connect, follow, and invite your friends to work out together.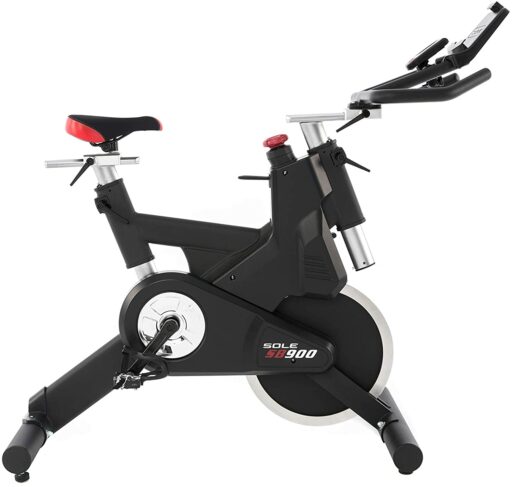 Assembly and Maintenance
The flywheel, the crankset, the drivetrain, and the magnetic brake are pre-assembled. Then, you only have to add the two base bars, the handlebar, the seat, the pedals, the fitness monitor, and the tablet holder.
Therefore, it shouldn't take more than one hour of your time. The manual provides step-by-step assembly instructions; an essential toolkit also comes with the bike.
For maintenance, you only have to keep the bike clean. The drivetrain and the brake do not require lubrication. Other than this, it is also advisable to periodically inspect the bike to ensure all the fixed parts hold in place and the moving parts still function correctly.
Pros
Sturdy steel construction – can support users up to 300 lbs;
Aesthetic design;
Adjustable levelers on both bases;
Transport wheels on the front base;
4-way adjustable seat;
4-way adjustable handlebar;
Multi-grip handlebar with aero bars;
Large cushioned saddle with a groove in the middle for extra breathability;
Metallic pedals with SPD elements and toe cages;
Narrow Q-factor for reduced lateral stress on the knees;
Maintenance-free belt drive system;
Super-heavy (48 lbs), perimeter-weighted flywheel;
Frictionless magnetic resistance;
Emergency brake function;
Fitness monitor included – it tracks time, speed, distance, RPM, KCal, and pulse;
Target heart rate function;
Clock function in idle mode;
Device holder included;
Little maintenance is required;
All the tools necessary for the assembly included;
Easy to assemble;
Excellent warranty.
Cons
The handlebar does not have integrated HR pulse sensors;
An HR chest strap accessory does not come with the bike.
Sole Fitness SB900 Indoor Cycling Bike Summary
The Sole Fitness SB900 is a light-commercial grade, heavy-duty indoor cycling bike. It has a manual magnetic resistance system, a 48 lbs flywheel, a belt drive system, and a fitness monitor that tracks the essential workout metrics.
In addition, it offers superior micro-adjustability (the seat and the handlebars are 4-way adjustable) and a maximum user weight limit of 300 lbs.
Furthermore, it's a bike for users of all levels for high-intensity spin workouts. It's not the most affordable exercise bike but it offers excellent value.
I hope you found this article helpful and informative. Would you please speak up if you have anything you'd like to share on the topic or any opinions about my website? I look forward to your comments, questions, and the sharing of ideas.
Please remember to consult your physician to determine if you have any medical or physical conditions that could risk your health and safety or prevent you from using the equipment properly. In addition, your physician's advice is essential if you are taking medication that affects your heart rate, blood pressure, or cholesterol level.