The NordicTrack S22i Studio Cycle is a luxury indoor exercise bike with many features, a sharp style, and a smooth ride. This bike is one of my favorites for its lightweight magnetic flywheel that barely makes a sound when riding.
The S22i is very efficient in simulating a road bike, as the flywheel is one of the smoothest on the market. Furthermore, unlike other indoor exercise bikes, the pedaling is soft and natural, allowing you to forget you are stationary nearly.
The S22i comes with NordicTrack's steepest bike incline/decline range. Work your muscles with extremes of -10 and +20 percent! The slope can be controlled manually or by workout programs. This feature is fun to use with Google Maps workouts, automatically adjusting the bike's pitch according to the terrain data.
The S22i Studio Cycle is a digitally connected home exercise bike with a 22″ monitor enabled for iFit Coach. This elite fitness machine can stream LiveCast videos filmed at the iFit Coach spin studio and lets you cycle in virtual outdoor environments.
Learn more in my complete review below!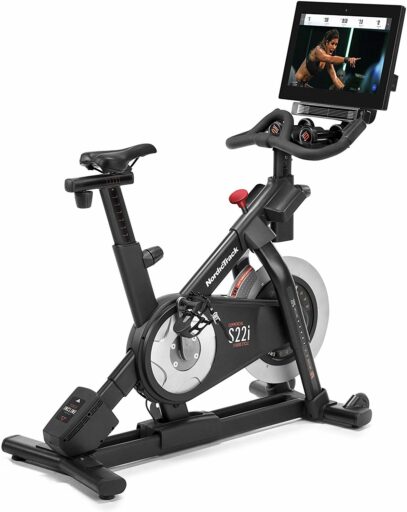 Product: NordicTrack S22i Studio Cycle
Price: For a great deal on this bike, merely go here on Amazon
Warranty: Frame 10 years / Parts 2 years / Labor 1 year
My rating: 8.5/10
Affiliate Disclosure: As an Amazon Affiliate Program participant, I earn commissions on purchases made through links in this post. Full disclosure
Details and Specifications
Assembled dimensions: 55.75L x 22W x 61H inches (142L x 56W x 155H cm)
Supported weight: 350 lbs (158 kg)
Seat: 4-way adjustable
Handlebars: 2-way adjustable
Pedals: With toe cages
Drive: Belt
Resistance: Automatic magnetic, 24 levels
Incline/Decline: Automatic, 20%, -10%
Fitness Monitor: 22″ LCD touchscreen display, wireless connectivity, iFit enabled
Extras: Dumbbell set, sound system, cooling fan
Warranty: Frame 10 years / Parts 2 years / Labor 1 year
S22i Frame Construction
The NordicTrack S22i Studio Cycle features a heavy-duty steel frame that supports 350 lbs (158 kg) users. It has a triangular design with ovalized tubes for improved sturdiness and aesthetics. In addition, all the steel parts in the frame construction come double-coated with a corrosion-resistant and chip-resistant black paint finish.
The bike is a bit larger than most other models. With all the parts assembled, it is approximately 55.75″ (142 cm) long and 22″ (56 cm) wide. It is also advisable to leave two ′ (0.6 m) of clearance all around it for ease of access, or even more, to have all the necessary space for the spin workouts that repeatedly require mounting and dismounting.
Although its exact weight is not specified, the NordicTrack S22i weighs more than 150 lbs (68 kg). This weight delivers extra stability. Plus, both the bike's bases come with adjustable stabilizers, allowing you to level it flawlessly on any floor. Unfortunately, its transport and assembly require two people due to its weight. However, once completed, its relocation is done quickly via the wheels integrated into its front base bar.
Seat and handlebars
The NordicTrack S22i Studio Cycle includes a race-type saddle designed for optimal comfort. It integrates a cushioning layer and has a contoured top to provide extra breathability. In addition, it has a standard, collar-based attachment system; therefore, if you ever need to replace it, compatible options are widely available.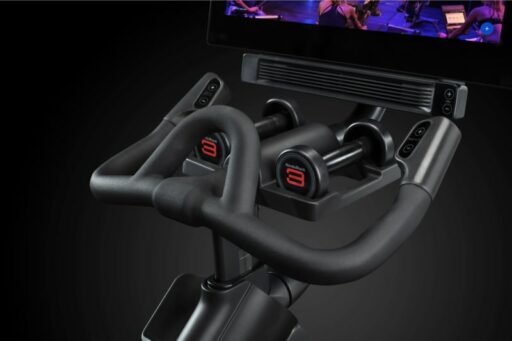 The bike's seat offers four-way adjustability (up, down, forward, backward). In addition, its vertical post provides multiple adjustment positions, while its horizontal slider also makes available a few inches of front-to-back adjustment.
Therefore, the bike can accommodate with no problem users between 5'0″ and 6'5″ (153 – 196 cm), allowing a complete leg extension.
The bike's handlebar only offers two-way adjustability (up, down) instead of the seat. Its adjustment post provides a few inches of vertical adjustment. The handlebar and the seat have large adjustment knobs and are easy to grip, pull, and turn. Therefore, adjusting the bike to your dimensions takes less than a minute.
The handlebar features a multi-grip design. It has two more extended side grips and one small loop bar in the middle, which allows you to adopt a close-grip position. In addition, a layer of rubber foam material covers the whole grip area to provide optimal comfort.
The bike's handlebar doesn't integrate pulse sensors, but the fitness monitor does have a pulse reading function; it can communicate with any Bluetooth HR chest strap. The side grips feature incline/decline and resistance controls. Plus, the front section of the handlebar assembly has a dumbbell rack that holds the two included 3 lbs (1.3 kg) dumbbells.
S22i Incline system
One of the most notable features of the NordicTrack S22i is its incline system. Most other spin bikes, commercial or not, do not have this feature. This incline system is motorized, requiring an external power source to adjust its incline. It also means that the fitness monitor can adjust the slope automatically, depending on the program or virtual route.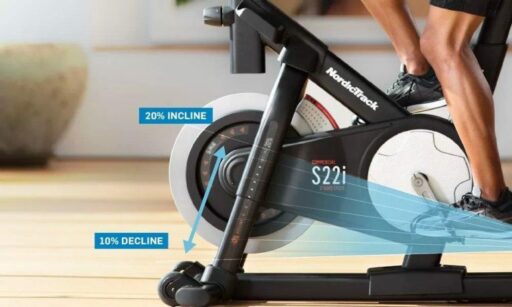 The bike's incline system consists of a motor above the rear base, an internal lift, and an adjustable front fork. The motor lifts or lowers the frame as you adjust the incline, extending or reducing the fork's two arms' length.
The bike's slope doesn't necessarily add difficulty to the ride. Indeed, it does provide a more immersive and natural sensation, especially if you follow a virtual route, as it will automatically adapt to all its climbs and dives.
The bike makes 20 levels of incline and ten levels of decline within a range of -10% to 20%. The incline increments are 1%. The left grip of the handlebar features controls for gradual incline adjustment (- / +), while the left side of the console has quick incline controls for the -10, -6, -3, 0, 3, 6, 9, 12, 15, 18, and 20 levels.
Resistance System
The NordicTrack S22i comes with a motorized magnetic resistance system. However, just the incline, you will have to plug your bike into a wall outlet to adjust the resistance.
You can change the resistance manually from the right handgrip's gradual controls or the quick selection keys on the console's right side. Also, the fitness monitor can adjust the resistance automatically, depending on the program or route.
The bike's resistance system consists of a servo motor and a magnetic brake. As you adjust the resistance, the motor changes the magnetic brake position to cover a smaller or more significant portion of the flywheel, leading to pedaling difficulty.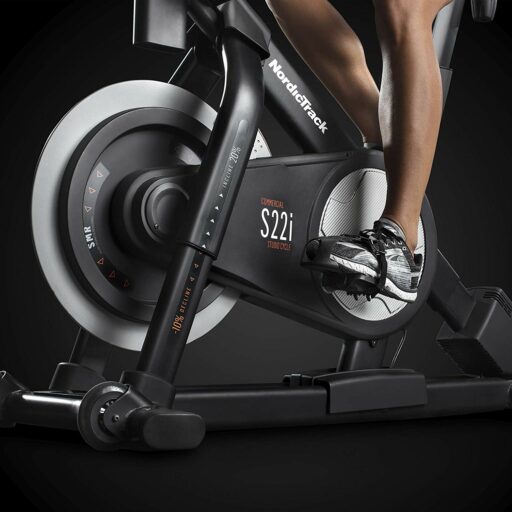 There are 24 distinct resistance levels. The first level delivers a light pedaling difficulty, great for a light workout. Conversely, the 24th tension level provides a consistent training setting, great for a high-intensity cardio workout or a steep climb simulation.
A mechanical emergency brake also comes with the S22i. It consists of a push-down knob on the mainframe bar and a brake pad in contact with the flywheel. Therefore, if you are pedaling at high speed and need to stop, you can instantly stop the wheel by pressing this button.
The NordicTrack S22i comes with an inertia-enhanced flywheel. Its exact weight is not specified, but this shouldn't matter much due to the magnetic resistance.
Like other spin bikes with a magnetic resistance system, the flywheel has a composite construction. The center disc features a perimeter-weighted design, while the outer disc is slim to fit better with the magnetic brake.
S22i Drive System
The bike's drive system uses a poly-v belt. This type of transmission comes with several advantages. First of all, it doesn't require lubrication, and second of all, it generates less vibration than a chain drive while the pedaling motion is smoother and quieter.
Finally, the bike's crankset will support any spin workout. It features heavy-duty crank arms, holding users up to 350 lbs (158 kg) with no problem, even in standing-up positions.
The pedals are aluminum alloy and also very durable. They feature adjustable toe cages but do not have SPD clips for spin shoes. However, their threads are standard (9/16″), so compatible options are widely available if you ever want to replace them.
Fitness monitor
The NordicTrack S22i has an advanced fitness monitor that offers many intelligent features. To begin with, it has a full-color, 22″ LCD with an LED backlight for superior visibility. It also has touchscreen technology, so navigating its menus, selecting a program, or creating a training track is easy.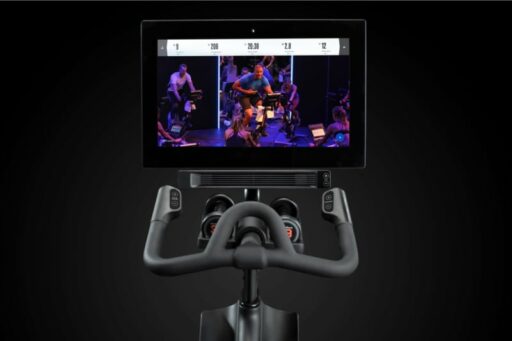 It tracks all the essential workout metrics, including time, distance, speed, calories, RPM, watts, and pulse. The speed and distance display either metric or English units. While for the pulse reading, you can pair it with any Bluetooth HR chest strap or armband.
The fitness monitor has wireless connectivity and can connect to your home's WiFi hotspot. It is compatible with iFit and also includes a free 30-day iFit membership. Therefore, you get full access to all the interactive iFit spin workouts, create your map workout, compete with other users, and track your progress online.
The WiFi connectivity also allows you to download software updates for your monitor, if available, to keep it up.
The fitness monitor has a list of preset workout programs. Therefore, if your iFit membership expires and you don't want to renew it, it still covers you. The onboard programs include various workouts featuring interval layouts, fat-burning, or stamina development layouts. There also are HR-based workouts.
It's important to note that whether you use an onboard workout, an iFit exercise, or a custom map trail, the bike will auto-adjust its incline and resistance accordingly, depending on the program's layout. As a result, you will always benefit from a superior and natural riding experience.
Amenities
I must mention two other notable features regarding the unit's monitor: the sound system and cooling fan. The unit's sound system consists of two integrated speakers. In addition, the monitor has an audio input to connect your smartphone, tablet, or MP3 player via AUX cable to listen to your music through the monitor.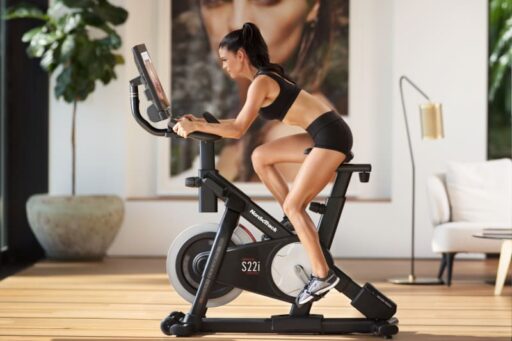 The cooling fan is at the bottom of the unit. It's not extremely powerful but provides decent cooling during a more intense workout.
S22i Assembly and Maintenance
The bike's mainframe with the flywheel, incline system, and resistance system comes pre-assembled. So you only have to attach the two base bars, the seat post, the seat, the pedals, the handlebar post, the handlebar with the dumbbell support, the monitor mount, the fitness monitor, and the bike cables to the monitor.
Therefore, it may take more than an hour of your time, but it's far from being a complicated task. The manual provides clear assembly instructions and illustrations. Also, a set of necessary tools come with the S22i.
Once assembled, its maintenance doesn't require much. All you have to do is keep it clean, periodically check for loose bolts and parts, and retighten or replace them as needed.
Pros
Sturdy steel frame – can support users up to 350 lbs;
Aesthetic design;
Bases with adjustable, rubberized levelers;
Transport wheels on the front base;
4-way adjustable seat;
Race-style saddle with a contoured and padded top;
2-way adjustable handlebar with a multi-grip design;
Automatic SMR™ Silent Magnetic Resistance with 24 levels of adjustment;
Automated incline/decline system with a range between -10% and 20%;
Resistance and incline/decline controls integrated into the handlebars;
Inertia-enhanced flywheel for a smooth pedaling motion and solid momentum;
Heavy-duty crank made for spin workouts;
Aluminum alloy pedals with adjustable toe cages;
Smooth and quiet belt drive, great for apartment use;
Touchscreen fitness monitor with a full-color, 22″ LCD and LED backlight;
Quick controls for incline/decline and resistance on the monitor;
Plenty of onboard programs if you don't want to use iFit or your membership expires;
The sound system included;
Workout fans included;
Dumbbell set (3 lbs each) included;
Reasonably easy to assemble;
Little maintenance is required;
Excellent warranty.
Cons
Unfortunately, a Bluetooth HR chest strap does not come with the S22i;
The handlebar is only up/down adjustable.
NordicTrack S22i Studio Cycle Summary
The NordicTrack S22i Studio Cycle is an indoor cycling bike for spin workouts. It features a heavy-duty frame with a capacity of 350 lbs, an automatic incline/decline system with a range between -10% and +20%, and a motorized-magnetic resistance system with 24 levels.
It includes a smart fitness monitor featuring a 22″ LCD, iFit enabled, and many onboard programs. It's a superior exercise bike made to provide an immersive riding experience.
It's great for users of all levels, allowing them to perform light to intense cardio and interval workouts, build stamina and lose weight. And finally, even though it's not the most affordable spin bike, it offers excellent value for the price.
I hope you found this article helpful and informative. Would you please speak up if you have anything you'd like to share on the topic or any opinions about my website? I look forward to your comments, questions, and the sharing of ideas.
Please remember that you should consult your physician to determine if you have any medical or physical conditions that could risk your health and safety or prevent you from using the equipment properly. In addition, your physician's advice is essential if you are taking medication that affects your heart rate, blood pressure, or cholesterol level.