The Body-Solid Series GS348QP4 7 Series 7 Smith Machine Package allows you to develop muscle mass beyond your imagination at a rate that will amaze you. In addition, you get virtually all the same exercises as you do in a fully equipped gym, but in the convenience of your own home, on your schedule, without needing a spotter.
However, this is not just another smith machine: developing a cutting-edge, state-of-the-art Series 7 Smith Machine that meets Body-Solid's meticulous standards of quality has not been easy. While other companies have rushed to get their smith gyms to market, Body-Solid took the time to get it just right.
The Series 7 Smith Gym System gives you the freedom of movement to do your exercises correctly. For this purpose, the Series 7 Smith Gym is on a 2″ x 3″ commercial quality mainframe and set to a 7-degree reversed pitch. The 7-degree angle allows natural upper and lower body movements for precise chest and gluteal biomechanics.
Over 50+ exercises are available on the Body-Solid GS348QP4 Series 7 Smith Machine Package and can be done correctly under your control. Every set, every rep, every movement. That is how you get actual results. And there's only one thing you want from your gym system. Results.
Learn more in my complete review below!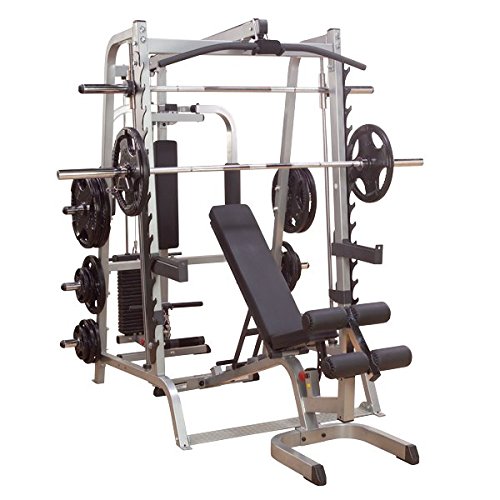 Product: Body-Solid GS348QP4 Series 7 Smith Machine Package
Price: For a great deal on this gym, merely go here on Amazon
Warranty: In-Home Lifetime Warranty (see the commercial warranty below)
My rating: 9.5/10
Affiliate Disclosure: As an Amazon Affiliate Program participant, I earn commissions on purchases made through links in this post. Full disclosure
Details and Specifications
Assembled Dimensions: 84″H x 78″L x 70″W;
Assembled Weight: 743 lbs  (337.02 kg);
Smith Machine capacity: 600 lbs (272.2 kg);
Commercial-grade construction combined with state-of-the-art biomechanical design;
210 Lb. Selectorized Lat Attachment;
Pec Attachment;
Commercial Flat / Incline / Decline Bench (weight capacity 1000 lbs);
Preacher Curl Attachment;
6-Roller Leg Developer Attachment;
Commercial Warranty: Lifetime Warranty on Frames, welds, weight plates & guide rods / 2 Years on pulleys, bushing, bearings & hardware / 1 Year on cables, upholstery, grips, and all other components;
In-Home Warranty: Lifetime Warranty for in-home, personal usage. Pads, pulleys, cables, frames, and everything are covered as long as you own the equipment. Period.
Note: Olympic Weight plates and barbells do not come with the package
Series 7 Overview
There's nothing quite like a full Smith Machine Workout, and this package from the Body-Solid provides you with everything you need to get yourself in shape the Smith way.
You get the Body-Solid Series 7 Smith Machine, Selectorized Weight Stack, Commercial FID Bench, Lat Attachment, Pec Dec Attachment, Preacher Curl Attachment, Leg Developer, and Olympic-style plates.
A lifetime warranty backs the entire package, so you can be sure that this system will last you for years. The 4-sided welding construction and 11-gauge tensile strength steel frame are rugged and built to last.
Thus, it is the best possible workout for toning every major muscle group in no time. It's fully adjustable for the most custom workout of your life. The saber-style safety rods make the exercise incredibly simple, so there's no guesswork.
No matter your fitness level, you'll find that you're taking it up a notch with this incredibly well-built Smith Machine.
In particular, user safety is provided by 20 cross-member lockout points accessible with a simple 15-degree rotation of the bar, eliminating the need for a spotter.
For those exercises that demand free weight movement, the 14-position front side gunrack with 17″ extra heavy-duty safeties is also set to a 7-degree reversed pitch providing convenient lift-off points and predictable racking.
GS348QP4 Frame Construction
The Series 7 Smith machine is a heavy-duty steel frame. All sides use 11 and 12 gauge 2″ x 3″ steel components to provide a frame stone enough to handle some pretty heavyweights. The Smith machine's maximum weight capacity is 600 pounds.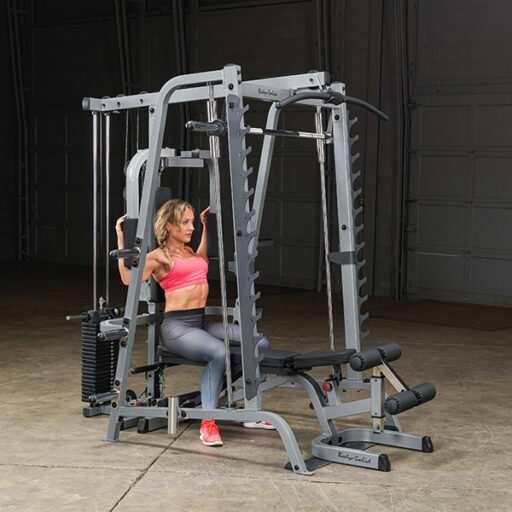 Fully assembled, it has the following dimensions: 78″ (L) x 64″ (W) x 84″ (H). These are just the dimensions for the cage itself. If you include the bench during use, the length becomes 118 inches. That's almost 10 ft long. Just something to consider, you have to make sure you have enough room.
The Smith machine has 20 different lockout points. Therefore, you should have a place to lock your barbell nearby, regardless of where you are in your exercise range.
The free-weight barbell rack in the machine (gun rack system) has 14 different mounting positions. Thus, this should come in handy if you prefer to do the non-Smith machine version of squats or any other exercise.
The barbell (the connected one that's part of the Smith system) only weighs 25 lb, making it easy to handle when adjusting between exercises.
A light bar is also great for beginners who may not need as much weight to start. However, more experienced lifters might not like the light bar because they'll have to add extra weight to make up for it.
The Series 7 also includes adjustable safeties for both the Smith and free-weight sides, which is a must if you lose control of the bar. You can set the safeties where they will catch the bar before doing any bodily damage.
Series 7 Weight plate storage
You'll notice six weight plate storage posts along with the machine's frame. These hold Olympic weight plates of all sizes. Another must-have for a Smith machine is that you don't want your weight plates lying all over your gym floor (you also don't want to buy a plate storage system separately).
GS348QP4 Key Features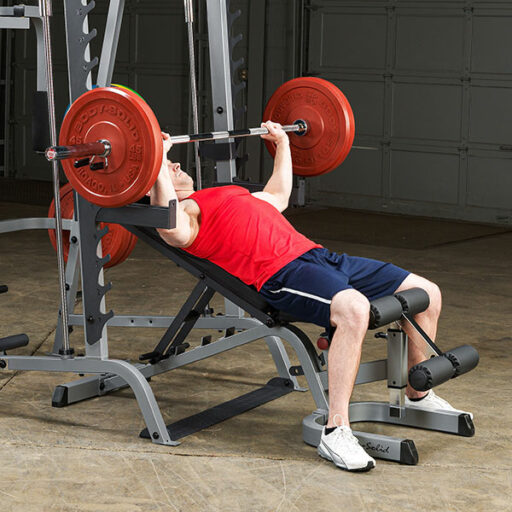 Precise seven-angle Smith Machine combined with seven angles free-weight barbell workout center designed for natural upper and lower body exercise movements.
The Linear ball-bearing Smith system with 20 cross-member lockout points provides a safe stop anytime during your workout routine.
The Freeweight gunrack system with 14 lift-off and racking positions for ultimate versatility, safety, and control.
Large diameter Smith Bar responds quickly, is easy to control, and weighs only 25 Lbs. It's ideal for amateurs or professionals.
Heavy-duty all-4-side welded 11 gauge and 12 gauge 2 "x3" mainframe steel construction with a safe, solid 4-point stance for maximum stability.
It includes adjustable safeties for the Smith system and the free-weight barbell workout center.
Six Olympic weight plate storage posts safely suspend plates off the floor for easy access.
Series 7 Body Focus
Abs
Biceps
Calves
Delts
Hamstrings
Lats
Obliques
Pectorals
Quads
Shoulders
Total Body
Traps
GS348QP4 regular exercises are:
Sit-Ups
Bench Press
Incline Press
Decline Press
Upright Row
Shoulder Press
Standing Military Press
Wide Grip Front Lat Pullup
Close Grip Front Lat Pullup
Bent-Over Row
Shoulder Shrug
Biceps Curl (standing)
Squat
Seated Calf Raise
Standing Calf Raise
Calf Press
and many more
Series 7 Included Attachments
Here's the low-down on what comes with this bad boy:
Lat Attachment GS348Q: with this lat attachment, you can perform lat pulldowns with a separate 210 lb weight stack. It consists of a lat bar connected to a high pulley with the weight stack in the system's back.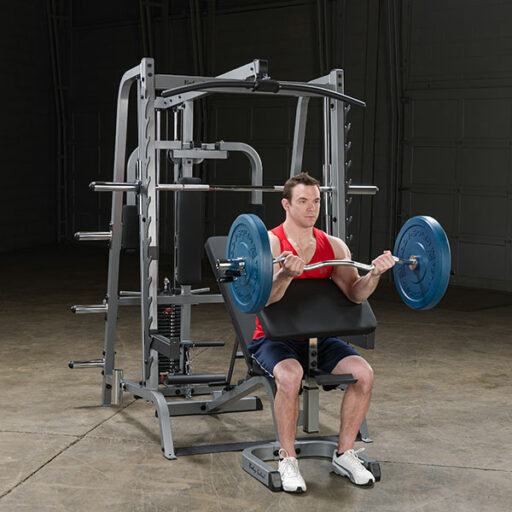 Pec Dec Station GPA3: the pec dec is located in the rear of the cage and gives you the ability to perform pec flys. The pec dec is also attached to the weight stack, so you don't have to worry about switching out plates for resistance.
Adjustable Bench GFID71: yes, this system comes with a bench, so you don't have to worry about buying one separately. The included bench is adjustable to incline or decline (and go flat), giving you more variety in your bench press exercises. You can also decline sit-ups on this bench.
Leg Developer GLDA3: there's an included leg developer attachment for the front of the bench that allows you to perform leg extensions and hamstring curls. It uses plates for resistance; like all leg developer attachments, it isn't incredibly comfortable to use.
Preacher Curl Attachment GPCA1: as the name implies, this attachment allows you to perform preacher curls. However, the curl bar does not come included with this package.
Optional Accessories:
GAP348 Aluminum Pulley Upgrade 
I highly recommend upgrading to aluminum pulleys. In particular, they are smoother, more robust, sleeker, and guaranteed to add a touch of class to your gym. Includes the correct amount of pulleys to replace the original nylon pulleys.
Series 7 Assembly and Maintenance
As you might guess, putting this extensive system together takes time. Therefore, expect to spend the better part of a day with assembly. Some users reported they could assemble alone, but it would be a good idea to have a partner on this one.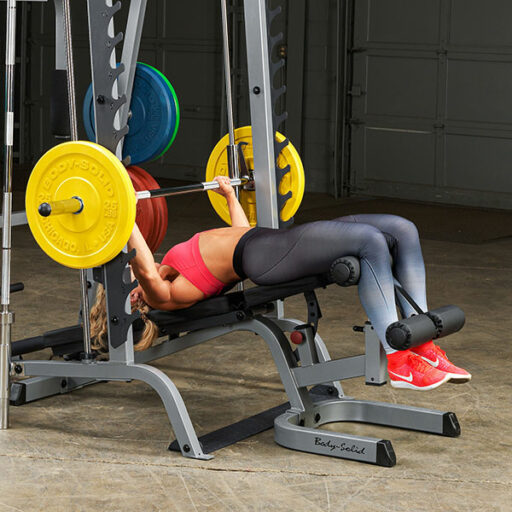 The instruction manual consists of images only. However, it isn't necessarily bad because the pictures are large and easy to follow.
There are several different sizes of bolts used during assembly, and they all look pretty similar except for slight differences in their lengths. Thus, you will probably have to compare the bolt to the manual's image to ensure you use the correct size throughout the assembly.
It would help if you also considered that this system weighs about 800 lb when shipped. So, depending on where you're putting it, having a few extra people to help carry the boxes to their destination would be very helpful.
For maintenance, you should periodically inspect all nuts and bolts. Tighten if needed. However, if bolts loosen regularly, use Loctite 242 for a long-term cure. Repeat a re-tightening sequence periodically to ensure all hardware is tensioned correctly.
It would help if you wiped down the upholstery after every workout. Additionally, it would be best to periodically take the time to use a mild soap or a mild vinyl upholstery cleaner. Avoid using any abrasive cleaner not intended for use on vinyl. And lastly, keep sharp or pointed objects out of your pockets and clear of all upholstery.
Last but not least, any other maintenance concerns should be (directed) to body-solid.com/service
Pros
Heavy-duty, commercial-grade frame;
20 lockout points on the Smith machine;
14 mounting positions on the gun rack;
50+ exercises
Chrome Olympic Bar (weighs 25 lbs) (part of the smith system);
6 Olympic weight plate storage posts;
Adjustable safeties;
Four separate attachments included;
Adjustable bench included;
210 lbs weight stack included;
In-home Lifetime Warranty.
Cons
Assembly;
It takes up a lot of floor space;
Olympic weight plates do not come with the package.
Body-Solid  Series 7 Smith Gym Package Summary
The Body-Solid Series 7 Smith Machine is more than a Smith machine; it's a complete home gym system. Additionally, with multiple attachments included, this system allows you to perform over 50+ different strengthening exercises from home safely. With this in mind, if you're looking to stop your commercial gym membership, the Series 7 would be all you need.
The Series 7 is a safe bet with commercial-grade construction and a lifetime warranty. However, I think it would best suit people who take advantage of all the attachments.
Moreover, if you are looking for a Smith machine, you can save money and find one with fewer bells and whistles. But if you want a complete gym system built to last, the Series 7 is the right choice.
I hope you found this article helpful and informative. Would you please speak up if you have anything you'd like to share on the topic or any opinions about my website? I look forward to your comments, questions, and the sharing of ideas.
Please remember that you should consult your physician to determine if you have any medical or physical conditions that could risk your health and safety or prevent you from using the equipment properly. In addition, your physician's advice is essential if you are taking medication that affects your heart rate, blood pressure, or cholesterol level.