The pooboo D770 Indoor Cycling Bike offers all of the necessities for a fantastic cycling workout and everything at-home fitness enthusiasts could want. The heavy-duty steel frame and crank add essential quality and durability to go the distance, no matter what your fitness goals are. In addition, it lets you burn fat fast, exercise core muscles, and strengthen your heart.
Built with a magnetic tension control system, the D770 allows you to customize your workout tension levels for an easier or more challenging workout. In addition, magnetic resistance ensures smoother and ultra quieter movements while cycling; no worry about disturbing others.
The pooboo D770 Indoor Cycling Bike features a digital fitness monitor that will record your exercise time, speed, distance, calories burned, and pulse. Therefore, you can follow your progress and adjust your exercise plan in real-time.
It comes equipped with a 4-way fully adjustable seat that quickly moves forward/back and up/down. The seat adjusts for height and proximity to the handlebars to fit different sizes of arm lengths. In addition, the handlebar is 2-way adjustable, allowing you to adjust it up/down in elevation to meet other users' needs.
Learn more in my complete review below!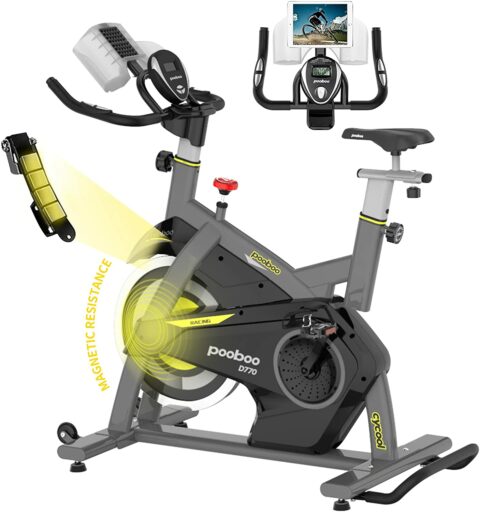 Product: pooboo D770 Indoor Cycling Bike 2020 Model
Price: For a great deal on this bike, merely go here to Amazon.com
Warranty: 1 year limited
My rating: 8.75/10
Affiliate Disclosure: As an Amazon Affiliate Program participant, I earn commissions on purchases made through links in this post. Full disclosure
Please Note: The tablets contained in some of the images do come with the bike.
Details and Specifications
49'' Length / 24'' Width / 53'' Height
Weight: 80 lbs (36 kg)
35 lbs (15.9 kg) perimeter weighted flywheel
Manual magnetic resistance
Maximum user weight capacity 330 lbs (149.7 kg)
Seat: 4-way adjustable
Handlebar: 2-way adjustable
Pedals have toe cages and adjustable safety straps
A tablet holder included
Drive: Belt
Resistance: Friction
Warranty: 1 year limited
D770 Frame and Construction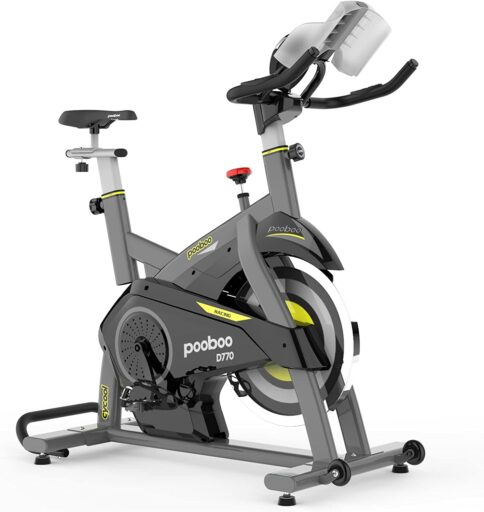 The pooboo D770 comes with a durable steel frame. Specifically, the high user weight capacity of 330 pounds it supports speaks to its sturdiness. Furthermore, it's integrated with ABS-made guards for the flywheel and the belt. Finally, it comes with mainly black anti-corrosion and rust paint, preserving depreciation's quality and face value.
It has assembled dimensions of 49 inches long by 23.6 inches wide by 53 inches tall, which will not overwhelm your space. Therefore, you'll need a workout area of 4′ L x 2′ W, and a ceiling height of 7 feet will be just fine for the bike.
The base framework features front and rear stabilizer bars with four adjustable levelers beneath them. The bike comes with excellent base support and adjustable levelers that allow the user to balance the bike on a surface that is not level to achieve maximum stability.
The bike weighs about 80 pounds; this helps it stay grounded and eliminate any possible movement during a workout.
Seat and Handlebar
The pooboo D770 seat provides comfort that will allow the user to work out longer. It's padded and covered with a leather material that also ensures durability.
The seat is 4-way adjustable, which means you can adjust it vertically (upward/downward) and horizontally (fore/aft). As a result, users between 5 to 6'4″ will find a suitable position for workouts.
The handlebar is 2-way adjustable; it adjusts upward and downward. Therefore, the bike is more flexible and likely to be suitable and comfortable for users.
It has a multi-grip design with three modes: mountaineering mode, hill-climbing mode, and flat mode. These modes/grips provide various workouts that target different muscle groups and add fun.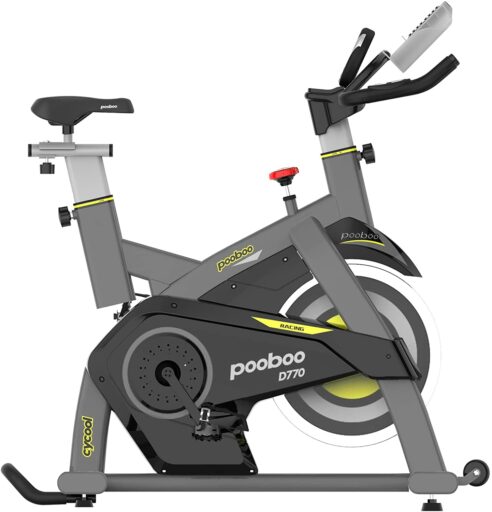 The handlebars feature EKG integrated pulse sensors to transfer heart rate data to the fitness console for proper pulse tracking and heart rate zone target.
D770 Drive system
The pooboo D770 has a belt transmission system that is quiet and smooth during operation. Therefore, the user can enjoy watching the TV or listening to music without turning the volume up while exercising.
The drive system consists of a durable, heavy-duty belt, pulleys, 3-piece crankset, solid crank arms, 29-pound perimeter weighted flywheel, and pedals.  The crank arms and the pedals are capable of supporting the standing ride.
The user can pedal in reverse because the drive is bi-directional, which exercises more muscle groups. However, a user cannot coast on this bike because the flywheel and the pedals spin simultaneously. The tension knob also acts as an emergency stop and is applied by pressing down on the knob.
The pedals feature toe cages and adjustable safety straps that secure the feet and support forward and full thrust. Unfortunately, they do not accommodate spin shoes.  However, replacement pedals are available if you desire to use spin shoes (at an additional cost).
Resistance system
The pooboo D770 has a manual magnetic resistance system that uses magnets and the flywheel to generate resistance. The tension knob controls the resistance strength. To increase or decrease the resistance strength, twist the tension knob clockwise or anticlockwise.
Similarly, most spin bikes use this type of resistance system, which is very active and efficient. It provides unparalleled resistance strength that is suitable for everyone. For instance, the elderly, beginners, and professional athletes can use it and appreciate the effect.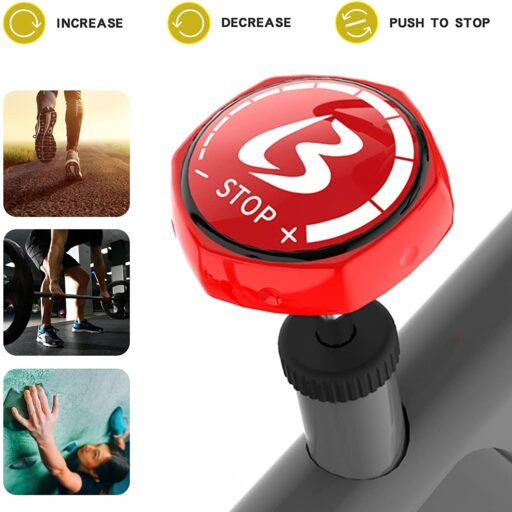 However, the user may not track strength and endurance improvement because the bike does not have predetermined resistance levels. Therefore, it will be almost impossible to know the exact level of resistance selected.
D770 Fitness Monitor
The LED monitor on this bike is simple and capable of tracking the workout progress. The monitor displays time, distance, speed, calories burned, and pulse. These workout values will surely keep the user motivated and focused on achieving the fitness goal(s).
Its SCAN function displays the data one at a time. However, the user can set a preferred workout data to always display without changing throughout the entire workout session and reverse to the SCAN function at will.
Due to the monitor being battery operated, it will require replacing the batteries from time to time. Also, the monitor shuts down automatically when there is no activity on the bike for a few minutes to save the battery power, and it turns ON when action resumes.
Assembly and Maintenance
The main body of the bike comes pre-assembled. Thus, the crankset, the belt, the brake system, the flywheel, and the main covers of the drivetrain are pre-attached to the mainframe.
You only have to add the base bars, the seat, the handlebars, the fitness monitor, and the pedals. As a result, it shouldn't take more than 20-30 minutes of your time. An essential toolkit for the assembly comes included, and the manual provides clear step-by-step assembly instructions.
Once completed, maintenance doesn't require much. However, it would be best to wipe off the sweat after a workout and keep the bike clean. You should also periodically check for loose bolts and parts and retighten or replace them as needed.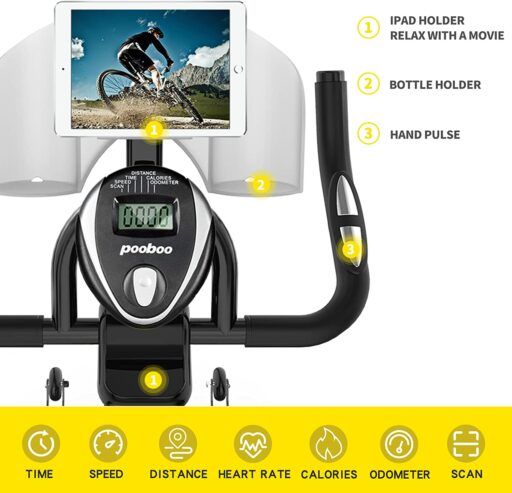 Pros
It is sturdy and stable;
It supports a higher user weight capacity of 330 pounds/149.6 kg;
Its seat is comfortable and adjusts 4-ways;
The handlebar features a multi-grip design that offers a variety of workouts and is 2-way adjustable;
Its features an LED monitor that displays time, distance, speed, calories burned, and pulse;
It has a belt drive system that provides smooth and quiet operation and doesn't require maintenance;
A tablet holder comes included with the bike;
Belt drive/magnetic resistance that is highly efficient and suitable for all users;
A 35-pound perimeter weighted flywheel that generates consistent momentum;
Easy to assemble;
Easy to move via transport wheels;
Ideal spinning bike for the home use;
Cons
The fitness monitor LCD does not have a backlight;
It does not have online connectivity;
It does not have a water bottle holder.
pooboo D770 Indoor Cycling Bike Summary
The pooboo D770 Indoor Cycling Bike has a sturdy construction, similar to commercial-grade spin bikes. For instance, it features a cushioned, 4-way adjustable seat and a multi-grip handlebar. Equally important are the belt drive magnetic resistance system and a mid-range flywheel. Furthermore, it offers an impressive weight capacity of 330 pounds.
Moreover, the pooboo D770 indoor cycling bike is perfect for medium to intense cardio training, stamina development, intervals, and weight loss. It's an affordable model, and considering its versatility and the extra features over other models, and I can safely say that it offers excellent value for the price.
I hope you found this article helpful and informative. Would you please speak up if you have anything you'd like to share on the topic or any opinions about my website? I look forward to your comments, questions, and the sharing of ideas.
Please note: Before starting any exercise program, you should consult your physician to determine if you have any medical or physical conditions that could put your health and safety at risk or prevent you from using the equipment properly. In addition, your physician's advice is essential if you are taking medication that affects your heart rate, blood pressure, or cholesterol level.