The Exerpeutic Gold 500 XLS Foldable Upright Bike supports a weight capacity of up to 400 lbs. Its heavy-duty design and high durability will provide excellent workout results. Features like the "high torque" 3-piece crank system, magnetic resistance, heart pulse monitoring, and a "double drive" transmission system are all included for a very affordable price.
One of the best things about the bike is the handlebar, which offers multiple grips, supporting different workout postures. In addition, the bike comes equipped with an 8-level magnetic tension control system for a more comfortable or challenging workout and an easy-to-read LCD that indicates calories burned, speed, distance, time, scan, odometer, and pulse.
It's effortless to get off and on the bike, making for a more effective and comfortable workout session. In addition, the large comfortable, cushioned seat is ideal for people of any size since it's easily adjustable to fit 5 feet 1-inch to 6 feet 5-inch user heights.
The Exerpeutic Gold 500 XLS Foldable Upright Bike offers a compact folding design, perfect for anyone who doesn't have the luxury of proper workout space. In addition, it's one of the very few upright bikes that come at an affordable price without compromising the quality.
Learn more in my complete review below!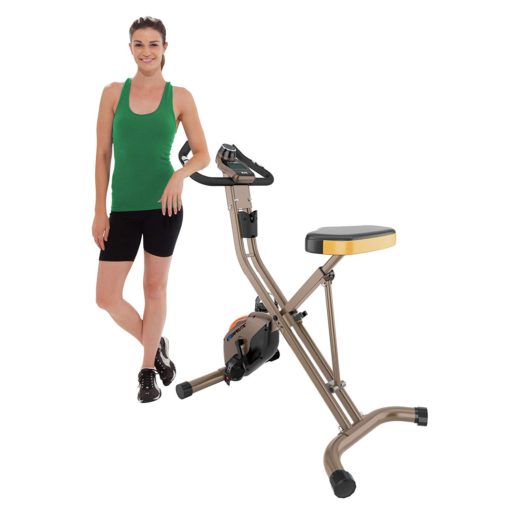 Product: Exerpeutic Gold 500 XLS Foldable Upright Bike, 400 lbs
Price: For a great deal on this bike, merely go here on Amazon
Warranty: Frame 1 year / Parts 90 days
My rating: 9.25/10
Affiliate Disclosure: As an Amazon Affiliate Program participant, I earn commissions on purchases made through links in this post. Full disclosure
Details and Specifications
Assembled dimensions: 39L x 26.4W x 48.4H inches (99L x 67W x 123H cm)
Assembled weight: 51.6 lbs (23.4 kg)
Supported weight: 400 lbs (181 kg)
Handlebar: Non-adjustable
Seat: Adjustable
Pedals: with straps
Resistance: Magnetic, eight levels
Accessory holder: Yes
Fitness monitor: Yes
Warranty: Frame 1 year / Parts 90 days
500 XLS Frame
Have I mentioned that this exercise bike features a folding design? There's more than that, though. This bike is foldable but also has a pretty high user capacity. It's rated 400 lbs (181 kg) of user weight, way more than other foldable bikes.
The frame is made of thick steel tubing, actually incorporating over 20% more steel than the structure of the Exerpeutic 1200. Thus, it's slightly more substantial than the previous model but still far from being a massive machine. However, it is still a pretty light bike with 51.6 lbs (23.4 kg), easy to transport, folded or non-folded.
The bike's front base features caster wheels, which help with its transport. The back support offers a curved design to increase the bike's stability. The bottoms don't have leveling feet, but they come finished with plastic caps, adjusted to maximize stability.
The unfolded bike doesn't have an enormous footprint. It takes only 39″L x 26.4″W (99 x 67 cm) of floor space, being fit for a small apartment. When folded, it can easily fit in a corner or a small closet; its footprint reduces to 24.8″L x 26.4″W (63 x 67 cm). It stands slightly higher from the ground when folded, though, at 57.5″ (146 cm).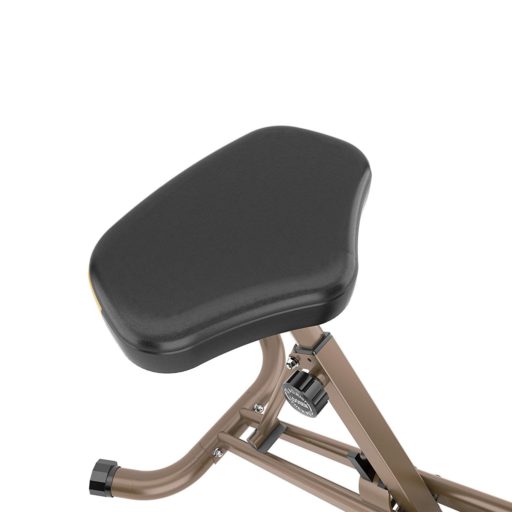 Seat and handlebars
One of the most important strengths of this Exerpeutic bike is its seat. Many of the most expensive upright bike models don't have a seat like this.
The seat supplied with the Exerpeutic 500 XLS features a simple, flat design, but this does eliminate any soreness that a generic bike saddle may cause. It's 14″ (35.5 cm) wide and 9″ (23 cm) long, with a wide, spacious seat incorporating foam cushioning for excellent comfort.
The handlebar also features a simple design but offers multiple grips, supporting different workout postures. In addition, it has integrated HR pulse sensors, allowing the console to track your pulse.
Unfortunately, this bike does not excel in micro-adjustability. The handlebar is stationary, while the seat is only 2-way adjustable (up/down). However, the bike comfortably accommodates users between 5'3″ and 6'5″ (160 – 195.5 cm).
Taller users can also use this bike but may not benefit from a complete leg extension, depending on their inseam length. Of course, this may cut back on the training consistency.
500 XLS Resistance system
Like most basic upright bikes, the Exerpeutic GOLD 500 XLS features a manual magnetic resistance system, which involves a free magnetic brake pad connected via a tension wire to the resistance adjustment knob. As you turn the knob, the magnetic brake pad moves closer or farther from the bike's flywheel; this way, resistance is adjustable.
The bike offers eight levels of resistance. These eight resistance levels strictly depend on how tight the tension wire is. Therefore, the cycle should provide the training for a light to medium cardio workout.
However, you can adjust the resistance cable's tension to enable the magnetic pad to move closer to the flywheel and squeeze more resistance from this bike.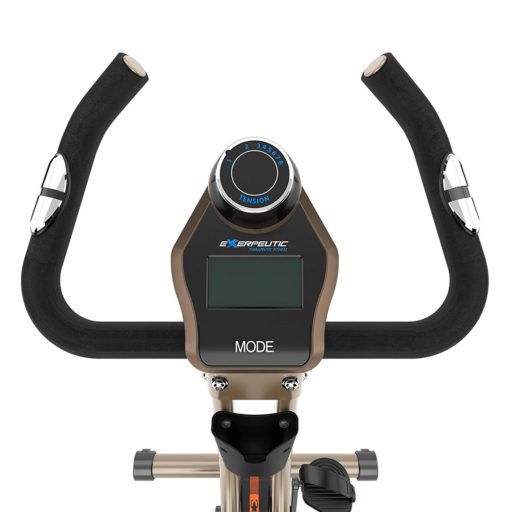 Drive system
The drive system and brake mechanism are in a pretty small box compared with other bikes. Therefore, it's pretty apparent that the bike has a small flywheel. But the wheel is balanced and does not come in contact with the brake pad; the pedaling is smooth, without rendering the stair-climbing effect, even when it's on the highest resistance setting.
Like most magnetic exercise bikes, the Exerpeutic 500 XLS features a belt drive system involving a heavy-duty V-belt, resistant to stretching and maintenance-free. Also, it renders the use of the bike extremely quiet.
The crankset and pedals are the last components of the bike's drive system that we should focus on here. The crankset is a 3-piece component with steel crank arms. It's pretty solid, but remember that this is an upright bike for light to medium exercising routines, not a spin bike.
Thus, the crankset is not robust enough to hold the user's whole weight in a stand-up pedaling routine. In fact, due to the folding bike design, pedaling while standing up would be pretty awkward.
Finally, the pedals supplied with this fitness machine are weighted, self-adjusting, also feature straps. In addition, the threads on the pedals are a standard size. Therefore you can easily find replacements if it's the case.
500 XLS Console
Since it's a basic bike, the fitness monitor is also pretty simple. Unfortunately, it does not offer any preloaded workout apps, but it does supply information regarding the essential data users want to know during their workout.
The fitness monitor tracks time, speed, calories, pulse, and distance. It also has an odometer function, which saves the accumulated traveled distance.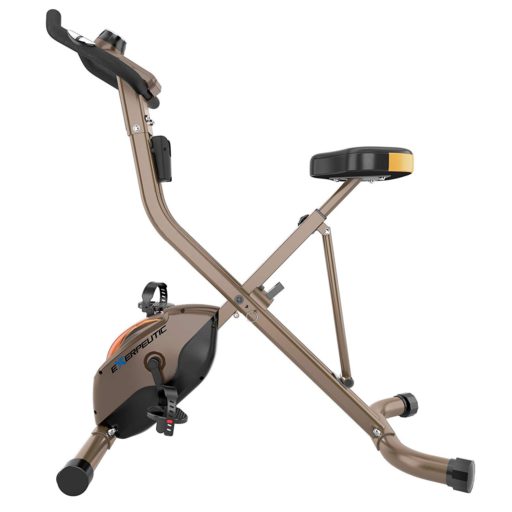 The monitor is relatively easy to operate. It powers on when you begin pedaling on the bike and automatically turns off 4 minutes after you stop pedaling. However, it only features one button (MODE), and you can also turn it on by pressing it.
By pressing the button multiple times, the display will cycle between the values mentioned above, and you can choose the one you want to view at any time. However, it also has a SCAN function, which automatically cycles through these values, showing each one for 4 seconds.
The console requires 2 AA-type batteries, which come supplied with the bike.
500 XLS Assembly and Maintenance
The assembly of the Exerpeutic 500 XLS is far from confusing. Even if you don't have mechanical skills, it shouldn't take more than 30 minutes. Unfortunately, the assembly tools do not come with the bike. However, the user's manual will guide you through the process.
The two frame pieces come attached to the resistance/drive system mounted to the frame's main bar. Next, you must attach the front and rear stabilizers, pedals, seat, and handlebar with the fitness monitor. And finally, connect the tension and pulse wires.
Maintenance for this bike is pretty much zero. All internal components are pre-lubricated, and since the bike has a belt drive system, it doesn't require lubrication. You'll have to dust the frame for maintenance and periodically check the bolts to ensure they are tight.
Pros
Substantial frame for a foldable bike, being able to support users up to 400 lbs;
Small footprint when fully assembled;
Foldable, great for a small apartment;
Comfortable, spacious seat;
Multi-grip handlebar with pulse sensors;
Quiet magnetic resistance system;
Smooth belt drive;
Fitness monitor included;
Easy to assemble;
Little maintenance is required.
Cons
Pulse tracking is not too accurate;
Not for shorter users; the minimum user recommended height is 5'2″ (157.4 cm).
Exerpeutic Gold 500 XLS Summary
The Exerpeutic Gold 500 XLS is one of the sturdiest and most durable foldable upright bikes you can find. It's also one of the most affordable. This exercise bike comes with a high price/quality ratio. It's an excellent choice for apartment use since it doesn't take up much space when assembled and is easy to store.
Moreover, light to medium cardio training is excellent for alternate cycling with other types of exercise. For muscle toning, training on this bike will significantly impact your quads. And finally, you can also shed an actual number of pounds if working out regularly on the highest resistance settings.
I hope you found this article helpful and informative. Would you please speak up if you have anything you'd like to share on the topic or any opinions about my website? I look forward to your comments, questions, and the sharing of ideas.
Please remember that you should consult your physician to determine if you have any medical or physical conditions that could risk your health and safety or prevent you from using the equipment properly. In addition, your physician's advice is essential if you are taking medication that affects your heart rate, blood pressure, or cholesterol level.