The sleek and attractive Stamina X Air Rower is a basic yet durable rowing machine perfect for home gyms. Stamina's engineers have designed the Stamina X Air Rower just like you: sturdy and durable. The steel frame will hold steady during your most demanding workouts. Simultaneously, the rowing chain keeps the air resistance coming as the fan spins inside the metal housing, automatically adjusting the resistance to your intensity.
Being an air-resistant rower means the rowing machine has 'variable resistance.' There is no knob to turn to increase or decrease resistance; instead, the resistance adjusts automatically depending on the speed you row. So, for example, the harder you pull the handle, the more resistance you feel, and to decrease the resistance, row slower.
For instance, the faster you get the flywheel spinning, the more wind resistance you create, the more watts you produce, and the more calories you burn. Due to the Stamina X Air Rower being air resistance, it works exceptionally well for HIIT exercises (high-intensity interval training). You can speed up or slow down during a workout without stopping and adjusting the resistance.
The Stamina X Air Rower has a large LCD multi-function fitness monitor that will help track your progress with real-time feedback. The monitor tracks vital measurements such as Distance, Calories Burned, Speed, Time, Number of Strokes (Count), and Strokes per Minute (SPM).
Learn more in my complete review below!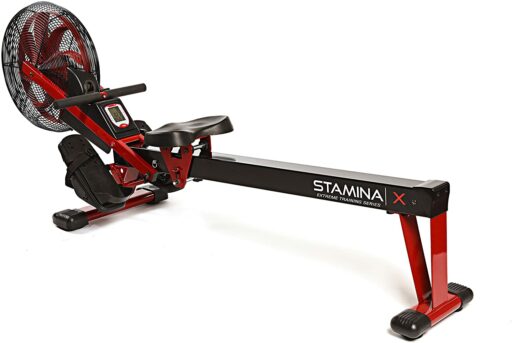 Product: Stamina X Air Rower 35-1412
Price: For a great deal on this rower, merely go here on Amazon
Warranty: Frame 3 years / Parts 90 days
My rating: is 8/10
Affiliate Disclosure: As an Amazon Affiliate Program participant, I earn commissions on purchases made through links in this post. Full disclosure
Details and Specifications
Assembled dimensions: 78.5L x 18W x 29H inches (199.4L x 45.7W x 73.6H cm)
Assembled weight: 63 lbs (28.5 kg)
Supported weight: 250 lbs (113.3 kg)
Frame: Steel-made, folding
Footrests: Adjustable, with straps
Resistance type: Air
Fitness Monitor: Included
Warranty: Frame 3 years / Parts 90 days
X Frame and gliding rail
The Stamina X air rower features a steel-made, 2-part frame with sturdy construction and a folding design. The front part with the fan and fitness monitor can fold over the gliding rail to save space.
The folding system is simple. The frame locks in the extended or folded position via a pin; you need to remove the pin when you want to fold/unfold the machine.
However, even when folded, the machine still takes approx. 45″ (114 cm) of space, lengthwise. When unfolding and in-use position, this air rower has a footprint of 78.5″L x 18″W (199.4 x 45.7 cm). Thus, it's not exactly a tiny machine.
The frame bases have adjustable feet with rubber stands, which allow you to stabilize the machine correctly on any floor.
The front base also features wheels to help with the assembled (and folded) machine's transportation. The rower is, however, not extremely heavy. At 63 lbs (28.5 kg), anyone should be able to move it.
One of the most critical parts of the frame construction of this rower is the seat gliding rail. This rail is long enough to accommodate users with an inseam of approx 36″ (91.4 cm). Therefore, the rower can fit users up to 6'5 ″ – 6'6 ″ (198-201 cm) comfortably, supplying a complete leg extension.
The gliding rail is sturdy enough to support 250 lbs (113 kg) users. Unlike other rowers, this machine's gliding rail stands slightly above the floor level. First of all, it's not completely horizontal. It sits at a front-to-back angle of approx—5 °.
Thus, when fully extended, the seat stands above floor level at approx. 18″ (46 cm) makes this rower a more appropriate choice for users with disabilities, who may find it difficult to stand up if the seat is too close to the floor.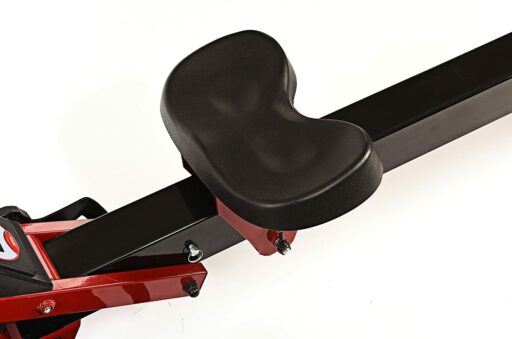 In addition, the inclined gliding rail helps with a faster recovery motion. Furthermore, it also focuses more on the leg muscles during the extension motion.
Seat and other parts
The seat equipped on the Stamina X Air rower is contoured to adapt better to your body. It also features some padding but does not have thick cushioning like the Stamina 1205 Precision hydraulic rower seat. Nevertheless, it's a middle seat in terms of comfort, offering the support you can expect from most rowing machines.
On the other hand, the seat sits on a steel frame and is durable. It glides on six high-grade rollers, four on top of the rail and two below. These rollers incorporate sealed ball bearings, which considerably increase the rollers' life.
This Stamina rower features a set of pivoting footrests, which means that its angle is adjustable. Therefore, it is a plus, as not all users may be comfortable with a fixed footrest angle.
The footrests also have adjustable straps to keep your feet in place during the workout. Although it may seem insignificant, this feature is helpful for users with disabilities if they may not have complete control over their feet.
I will cover the last element within this machine's construction here is the pulling handle. It's a simple, steel-made straight bar padded with thick rubber foam material to supply a comfortable grip and considerably reduce the chances of damaging the hands during rowing. The pulling chain connects to this handle via a screw.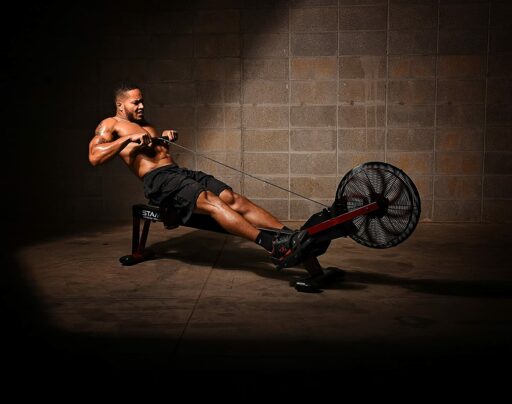 X Resistance system
As the rower's name suggests, it's an air-resistance type. The resistance system involves a fan-shaped flywheel enclosed in a metallic wire cage. The machine does not feature a damper or any other element to increase resistance.
For example, the resistance depends on how hard or fast you pull. So the maximum resistance you can obtain on this rower is not as fierce as the resistance offered by Concept2. After all, it's a machine designed for home use, not a commercial one.
Nonetheless, it can still help you achieve a consistent cardio workout, working for many muscle groups. It's also excellent for improving your overall stamina and interval training.
Fitness monitor
The fitness monitor supplied with the Stamina X rower is relatively simple. However, it's still better than the one that comes with the ATS model. This monitor features a three-panel display and can indicate up to 3 values.
It can track strokes per minute (SPM), total strokes (Count), distance (in miles), speed (in MPH), time, and calories. Unfortunately, it cannot track pulse. Thus, you will need to use a separate device to monitor your heart rate during your workout.
This fitness monitor is straightforward to use. It features only one button (MODE). It turns on by pressing the button, but it automatically turns on when it detects seat movement. Additionally, it automatically shuts off after 4 minutes of inactivity on the rower.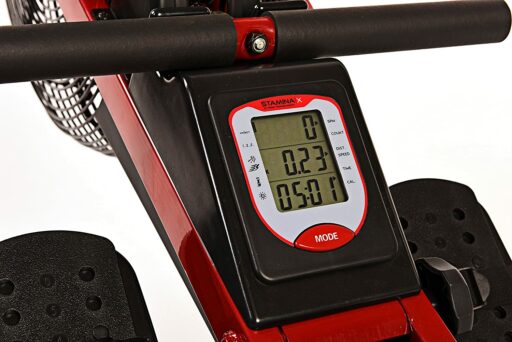 To select any of the values you want to view on screen, press the MODE button multiple times; if you're going to reset all the values to zero, press and hold the button for 5 seconds.
Finally, the monitor requires 2 AA-type batteries, which do not come with the machine. To add or replace batteries, remove the monitor from the plastic casing, insert the batteries at its back, and reconnect it to the rower.
This product is fully supported by müüv, the all-in-one workout app that offers personalized training, a follow-along assembly video, and custom workouts tailored to your fitness goals using your equipment. No subscription is required.
X Assembly and Maintenance
The two main parts of the frame, the rail and the front part with the fan, are pre-assembled. The resistance system is pre-assembled as well. So, for assembly, you only need to add the two bases of the machine, the footrests, and the seat, and of course, put batteries in the fitness monitor.
Required tools and the owner's manual come with the machine. Consequently, the whole assembly shouldn't take more than 30-45 minutes of your time, and only one person is needed.
Maintenance requires you to keep the roller tracks free of dirt, sand, or other objects that may damage the rail itself or the rollers. Other than that, periodically check and re-tighten the screw of the machine if it's the case.
Also, to enact the warranty for this product, you will have to register it with StaminaProducts. You'll find guidance for this in the manual as well.
Pros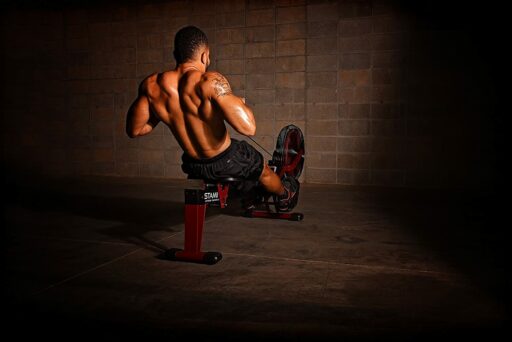 Steel frame, sturdy construction;
Folding frame;
Leveling rubber feet to prevent floor damage;
Gliding rail long enough for users up to 6'5″;
Molded and padded seat for comfortable workouts;
Extra smooth, ball-bearing seat rollers;
Adjustable footplates;
Air resistance, supplying a natural rowing feel;
Chain drive made to last a lifetime;
The fitness monitor comes included;
Easy to assemble;
Easy to maintain;
Excellent price/quality ratio.
Cons
The fitness monitor does not have a pulse reading function;
The chain may jump off its gears if you do not maintain the correct rowing form. However, this is remedied by removing the chain cover and placing it back on the gears.
Stamina X Air Rower 35-1412 Review Summary
The Stamina X Air Rower 35-1412 is a home-use machine. Even though it doesn't offer commercial-grade rower standards, it is still an excellent cardio training machine and a full-body workout.
You can be sure that it will put your arms, forearms, deltoids, upper and lower back, quads, calves, flexors, and core abs to the test. It can also serve as an excellent machine for interval training. In addition, it offers solid construction and great value for the price.
I hope you found this article helpful and informative. Would you please speak up if you have anything you'd like to share or any opinions about my website? I look forward to your comments, questions, and the sharing of ideas.
Please remember that you should consult your physician to determine if you have any medical or physical conditions that could risk your health and safety or prevent you from using the equipment properly. In addition, your physician's advice is essential if you are taking medication that affects your heart rate, blood pressure, or cholesterol level.