The NordicTrack T 8.5 S Treadmill is a machine made to last. The sturdy 3.5 CHP DurX Commercial Plus motor delivers smooth and consistent power. While maybe not the most exciting option for some, the motor is an important feature to consider regarding durability and longevity.
You can walk, jog, or run on the comfortable 20″ x 60″ deck with speeds up to 12 mph and an incline range of 12%. The OneTouch controls make it quick and straightforward to change incline and speed. With the runner's flex adjustment, you can switch the suspension from a cushioning feel to a more road-like feel for whatever is best for your comfort.
The T 8.5 S has a 10-inch HD touchscreen, which you can also choose to cast onto a flat-screen TV via a smart device. The console display tracks all the important workout metrics, including time, distance, calories, pulse, speed, and incline. In addition, the T 8.5 S has built-in Bluetooth Audio capabilities and an Aux outlet to listen to your music via the dual 2″ digitally amplified speakers.
Because the T 8.5 S Treadmill is iFit enabled, you can automatically synchronize incline and speed with on-demand workouts, which stream to the LCD. In addition, the T 8.5 S comes with 50 onboard workout apps created by certified professional trainers —but remember you have iFit in addition to this, giving access to a library of over 10,000 classes.
Learn more in my complete review below!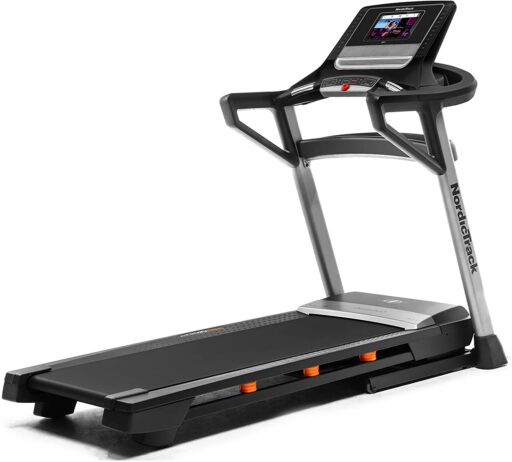 Product: NordicTrack T 8.5 S Treadmill
Price: For a great deal on this Treadmill, merely go here on Amazon
Warranty: Frame lifetime / Motor lifetime / Parts 5 years / Labor 2 years
My rating: 9.25/10
Affiliate Disclosure: As an Amazon Affiliate Program participant, I earn commissions on purchases made through links in this post. Full disclosure
Details and Specifications
Assembled dimensions: 78.5L x 35.5W x 59H inches (200L x 90W x 150H cm)
Tread belt dimensions: 60L x 20W inches (152.4L x 51W cm)
Supported weight: 300 lbs (136 kg)
Motor: 3.5 CHP
Speed range: 0-12 MPH
Incline: Automatic, 0-12%
Deck cushioning: FlexSelect
Console: 50 programs, Bluetooth, iFit enabled
Amenities: Sound system, tablet holder, accessory trays, free 30-day trial iFit membership
Warranty: Frame lifetime / Motor lifetime / Parts 5 years / Labor 2 years
T 8.5 S Frame
Most treadmills of this caliber have a steel frame construction, and the NordicTrack T 8.5 S doesn't make an exception. It features a sturdy steel frame with a maximum user weight capacity of up to 300 lbs (136 kg). In addition, all the steel bars in its construction feature a durable powder coating finish resistant to abrasion and corrosion. The colors used are gray for the upright masts of the machine and black for the base frame.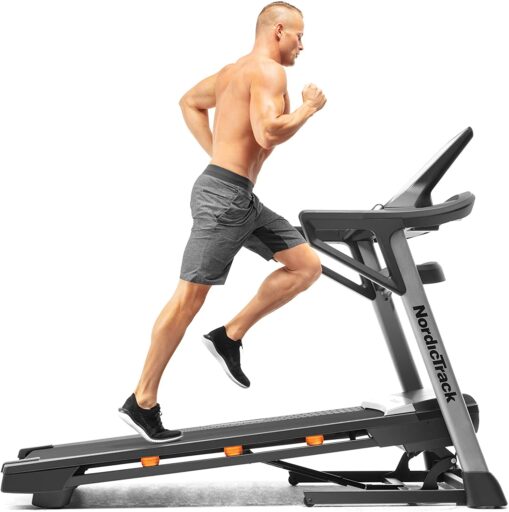 Since it's a heavy-duty machine, this NordicTrack treadmill is not precisely featherweight. It weighs over 200 lbs (90 kg) when fully assembled, so its transport and assembly require at least two people. However, once completed, its relocation can be done quickly by only one person as its front base features a set of transport wheels.
An important aspect that we must mention here regards the machine's foldability. Its deck features a folding mechanism that involves a hydraulic cylinder.
Therefore, when unfolding the deck, you don't have to hold and control its lowering. Instead, the hydraulic device will slowly lower it automatically. Also, with the deck folded up, the machine's length is reduced to approx—40″ (101 cm).
With the frame unfolded and ready to use, this Treadmill is relatively large. It is approx. 78.5″ (200 cm) long and 35.5″ (90 cm) wide. You will have to leave at least two feet of clearance on each side and at least three feet at the rear of the deck. Therefore, it may not be the best fit for a small room or apartment.
Deck
Like the other models in the NordicTrack T series, this machine comes equipped with the FlexSelect cushioning system.
Its deck integrates six cushioning elements, three on each side, absorbing up to 40% of each foot strike's shock during running. Each cushion is adjustable; you can increase or decrease flexibility with a simple rotation.
The NordicTrack T 8.5 S comes equipped with a heavy-duty, multi-ply belt with a rubber top layer for high adherence. In addition, it offers a standard running surface of 60″L x 20″W (152.4 x 51 cm). Thus, the machine should accommodate users up to 6'5 ″ (196 cm) with no problem, promoting a complete range of motion.
The internal rollers have a crowned design and integrate heavy-duty sealed ball bearings for a smooth belt motion. In addition, they're relatively large, 1.9″ in diameter, which leads to better traction for the belt. Also, the crowned design improves the lifespan of the belt.
T 8.5 S Incline and step-up height
The NordicTrack T 8.5 S treadmill features a motorized incline system, making the slope only adjustable from the console. Also, some of the programs within the console memory will automatically adjust the incline when in use.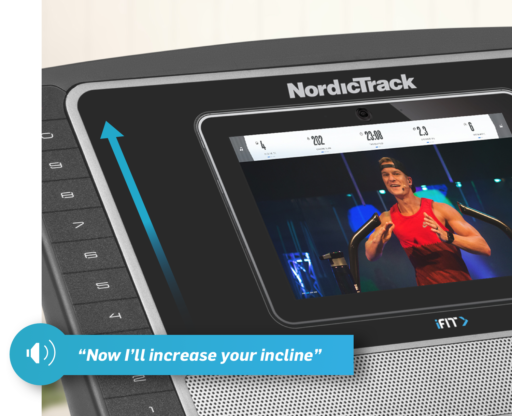 The incline system consists of two levers underneath the deck's front side. When the incline is adjusted, the 2-lever system raises or lowers the front of the deck.
The machine makes 12 levels, with an incline range between 0% and 12%. That's approx—9 ° of a slope. So the incline adjustment increments are 1%. The console features quick selection keys from 0% to 12% on its left side, but the lower keypad also has gradual incline adjustment controls.
With the incline set to 0%, the deck's elevation is approx—11″ (28 cm). Conversely, the deck's front part will elevate by a few extra inches with the slope set to maximum. Therefore, using the machine in a room with a ceiling at least 20″ (51 cm) higher than your height is advisable.
Drive motor
This Treadmill is equipped with a 3.5 CHP Drux Commercial Plus motor that is designed to withstand lengthy workouts without overheating or losing performance. In addition, it has a built-in cooling system. It also came equipped with a small flywheel for improved stability and minimized vibration.
The motor produces a relatively low level of noise. However, your cadence will still be heard when running at full speed, even with all the deck's cushioning. Therefore, other people will listen to you in an apartment building or household with thin walls.
The machine's speed range is 0.5 – 12 MPH. As for the incline, quick controls for speeds from 0 to 12 MPH are on the console's right side. Also, the lower keypad integrates gradual speed controls. The arrow controls for the continuous speed adjustment are bi-functional.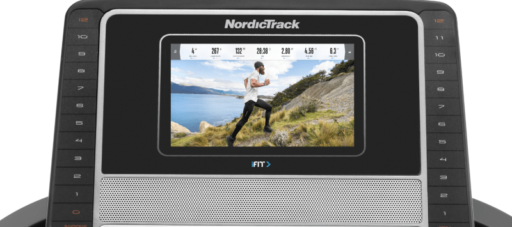 If pressed once, they will adjust speed by 0.1 MPH; if you press and hold a key down, the tread belt's velocity will change in increments of 0.5 MPH. The fact that you can adjust speed in increments of 0.1 is quite a plus, as you can easily find the most comfortable pace for your workout.
Since it's a motorized treadmill, it requires an external power source. Therefore, a standard US plug (for 120V) is (included) with the machine. The connector for its cable is placed at the deck's front, next to the power button.
T 8.5 S Console
This machine has a smaller display than the NordicTrack T 9.5 S. It's only 10″ in diagonal. However, the console pretty much offers the same functions. The exhibition is full of color, with an LED backlight and touchscreen technology.
It responds to similar commands as a tablet or smartphone. However, you cannot install apps on it or browse the web. In addition, it can only stream videos through iFit.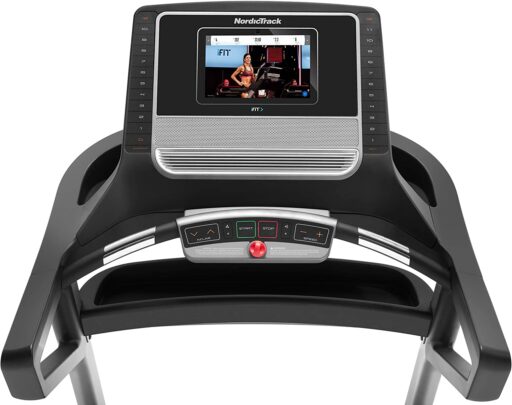 The console display tracks all the important workout metrics, including time, distance, calories, pulse, speed, and incline. The speed and distance are default set to imperial units (MPH and miles), but metric units (km/h, km) are also available.
It's also telemetric. Therefore, it has a built-in receiver to read your pulse from a wireless HR chest strap transmitter. However, this accessory does not come with the machine.
The console unit is iFit enabled. In other words, it offers full integration for the iFit app and a free 30-day trial iFit membership.
It also has wireless connectivity, so it can connect to your WiFi to access the iFit workout database (with more than 16,000 on-demand workouts), run via trails based on Google Maps, or benefit from Live Interactive training.
If you don't want to use iFit or don't want to renew your membership once it expires, the console still has you covered. Its 50 preset programs' database offers all types of workouts focusing on weight loss, high-intensity cardio, intervals, stamina development, and much more.
Amenities
Along with the program database and the iFit capabilities, the NordicTrack T 8.5 S treadmill's console unit still has several other notable features. These are the workout fan and the sound system.
The AutoBreeze™ workout fan is at the bottom of the console unit, right above the main keypad. It offers several speed settings and provides reasonably decent performance to keep you fresh during a more intense workout.
The sound system features two 2″ speakers. It is Bluetooth-capable, so you can sync it with your smartphone or tablet to stream your favorite music. In addition, it offers superior performance to the integrated speakers of any smartphone or tablet.
T 8.5 S Assembly and Maintenance
The machine's deck, including the incline and drive motors, comes pre-assembled with all its parts. You'll need to connect the front masts and the console and adjust the belt's position before use. All the tools necessary for assembly come included, and the manual provides precise assembly instructions.
Unlike other treadmills, the machine's deck comes pre-lubricated with industrial-grade lubricant. Thus, you don't have to lubricate it before its first use, and the internal oil should last a relatively long time.
Of course, for maintenance, keeping the belt clean and periodically checking for loose bolts and parts and retightening or replacing them as needed.
Pros
Sturdy frame construction;
Solid deck, being able to support users up to 300 lbs;
Folding deck, space-saving design;
FlexSelect deck cushioning with adjustable cells;
Transport wheels on the front base;
Automatic incline, 0% – 12%;
DruX Commercial Plus 3.5 CHP motor with a speed range between 0.5-12 MPH;
Speed adjustment increments of 0.1 and 0.5 MPH;
Quick selection controls for both speed and incline;
EGK pulse sensors integrated into handlebars;
Advanced iFit console with a 10″ HD display and touchscreen technology;
30-day of free trial iFit membership included;
50 preset workout programs;
WiFi and Bluetooth connectivity;
Sound system included;
Workout fan included;
Accessory trays included;
Quiet operation;
Reasonably easy to assemble;
Little maintenance is required;
Excellent warranty.
Cons
An HR chest strap does not come with the machine;
No tablet holder.
NordicTrack T 8.5 S Treadmill Summary
The NordicTrack T 8.5 S is a heavy-duty treadmill designed for home use. It has a 3.5 CHP drive motor, motorized incline, FlexSelect cushioning, and a sizeable 10″ touchscreen HD LCD console. In addition, it offers 50 preset workout programs and the possibility of accessing the online iFit workout database.
Moreover, it's an excellent machine for light to intense cardio training, muscle toning, stamina development, and weight loss for users of all levels.
I hope you found this article helpful and informative. Please speak up if you have anything you'd like to share on the topic or opinions about my website.? I look forward to your comments, questions, and the sharing of ideas.
Please remember that you should consult your physician to determine if you have any medical or physical conditions that could risk your health and safety or prevent you from using the equipment properly. In addition, your physician's advice is essential if you are taking medication that affects your heart rate, blood pressure, or cholesterol level.