The entire frame of the Assault Fitness AirBike Classic and most parts are machined and durable steel. Integrating twenty sealed cartridge bearings throughout the structure provides a durable feel and smooth ride. Furthermore, the maximum user weight limit is 300 lbs (136 kg).
One highlight of the AirBike is its fan air resistance system. The six-blade fan wheel measures 27″ in diameter, supports smooth motion, and can match anyone's effort level. This resistance system also has little chance of breaking down. As a result, Assault AirBikes typically run trouble-free for thousands of workout sessions by combining high-quality pedals and other reliable components.
The Assault Fitness AirBike Classic features seven preset workout programs that make it easy to exercise at your target heart rate, perform interval training, or meet distance, calorie burn, and time goals. In addition, each workout program offers personalized customization.
Another highlight of the AirBike is the bike's moving armbars. They will support even your most challenging training sessions. In addition, the armbars are usable alone too. You can rest your feet on pegs next to the fan wheel to get an upper-body workout without biking.
Learn more in my complete review below!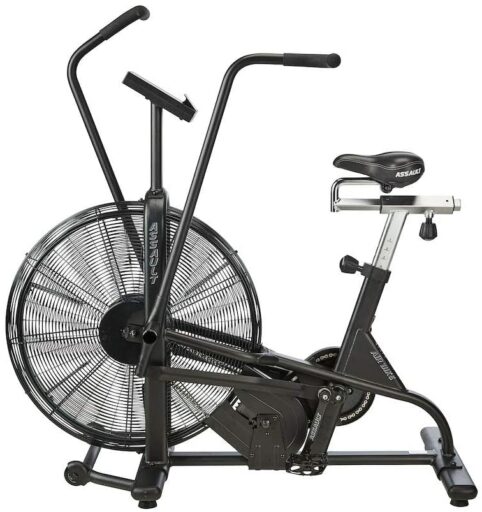 Product: Assault Fitness AirBike Classic
Price: For a great deal on this bike, merely go here on Amazon
Warranty: Frame 5 years / Parts 2 years / Labor 1 year
My rating: 9.5/10
Affiliate Disclosure: As an Amazon Affiliate Program participant, I earn commissions on purchases made through links in this post. Full disclosure
Details and Specifications
Assembled dimensions: 50.9″L x 23.3″W x 48.4″H (129.4L x 59.3W x 123H cm)
Assembled weight: 98.1 lbs (44.5 kg)
Supported weight: 300 lbs (136 kg)
Handlebars: Mobile
Seat: 4-way adjustable
Resistance: Air
Drive: Chain
Fitness Monitor: 7 workout programs, goal functions, time, speed, distance, RPM, calories, watts, heart rate,
Included accessories: Tablet holder
Warranty: Frame 5 years / Parts 2 years / Labor 1 year
AirBike Frame Construction
The Assault Fitness AirBike Classic features a frame built like a tank with 2.0 mm, 14-gauge steel tubing. Due to this fact, the bike is quite heavy, weighing 98.1 lbs (44.5 kg). However, this and the user's weight make it highly stable, even during the most intense workouts.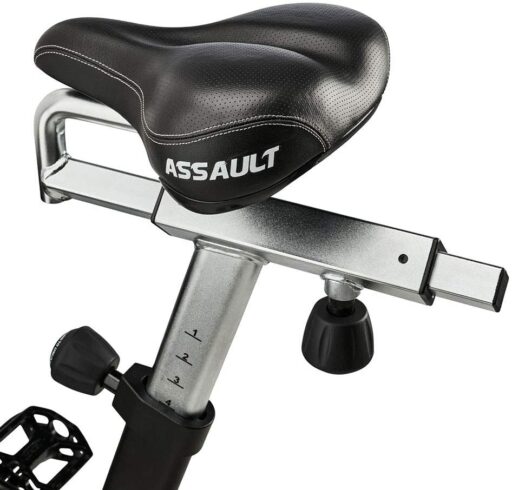 On top of that, the base tubes come equipped with adjustable stabilizers with large urethane caps, providing a superior grip on the floor and preventing scratching. Furthermore, the front base tube incorporates a set of wheels that facilitate the assembled bike's transport if necessary.
Most of the steel parts within the frame come sealed with a thick layer of industrial powder coating, corrosion, and scratch-resistant black paint finish. The only chrome finish feature is the seat's upright and horizontal adjustment bars.
This fitness bike is not extremely large. It takes approximately 51″L x 24″W (130 x 60 cm) of floor space, but to operate it safely, it is advisable to have at least two feet of clearance on each side and at the rear for safe use and easy access.
Seat and handlebars
Although many users classify the seat of the Assault AirBike as "not too comfortable," it's designed to be much more comfortable than the seat of a spin bike.
It integrates a thick cushioning layer, is contoured to adapt better to your body, and features durable synthetic upholstery. However, it also features a standard attachment system to its bar; therefore, you can easily find a replacement.
The seat offers 4-way adjustability, up, down, and front to back. In addition, its angle also is adjustable. The bike comfortability accommodates users between 5'0″ and 6'6″ (153 – 198 cm). The seat can accommodate users shorter than five feet (153 cm), but someone less tall than this will find it challenging to use the moving handles comfortably.
Seat adjustments are via two large knobs, easy to turn and tighten. Thus, adjusting it takes less than a minute. The upright bar's adjustment increments are approximately—1″ (2.5 cm).
The seat and the bike construction have a maximum user weight limit of up to 300 lbs (136 kg).
This exercise bike features only mobile handlebars. Unfortunately, these are non-adjustable and feature simple rubber foam grips.
AirBike Drive and resistance
The Assault AirBike features a chain drive system powered by a high-tensile steel chain, similar to road or mountain bikes. The pedaling motion is smooth but not completely silent, like magnetic bikes with a belt drive system.
The AirBike uses a 27″ 6-blade steel fan to generate resistance, and when the fan is spinning at high speeds, it does create some noise. However, the amount of noise generated is not extremely loud. Therefore, it shouldn't cover your TV's sound or bother the neighbors.
The bike has a solid 3-piece crankset with solid steel crank arms, supporting the user in a stand-up pedaling position. However, remember that this is not a spin bike and does not offer to perform all spin workouts.
The crank arms come with standard, 9/16″ thread pedals. Unfortunately, the supplied pedals do not integrate clips for spin shoes, nor do they have straps. However, they have standard threads, and they're easy to replace.
The bike's handlebars connect to the pedals via two side tubes. Therefore, they will continue to move along with the pedals as long as the fan flywheel is in motion.
Thus, you cannot coast on this exercise bike. However, you can rest your muscles between intervals by placing your feet on the bike's side pegs. In addition, reverse pedaling is also possible.
The main resistance generator for this exercise bike is its large flywheel fan. There aren't any other additional resistance elements, such as magnets or friction pads. Therefore, you don't have to connect the bike to a power circuit (the monitor is battery-powered).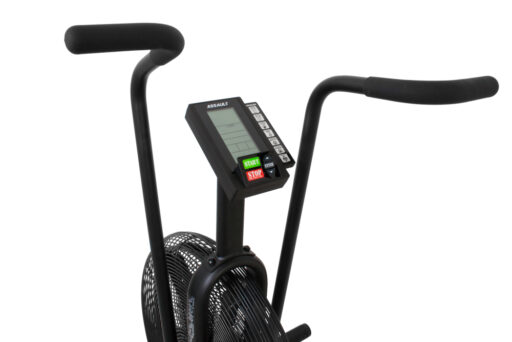 Also, just as with any air resistance-based fitness machine, the resistance generated is directly proportional to how fast or hard you pedal. There aren't any adjustment knobs to increase or decrease the overall resistance.
Fitness Monitor
The Assault Fitness AirBike comes equipped with a mid-range fitness monitor. First, it has two preset Interval workouts, 20-10 and 10-20, which offer eight high-intensity intervals. The 20-10 training features a work interval of 20 seconds and a rest interval of 10 seconds. Conversely, the 10-20 workout has a 10-second work interval with a 20-second rest interval.
There is also a Custom Interval function, which allows you to create your workout interval. The monitor also offers target-setting tasks for time, distance, calories, and heart rate. Each program has its key on the monitor's right side.
The monitor keeps track of the time, distance, calories burned, speed, watts, RPM, and heart rate. The distance is, by default, calculated in miles, while speed is in miles per hour. However, there is the possibility of calculating distance in km and speed in km/h.
The bike does not integrate hand-grip HR pulse sensors for heart rate. However, the fitness monitor is compatible with various non-coded HR transmitters, such as the Polar T31 Non-Coded or Polar T34. Unfortunately, this accessory does not come included with the bike.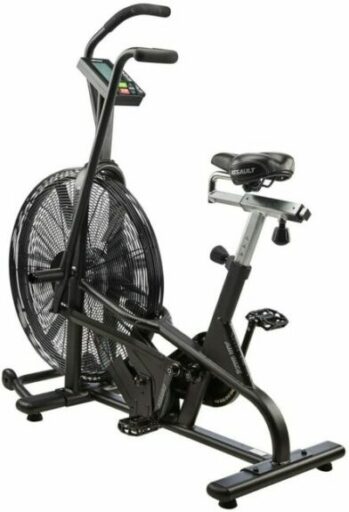 Its LCD divides into eight subsections, which means all the workout metrics display simultaneously, so you don't have to scroll through them. Finally, the monitor can provide a brief workout summary after your session, showing all the metrics for 2 minutes.
The battery-operated monitor uses two AA-type batteries. In addition, it also has a Sleep Mode which will enter after 5 minutes of inactivity on the bike. When the monitor enters its Sleep Mode, all previous data is retrievable so that you can catch up later.
AirBike Assembly and Maintenance
The core of the bike comes fully pre-assembled. In other words, the flywheel fan, the chain, the cranks, and most ball bearings come assembled. Thus, assembly requires you to attach the bike's stabilizers, the seat bar and the seat, the moving arms, the monitor mast, the fitness monitor, and the pedals.
Consequently, it's a straightforward process and shouldn't take more than an hour of your time. The manual provides all the necessary instructions, and the assembly tools come with the bike.
Maintenance requires the lubrication of the chain every two months. Also, periodic checking of the bike's bolts and joints ensures they remain tight and retightening as needed.
Pros
Commercial sturdiness, frame built like a tank, being able to support even more than the specified 300 lbs weight capacity;
Professional-looking design, an aspect that can serve as a good motivation factor;
Adjustable stabilizers with urethane caps on the base tubes;
Transport wheels;
Ergonomic, contoured seat with a thick layer of padding;
Can accommodate users between 5'0 – 6'6″ comfortably;
Air resistance, perfect for interval workouts;
8-panel fitness monitor display, showing time, speed, distance, watts, calories, RPM, and heart rate simultaneously;
Three interval workout programs;
Solid crankset which can support users in stand-up pedaling routines;
Pedals with standard 9/16″ threads, easy to find replacements for them;
Goal-setting functions for time, distance, calories, and heart rate;
An HR-capable monitor, compatible with most Polar HR transmitters;
Little maintenance is required;
Easy to set up;
Excellent warranty.
Cons
Pedals don't have straps;
A tablet or phone placed on the media holder will cover the fitness monitor LCD;
An HR chest strap transmitter does not come with the bike.
Assault Fitness AirBike Classic Summary
The Assault Fitness AirBike Classic is a commercial-grade fitness machine featuring a sturdy frame construction, air resistance, and a multi-panel monitor that can track all the necessary fitness metrics, including heart rate. In addition, it's an exercise bike designed for high-intensity interval training, and the fitness monitor integrates the standard Tabata program.
Moreover, it's perfect for users of all levels, significant for strength and stamina development, muscle toning, consistent cardio training regimens, and, of course, for losing weight. It's not an affordable exercise bike, but its components' quality and overall construction exceed the price.
I hope you found this article helpful and informative. Would you please speak up if you have anything you'd like to share on the topic or any opinions about my website? I look forward to your comments, questions, and the sharing of ideas.
Please remember to consult your physician to determine if you have any medical or physical conditions that could put your health and safety at risk or prevent you from using the equipment properly. In addition, your physician's advice is essential if you are taking medication that affects your heart rate, blood pressure, or cholesterol level.