The 3G Cardio Elite RB Recumbent Bike is a heavy-duty recumbent exercise bike. The 3G Cardio brand is known for making high-quality commercial quality exercise equipment. The RB recumbent bike is a light-commercial model built for durability and has a maximum user weight capacity of 350 lbs.
The 3G Cardio Elite RB features a balanced flywheel, which creates a secure, quiet, vibration-free workout and 16 levels of eddy current brake (ECB) magnetic resistance. ECB is the best type and silent form of magnetic resistance.
The padded seat is a 3-way multi-position adjustable with 25 forward/back positions and five tilt positions for a custom fit. The seatback features infinite airflow mesh flex and is recline adjustable. The seat sits on a sliding seat rail system and is simple to adjust with easy-to-use levers.
The console offers 16 preset programs, including heart rate, watt, and custom. In addition, the console allows four user profiles to regularly use the bike and keep track of their workout stats. It features an easy-to-use dial interface, and the screen displays motivating workout stats, including time, speed, distance, watts, RPM, calories, and heart rate.
Learn more in my complete review below!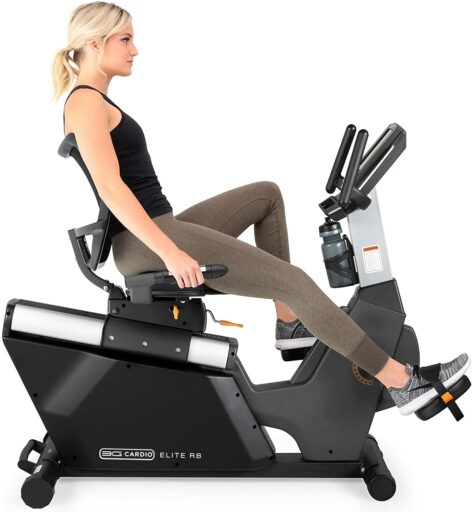 Product: 3G Cardio Elite RB Recumbent Bike
Price: For a great deal on this bike, merely go here on Amazon
Warranty: In-Home: Frame lifetime / Parts 7 years / Labor 1 year (see commercial warranty below)
My rating: 9.25/10
Affiliate Disclosure: As an Amazon Affiliate Program participant, I earn commissions on purchases made through links in this post. Full disclosure
Details and Specifications
Assembled dimensions: 49L x 27W x 43H inches (124L x 69W x 109H cm)
Assembled weight: 115 lbs (52 kg)
Supported weight: 350 lbs (159 kg)
Handlebars: Fixed, with pulse sensors
Seat: 4-way adjustable
Pedals: With adjustable straps
Resistance: Motorized magnetic, 16 levels
Fitness console: 16 programs (plus manual mode), four user profiles
Amenities: Bottle holder, accessory holder, tablet shelf
Warranty:
In-Home: Frame lifetime / Parts 7 years / Labor 1 year
Light-Commercial: Frame 5 years / Parts 2 years / Labor 1 year
Elite Frame Construction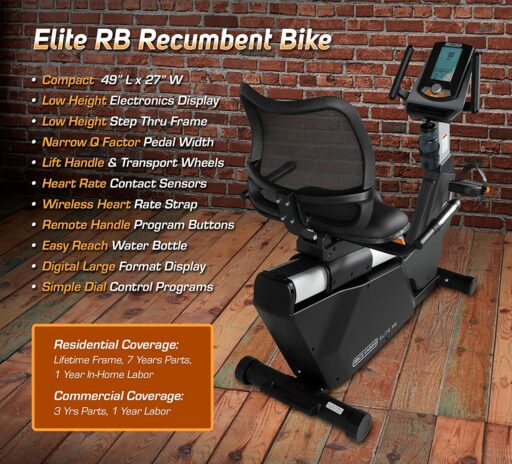 Since it's a light-commercial exercise bike, it has a heavy-duty steel frame to support 350 lbs (159 kg) users. The steel parts in its construction feature a durable, corrosion-resistant powder coating, dark gray for the base section and light gray for the upper parts.
In addition, the bike has quite a few PVC covers; the ones at the front, which shroud the pulley, are light gray, while those at the rear, which protect the flywheel, are black.
The 3G Cardio RB recumbent bike has a smaller footprint than similar bikes. It's 18″ shorter than the Nautilus R618. With the frame fully assembled, it is 49″ (124 cm) long and 27″ (69 cm) wide. Therefore, it does not take too much storage and usage space.
The bike's frame is not foldable. But its front base is equipped with rollers which facilitate its relocation. The rear base has a large handle, so it's easy to use the rollers and take them to a storage location once you have finished your workout.
This 3G Cardio exercise bike isn't hefty but does weigh approximately 115 lbs (52 kg), which is more than twice the average weight of a road cycle. This weight plays an essential role in its overall stability, though.
You can be sure it won't rock, slide, or tip even if you engage in a more demanding workout. Plus, the rear base bar comes with rotating polygonal caps, serving as stabilizers.
Due to the rear placement of the flywheel, the bike doesn't have a step-thru design. However, entry and exit are far from confusing.
Seat and handlebars
The bike's seat is 4-way adjustable. First, the seat assembly slides on an oblique adjustment rail so you can lock it closer or farther from the pedals. It also offers five tilt positions.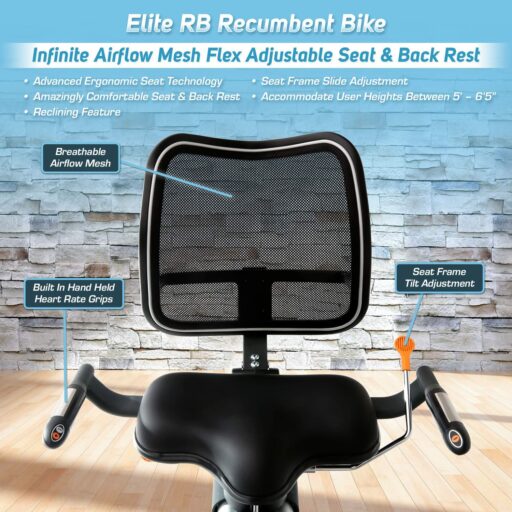 The lever under the seat allows you to move it back and forth while the bar on the right side controls its angle. Therefore, the adjustment span of the seat is ample. The bike can accommodate users between 5'0″ and 6'4″ (153 – 193 cm). It's also durable enough to support 350 lbs (159 kg) users.
The seat is approximately 16″ (40.6 cm) wide. It has a contoured surface and integrates a thick layer of padding, providing excellent comfort. The backrest features an Infinite Airflow Mesh Flex construction; it's constructed on a durable, flexible frame and offers superior breathability.
The 3G Cardio Elite RB has two handlebars attached to the seat assembly and one on the console mast. The seat handlebars integrate metallic EKG pulse sensors and resistance controls. Also, since they connect to the seat frame, their angle will adjust when tilting.
The front handlebars have pretty simple construction without any extras. They are non-adjustable. Both sets of handlebars have rubberized grips for extra comfort.
Elite Drive System
The 3G Cardio Elite RB recumbent bike has a drive system with a slightly different construction than most other recumbent bikes. The pulley with the crankset and pedals is in the front. Under the seat, the flywheel and the magnetic brake are in the rear.
The bike uses a long transmission belt that connects the pulley and the flywheel. The bike's operation is almost silent since it's a belt transmission, not a chain, and the belt doesn't require lubrication.
The flywheel's weight isn't specified. However, it probably weighs between 16 and 20 lbs (7-9 kg). It's a perimeter-weighted flywheel, providing consistent momentum and a smooth pedaling motion.
The bike has a narrow Q-Factor (spacing between the pedals), so you won't experience any lateral stress on the knees and ankles when pedaling. The crank arms are made of solid steel with a chrome finish, while the pedals also have a metallic core with a durable nylon coating.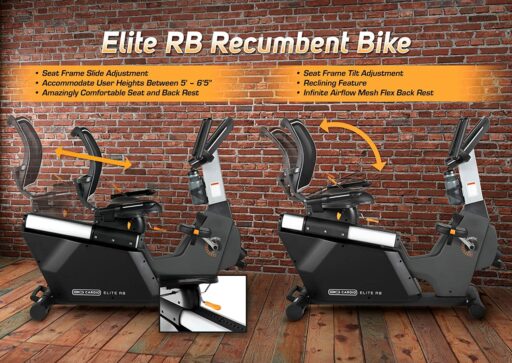 The pedals come with adjustable straps. They're also self-leveling, enabling them always to turn face-up when you remove your feet from them. They have standard threads. Thus, compatible options are widely available if you need or want to replace them.
Resistance System
This 3G Cardio recumbent bike features a motorized magnetic resistance system that consists of a magnetic brake and a small servo motor. The resistance is only adjustable from the console or the controls integrated into the seat's handlebars.
Also, the bike must be connected to a power circuit to adjust the resistance, with the voltage requirements being 100V – 240V – 50/60Hz. A power cord comes with the bike; its input is at the bottom, above the rear base stabilizer.
The bike offers 16 levels of resistance. As you turn the knob on the console or use the + / – controls on the handlebars, the magnetic brake will move closer or farther from the flywheel, generating more or less resistance.
The first 1-3 difficulty settings offer a light resistance, great for warming up or for users who require recovery training. The final, 15-16, difficulty settings simulate a steep climb and provide enough resistance for intense cardio training.
Since the bike's resistance is motorized, some onboard programs will adjust the resistance depending on the workout's current segment.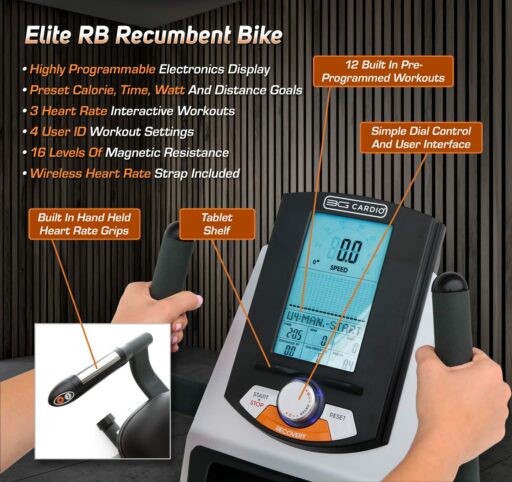 Elite Console
The console included with this exercise bike is quite an advanced one. First, it features a large LCD with a blue LED backlight and significant digits, which provide excellent readability.
All the readings show simultaneously, so you won't have to use a SCAN function to alternate them. The workout metrics displayed are time, distance, speed, RPM, watts, calories, and pulse.
The console has user data input settings, including gender, age, height, and weight. Therefore, it can calculate your calorie burned levels and energy output with much higher accuracy than other fitness computers. In addition, the speed and distance data can be in both imperial or metric units.
The fitness console can track your heart rate via the EKG sensors integrated into the seat handlebars, but it's also telemetric. Therefore, it can read your pulse via a wireless HR chest strap transmitter, and this accessory also comes with the bike.
The console is straightforward to operate. The turn-knob makes the resistance adjustment and gives value to your goals on the console.
The Start / Stop button allows you to pause and resume your workout without interrupting the program. The Reset key speaks for itself; it clears all the unit values to zero if needed. And finally, the recovery function has a button.
Among the non-fitness features of the console, I count a small tablet tray placed right under the unit's display. There's also a small compartment under the console's keypad, supporting small accessories if needed. However, the console doesn't have a built-in cooling fan or sound system.
Workout Programs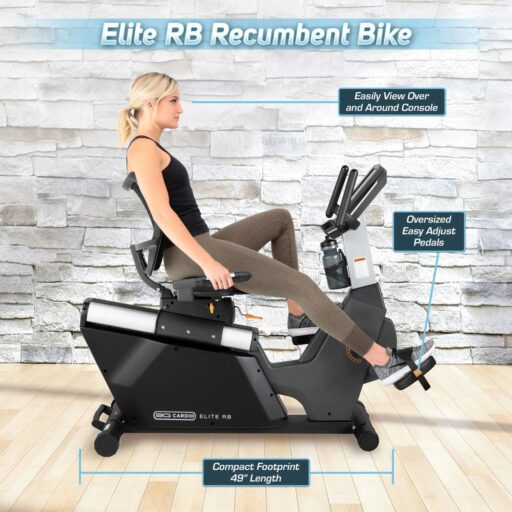 Unfortunately, the 3G Cardio RB recumbent bike has no online connectivity features. However, its console offers 16 programs to keep you motivated, plus the manual mode allows you to adjust the resistance as you exercise freely.
Among the included applications, I count 12 preset programs, which offer different workouts focusing on weight loss, peak performance, intervals, etc. In addition, there are also three heart rate programs and a 1-watt program available.
There are also goal settings, four user profiles, a recovery function, and workout programs. The goals function allows you to select a countdown target for time, distance, calories, pulse, and exercise until you reach the chosen goal.
The four user profiles allow you to create and save four custom programs. If up to 4 persons use the machine, they can collect their data and application. For example, the recovery function measures your heart rate at the end of your workout. It will provide a recovery status between F1 (best) and F6 (worst), which gives you an idea of your fitness level.
Elite Assembly and Maintenance
The core of the bike comes pre-assembled. Therefore, you will only have to attach the primary base tubes, the seat with its backrest and handlebars, the console mast, the front handlebars, the console, and the pedals.
Consequently, it shouldn't take more than an hour of your time. All the tools required for the assembly come with the bike. Also, the manual provides precise assembly instructions.
Internal maintenance is almost inexistent since it's a belt-drive bike with a magnetic resistance system. So unless an inner part sustains damage and requires replacement, you won't ever need to remove the flywheel or pulley guards.
Therefore, you must keep the bike clean and keep liquids away from the console. Additionally, periodically check the bolts and other parts and re-tighten them if necessary,
Pros
Durable, commercial-grade construction;
A good-looking design can also be a motivation factor;
Can support users up to 350 lbs;
Adjustable stabilizers;
Transport wheels at the front;
Transport handle at the rear base;
Cushioned and contoured seat;
EKG sensors and resistance controls integrated into the seat's handlebars;
Flexible, breathable, and durable backrest;
Five tilt positions for the seat assembly;
25 forward-back adjustment positions for the seat assembly;
Motorized magnetic resistance system with 16 settings available;
Very smooth, almost silent belt drive;
Balanced, perimeter-weighted, mid-range flywheel for consistent momentum;
Weighted pedals with adjustable straps;
A large backlit LCD;
12 preset programs, three heart rate programs, 1-watt program, and one manual program;
Four user profiles;
Countdown settings for time, distance, calories, and heart rate;
Telemetric console (can read pulse via an HR chest strap);
HR chest strap included;
Tablet holder included;
The bottle holder comes included;
Maintenance-Free;
Excellent warranty.
Cons
The console does not have a cooling fan;
The console does not have a sound system;
The console doesn't have any online connectivity.
3G Cardio Elite RB Recumbent Bike Summary
The 3G Cardio Elite RB is a light-commercial, motorized magnetic recumbent bike offering 16 resistance and 16 workout programs. It has sturdy construction to support users up to 350 lbs. It has a reclining seat with five tilt positions and 25 front-back adjustment positions.
It's an excellent bike for light, medium, and intense cardio training sessions, stamina training, weight loss, and intervals. And finally, although it does not have any online connectivity features and is relatively expensive, it still does offer excellent value for the price.
I hope you found this article helpful and informative. Would you please speak up if you have anything you'd like to share or any opinions about my website? I look forward to your comments, questions, and the sharing of ideas.
Please remember that you should consult your physician to determine if you have any medical or physical conditions that could risk your health and safety or prevent you from using the equipment properly. In addition, your physician's advice is essential if you are taking medication that affects your heart rate, blood pressure, or cholesterol level.