Challenge yourself and pedal like the pros with the ProForm 135 CSX Upright Bike. This exercise bike will help you get serious about your fitness, fully-loaded with professional training programs and boasting 16 digital resistance levels with ProForm's patented SMR Silent Magnetic Resistance.
The 135 CSX comes with a large LCD window display, which shows real-time workout stats like mileage, speed, calories burned, and time to help you stay on track. The Watts power meter enables you to track your training intensity like the pros by indicating your workout's power.
A 12 lb effective inertia-enhanced flywheel delivers a smooth, steady pedal stroke from a more natural striding performance. The 135 CSX has 16 digital resistance levels, which let you select the perfect intensity for your workout.
The 14 workout apps give you instant access to fully-loaded professional training programs as soon as you step on the bike, so you can enjoy challenging workouts designed to help you meet your goals.
Learn more in my complete review below!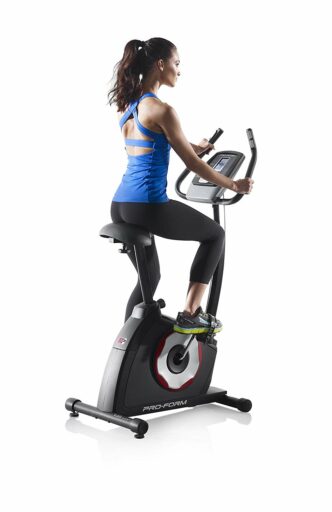 Product: ProForm 135 CSX Upright Bike
Price: For a great deal on this bike, merely go here on Amazon
Warranty: Frame 5 years / Parts 90 days
My rating: 7/10
Affiliate Disclosure: As an Amazon Affiliate Program participant, I earn commissions on purchases made through links in this post. Full disclosure
Details and Specifications
Assembled dimensions: 35L x 23W x 55H inches (89L x 59W x 140H cm)
Assembled weight: 74 lbs (33.5 kg)
Weight capacity: 250 lbs (113.3 kg)
Seat: 4-way adjustable
Pedals: Weighted, with straps
Resistance: Eddy current, 16 levels
Console: 14 workout programs
Amenities: Speakers, media tray, bottle holder
Warranty: Frame 5 years / Parts 90 days
135 CSX Frame construction
Although it's a relatively affordable exercise bike, the ProForm 135 CSX features a durable steel frame, supporting users up to 250 lbs (113.3 kg). It's made of a combination of ovalized and round bars, while the covers of the flywheel, resistance system, and other internal parts are a solid ABS material.
The bike's core frame is one-piece; you only have to attach the base bars, the seat bar, and the console mast to it. All the steel parts in the bike's frame are double-coated with corrosion-resistant and scratch-resistant paint. The color used is black, with the ProForm logo painted white/red.
The fully assembled bike is not extremely heavy. It weighs approx. 74 lbs (33.5 kg); thus, its assembly and transport should be easy to carry out by one person. Plus, the bike's front base features rotating caps, which can serve as transport wheels for the assembled unit. The bike offers excellent stability, as well. Its rear base comes with a set of adjustable levelers with rubber pads, which give you the possibility to stabilize the unit on any floor correctly.
One last aspect to mention here regards the unit's assembled dimensions. This ProForm exercise bike is far from being a large fitness machine. It's approx. 35″ (89 cm) long, and 23″ (59 cm) wide, while the top of the handlebar reaches a height of approx. 55″ (140 cm). Thus, the unit can fit pretty well, even into a smaller room. But it is recommended to leave at least two feet of clearance on its sides for ease of access to the seat and safe operation.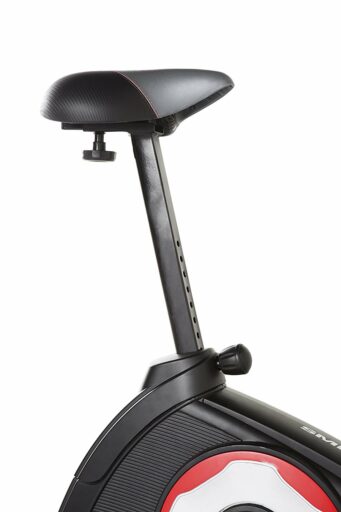 Seat and handlebars
The ProForm 135 CSX upright bike includes a reasonably large saddle. Its exact dimensions are not specified, but it's considerably more significant than the average slim spin seat as a general idea. It also integrates a layer of padding while its surface is contoured, providing an optimal comfort level.
The seat is 4-way adjustable (up, down, front, back). Its upright bar has multiple height adjustment holes, while the small horizontal slider also provides a few inches of forward-back adjustment. Differently put, the bike should be able to accommodate users comfortably between 5'2″ and 6'3″ (157 – 190 cm). Also, the seat assembly is durable enough to support users up to 250 lbs (113 kg).
The bike's handlebars are non-adjustable. They are directly attached to the console mast via several screws, so you cannot adjust their angle. This shouldn't be an inconvenience, though, as they have a multi-grip design. They also incorporate pulse sensors, and a sheet of high-density foam material fully covers them for extra comfort and a secure grip.
135 CSX Drive system
The first drive element that we're going to address here is the flywheel. The ProForm 135 CSX comes with a 12 lbs (5.4 kg) flywheel, which is balanced and produces a very steady and smooth pedaling motion. Since it's not very heavy, it doesn't provide very aggressive inertia, so the bike is excellent for recovery training or elderly users.
It's also bi-directional, which means you can pedal in reverse if you want. However, coasting is not possible; the pedals continue to spin for as long as the internal flywheel is spinning.
The 135 CSX features a durable pulley system and steel crank arms. The pedals are made of nylon material but have a metallic core. They have a weighted design, which means they will turn face-up when you remove your feet from them. They also have adjustable straps so you can correctly secure your feet on them.
An important aspect to mention about the bike's crankset and pedals is that they are not made for spin workouts or standing up pedaling. They may hold users up to a certain weight with no problem. Exercises of this sort are not (recommended) as they may lead to damage to the internal parts or personal injury.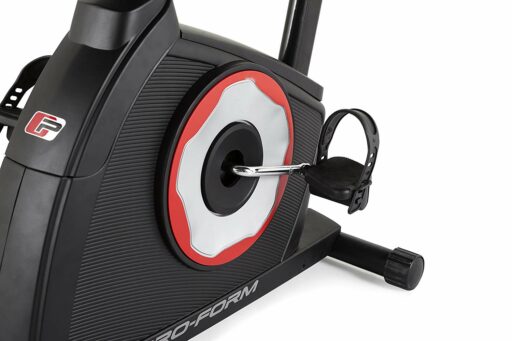 The bike uses a poly-v belt for its transmission. This belt drive comes with a series of advantages. First, the pedaling motion is almost silent. The belt doesn't require lubrication. Also, there is less vibration generated during pedaling than for a chain drive.
Resistance system
The ProForm CSX 135 features an eddy current resistance system with digital resistance adjustment. The resistance can only adjust from the console, and the internal resistance parts are a small servo motor and a magnetic brake.
As you select a specified resistance level from the console, the motor will adjust the magnetic brake position to increase or decrease the intensity of the internal magnetic field, and this way, the bike's resistance.
As I've mentioned above, the bike has several preset workout programs. Therefore, if you decide to use one of these programs to exercise, the cycle will auto-adjust the pedal resistance.
The console requires 4 D-type batteries to function, which (are not included). There is also the option of a power adapter (also not included).
The bike offers 16 levels of resistance. The first few levels are very light, perfect for recovery training. However, the top 15-16 degrees provide quite a bit of strength, allowing you to achieve a higher heart rate in a shorter period and a more intense burn for the leg muscles.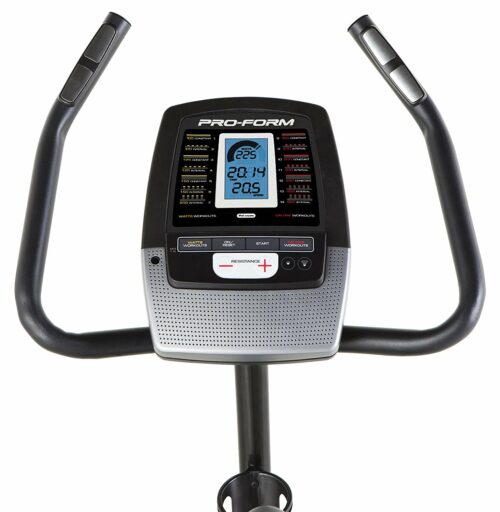 135 CSX Console
The ProForm 135 CSX features a console reasonably similar to the 235 CSX recumbent bike. However, it only has 14 workout programs, divided into Watts Workouts and Calorie Workouts. Although these programs (are pre-set), you can still make your adjustments to them.
The console itself features an LCD with pretty significant, easy-to-read digits, split into three main sections. The top part indicates the speed in revolutions per minute (RPM), the power output in watts, and your heart rate when you use the handlebar sensors.
It also shows the resistance level for a few seconds when you change it. The display shows each one of these metrics for several seconds.
The center section of the display indicates distance and time. You can set the range either in metric or imperial units. If a goal value for time is selected, the display will show the time remaining for reaching that target instead of the elapsed time. These two metrics will display alternatively, each one for a few seconds.
The bottom section of the display shows pedaling speed and calories burned. Again, you can set up the unit to show the speed in either metric units (km/h) or imperial units (mph). Just as for the middle and top sections of the display, the speed and calories metrics alternate; each one displays for a few seconds.
Amenities
Apart from the fitness-oriented features, the console also integrates two extras. One is the sound system, and the other is the tablet holder. The sound system consists of two small speakers placed on the bottom of the unit. There's an audio jack input on the console and controls for sound volume.
The fitness console is compatible with most smartphones, tablets, or MP3 players. The tablet holder is above the unit's controls. However, a tablet placed on it will cover the console display at least partially.
135 CSX Assembly and Maintenance
The bike's internal parts are pre-assembled and attached to the mainframe. Therefore, you'll need to connect the base stabilizers, the seat post, the seat, the console mast, the console, and the pedals for assembly. This shouldn't take more than an hour. Essential tools for assembly are (included), and the manual provides precise assembly instructions.
You only have to check the bike for any loose bolts and parts from time to time and remove the dust from it for maintenance. The internal parts don't require lubrication or any other maintenance, not for a few years of use.
Pros
Solid construction – can support users up to 250 lbs;
Aesthetic design;
Adjustable rear stabilizers;
Transport wheels on the front base;
Multi-grip handlebar with pulse sensors;
4-way adjustable seat;
Balanced flywheel, supplying a smooth pedaling motion;
Quiet belt drive;
Weighted pedals with adjustable straps;
Zero friction magnetic resistance;
16 levels of resistance;
3-panel LCD console, which shows time, distance, speed, RPM, calories, and pulse;
14 workout programs;
Goal setting functions for time, distance, and calories;
Sound system included;
Tablet holder included;
The bottle holder comes included;
Little maintenance required;
Easy to assemble.
Cons
A tablet placed on the tablet holder will block the view of the LCD;
Handlebars are non-adjustable.
ProForm 135 CSX Upright Bike Summary
The ProForm 135 CSX is a mid-range upright bike featuring an automatic magnetic resistance system with 16 tension levels and a console with 14 preset workout programs. The 135 CSX comes with a comfortable, 4-way adjustable seat, and it's sturdy enough to support users up to 250 lbs.
Moreover, it's excellent for light to medium intensity cardio workouts, weight loss, stamina development, recovery training, and muscle toning. It's also one of the most affordable recumbent bikes with a motorized magnetic resistance system.
I hope you found this article helpful and informative. If you have anything you'd like to share or opinions about the content on my website, please speak up. I look forward to your comments, questions, and the sharing of ideas.