The Sole LCR Light Commercial Recumbent Bike Bike is a multi-purpose trainer. Its recumbent frame is a good fit for rehabilitative work, yet the drive is powerful enough to challenge those in their prime. The Sole LCR is a top option for home gyms and light commercial settings with exceptional adjustability, ten program modes, and a generous warranty.
Sole indoor bike frames are virtually indestructible and have lifetime warranties. The LCR's recumbent frame is built from 125 pounds of steel tubing and sealed with an aluminum layer. Altogether the machine weighs about 150 pounds and has a 350-pound weight capacity. It is moveable with the help of transport wheels.
Starting an effective workout program is comfortable with built-in choices. The LCR gives manual mode; two heart rate controlled workouts, two user-designed programs, and six standard programs. They are Fit Test, Hill, Fat Burn, Strength, Interval, and Cardio). The workouts and data display on a vibrant 10.1″ screen.
The LCR eliminates the workout impact on the lumbar area and considerably reduces the leg joints' effect. Thus, being an excellent choice for elderly users or users who require low-impact training, physiotherapy, etc. Therefore, if you're looking for a superior quality recumbent bike, the LCR model from Sole is one for your consideration.
Learn more in my complete review below!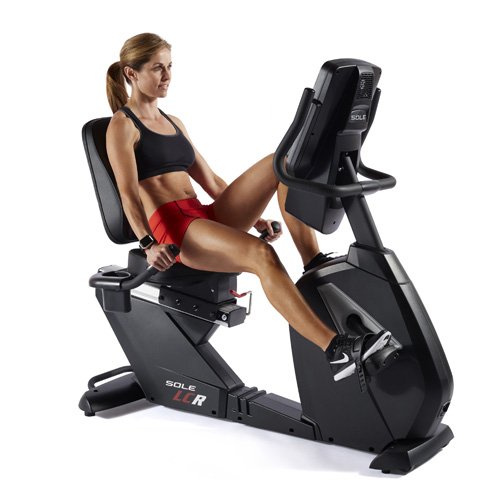 Product: Sole LCR Light Commercial Recumbent Bike
Price: For a great deal on this bike, merely go here to Sole Fitness.com
Warranty: Residential In-home / Lifetime on the frame / Electronics and Parts 5-years / Labor 2-years (see the light commercial below)
My rating: 9.6/10
Affiliate Disclosure: As a Sole Fitness Affiliate Program participant, I earn commissions on purchases made through links in the post. Full disclosure
Details and Specifications
Assembled dimensions: 57L x 30W x 50H inches (144.7L x 76W x 127H cm)
Assembled weight: 157 lbs (71.2 kg)
Flywheel weight: 30 lbs (13.6 kg)
Supported weight: 350 lbs (158.7 kg)
Handlebars: With pulse sensors
Seat: Foam cushioning, contoured, adjustable
Pedals: With Straps
Resistance: Eddy current, 110V, 40 levels
Console: 10 workout apps
Bottle/accessory holder: Yes
Speakers: Built-in console
Fan: Built-in console
Home Warranty: Frame lifetime / Electronics and Parts 5 years / Labor 2 years
Light Commercial Warranty: Frame lifetime / Electronics and Parts 3 years /  Labor 1 year
LCR Frame
Since it's a commercial-grade bike, it goes without saying that it features a solid, one-piece steel frame made of thick tubing. In addition, several sections of the whole body of the cycle, such as the drive and resistance systems, are covered by aluminum and hard plastic shrouds. These elements add elegance to the bike's body and contribute to this fitness machine's overall compactness.
The Sole LCR is not a too bulky machine. It's only 57″ (145 cm) long. The fullest part of this machine is its handgrip assembly, which is 30″ (76 cm). The bases of the frame are smaller; the rear base measures 24″ (61 cm), while the front base is approx — 16″ (40.6 cm).
Both bases feature hard plastic shrouds for a more stylish appearance. In addition, they're equipped with metallic, adjustable feet with rubber caps, making it easy to stabilize the machine on just about any flooring.
This recumbent bike is rather heavy, weighing 157 lbs (71 kg). However, the front base comes with small transport wheels, and the rear base features a handle. Therefore, it's easy to tilt the bike on its front wheels and transport it to its desired place.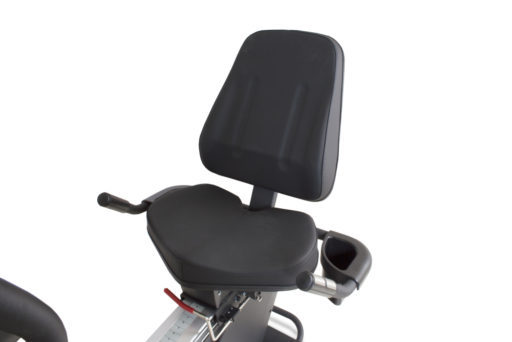 Last but not least, the frame is double-coated with anti-corrosive and scratch-resistant paint, the dominant color being black.
LCR Seat and comfort
The seat equipped on the Sole LCR features superior ergonomics to the seat of the Sole R92 model. The seat and the backrest feature foam cushioning and a contoured design to adapt perfectly to your body. In addition, the backrest and seat fabric is highly durable synthetic leather and highly resistant to wear and tear.
The seat's backrest is at 110° to supply comfortable back support, removing an essential part of the upper body weight from the pelvic area. As a result, it's pretty close to the comfort of an armchair. And speaking of bodyweight, this bike can support users up to 350 lbs (158.7 kg).
The seat's distance from the pedals is adjustable, featuring 14 position locks. It adjusts in increments of approximately 1″. Overall, this bike can supply the correct workout setting and maximum comfort to users between 5′ and 6'5″ (152.4 – 195.6 cm).
If you're shorter than 5′, you may not reach the backrest and pedals to benefit from a comfortable position. Conversely, if you're taller, comfort won't be an issue, but you may not benefit from the complete stretching of your legs when pedaling.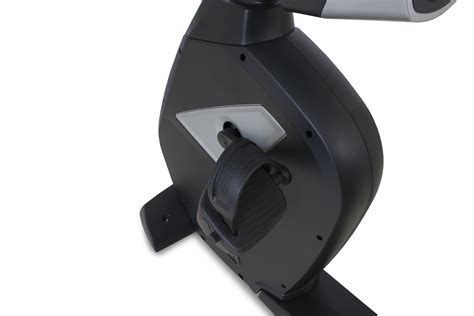 One last aspect that we should mention here regards the recumbent handlebar assembly. The handgrips offer an angle of 45°, covered with rubber foam material, to supply a comfortable grip. If you're wondering, the distance between them is approximately 26″ (66 cm).
The grips incorporate pulse sensors; therefore, the console can track your heart rate. Also, the rear part of the handlebar assembly features two bottle holders.
LCR Resistance and drive systems
The resistance system involves an eddy current brake, consisting of a magnetic flywheel and an electromagnetic brake pad. The resistance was created by adjusting the electromagnetic brake pad's pull onto the wheel. The closer the brake pad to the wheel, the higher the resistance.
The resistance-generating elements do not touch; therefore, you shouldn't experience any knocks, ticks, dragging, or jarring when pedaling. Also, due to this fact, the wear and tear of the resistance elements are minimal.
Since it's an eddy current machine, the resistance adjusts from its console, making 40 levels of resistance available. For instance, this is quite an impressive range, giving you the possibility to select the exact resistance level you feel comfortable using. Furthermore, when it comes to the highest resistance levels, these simulate quite a climb, allowing one to engage in a more challenging workout.
The bike features a heavy flywheel for a recumbent bike, weighing 30 lbs (13.6 kg). Thus, pedaling is smooth; the momentum is entirely consistent; the pedals will spin a couple more times once you stop pedaling.
The crankset is a 3-piece element with substantial steel arms finished with weighted, self-adjusting pedals. Each pedal has a toe strap with five adjustment settings.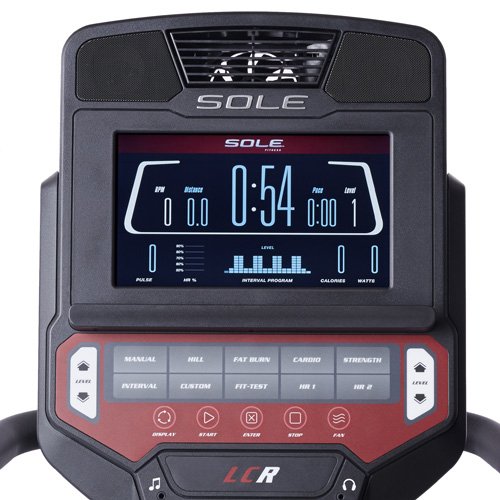 The transmission between the crank and flywheel is done via a heavy-duty v-belt, resistant to stretching. It doesn't require maintenance as a chain would and contributes to the machine's overall quietness.
LCR Console
The console's angle is adjustable. It features a 10.1″ TFT LCD, also backlit, offering enhanced readability. In addition, it displays and tracks all the values that you require to know when working out on an exercise bike, such as speed, time, distance, watts, calories, heart rate, and of course, the current resistance setting.
Also, it has a laps function. Bluetooth enabled to support data sharing with the Sole Fitness app, FitBit, and other compatible mobile apps. Thus, people may keep track of their workout data.
Ten workout programs are built-in in the console unit, including Manual, Hill, Cardio, Fatburn, Interval, Strength, Custom, Fitness Test, and 2x Heart Rate. The Manual program gives you the ability to adjust the machine's resistance and the levels you feel more at ease.
The other programs will automatically adjust resistance. The Custom program allows you to personalize your workout, insert your weight and age, and create the exercise routine you like. The Fitness Test program determines your fitness level, depending on your cardiovascular performance.
And finally, the HR programs allow you to maintain a given heart rate interval. The console is also telemetry enabled, tracking pulse via a heart rate strap transmitter. The HR strap is not (included), though.
There are 12 direct keys for resistance adjustment, for the 1,4,8,12,16,20,21,24,28,32,36,40 settings. However, resistance is also adjustable in increments 1 using Manual mode via the Up/Down keys. Each program has its key on the dashboard. Also, there's a Stop key, which allows you to pause your workout if you have to.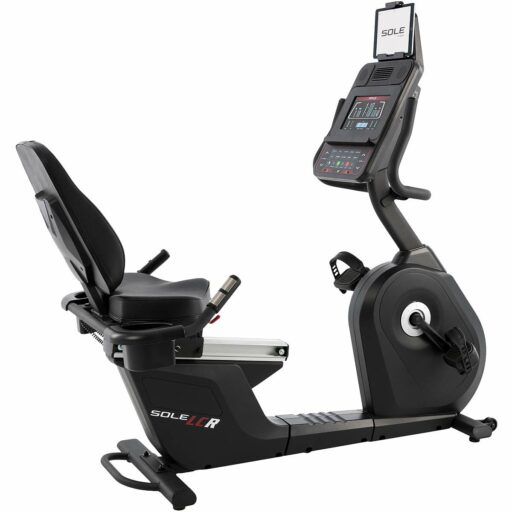 Amenities
Apart from a wide array of fitness functions, it offers quite a few comfort factors, so we'll start with those. The top part incorporates a cooling fan, a 2-speaker sound system, and a tablet holder.
Therefore, if you don't like working out using earbuds, you can listen to your music via the bike's sound system. It's compatible with most MP3 players, smartphones, or tablets. A tablet tray and an accessory compartment are also part of the console's design.
LCR Assembly and Maintenance
This fitness machine is relatively easy to assemble, but it might take a while due to the consistent amount of bolts and nuts you'll have to tighten. The drive and seat mechanisms come already assembled and connected to the frame. You only have to add the backrest, saddle, frame's bases, covers, console mast, handlebars, and connect all the wiring.
It's a pretty straightforward process. The manual provides explicit instruction. However, it might take up to an hour to assemble the bike entirely. The included assembly tools are a Phillips screwdriver and two wrenches, 12/14 mm and 13/15 mm.
Its internal components don't require maintenance since it's an eddy current machine and belt-driven. Instead, they're all pre-lubricated with industrial-grade lubricants, meant to last a very long time.
You'll need to wipe the surface off periodically and periodically check the machine's bolts and joints to make sure everything holds tight in its place.
Pros
Extremely sturdy frame, able to support users up to 350 lbs;
Compact, elegant design;
Superior ergonomics – cushioned and contoured seat and backrest;
Adjustable seat;
Eddy current brake, with 40 levels of resistance;
30 lbs flywheel for a consistent momentum;
Bluetooth enabled;
Ten onboard workout programs;
It offers the possibility to configure your workout;
A quiet belt drive system, making this bike an excellent choice for apartment use;
Self-leveling pedals with adjustable straps;
Multiple accessories, including bottle holders, speakers compatible with most MP3 players/smartphones/tablets, cooling fan, tablet holder;
Easy to assemble;
No maintenance;
Excellent warranty plan.
Cons
HR chest strap does not come included with the bike.
Sole LCR Light Commercial Recumbent Bike Summary
The Sole LCR Recumbent Bike is a top-of-the-line fitness club-level machine made for the home. You'll never have to worry about the quality of this bike or about breaking it during an intense workout, especially with the lifetime frame warranty.
And when it comes to the fitness potential that it can offer, it's an excellent machine for light, medium, and even more challenging workouts. It's also a perfect choice to keep a healthy cardiovascular system, build stamina, and lose weight.
I hope you found this article helpful and informative. If you have anything you'd like to share or opinions about the content on my site, please speak up. I look forward to your comments, questions, and the sharing of ideas.
I hope you found this article helpful and informative. Would you please speak up if you have anything you'd like to share on the topic or any opinions about my website? I look forward to your comments, questions, and the sharing of ideas.
Please note: Before starting any exercise program, you should consult your physician to determine if you have any medical or physical conditions that could put your health and safety at risk or prevent you from using the equipment properly. In addition, your physician's advice is essential if you are taking medication that affects your heart rate, blood pressure, or cholesterol level.