The Precor UBK 835 Upright Bike from Precor's Experience Series features a 3-phase generator or eddy current resistance system that requires no plug-in cord to power the console. Furthermore, it's the same commercial machine chosen by fitness centers worldwide, but this model comes with an extended warranty when sold for home use.
The two-stage belt drive system gives the user a more consistent resistance feel than single-stage drive systems. And with whisper-quiet operation, you can place this machine anywhere in the house and not bother other family members during your workout.
The handlebar offers three riding positions: road, cruising, and upright. The ergonomic seat has a comfort groove and tapers to the nose for better riding comfort, plus it has 14 adjustment positions. If you prefer to switch out the saddle, the universal seat post will fit any standard seat.
Workout variety has 12 diverse programs, and each user can customize the computer to get highly accurate feedback about calorie burn and heart rate. Wireless heart rate (HR) monitoring is supported, and the UBK 835 has SmartRate for an uninterrupted view of the HR zone. Furthermore, unique add-ons include a 15″ personal viewing screen (PVS) and iPod/iPhone compatibility.
Learn more in my complete review below!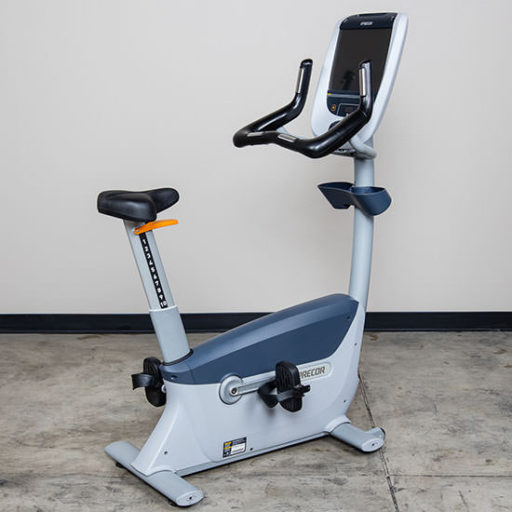 Product: Precor UBK 835 Upright Exercise Bike
Price: For a great deal on this bike, merely go here on Amazon
Warranty: Frame lifetime / Parts 10 years / Labor 1 year
My rating: 9/10
Affiliate Disclosure: As an Amazon Affiliate Program participant, I earn commissions on purchases made through links in this post. Full disclosure
Details & Specifications
Assembled dimensions: 48L x 21W x 62H inches (122L x 53W x 157H cm)
Net weight: 160 lbs (73 kg)
Weight capacity: 350 lbs (159 kg)
Seat: 2-way adjustable
Resistance: Eddy current, self-powered, 25 levels
Console: 12 workout programs
Extras: Accessory tray, reading rack
Warranty: Frame lifetime / Parts 10 years / Labor 1 year
UBK 835 frame Construction
The Precor UBK 835 is a commercial-grade exercise bike, and therefore it features a frame construction that meets all the commercial standards.
First, the frame is thick steel tubing and double-coated with a corrosion-resistant and chip-resistant paint finish. There are two versions available in color for the console mast and base bars, one gloss metallic silver, the other black pearl.
Compared to other commercial upright bikes, this Precor model is considerably more substantial. Its fully assembled frame weighs approximately 160 lbs (73 kg), and this weight renders the unit solid and stable as a rock. You can be sure that it won't wobble or rock under you even if you're close to the maximum 350 lbs (159 kg) weight capacity. You may engage in a high-intensity workout without worry.
Despite its impressive overall weight, the machine is not extremely difficult to relocate. The front base features a set of wheels that ease its handling. Its rear levelers also improve the unit's stability. These elements are adjustable and allow you to level the bike on any floor perfectly. The front base also rests on two rubber pads, which improve the unit's grip on the floor. However, due to the unit's weight, it is recommended to place and use this exercise bike on a rubberized mat.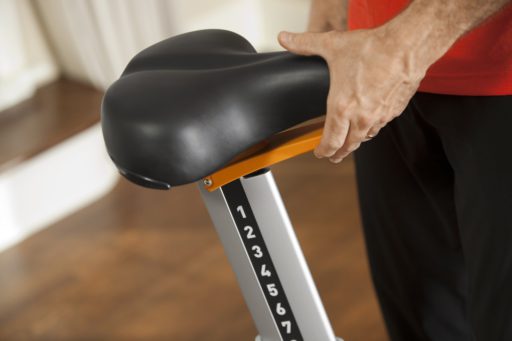 The Precor UBK 835 is not an extremely large fitness machine compared to treadmills or elliptical trainers. However, it's still considerably more substantial than other upright bike models.
With the frame fully assembled, it is approximately 48″ (122 cm) long and 21″ (53 cm) wide. Plus, it is advisable to leave at least two feet of clearance all around the unit for safe access and operation.
Seat & handlebars
Like other commercial-grade upright exercise bikes, the Precor UBK 835 features a seat-only 2-way adjustable. The seat comfortability accommodates users between 5'0″ and 6'6″ (153 – 198 cm).
The straight bar of the seat offers 14 positions of adjustment; regardless of your height, you should be able to find the perfect fit. Also, the seat adjustment system uses a lever placed under the front part of the saddle.
Therefore, you can adjust the seat height while you're already seated. You won't need to repeatedly mount, dismount, and change the seat until you find the proper position.
The saddle itself is for maximum comfort. It's 10.5″ (27 cm) wide at the rear, with a narrow nose and a longitudinal ergonomic groove. It integrates a generous layer of padding, and its surface has a thick, durable vinyl material designed to last a lifetime.
The bike's handlebars are non-adjustable. They attach directly to the console mast. They offer three comfortable riding positions, these being upright, cruising, and neutral. The handlebar assembly is relatively wide, providing comfort and stability for the entire forearm during the cruising position. It also has a urethane cover to improve grip.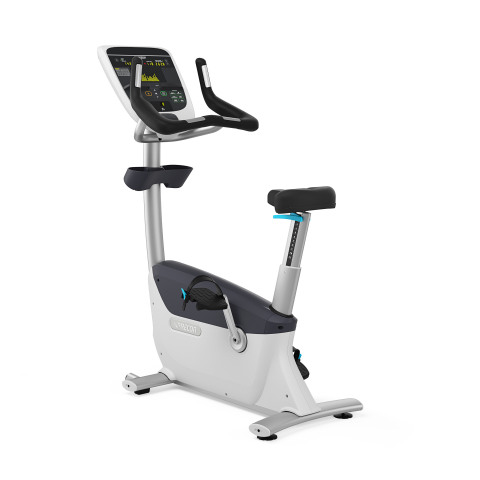 The handlebar features two sets of pulse sensors. Two are integrated into the top grips, while the other two are at the bottom grips. Therefore, you can monitor your pulse during a racing grip or a vertical grip. However, the included console is telemetric; it can read your pulse via an HR chest strap transmitter (sold separately).
UBK 835 Resistance
The Precor UBK 835 upright bike has an eddy current, self-powered resistance system. Therefore, you don't have to connect it to a power source as it produces the necessary energy to power up the console as you pedal. In addition, it integrates a 3-phase generator that doesn't require any backup battery to power the bike efficiently. Also, the resistance is only adjustable from the console.
The main internal resistance elements are an electromagnetic brake and a servo motor. Thus, as you select a certain tension level from the console, the servo motor will adjust the magnetic brake position to increase or decrease the internal magnetic field's intensity. This way, the overall pedaling resistance is changed.
The bike makes available 25 resistance levels. For reference, at levels 1 and 20 RPM, the output is 18 watts, while at levels 25 and 150 RPM, the production is 750 watts. Differently put, the first levels of resistance offer the possibility of a light workout, while the top resistance settings provide the training set for a highly intense cardio exercise.
Drive
The Precor UBK 835 has a two-stage drive system. In other words, it integrates an intermediary pulley, along with the main crank pulley, which leads to a smooth-pedaling feel and a steady motion with reduced impact. It also has a lower start-up resistance and a more consistent resistance progression than single-stage drive systems.
The internal drive mechanism uses high-grade rubber belts for transmission. Therefore, they don't require periodic lubrication. As a result, the bike's operation is almost entirely silent, and the natural vibration during pedaling is close to zero.
The internal flywheel, which also plays an essential role in the bike's resistance adjustment, features a weighted perimeter structure. It's not similar to the wheels of spin bikes. It is smaller and not built for aggressive inertia but does provide a bit of momentum consistency even when the cycle is on level 1 of resistance.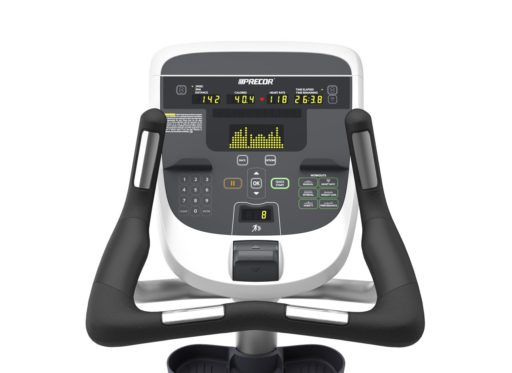 The bike comes equipped with a 3-piece crank featuring 170 mm crank arms. It is durable enough to support most users in standing-up pedaling positions. However, this is an upright bike, and spin workouts are not advisable.
And finally, the bike is equipped with dual-sided pedals, with straps on one side. However, you can use them with or without the straps. They're extra wide, accommodating feet of all sizes comfortably. They also feature standard 9/16″ threads, so you can easily find compatible replacements for them, if necessary.
UBK 835 Console
The Precor UBK 835 has one of the basic types of consoles. In other words, it only has an LED-based display and does not have online connectivity or a sound system. But it makes available plenty of features to keep you motivated.
First, the console unit features four small displays on its top section. The first from the left covers speed, RPM, and distance. The second from the left shows the calories burned. The third displays your heart rate, and the fourth explains the time elapsed or the time remaining. Finally, the middle larger screen shows the profiles of the selected workout.
The console offers personal settings for height, weight, and age to calculate the number of calories burned more accurately. In addition, there are both English and Metric unit settings for speed and distance. Also, there are eight language settings available: Dutch, English, French, German, Italian, Romanized Russian, Spanish, and Japanese.
The unit can monitor your heart rate through integrated sensors. However, it is also telemetric; it can track your heart rate via an HR chest strap transmitter (sold separately).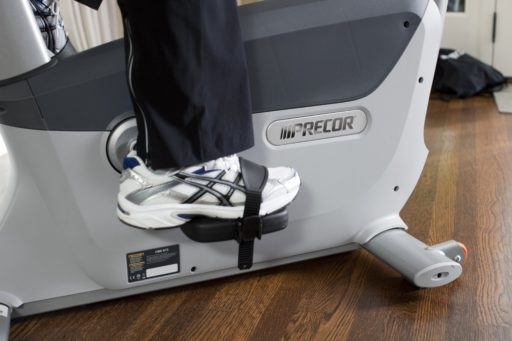 Workout Programs
The console unit does not offer online connectivity, nor is it compatible with any online fitness apps. However, it does provide 12 workout programs to keep you motivated. These programs have six categories, each category featuring its button on the console.
These are Manual, Variety (Cross Country, Random, Custom Resistance), Weight Loss, Interval (1:1, 1:2, 1:3), Heart Rate Control (Basic HRC), and Performance (Fitness Test, Hill Climb, and Watts Control).
Each program will auto-adjust the resistance of the unit during pedaling, except for the Manual program. It allows you to pedal freely, adjusting the resistance manually from the main dial as you pedal.
UBK 835 Assembly & Maintenance
The base frame of the unit comes pre-assembled. Therefore, all you have to do is attach the console mast, the handlebars, and the console. Consequently, it may take up to an hour. However, the manual provides clear assembly instructions and schematics.
Maintenance doesn't require much. The internal elements come pre-lubricated and shouldn't need any lubrication or any other intervention for an extended period. Therefore, you only have to inspect the unit for loose parts and bolts from time to time and keep liquids away from the console.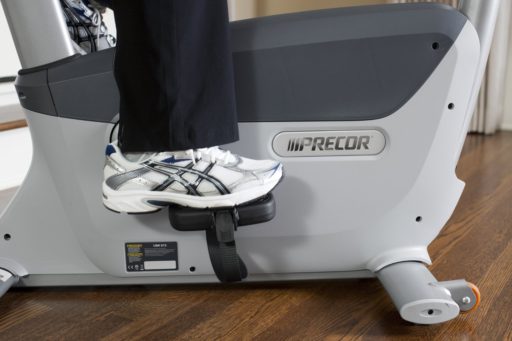 Pros
Commercial grade construction, sturdy frame – can support users up to 350 lbs;
Elegant design;
Fairly small footprint;
Adjustable stabilizers on the rear base;
Transport wheels on the front base;
The extra-heavy unit provides superior stability;
Two sets of grip heart rate sensors within the handlebars;
Lever-based adjustable seat, offering 14 upright adjustment positions;
High-comfort saddle, integrating a thick layer of cushioning;
Automatic, eddy current brake;
Self-powering, 3-phase generator system;
Two-stage drive system for an extra-smooth pedaling motion;
25 levels of resistance;
12 workout programs;
English and metric units on the console;
Tablet or reading rack included;
Accessory tray included;
Easy to assemble;
Little maintenance required;
Great warranty package.
Cons
No front-to-back seat adjustment;
It doesn't have a sound system;
No online connectivity.
Precor UBK 835 Upright Bike Summary
The Precor UBK 835 is a commercial-grade upright bike featuring a self-powered, eddy current resistance system with 25 tension settings. Also, it has a high-comfort, adjustable seat, and a multi-grip handlebar. Furthermore, it has a 12 program console, which shows up to 18 readouts.
Moreover, it's a perfect trainer for light to intense cardio workouts, toning muscles, building stamina, and losing weight. And finally, it's not exactly one of the most affordable exercise bikes, but its quality and overall sturdiness match the price.
I hope you found this article helpful and informative. Would you please speak up if you have anything you'd like to share on the topic or any opinions about my website? I look forward to your comments, questions, and the sharing of ideas.