Employing state-of-the-art Eddy Current Technology, the BodyCraft SPR indoor cycling bike is the ultimate cycle for indoor Spin Classes or individual training. It features an interactive fitness monitor, ensuring you consistently perform at your optimum level. In addition, the frame is steel tubing and exceptionally strong and durable, with a weight capacity of 350 pounds.
It is also made from the highest quality components because the perimeter-weighted aluminum flywheel spins on the best SKF bearings. Also, it has an automotive-grade Kevlar-reinforced French Hutchison 5PK V-Ribbed Belt that will last for years and years with no maintenance required.
Unlike many other bikes, there is a lever with 16 magnetic resistance levels instead of a continuous resistance knob. Many prefer this over a knob because repeating your workouts using the same resistance settings is easier. In addition, this resistance system is intuitive and will respond instantly as soon as you move the lever upwards or downwards.
The top-quality fitness monitor will display your performance metrics on a blue backlit LED screen. So it is straightforward to keep track of speed, distance, time, calories, pulse, RPM, watts, and your current resistance level. The monitor is telemetric for pulse monitoring and compatible with 5 kHz Polar heart rate chest straps.
Learn more in my complete review below!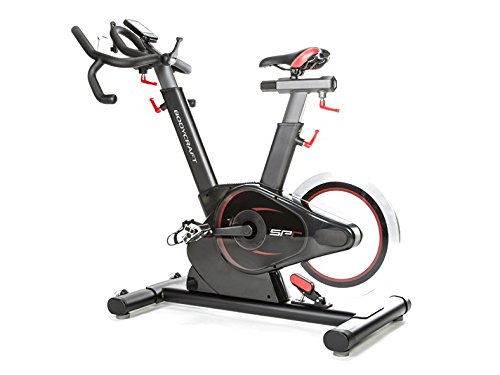 Product: SPR Indoor Cycling Bike by BodyCraft
Price: For a great deal on this bike, merely go here on Amazon
Warranty: In-Home: Frame lifetime / Parts 5 years / Wear items one year / Labor 2 years (See the commercial warranty below)
My rating: 9.25/10
Affiliate Disclosure: As an Amazon Affiliate Program participant, I earn commissions on purchases made through links in this post. Full disclosure
Details and Specifications
Assembled dimensions: 52L x 22W x 47.5H inches (132L x 56W x 121H cm)
Assembled weight: 127 lbs (56.5 kg)
Supported weight: 350 lbs (159 kg)
Handlebars: 4-way adjustable
Seat: 4-way adjustable
Drive mechanism: Belt
Resistance: Manual magnetic
Fitness Monitor: Time, speed, distance, RPM, Watts, pulse, goals
Bottle holder: Included
Warranty:
– Commercial: Frame 10 years / Parts 3 years / Wear items 90 days / Labor 90 days
– In-Home: Frame lifetime / Parts 5 years / Wear items one year / Labor 2 years
SPR Frame Construction
The BodyCraft SPR is an indoor cycling bike that supports all kinds of spin workouts. It has a highly sturdy construction and withstands riders up to 350 lbs (159 kg). In addition, its frame excels in compactness, featuring a low center of gravity, which considerably enhances its stability.
The fully assembled bike weighs approximately 127 lbs (56.5 kg), much more than the average road bike's weight. However, this weight also plays an essential role in its overall stability. On top of that, both bikes' bases integrate large, adjustable stabilizers, so you can perfectly level the bike on any surface.
The frame is heavy gauge steel tubing. The seat and handlebar tubes are oval to maximize sturdiness. However, the bike's crank pulley, belt, and middle base frame feature PVC covers.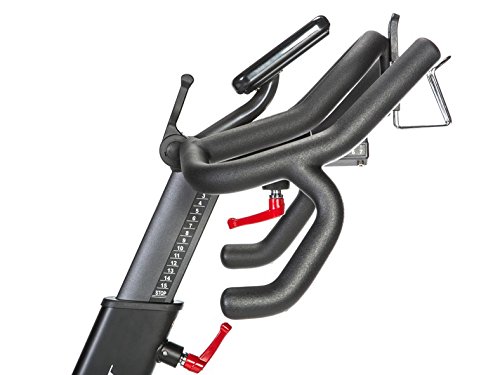 An essential feature for spinning is the small horizontal bar that unites the handlebar tube with the seat tube. In addition, it has a step-up pad attached, allowing you to safely perform all the spin workouts that require you to step on/off the frame for maximum muscle burn.
The SPR front base bar has large, ball-beared silicone wheels, facilitating its relocation. Using these wheels to transport the assembled bike will only have to handle less than half its total weight.
One last aspect to mention here regards the bike's paint finish. The mainframe features a black powder coating, while the seat post and the handlebars post are silver-gray. The paint used is corrosion and scratch-resistant. In addition, the BodyCraft logo is white on the handlebar frame tube.
Seat and handlebars
The BodyCraft SPR has a narrow spin saddle, 10.5″ long and 6.75″ wide. (26.6 x 17.1 cm). Like most spin seats, it's not for comfort since, at least for half of the workout, you shouldn't be seated.
Therefore, if you're new to spinning, you won't find this seat comfortable. However, it is an elastomer-cushioned seat, offering optimal comfort for all spin workouts.
The saddle has a standard design. Therefore, compatible replacements for it are widely available. Plus, you can always enhance its comfort with a gel cover.
The bike offers unique micro-adjustability possibilities. Its seat and handlebars are 4-way adjustable (up, down, forward, and back). In addition, there are 24 adjustment positions for the seat's upright bar, 10 for its horizontal slider, 16 for the vertical front bar, and 7 for the handlebar slider. The adjustment increments are 1 cm (approx 1/2 inch). Thus, the bike comfortably accommodates users between 5'0″ and 6'6″ (153 – 198 cm), promoting a complete and healthy leg extension.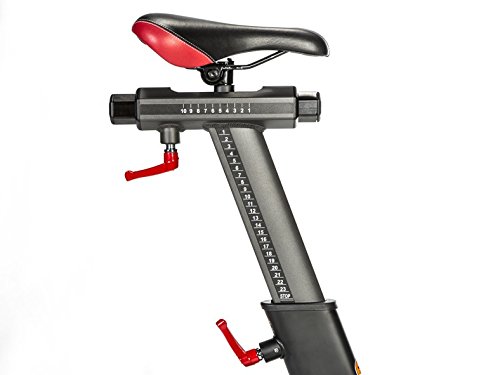 Both the seat and handlebars are easy to adjust. They feature large levers that are very easy to grip, turn, lock, and unlock. Therefore, bringing them to your requirements shouldn't take more than a minute.
Finally, the bike comes with a versatile handlebar assembly. With this in mind, it offers multiple grips, including aero, cross, bull-horn, drop-down, and loop. In addition, the handlebar is covered by a high-density foam sheet, providing a non-slip, secure, and comfortable grip.
The bike's fitness monitor has a small bar within the handlebar assembly, so it won't impede your gripping. The water bottle holder is attached to the loop aero bar at the front.
SPR Resistance system
The BodyCraft SPR indoor cycling bike has a manual magnetic resistance system. But even though the bike's construction is similar to the Keiser M3 bike, its brake is different. The magnetic brake housing is attached to a small bracket on the longitudinal base bar of the frame.
The tension cable passes through this base tube, and the upright handlebar tube connects to the tension lever at the base of the handlebar assembly. Furthermore, the magnets' position on each side of the flywheel adjusts by moving the tension lever, creating more or less drag, depending on your preference.
The bike's magnetic resistance system offers 16 exceptional tension levels. You will get the 16th, most challenging resistance setting by pushing the tension bar. Therefore, it simulates a very steep climb and will help you achieve a consistent muscle burn. Conversely, you will get the lowest resistance setting by pressing the lever down, promoting relatively light workouts.
Since the bike's resistance is manual, you don't have to connect it to a power circuit. Instead, the fitness monitor is battery-powered.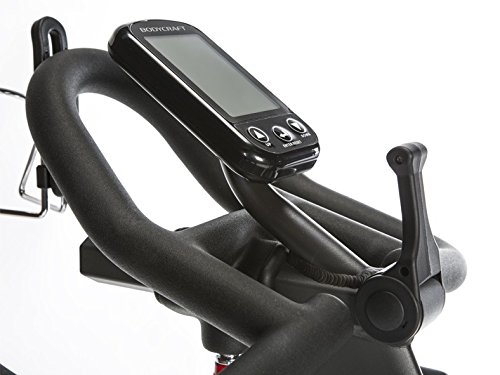 Drive system
The BodyCraft SPR exercise bike comes with a 2-piece aluminum alloy flywheel. Its weight is not specified, but it's a heavy flywheel as it delivers consistent momentum.
Its weight is in its outer section, resulting in a smooth rotation motion and pedaling feel. It spins on heavy-duty SFK ball bearings manufactured in Germany and France.
The flywheel is bi-directional. In other words, you can pedal in reverse on this exercise bike, doubling the number of workouts you can perform. However, before changing the way of pedaling to reverse or vice-versa, it's recommended to stop the flywheel by pushing the adjustment lever all the way forward.
The bike features a belt drive using a high-performance Hutchinson 5PK V-Ribbed belt designed to last a lifetime. Two main advantages come with a belt drive. One, it doesn't require lubrication or any maintenance whatsoever. Two, it's almost silent.
Unlike a belt drive, a chain can always emit squeaking noises, especially if it isn't lubricated. Also, its links can lock, which can result in crank skipping.
Pedals
Since it's a bike designed for all spin workouts, it comes with a durable, 3-piece crankset. In addition, its crank arms are made of solid steel and can support the user in a complete standing-up position even if they are close to the maximum (350 lbs) weight capacity.
The pedals are also very durable, made of metallic alloy. However, the pedals only come with toe cages, not SPD elements for spin shoes. But they have standard 9/16″ threads, so their replacements are widely available. In addition, BodyCraft offers a set of SPD pedals specifically for this bike and the SPT-Mag bike.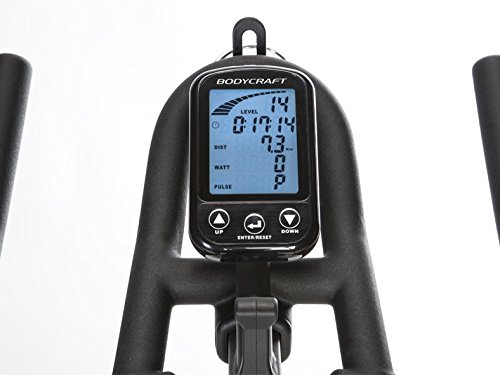 The spacing between the pedals, or the bike's Q-Factor, is narrow, measuring 175mm (6.8″). Therefore, your feet are positioned on the pedals naturally, and the pedaling motion doesn't come with any extra lateral stress on the knees and ankles.
SPR Fitness monitor
The BodyCraft SPR indoor cycling bike has an advanced fitness monitor. It has a 5-section LCD with an LED backlight, enhancing its readability. The top section covers the resistance level, the 2nd section indicates time, the 3rd covers Speed/Distance, the 4th shows RPM/Watts, and the 5th includes Pulse/Calories.
To change the shared values on the display's 3rd, 4th, and 5th sections, you must use the Up/Down arrow buttons.
The fitness monitor is telemetric. It's compatible with 5 kHz Polar heart rate chest straps; unfortunately, an HR chest strap does not come with the bike. You can select either metric or imperial units for the speed and distance readings.
An essential aspect of this fitness monitor is that it can sync to the bike's resistance system. If, for example, you exercise using the 10th resistance setting, you should also select level 10 on the console. Therefore, the monitor will be able to calculate your Watts output and calories burned with higher accuracy.
The fitness monitor also has goal settings for distance and time. Therefore, the selected time and distance goal will be your starting point, and the readings will count to zero. This feature offers better management of each workout session.
The fitness monitor is battery-powered and uses 2 C-size (LR14) batteries. The monitor also has a sleep function that will enter after 1 minute of inactivity on the bike to save battery life. To power it up, you can press any of the three buttons.
SPR Assembly and Maintenance
The mainframe of the bike comes ready-assembled. Its crankset, belt, flywheel, and magnetic brake are already attached to the frame. The belt guards are also in their place. Therefore, you only need to connect the bike's rear and front base, the pedals, the seat post, the saddle, the handlebar, the fitness monitor, and the bottle holder.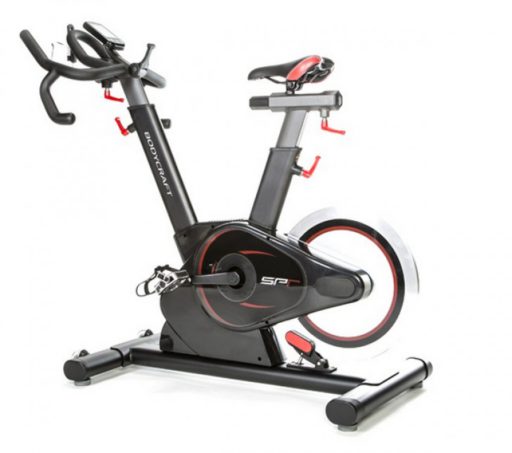 The assembly task is relatively straightforward, and the manual provides excellent step-by-step instructions. A basic toolset for the assembly is also (included). Consequently, the construction shouldn't take more than 30 minutes of your time.
Since it's a magnetic exercise bike, its brake pads don't require replacement, and you don't have to lubricate the belt. So, the maintenance of this bike is minimal. You'll have to check for loose parts and bolts from time to time and keep liquids away from the console.
Pros
Commercial-grade, sturdy construction – can support users up to 350 lbs;
Bases with adjustable, rubberized levelers;
Transport wheels on the front base;
4-way adjustable, elastomer-cushioned seat;
A 4-way adjustable handlebar with a multi-grip design;
Step-up pad above the crank for various spin workouts;
Balanced flywheel for a smooth pedaling motion and solid momentum;
Heavy-duty crank made for spin workouts;
Durable alloy pedals with toe cages and standard threads;
Narrow (175 mm) Q-Factor, minimizing the lateral stress on the joints;
Frictionless, wear-free, magnetic resistance with 16 level settings;
Smooth and quiet belt drive, great for apartment use;
Fitness monitor that tracks time, speed, distance, watts, RPM, calories, and pulse;
The monitor can correlate with the bike's resistance level for an accurate reading of the calories burned and watts;
The fitness monitor is telemetric, compatible with 5 kHz Polar HR chest straps;
Goal settings for time and distance;
The bottle holder included the following;
Easy to assemble;
Little maintenance is required;
Excellent warranty.
Cons
The polar HR chest strap does not come with the bike;
Pedals don't have SPD elements.
BodyCraft SPR Indoor Cycling Bike Summary
The BodyCraft SPR is a commercial-grade indoor cycling trainer offering 16 levels of manual-magnetic resistance, exceptional micro-adjustability, and an advanced fitness monitor.
It supports any spin workout; with this in mind, it's equipped with a highly durable crankset that can hold users up to 350 lbs. Furthermore, the handlebar supports grips, including aero, cross, bull-horn, racing, and drop.
Thus, it's an excellent bike for intense cardio training, interval training, stamina and leg strength development, and weight loss. It's not one of the most affordable bikes, but it comes with a consistent warranty for home and gym use, and overall, it offers outstanding value for the price.
I hope you found this article helpful and informative. Would you please speak up if you have anything you'd like to share on the topic or any opinions about my website? I look forward to your comments, questions, and the sharing of ideas.
Please remember that you should consult your physician to determine if you have any medical or physical conditions that could risk your health and safety or prevent you from using the equipment properly. In addition, your physician's advice is essential if you are taking medication that affects your heart rate, blood pressure, or cholesterol level.