Immerse yourself into a compelling body-stimulating experience with the Sunny Indoor Cycling Bike SF-B1709 magnetic rear belt drive by Sunny Health and Fitness. This unique bike offers high-quality performance, flawless bold aesthetics, and a sleek, cutting-edge design.
The micro-adjustable 13-level belt drive magnetic resistance system delivers a smooth, responsive ride, ensuring an unmatched cardiovascular workout. Mount your bike with confidence as you step into the toe-caged with adjustable strap pedals or the SPD-compatible side of the pedals that will keep your feet secure through each revolution.
It has an annulus 7.36-pound aluminum flywheel that adds unified resistance capable of testing even the most advanced fitness enthusiasts. In addition, the four-way adjustable seat and handlebars paired with an inseam range of min 28″ to max 39″ inches create a fully adaptable riding experience for users of different sizes.
The Sunny Indoor Cycling Bike SF-B1709 has a fitness monitor that tracks speed, average speed, max speed, cadence/rpm, average cadence, max cadence, distance, calories, race, and time. Measure your cadence using the RPM function on the monitor. You can track and maintain a preferred tempo at a wide range of speeds and resistance changes.
Learn more in my complete review below!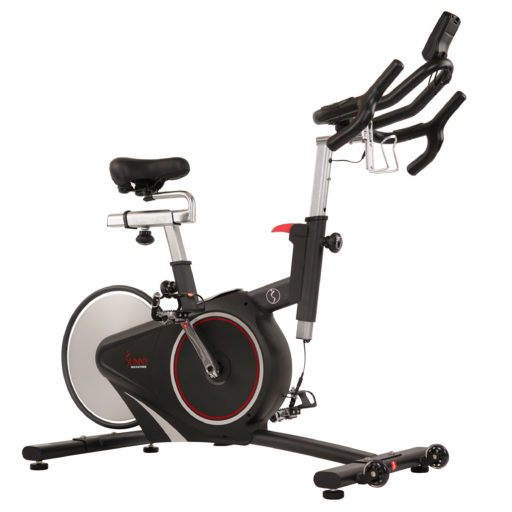 Product: Sunny Indoor Cycling Bike SF-B1709
Price: For a great deal on this bike, merely go here to Sunny Health & Fitness.com
Warranty: Frame 3 years / Parts 6 months
My rating: is 9/10
Affiliate Disclosure: As a Sunny Health & Fitness Affiliate Program participant, I earn commissions on purchases made through links in the post. Full disclosure
Details and Specifications
Assembled dimensions: 53.2L x 23.6W x 54.3H inches (135L x 60W x 138H cm)
Assembled weight: 89.2 lbs (40.4 kg)
Flywheel weight: 7.3 lbs (3.3 kg)
Supported weight: 300 lbs (136 kg)
Seat: 4-way adjustable
Drive: Belt
Resistance: Magnetic, 13 levels
Fitness monitor: Speed, average speed, maximum speed, cadence, average cadence, max. cadence, time, distance, calories, pulse, race program
Extras: Bottle holder
Warranty: Frame 3 years / Parts 180 days
SF-B1709 frame construction
The Sunny indoor cycling bike SF-B1709 features a heavy-duty construction; its frame consists of ovalized steel tubes coated with a corrosion-resistant black paint finish. The seat and handlebar posts are chrome plated. The bike's frame and crank support users up to 300 lbs (136 kg).
Of course, there also are ABS parts in the bike's construction. The side covers of the drivetrain and resistance system are made of durable ABS material. However, these do not influence the overall sturdiness of the frame. Their only role is to secure the unit's internal mechanism.
Compared to other indoor cycling bikes, such as the pooboo D525, the Sunny Indoor Cycling Bike SF-B1709 is slightly larger. It is approximately 53″ (135 cm) long and 23.6″ (60 cm) wide. However, this footprint provides plenty of stability. Plus, the base bars have adjustable stabilizers with large rubber pads. Thus, you can perfectly level the unit on any floor, and a rubber mat is not necessary but advisable for it.
This Sunny exercise bike is lighter than other spin bikes. But that's because it has a more lightweight flywheel and a magnetic resistance system. It weighs approximately 89 lbs (40.4 kg), which is still more than twice the average road bike's weight. Furthermore, the weight reflects in the bike's overall stability as well.
One last aspect to note here regards the ease of transport. The front base has two large silicone wheels, facilitating its relocation once you have finished your workout.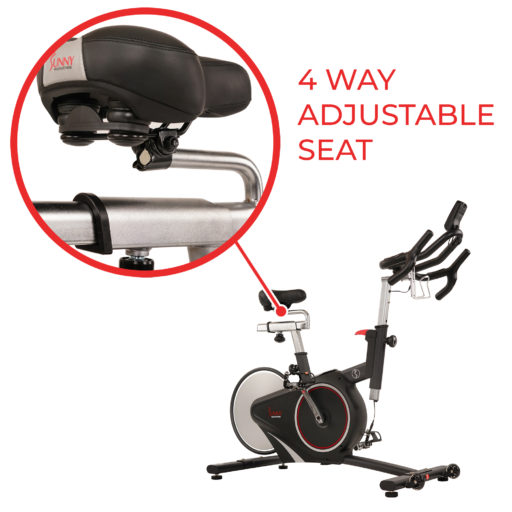 Seat and handlebars
The Sunny indoor cycling bike SF-B1709 offers superior micro-adjustability. First, the seat is 4-way adjustable (up, down, forward, and backward). In addition, its vertical post has nine adjustment positions, while the horizontal slider also offers several inches of front-to-back adjustment.
The bike can accommodate users with an inseam between 28″ and 39″ (71 – 99 cm). Differently put, users between 5'0″ and 6'6″ (153 – 198 cm) should have no problems, allowing a complete leg extension.
The included saddle provides superior comfort. First, it integrates a thick cushioning layer, especially in its rear part. It also has two shock absorption springs at the rear. Its upholstery has durable, double-stitched faux leather. Plus, it has a central cutout, which improves breathability.
The bike's handlebar assembly is also 4-way adjustable (up, down, forward, and backward), just like the seat. In addition, its post has eight adjustment notches, and its horizontal slider offers approx. 2 inches of travel.
The handlebar has a multi-grip design. It integrates a loop aero bar and two drop-down grips. Therefore, you can adopt an aero grip, a racing grip, a standard grip, etc. It also integrates pulse sensors so the fitness monitor can monitor your pulse rate.
Both the handlebar and the seat are very easy to adjust. In addition, the turn-and-pull knobs are straightforward to grip, unlock, and re-lock. Thus, setting the bike to your size shouldn't take more than a minute.
SF-B1709 drive system
The Sunny indoor cycling bike SF-B1709 has a considerably lighter flywheel than other spin bikes. It only weighs 7.3 lbs (3.3 kg). Also, it's not perimeter weighted, so it does not provide highly aggressive inertia. But due to the magnetic resistance system, the bike offers an excellent difficulty range, great for all spin workouts.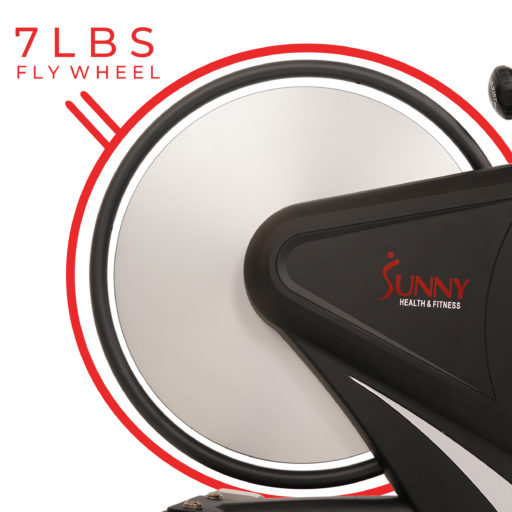 The placement of the flywheel is a plus, as well. Since it's placed at the rear, away from your body, sweat drops are less likely to fall on it. However, even if it is chrome-plated and the bike's frame has corrosion-resistant paint, sweat can still be corrosive to small parts such as screws, washers, or nuts.
The flywheel is bi-directional. It gives you the possibility to pedal in reverse. But due to the simple construction of the drivetrain, you cannot coast on the bike. So, you will benefit from the same pedaling difficulty when you drive in reverse as when you pedal forward.
Sunny SF-B1709 uses a belt drive system. It integrates a durable poly-v belt, providing a smooth and quiet pedaling motion. Also, as opposed to a chain drive, it does not require lubrication.
Finally, the bike's crankset is a heavy-duty 3-piece part featuring solid steel crank arms and metallic alloy pedals. As a result, it can support most spin workouts even if the user is close to the maximum weight capacity.
The pedals have adjustable toe cages on one side and SPD clips for spin shoes. They also have standard threads, so compatible pedals are widely available if you want to replace them.
Resistance system
The Sunny indoor cycling bike SF-B1709 has a manual magnetic resistance system. Therefore, you don't have to connect the cycle to a power source. Furthermore, the monitor does not set or display the resistance level.
The bike's resistance system consists of a manual magnetic brake concealed by the ABS side covers. The tension lever on the front tube of the frame sets the resistance level. The magnetic brake covers a portion of the flywheel by pressing the bar down, increasing the pedaling difficulty. It also fulfills the role of an emergency brake.
The bike's resistance system offers 13 distinct tension levels. The first level provides a relatively light pedaling difficulty, which is excellent for beginners or users who require recovery training. Conversely, the top resistance settings simulate a steep climb, allowing you to achieve a high muscle burn and a quick cardio boost.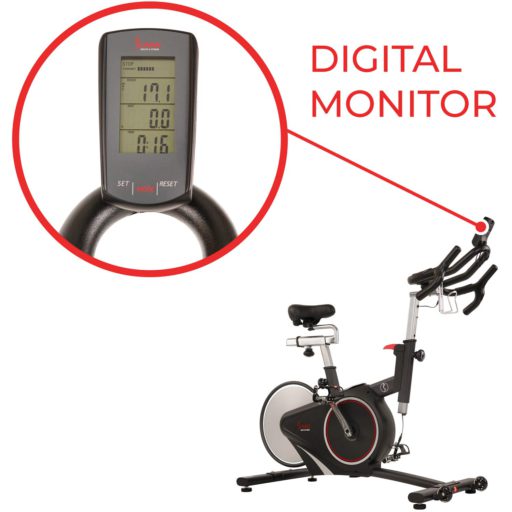 SF-B1709 Fitness Monitor
The fitness monitor included with the Sunny SF-B1709 offers quite a few more features than a simple unit. To begin with, its LCD has four separate windows. The top one covers the Race program. The 2nd window includes speed and cadence. The 3rd window shows distance and watts, and the bottom window covers time and pulse.
The speed and distance are in imperial units. There is no option for selecting metric units. You have to use integrated sensors; the monitor is not telemetric. Therefore, it cannot read your pulse through a wireless HR chest strap transmitter.
The fitness monitor allows you to set goals for time, distance, calories, and race programs. After choosing a target for time, distance, or calories, the monitor will show the remaining value toward that goal.
The Race program allows you to set a goal for your cadence. It displays by a segmented bar, and your current cadence is beneath it. If you pedal slower, the Cadence bar will fall under the selected Cadence target, so you'll know that you have to pedal faster. Conversely, if the Cadence bar exceeds the target Cadence, you should pedal slower.
It is battery-operated and uses the two included AAA batteries as its power source. It starts when you press the Mode button or when you begin pedaling, and it also has a self-shutdown function, which initiates if the sensor does not detect any bike input.
Assembly and Maintenance
The bike's mainframe comes pre-assembled with all the drive and resistance elements. Therefore, you only need to attach the base stabilizers, the seat post, the saddle, the handlebar post, the handlebar, the fitness monitor, and the pedals.
Therefore, it shouldn't take more than an hour of your time. In addition, the manual offers clear assembly instructions, and all the tools required come with the bike.
The bike's internal parts do not require any lubrication. The only maintenance you must take care of is keeping the unit dust-free, periodically checking for loose parts and bolts, and retightening if necessary.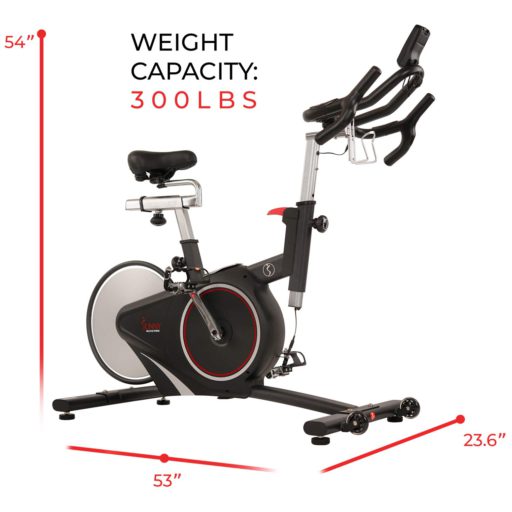 Pros
Durable steel frame – can hold users up to 300 lbs;
Aesthetic design;
Adjustable stabilizers on both bases;
Transport wheels on the front base;
4-way adjustable seat;
A 4-way adjustable handlebar with a multi-grip design;
Pulse sensors integrated into the handlebar;
Balanced flywheel for a smooth pedaling motion;
Heavy-duty crank made for standing-up spin workouts;
Metallic alloy, dual-sided pedals, with toe cages on one side, and SPD clips for spin shoes on the other;
Frictionless, wear-free, magnetic resistance with 13 levels;
Smooth and quiet belt drive, great for apartment use;
Fitness monitor that tracks time, distance, speed, cadence, calories, and pulse;
Goal settings for time, distance, and calories;
Race program;
The bottle holder included;
Easy to assemble;
Little maintenance is required;
Decent warranty.
Cons
The fitness monitor LCD does not have a backlight;
The fitness monitor does not have online connectivity.
Sunny Indoor Cycling Bike SF-B1709 Summary
The Sunny Health & Fitness SF-B1709 is an indoor cycling bike equipped with a 13-level magnetic resistance system, a heavy-duty crank, and dual-sided pedals. It offers superior micro-adjustability; it includes a high-comfort seat and a multi-grip handlebar with aero bars and drop-down grips.
The SF-B1709 includes a fitness monitor with a race program for cadence and goal setting. Moreover, it's a sturdy and good-looking exercise bike, perfect for a wide range of cardio workouts, muscle toning, stamina and strength development, interval training, and weight loss.
I hope you found this article helpful and informative. Would you please speak up if you have anything you'd like to share on the topic or any opinions about my website? I look forward to your comments, questions, and the sharing of ideas.
Please remember that you should consult your physician to determine if you have any medical or physical conditions that could risk your health and safety or prevent you from using the equipment properly. In addition, your physician's advice is essential if you are taking medication that affects your heart rate, blood pressure, or cholesterol level.