For an intense, full-body cardio workout that builds strength and blasts calories, it's hard to beat the Schwinn Airdyne AD6. Its signature wind-resistance technology controls your workout intensity, so the more you put in, the more you get out. Likewise, the harder you pedal, the more resistance it causes.
The AirDyne AD6 warranty is pretty impressive, considering the low cost. On the frame, you get 15 years,  and the parts feature a three-year warranty, which shows a reasonable degree of confidence in the manufacturer's confidence in production of this product.
The AD6 provides all the data you need to monitor your workout appropriately. You can accurately track your effort to achieve your fitness goals from RPM and speed to distance, calories burned, pulse, etc.
The Schwinn Airdyne AD6 Exercise Bike allows users to train in their target heart zone. Using the readouts on the monitor, you can keep tabs on your efforts to ensure you remain in the right cardio or fat-burning zone.
Learn more in my complete review below!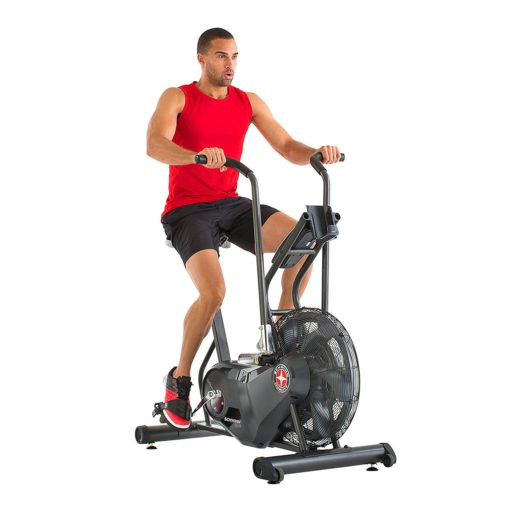 Product: Schwinn Airdyne AD6 Exercise Bike
Price: For a great deal on this bike, merely go here to Schwinn.com
Warranty: Frame 15 years / Parts 3 years / Electronics 2 years / Labor 6 months
My rating: 8.25/10
Affiliate Disclosure: As a Nautilus and Schwinn Partner Program participant, I earn commissions on purchases made through links in the post. Full disclosure
Details and Specifications
Assembled dimensions: 49.7L x 25.7W x 50.9H inches (126L x 65W x 129H cm)
Assembled weight: 112 lbs (50.8 kg)
Supported weight: 300 lbs (136 kg)
Handlebars: Mobile
Seat: 2-way adjustable
Pedals: Weighted, with straps
Resistance: Air
Fitness Monitor: Time, speed, distance, RPM, calories, watts, pulse
Included accessories: Bottle holder,
Warranty: Frame 15 years / Parts 3 years / Electronics 2 years / Labor 6 months
AD6 Frame
Since this Schwinn exercise bike can support users up to 300 lbs (136 kg), most frame components are steel. However, the machine does integrate several parts of heavy-duty plastic material. These are the lateral shrouds covering the pulleys and the fan, which are thick ABS plastic. In addition, all steel parts have an anti-corrosive gray enamel, except for the seat post, which has a chrome finish.
The bike's bases come equipped with rubberized, adjustable stabilizers, allowing perfect stability even on uneven flooring. The front plate also features small rubber wheels to relocate the assembled bike. Unfortunately, the built machine is rather heavy, weighing approximately 112 lbs (50.8 kg). But by tilting it forward on its wheels for transport, you'll deal with less than half its total weight.
Overall, this Schwinn Airdyne model is not extremely large. It's approx. 50″ long (126 cm) and 26″ wide (65 cm) are suitable even for smaller rooms. The machine's tallest point is its handlebars, which reach approx — 51″ (129 cm).
Seat and Handlebars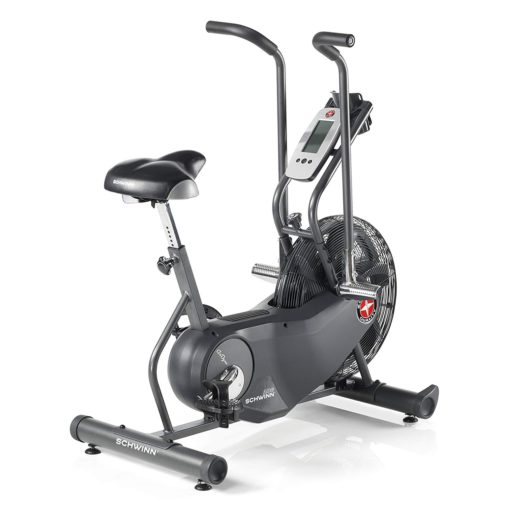 The seat supplied with this fitness machine features a similar design to the other upright bike models. However, it's a pretty wide and padded seat, offering much more comfort than most seats of indoor cycling bikes.
It's also contoured to adapt better to your body and workout. Also, the connection system to its post is pretty standard, so you should easily find a replacement if you want a different model.
The seat features only 2-way adjustability (up / down). Its post has ten adjustment positions; the distance between the locking holes is approx — 2″ (5 cm), with a total adjustment span of 18″ (45 cm). Thus, the Schwinn Airdyne AD6 can accommodate users between 5′ and 6'5″ (152 – 196 cm) with no problem.
When it comes to the bike's handlebars, they feature a simple design, with pure grips coated with rubber foam for maximum comfort. The handlebars are mobile and move back and forth as you pedal. They connect to the pedal's inner bars, which cannot be locked. For as long as you pedal, the arms will also move.
AD6 Resistance
As the product's name and photos suggest, the bike features an air resistance system similar to the air rowers. The main resistance-generating element is the big ABS fan-flywheel situated at the front of the bike. Resistance proportionally increases with your pedaling speed.
For instance, the faster you pedal, the higher the resistance. However, the fan casing does not have a damper to adjust the airflow for the fan. Therefore, you can't add or reduce its base resistance, so pedaling faster is the only way to obtain higher resistance.
As a general idea, the resistance supplied by this exercise bike promotes light to medium workouts. And since resistance is created by pedaling speed, it's an excellent bike for interval workouts.
One of the most important aspects we must cover is the noise level. Since it's an air resistance model, it's not precisely silent like a magnetic exercise bike. The noise produced by the fan is similar to the noise created by a massive electrical fan. Thus, the faster you pedal, the louder the sound. You must turn up your TV or sound system slightly when pedaling fast. But as a general idea, the noise isn't loud enough to bother the neighbors or the people in adjacent rooms. Therefore, the machine is suitable for apartment use.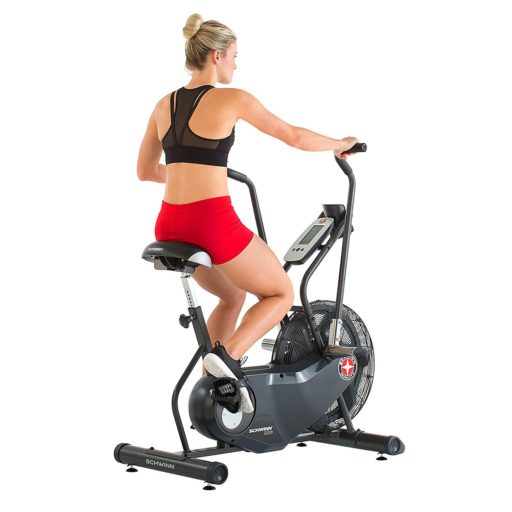 Since the bike uses a fan for resistance, there will be a shift in the room's airflow. But if you're wondering, the "breeze" generated by the fan is not (directed) at the user. Instead, you will only feel it if you pedal in reverse.
Drive System
The bike's drive system involves two pulleys and two belts, which transfer the fan's pedals' rotation. As I've mentioned earlier, the machine's handlebars connect to the pedals and will move back and forth as you pedal.
The crank arms are similar to road bikes, made of solid steel. But even though they are highly durable, standing up on the pedals is not recommended. After all, this is an upright bike, not made for stand-up workout routines like spin bikes.
The pedals supplied with the Schwinn AD6 are simple, weighted pedals with adjustable straps made of heavy-duty nylon material. A critical aspect regarding them is that they feature 1/2-inch threads, not the 9/16 standard. Therefore, if you want to replace them, choose the right ones.
Reverse pedaling is possible, but the bike's crankset is "fixed." In other words, you cannot "coast" on it, as the pedals and arms will continue to move as the fan moves. However, if you need to stop your pedaling motion, you can rest your feet on the pegs under the machine's arms and work out by moving only the handlebars.
AD6 Fitness monitor
The fitness monitor supplied with the Schwinn AD6 Airdyne is not an advanced one. However, it does offer quite a bit more than a fitness monitor. First of all, it displays seven workout metrics: RPM, time, speed, distance, watts, calories, and pulse, metrics which can all be viewed simultaneously on the screen.
The distance can be displayed in miles or km, while speed is in km/h or MPH. It also has a goal-setting function for a time. Thus, you can set a target time for your workout. There is also an Odometer function, which shows the sum of all workout distances.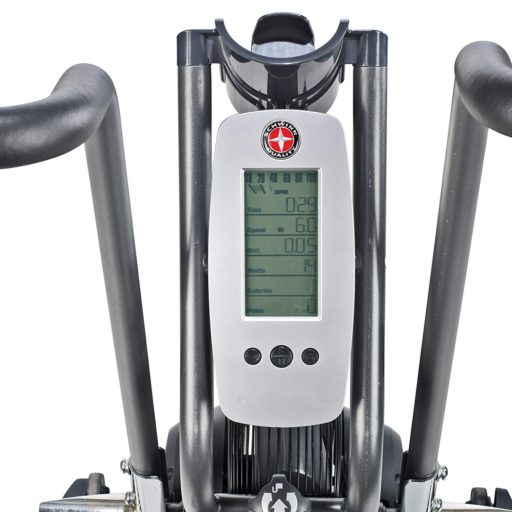 The bike itself doesn't have any integrated HR pulse sensors when it comes to tracking pulse. However, the monitor is telemetry enabled and can read pulse through an HR chest strap transmitter, which operates between 4.5 – 5.5 kHz.
The monitor is relatively easy to operate. It features three buttons: Up, Down, and Start/Stop. The Up / Down keys are used for navigation or adding value to your time goals. The Start / Stop is for turning it on and off, the Pause function, and resetting all the metrics.
The monitor is battery-powered, requiring 2x AA-type batteries.
Accessories
The only accessory supplied with the Airdyne AD6 is the bottle holder, which attaches to the monitor's small frame.
However, several optional accessories include an AirDyne Reading Rack, AirDyne Wind Screen, and a remote heart rate chest strap.
AD6 Assembly and Maintenance
The Schwinn AirDyne AD6 requires some assembly, which is far from painful. Consequently, this shouldn't take more than 30-45 minutes, and you shouldn't need to hire someone to do it for you. The box includes a manual and assembly tools to guide you through the operation.
The pulleys, the crankset, and the fan are already attached to the frame. Next, you must add the bases, seat, handlebars, pedals, monitor frame, and fitness monitor.
For maintenance, you don't have to worry about the internal parts. They come pre-lubricated and shouldn't require additional lubrication for a long time. However, you'll have to keep the machine clean and periodically check its joints, bolts, and nuts to re-tighten them. Finally, keep the console from getting wet.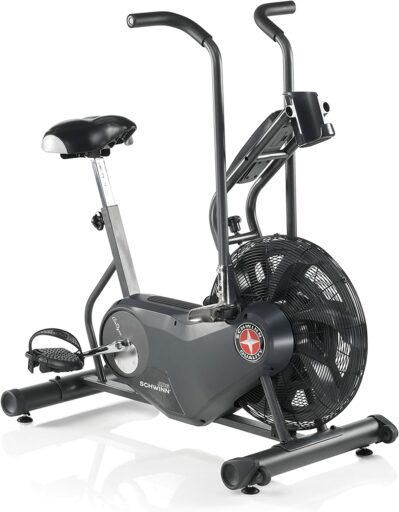 Pros
Sturdy and stable frame, able to support users up to 300 lbs (136 kg);
Professional-looking design, an aspect that can serve as a good motivation factor;
Adjustable levelers on both bases and transport wheel on the front base;
Mobile handlebars for arms workouts;
Ergonomic, contoured seat;
Air resistance system, great for interval workouts;
Fitness monitor tracking seven workout statistics, including RPM, speed, time, distance, pulse, watts, and calories;
Maintenance-Free;
Easy to assemble;
Excellent warranty;
Excellent customer support from Schwinn.
Cons
Not a very quiet machine, but not extremely loud either, as it's suitable for apartment use.
Schwinn Airdyne AD6 Exercise Bike Summary
The Schwinn Airdyne AD6 is an upright exercise bike for light to medium cardio workouts. In addition, it's an air resistance bike, and due to this fact, it's excellent for interval cardio training.
It features solid construction and high-quality internal components, reflecting a consistent warranty. As a result, it's not exactly one of the most affordable fitness bikes. However, considering that it's a model made to last, it's an excellent investment for anyone who wants to stay fit.
Moreover, it's a fitness machine great for cardio workouts, toning arms and leg muscles, building stamina, and losing weight. You can expect to lose up to 5-600 calories per hour.
I hope you found this article helpful and informative. Would you please speak up if you have anything you'd like to share on the topic or any opinions about my website? I look forward to your comments, questions, and the sharing of ideas.
Please remember that you should consult your physician to determine if you have any medical or physical conditions that could risk your health and safety or prevent you from using the equipment properly. In addition, your physician's advice is essential if you are taking medication that affects your heart rate, blood pressure, or cholesterol level.