Comfort meets performance with the Sunny SF-B1735 Indoor Cycling Bike. Tailor the four-way adjustable seat and the pulse grip-equipped adjustable handlebars to your riding style. This exercise bike accommodates several sizes with a 28-inch minimum 39-inch maximum inseam.
The Sunny SF-B1735 comes equipped with a dynamic 44-pound flywheel and a belt drivetrain, excellent for spin workouts and leg muscle development. Take advantage of the extra durable leather brake pad by turning the tension knob and applying friction resistance to the flywheel. Also, your feet will stay firmly secured with the caged/SPD compatible foot pedals.
With the SF-B1735 fitness console, it's easy to keep track of your workout progress. The LCD tracks your time, speed, distance (miles and kilometers), cadence (RPM), heart rate, and calories burned, all with a button. Use the target and race modes to create personalized challenges for yourself.
Stay secure during challenging workouts as you cycle on the steel frame that supports up to 300lbs. After your workout, quickly move the Sunny SF-B1735 Indoor Cycling Bike across several surfaces with built-in transportation wheels.
Learn more in my complete review below!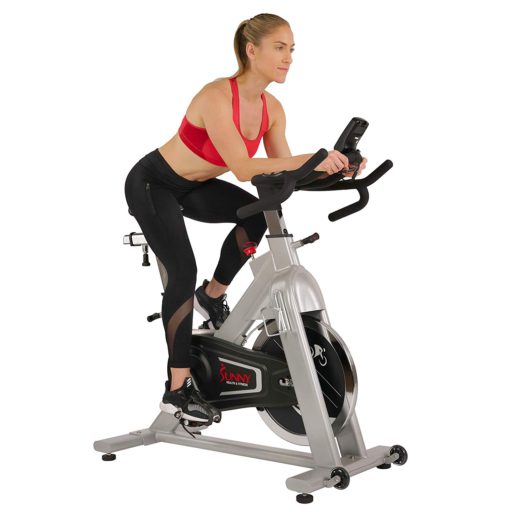 Product: Sunny SF-B1735 Indoor Cycling Bike
Price: For a great deal on this bike, merely go here to Sunny Health & Fitness.com
Warranty: Frame 3 years/parts six months
My rating: 9.25/10
Affiliate Disclosure: As a Sunny Health & Fitness Affiliate Program participant, I earn commissions on purchases made through links in the post. Full disclosure
Details and Specifications
Assembled dimensions: 48L x 23W x 50H inches (122L x 58W x 127H cm)
Assembled weight: 129 lbs (58.5 kg)
Flywheel weight: 44 lbs (20 kg)
Supported weight: 300 lbs (136 kg)
Seat: 4-way adjustable
Drive: Belt
Resistance: Friction, leather pad
Caged/SPD Compatible foot pedals
Fitness console: Time, distance, speed, calories, cadence, pulse, goals, race program
Extras: Bottle holder
Warranty: Frame 3 years / Parts 180 days
SF-B1735 frame construction
Sunny SF-B1735 indoor cycling bike features a heavy-duty thick, ovalized steel tubing frame. The main structure of the cycle has a durable light grey paint finish, resistant to abrasion and corrosion. The seat, handlebar posts, and flywheel are chrome plated.
The Sunny SF-B1735 has quite a sturdy construction. It weighs approximately 129 lbs (58.5 kg) with all the parts assembled, which is more than three times the weight of the average road bike. However, all this weight plays an essential role in its overall stability. Its rear and front base bars also have adjustable stabilizers with large rubber pads. As a result, you can ensure that the bike won't rock or move even if you engage in the most demanding spin workouts.
Despite its impressive weight, this Sunny exercise bike isn't too difficult to move. The front base has a set of wheels that facilitate its relocation. By lifting the bike from its rear section and using the wheels, you will only be handling approximately 1/3 of its total weight.
This indoor cycling bike isn't a colossal unit compared to other fitness machines, such as commercial treadmills or elliptical trainers. It is approximately 48″ (122 cm) long and 23″ (58 cm) wide. It also doesn't require an extensive usage area. Two feet of clearance on each side and one foot of clearance should be enough at the front and rear.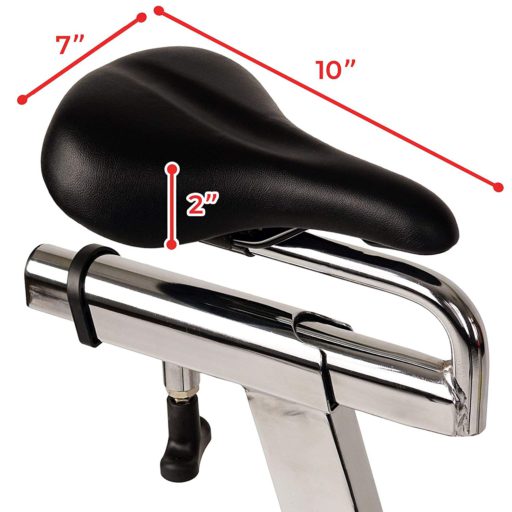 Seat and handlebars
The Sunny Health & Fitness SF-B1735 indoor cycling bike has a standard spin seat. The saddle does not have other air cell cushioning or shock absorption springs like the saddle included with the Sunny SF-B1805. However, its top does integrate a layer of foam padding and contours to deliver optimal comfort.
The saddle is approximately 10″ (25.4 cm) long and 7″ (17.7 cm) wide, providing plenty of contact surface. In addition, you can improve its comfort with a seat gel cover. Also, since its connection system is standard, compatible options are widely available.
The bike's seat offers 4-way adjustability (up, down, forward, backward). Its vertical post has 14 adjustment notches with approximately half an inch in between. In addition, its horizontal slider provides several front-to-back inches of adjustment.
Therefore, the bike comfortably accommodates users between 5'0″ and 6'5″ (153 – 196 cm) with no problem, allowing a complete range of motion. It also has 300 lbs (196 kg) user weight capacity.
This Sunny exercise bike features a multi-grip handlebar. It's quite a plus that it has drop-down grips; many other spin bikes do not offer this feature. It also has an integrated loop aero bar in the middle. Thus, it can provide a standard grip, close and full lateral grip, aero grip, or drop-down grip.
High-density rubber material covers the whole handlebar assembly to provide a secure grip. In addition, its top sidebars integrate metallic pulse sensors. But, unfortunately, it is only 2-way adjustable (up, down).
SF-B1735 drive and resistance
The Sunny SF-B1735 indoor cycling bike has an extra-heavy flywheel. It weighs 44 lbs (20 kg), it's chrome-plated with side ABS covers and has a perimeter-weighted design. This construction type provides highly aggressive inertia, which is excellent for spin workouts and leg muscle development.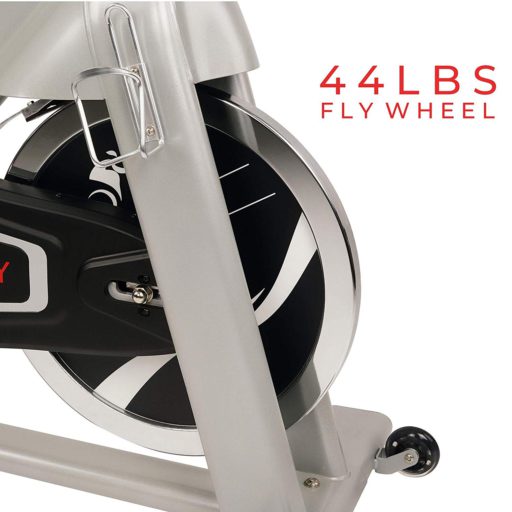 The bike integrates a belt drivetrain. It uses an industrial-grade poly-v 3PL1320 belt, which delivers a very smooth and quiet pedaling motion. Furthermore, the bike's transmission does not require lubrication.
This indoor cycling trainer offers the possibility to pedal in reverse. However, you cannot coast on it.
The Sunny SF-B1735 features a standard friction resistance system. It consists of an EVA & leather brake pad, which is considerably more durable than a felt pad.
The brake pad connects to the tension knob on top of the oblique bar of the frame. By turning the knob clockwise, the brake pad applies more friction to the flywheel, which results in more incredible pedaling difficulty.
The bike's brake system is step-less. In other words, the tension knob doesn't have pre-determined levels marked on it or "clicks," like most magnetic resistance bikes. Instead, tighten it until you get the desired pedal tension.
In addition, the knob functions as an emergency brake; you can press it down to immediately stop the flywheel from spinning.
The crankset is a highly sturdy piece featuring solid steel crank arms and metallic alloy pedals. It's durable enough to support users up to 300 lbs (136 kg) for any spin workout. The pedals have adjustable toe cages and SPD clips for spin shoes. Also, their threads are 9/16, so you can easily find replacements for them if needed.
The bike's Q-Factor (spacing between the pedals) is 203 mm. Thus, it's a bit wider than other spin bikes. For example, the Spinner L7 features a Q-Factor of 150 mm. However, it's still narrow enough to eliminate the extra lateral stress on the knees and ankles, even at this size.
Fitness Monitor
The Sunny SF-B1735 indoor cycling bike includes a fitness monitor that offers few functions. Instead, the LCD  divides into four windows to see the program target and up to three other workout metrics at once.
The top window covers the race target. The 2nd window shows speed and cadence, and the 3rd indicates distance, watts, and calories. And finally, the 4th window shows the time and pulse.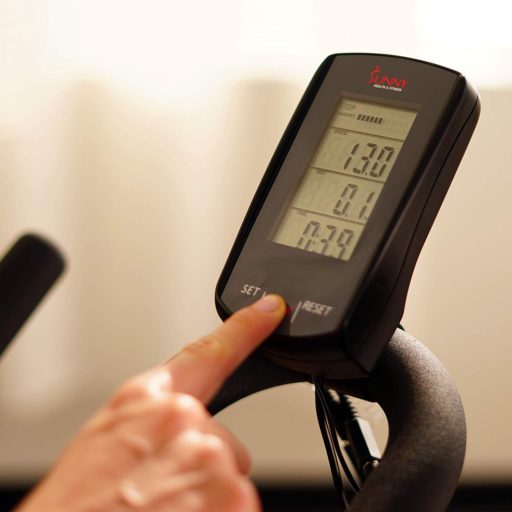 The monitor offers both metric and imperial units to display distance and speed. In addition, you can select the desired stats by pressing the Set and Mode buttons simultaneously. However, the monitor is not telemetric. Therefore, it can only read your pulse through the integrated pulse sensors.
The monitor offers the possibility to set up goals for time, distance, and calories. When choosing a target for one of these metrics, it will display the remaining amount until you reach that particular target. Also, the unit has a Race Program, which shows in the top window.
It allows you to select your cadence goal and display a segment bar and your current cadence. Thus, letting you know whether you should pedal faster or slower to keep yourself within the selected interval.
The monitor is battery-operated and requires two AAA batteries. It starts up when it detects pedal movement or when you press the Mode button. It also has a sleep mode to enter after a few minutes of inactivity on the bike.
SF-B1735 Assembly and Maintenance
Most of the bike's frame comes pre-assembled. The flywheel, the resistance elements, the crankset, the belt, and the cover are already in their place. Therefore, you only have to attach the base bars, the seat, the handlebars, the pedals, and the fitness monitor.
Therefore, it shouldn't take more than 30-40 minutes of your time. The manual provides clear instructions and all the tools required for assembly.
Since the bike has a belt drive system, its transmission does not require lubrication. However, the brake pad may need a bit of silicone lubricant, primarily if it emits a noise when in contact with the flywheel. It is also advisable to periodically check the bike for loose bolts and parts and re-tighten them if necessary.
Pros
Sturdy construction, similar to light-commercial bikes;
Can support users up to 300 lbs;
Adjustable stabilizers on both bases;
Transport wheels on the front base;
4-way adjustable seat;
2-way adjustable handlebar;
Multi-grip handlebar with aero and drop-down grips;
Step-up bar between the seat tube and the main tube of the frame;
Pulse sensors integrated into the handlebar;
Smooth, almost silent belt drive;
Extra-heavy 44 lbs flywheel;
Friction resistance for a wide array of pedaling difficulty levels;
Heavy-duty metallic pedals with toe cages;
Fitness monitor included – it can track time, distance, speed, cadence, watts, calories, and pulse;
Goal settings for time, distance, and calories;
Race program;
Metric and imperial units for speed and distance;
A bottle holder comes with the bike;
Easy to assemble;
Little maintenance is required.
Cons
It doesn't have a tablet holder;
No online connectivity.
Sunny SF-B1735  Indoor Cycling Bike Summary
The Sunny Health & Fitness SF-B1735 is a heavy-duty indoor cycling bike designed for spin workouts. Accordingly, it has a 44 lb flywheel, leather pad resistance, and a silent belt drive. In addition, its frame offers a weight capacity of 300 lbs. It also includes a fitness monitor with target settings and a race program.
Moreover, it's an excellent trainer for high-intensity cardio workouts, strength and stamina development, muscle toning, and weight loss. And finally, it's not exactly one of the most affordable indoor cycle trainers, but it still is a few $100 cheaper than a commercial-grade bike and offers excellent value for the price.
I hope you found this article helpful and informative. If you have anything you'd like to share or opinions about the content on my site, please speak up. I look forward to your comments, questions, and the sharing of ideas.
I hope you found this article helpful and informative. Would you please speak up if you have anything you'd like to share on the topic or any opinions about my website? I look forward to your comments, questions, and the sharing of ideas.
Please note: Before starting any exercise program, you should consult your physician to determine if you have any medical or physical conditions that could put your health and safety at risk or prevent you from using the equipment properly. In addition, your physician's advice is essential if you are taking medication that affects your heart rate, blood pressure, or cholesterol level.