The Bodycraft GXP Home Gym with Graphite Acrylics is a high-quality piece of smooth, stable equipment and offers an exceptional ergonomic fit for any size user. In addition, this Strength Training System offers pro-style workouts, a heavy compact frame and comes backed with a lifetime warranty that covers parts and cables.
Dramatically reduced the required space and addition of a variety of aesthetic and biomechanic upgrades. As a result, this system offers hundreds of available exercises, from traditional strength training to functional training, core training, sports-specific, and rehabilitation exercises.
The BodyCraft GXP integrates 30 pulleys; 27 are 114m in diameter, while the other three are 90mm. They're all made of fiberglass-reinforced nylon and combine sealed bearings to provide a smooth motion. The cables are steel ropes rated for a weight capacity of 2,000 lbs (907 kg); they are all nylon coated and lubricated.
The machine includes several accessories. First is a standard lat pulldown bar with curved grips. There is also a short bar with an extension chain, an ankle cuff, two D-handles for attaching to the side adjustable arms, an ab harness, and a bottle holder with a bottle.
Learn more in my complete review below!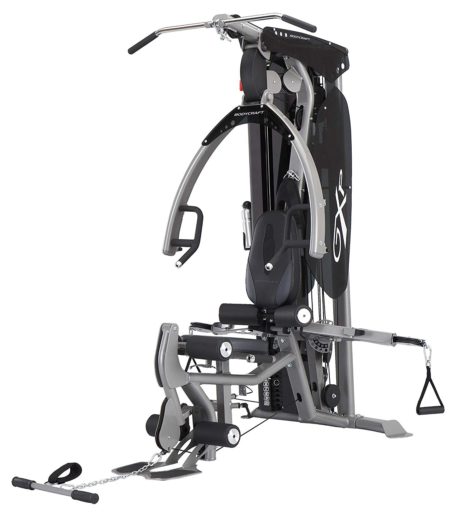 Product: Bodycraft GXP Home Gym with Graphite Acrylics
Price: For a great deal on this gym, merely go here on Amazon
Warranty: Residential: Frame lifetime / Parts lifetime (See the light commercial warranty below)
My rating: 9.8/10
Affiliate Disclosure: As an Amazon Affiliate Program participant, I earn commissions on purchases made through links in this post. Full disclosure
Details & Specifications
Assembled dimensions: 65.25L x 56W x 81.75H inches (166L x 142W x 208H cm)
Shipping weight: 580 lbs (263 kg)
Weight stack: Steel plates, 200 lbs (90.7 kg)
Max. weight resistance: 400 lbs (181.4 kg)
Possible exercises: 100+
Accessories: Bottle holder with a bottle, lat bar, short straight bar, extension chain, standard D-handles, and ab harness
Warranty:
Residential: Frame lifetime / Parts lifetime
Light commercial: Frame 10 years / Parts 2 years
GXP Frame construction
The BodyCraft GXP features a heavy-duty steel frame made of 3.25″ x 1.75″ steel tubing. Most of the steel parts in its structure have rust-resistant, and chip-resistant paint finishes, gray except for the guide rods of the weight stack and the lat bar, chrome-plated.
The fully assembled machine, along with its weight stack, is weighty. Considering that the specified shipping weight is 580 lbs (263 kg), its net weight should be higher than 520-530 pounds. All this weight provides exceptional stability. Therefore, you don't have to anchor the unit to the ground. Therefore, its base bars do not have anchor points.
The fully assembled machine is 65.25″ (166 cm) long and 56″ (142 cm) wide. Of course, if you also opt for the leg press, which is not (included), the machine's width will be 82.75″ (210 cm), as the press attaches on the side. The unit's height is approximately 81.75″ (208 cm). The GXP should fit with no problem in a room with a 7′ ceiling.
Seat and Backrest
The machine has a fully adjustable seat and backrest. The seat has a lever-based adjustment system with an integrated spring. Therefore, you can easily adjust its height while seated. The backrest has a 7-position adjuster. It can be locked forward or backward via a pop-pin to get the best position for the type of exercise you want to perform.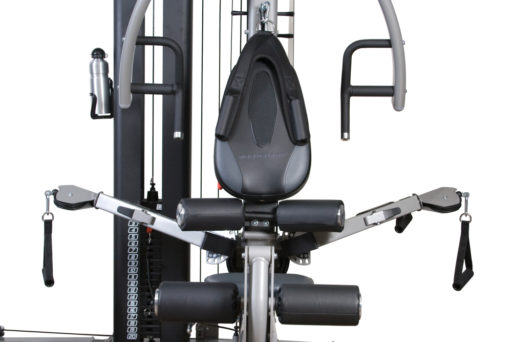 Both the seat and the backrest integrate two layers of foam; the top one is soft; the bottom one is dense. Their upholstery has a highly durable vinyl material, double-stitched and sweatproof.
There are three sets of foam rollers integrated into this machine. The ones under the backrest serve as knee-stoppers during lat pulldown exercises. Of course, the other two sets of rollers are crucial elements in the leg developer's structure.
The front part of the machine features a footstep plate with a non-slip surface. Thus, it serves as a support for stand-up rows or other low pulley or stand-up exercises.
GXP Workout stations
The BodyCraft GXP integrates six workout stations and attachments. These are:
High-pulley station. This workout station allows the execution of various lat pulldown exercises and other high-pulley exercises. As we've mentioned above, a curved lat bar with rubberized grips comes with the machine.
Press station. The arm press offers multiple grips. It has an adjuster with eight positions. It also has a double-up feature that can use 400 lbs (181 kg) of weight resistance. However, the press station does not allow the execution of fly exercises.
Mid-pulley station. Not all strength training systems have a mid-pulley, so this element is quite a plus. It allows you to perform ab crunches and other mid-section exercises, such as baseball swings or trunk rotations. An ab harness accessory comes with the machine.
Adjustable arm station. This BodyCraft home gym has a set of adjustable lateral arms with 11 adjustment positions, while their pulleys can rotate 180°. Their adjustment is easy. Each arm features a small press-and-release handle, allowing you to unlock and re-lock it in the desired position quickly. They offer the possibility to perform a wide array of arms and chest exercises, such as shoulder presses, cable flies, cable crossovers, etc.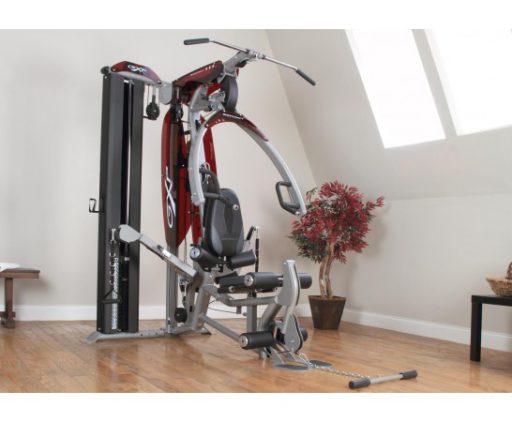 Low-pulley station. For this workout station, a short bar, an extension chain, and an ankle cuff are (included). It offers the possibility to perform cable curls, stand-up rows, seated rows, and many more.
Leg developer. This attachment requires a connection to the low pulley. It allows you to execute leg extensions or stand-up one-leg curls.
Weight Resistance
First of all, the BodyCraft GXP features a 200 lbs (90.7 kg) weight stack. It's composed of 20 weight plates, each one of them weighing 10 lbs (4.5 kg). The weight plates are heavy-duty, made of cast iron. Therefore, they can take a lot of abuse, and even if the machine is in a light-commercial environment, it can last a lifetime.
All workout stations have a weight ratio of 1:1. Therefore, if you select a weight of 100 lbs on the stack, for example, you will benefit from a weight resistance of 100 pounds on that station. There are a few exceptions, though. For example, the adjustable arm station offers a maximum of 100 lbs (45 kg) per arm.
The arm press offers a 1:1 weight ratio as well, but you can attach it to the side arms for a double up, and this way benefit from a 1:2 weight resistance for a maximum of 400 lbs (181 kg).
If you opt for the leg press attachment (not included), the leg press ratio is 1:2 by default. Therefore, you will always benefit from a maximum of 400 lbs of weight resistance.
Possible Exercises
Arm Exercises
Triceps Pushdown
French Press
Standing French Press
Triceps Press
Triceps Extension
Cross Triceps Extension
Rope Pushdowns
Standing Hammer Grip Curls
Standing Biceps Curl
Seated Biceps Curl
Reverse Grip Tricep Pushdown
Tricep Kickback
Reverse Curl
Biceps Curl
Seated Wrist Extension
Standing Wrist Curls
Standing Wrist Extension
Abdominal Exercises
Standing Trunk Rotation
Trunk Rotation
Standing Oblique Crunch
Kneeling "Wood Chop"
Kneeling Low to High Trunk Rotation
Reverse Crunch
Seated Abdominal Crunch
Seated Oblique Abdominal Crunch
Back Exercises
Standing Wide Angle Lat Row
Narrow Pulldowns with Hand Grips
Seated Lat Rows
Stiff Arm Pulldown
Standing Lat Row High Pulley
Standing Lat Row Low Pulley
Lat Row Alternating Motion-Low Pulley
Single Arm Lat Row Low Pulley
Single Arm/ Single Leg Lat Row Low Pulley
Seated Low Back Extension
Standing Low Back Extension
Shoulder Pullover
Reverse Grip Lat Pulldown
Wide Pulldowns
Chest Exercises
Seated Press
Cable Fly
Resisted Punch
Cable Crossover
Standing Chest Press
Standing Chest Fly
Leg Exercises
Leg Extension
Prone Leg Curls
Standing Hip Flexion w/ Knee Flexion.
Standing Leg Kickback
Ankle Eversion
Ankle Inversion
Hip Abduction
Hip Adduction
Standing Hip Flexion
Leg Press (optional)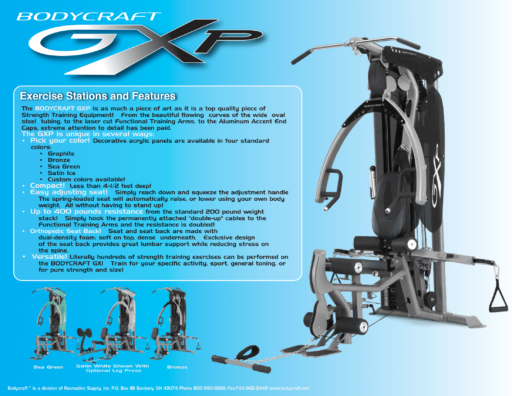 Shoulder Exercises
Rear Deltoid Rows
Standing Lateral Shoulder Raise
Seated Shoulder Press
Shoulder Press w/ Alternating Motion
Standing Shoulder Press
Front Shoulder Raise
Standing Front Shoulder Raise
Shoulder Extension
Shoulder Shrug
Reverse Fly Cable Cross
Seated Lateral Shoulder Raise
Standing Rear Deltoid Row
Standing Cable-cross Rear Deltoid Row
Assembly & Maintenance
Like most other pulley-based strength training systems, the BodyCraft GXP home gym is not exactly easy to put together. First of all, it comes wholly disassembled and in several boxes and some of them being quite heavy. So two or more people are recommended for their transport, unboxing, and assembly. The assembly process will take at least a few hours. But on the other hand, the included manual provides unambiguous step-by-step assembly instruction and schematics.
Once assembled, the GXP doesn't require much maintenance. However, the guide rods of the weight stack may require lubrication from time to time. In addition, this goes for the pulleys as well. It's also advisable to periodically inspect the machine and look for loose bolts or broken parts to re-tighten or replace them before accidents happen.
Pros
Heavy-duty frame construction;
Professional-looking design;
Adjustable seat and backrest;
The durable upholstery and thick, dual padding for optimal comfort;
Six workout stations, including press station, flexible arm station, lat pulldown station, mid pulley station, low pulley station, and leg developer attachment;
Multiple grip possibilities for the chest press;
4″ thick rollers for the leg developer element;
11 adjustment positions for the lateral pulley arms;
Eight positions for the press arm;
180° rotating pulleys on the lateral pulley arms;
Heavy-duty fiberglass reinforced nylon pulleys and steel cables with nylon covers;
Accessories included: two pulling handles, lat bar, short row bar, extension chain, ab harness, ankle strap, and bottle holder with a bottle;
Steel, highly-durable weight plates;
The total weight of the stack is 200 lbs;
Maximum weight resistance for the chest press 400 lbs;
Over 100 exercises available;
Little maintenance required;
Excellent warranty.
Cons
Not too easy to put together;
Tools for assembly do not come included with the gym.
BodyCraft GXP Home Gym Summary
The BodyCraft GXP is a heavy-duty home gym featuring six workout stations, including an adjustable arm press and adjustable sidearms. Both its seat and backrest are flexible and offer superior comfort. In addition, the unit has a 200 lbs weight stack made of cast iron weight plates designed to last a lifetime.
It offers a 1:1 weight ratio for most of its workout stations, while the arms press has a double-up feature, which provides a 1:2 weight ratio with a weight resistance of up to 400 lbs. In all, it's a unique strength training system, great for users of all levels, offering excellent value for the price.
I hope you found this article helpful and informative. Would you please speak up if you have anything you'd like to share on the topic or any opinions about my website? I look forward to your comments, questions, and the sharing of ideas.