The ADVENOR Magnetic Rowing Machine comes with upgraded steel and wear-resistant material. Moreover, with the added sturdiness of the front and rear stabilizer, this ADVENOR rowing machine gives you a safe and stable workout.
The ADVENOR Magnetic Rowing Machine provides a top-of-the-line rowing experience. With a smooth and quiet flywheel controlled by a large tension knob, you can adjust the magnetic resistance from Level 1 to Level 8. Thus, making it perfect for all family members.
It not only provides a robust workout, but the ADVENOR rowing machine is also a great home storage solution that works with front-mounted wheels, which allow you to move it quickly. In addition, this rowing machine folds up to half of the assembled size. Therefore, this rower is perfect for those looking to maximize space efficiency.
The ADVENOR Magnetic Rowing Machine features a large ergonomic cushion a fully padded seat larger than regular models. Oversized non-slip foot pedals with a safety strap design ensure your safety during workouts. In addition, the anti-slip-resistant pulling handle with a soft padded foam grip provides comfort during your workout.
Learn more in my complete review below!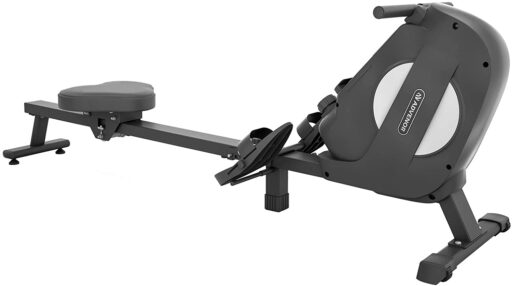 Product: ADVENOR Magnetic Rowing Machine
Price: For a great deal on this rower, merely go here on Amazon
Warranty: 1 year limited
My rating: 8/10
Affiliate Disclosure: As an Amazon Affiliate Program participant, I earn commissions on purchases made through links in this post. Full disclosure
Details and Specifications
Assembled dimensions: 72.5L x 19.5W x 25H inches (184L x 50W x 64H cm)
Assembled weight: 54.4 lbs (24.7 kg)
Weight capacity: 265 lbs (120 kg)
Frame: Steel
Resistance type: 8 levels Manual Magnetic
Fitness Monitor: Time, count, total count, reps/min, calories, scan
Warranty: 1 year limited
Frame construction
The ADVENOR magnetic rowing machine features a steel tubing frame. It combines rectangular and oval bars in its construction. All the steel tubes come painted black with a corrosion-resistant finish. The front section that holds the drive and resistance elements features extensive durable thermoplastic material.
The fully assembled machine is smaller than other rowers. It is approx. 72.5″ (184 cm) long, and 19.5″ (50 cm) wide, so it may not fit too well in a small room. Plus, it is advisable to allow at least two feet of clearance on each side and at the rear of the unit to ease access and unhindered usage.
The rower is foldable. Its rail folds up to save space. With the rail folded up, the machine's footprint reduces to approx. 32″L x 19.5″ (81 x 50 cm), while its height becomes 47.5″ (120 cm). The rail itself is approx. 39.5″ (100 cm) long, so the machine comfortably accommodates users up to 6'3″ (190 cm).
The rower's net weight is 54.4 lbs (24.7 kg). Therefore, one person can carry and assemble the rower. Once completed, it is even easier to move as its front stabilizer integrates two small transport wheels. Furthermore, the rear stabilizer comes equipped with two adjustable levelers.
Seat and other parts
The ADVENOR rower features a large, heart-shaped seat. It is pretty extensive, approx. 14.9″ (38 cm) wide, and 11.6″ (29 cm) long, so it provides plenty of contact surface. In addition, it integrates a thick layer of foam padding, and its cover is a durable vinyl material that is sweatproof and easy to maintain.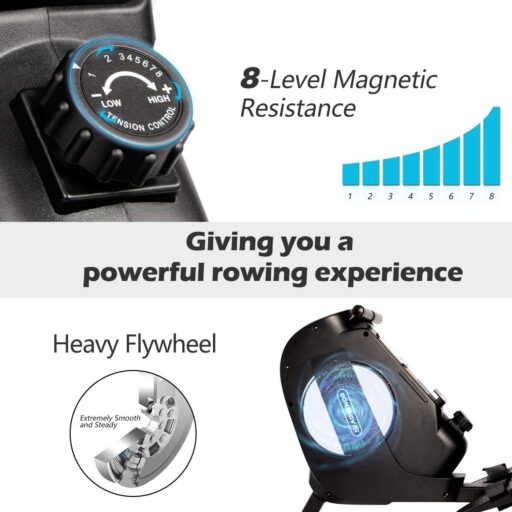 The seat's base is steel, and it integrates three sets of wheels. One slides under the rail for extra stability, the other two slide on top of the rail. They integrate sealed ball bearings for a smooth motion and a long lifespan. Also, their outer layer is a material designed to reduce noise.
The machine's rail is not perfectly horizontal. Instead, it is slightly slanted forward. Therefore, it is a bit higher when the seat extends to the back. Its maximum height is 13″ (33 cm) above floor level. Also, both the rail and the seat support a maximum user weight of up to 265 lbs (120 kg).
The ADVENOR rower comes equipped with two large footrests. They are durable thermoplastic material, and they have heel guards and adjustable straps for maximum foot stability. They also feature a pivoting design. Therefore, they can tilt back and forth to adapt better to the position of your feet throughout the rowing motion.
The rower's pulling handle is a short straight bar. Its side grips feature foam sleeves for improved comfort. The handle connects to a nylon strap which is highly resistant to abrasion. Thus, it can be a plus, as opposed to a chain, as it reduces noise during rowing compared with a chain-driven rower. Also, the strap does not require lubrication.
Drive and resistance
This ADVENOR magnetic rowing machine comes equipped with a standard magnetic resistance system with manual action. Therefore, you don't need a power adapter or an external power source for it. However, it also means that the resistance cannot adjust itself automatically.
The resistance system consists of a magnetic brake connected to the internal flywheel and the tension dial visible on the front unit of the machine. When you turn the dial, the brake moves closer or farther from the flywheel, increasing or decreasing the workout load. Also, the flywheel weighs only 2.2 lbs (1 kg), so the machine does not provide super momentum.
This rowing machine makes available eight resistance levels. However, the 8th level does not provide an excellent rowing difficulty. Thus, the ADVENOR magnetic rowing machine is not for strength training. However, it still is ideal for stamina development, weight loss, muscle toning, and keeping yourself in overall good shape.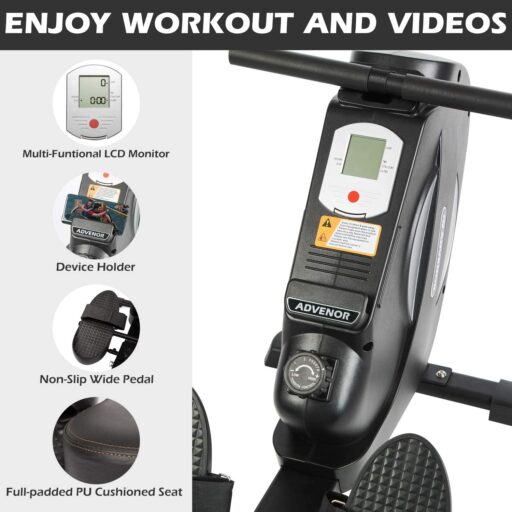 This rower does not provide a dynamic response during usage since it does not have any water resistance or air resistance elements. Accordingly, the rowing difficulty does not depend on how fast you pull the handle, as for water rowing machines or air resistance rowers.
Since it is a magnetic rower, the resistance only depends on the selected resistance level. Thus, it shouldn't be a significant inconvenience. It's just that the rowing sensation of air resistance or water resistance rower mimics the feel of rowing a real boat. So the machine still provides a pretty consistent full-body cardio workout.
Fitness Monitor
The ADVENOR magnetic rowing machine comes equipped with a pretty simple fitness monitor. It integrates into the front section of the machine and features an LCD that divides into two sub-sections to show up to two workout metrics at once.
It tracks time, count, total count, strokes per minute, and calories burned. However, it does not have a pulse reading function and does not show distance in meters or miles. Therefore, it counts your work in strokes (or reps).
The fitness monitor comes equipped with one button. By pressing the button repeatedly, you can change the metrics on display and select the ones you want to view. You can also choose its Scan Mode; when in Scan Mode, the console rotates the metrics showing them in a sequence, each for a few seconds.
The button also fulfills the monitor's reset function. By pressing and holding it for a few seconds, you can clear all its values to zero.
The monitor is battery-powered, and it requires two AA batteries that come with the rower. It starts when you begin rowing and automatically turns off if it does not detect any activity on the rower for more than four minutes.
Assembly and Maintenance
The front section of the machine with all the drive and resistance elements, and the fitness console, come pre-assembled. Therefore, you only have to attach the seat onto the rail, connect the rail to the main section, add the rear and front stabilizers and the footrests. Therefore, it shouldn't take more than one hour of your time. The task is pretty straightforward, and all the necessary tools come with the machine.
The internal parts of the rower shouldn't need any lubrication or maintenance for an extended time. Therefore, you should only keep the unit clean in terms of care, especially the rail, and periodically check for loose parts and retighten as needed.
Pros
Sturdy frame – can hold users up to 265 lbs (120 kg);
Folding rail, space-saving design;
Transport wheels on the front base;
Adjustable stabilizers on the rear base;
Large, padded seat for improved comfort;
Relatively long rail – can accommodate users up to 6'3″ (190 cm);
Pivoting footrests with adjustable straps;
Quiet magnetic resistance with eight distinct levels;
Fitness monitor included – it tracks time, count, total count, strokes per minute, and calories burned;
Device holder included;
Easy to assemble;
Little maintenance is required.
Cons
The fitness monitor LCD doesn't have a backlight;
No goal settings;
No pulse reading function.
ADVENOR Magnetic Rowing Machine Summary
The ADVENOR magnetic rowing machine is a home-use fitness machine. It offers eight levels of magnetic resistance, a durable frame, a large padded seat, and an extended rail to accommodate users up to 6'3″ comfortably. It also integrates a fitness monitor that tracks the main workout metrics. Unfortunately, this ADVENOR rower does not have a pulse reading function.
Moreover, it's a great trainer for light to medium-intensity workouts, muscle toning, recovery training, and weight loss. It's also one of the most affordable magnetic rowers at the moment.
I hope you found this article helpful and informative. Would you please speak up if you have anything you'd like to share on the topic or any opinions about my website? I look forward to your comments, questions, and the sharing of ideas.
Please note: Before starting any exercise program, you should consult your physician to determine if you have any medical or physical conditions that could put your health and safety at risk or prevent you from using the equipment properly. In addition, your physician's advice is essential if you are taking medication that affects your heart rate, blood pressure, or cholesterol level.