The GoElliptical V-450X Elliptical weighs 139 pounds, measures 65H x 61W x 28D inches, and the maximum user weight capacity is 300 pounds on its sturdy frame. In addition, there are 24 preset workout programs and 24 levels of resistance to adjust via the Special Toggle Switch for users of all levels.
The manually adjustable 18″ stride combined with the cushioned upper body handlebars provides a comfortable upper and lower body workout. In addition, the GoElliptical V-450X comes equipped with a maintenance-free, silent magnetic resistance system providing a fluid elliptical movement.
The 7-inch LCD-backlit fitness monitor has a Start/Pause, Quickstart, Recovery, Reset, Rotary switch- Enter + and – buttons for resistance adjustment and a large display for time, speed, RPM, distance, calories, pulse, and program in use. Heart rate monitoring is done through the EKG-Contact sensors on the handles with the HRC program, and the reading is entirely accurate.
The padded three-position adjustable upper swing arms and the 18-inch stride on the eight-position adjustable large foot pedals offer a great deal of comfort for a decent, very low, or no impact session for a maximum amount of calorie burning.
Learn more in my complete review below!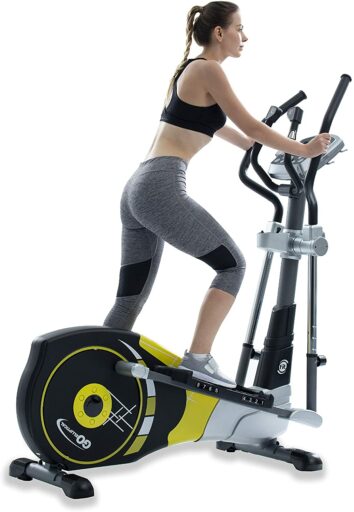 Product: GoElliptical V-450X Elliptical
Price: For a great deal on this elliptical, merely go here on Amazon
Warranty: Frame lifetime / Parts 2 years
My rating: is 8/10
Affiliate Disclosure: As an Amazon Affiliate Program participant, I earn commissions on purchases made through links in this post. Full disclosure
Details and Specifications
Assembled dimensions: 61L x 28W x 65H inches (156L x 71W x 165H cm)
Assembled weight: 139 lbs (63 kg)
Weight capacity: 300 lbs (136 kg)
Stride: 18 inches (46 cm)
Incline: No
Pedals: Adjustable
Resistance: Eddy current, 24 levels
Fitness Monitor: 24 programs, recovery function
Extras: Sound system, USB charging port bottle holder, tablet holder
Warranty: Frame lifetime / Parts 2 years
V-450X Frame Construction
The GoElliptical V-450X cross trainer features a durable steel frame with large ABS covers for the base and resistance elements. In addition, all the mainframe steel parts come double-coated with a corrosion-resistant frame, gray. The only exceptions are the adjustable bars of the moving handlebars, which have a chrome finish.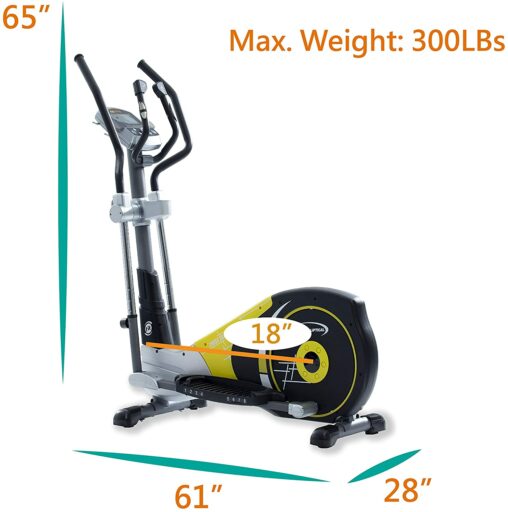 The fully assembled machine is relatively large. It is approx 61″ (156 cm) long and 28″ (71 cm) wide. Leaving at least 24″ (61 cm) of clearance around the unit is advisable for easy access and safe usage. Therefore, it may not fit too well in a small room or apartment.
The V-450X cross trainer is also fairly substantial. Its net weight is approx 139 lbs (63 kg). This weight and the unit's low center of gravity provide excellent stability.
However, due to this weight, the transport of the boxed elliptical should be done by two people. In addition, once completed, it can easily be relocated by only one person as the front base has a set of transport wheels.
This GoElliptical cross trainer has two sets of handlebars. One fixed and one mobile. The design of the fixed handlebars is closer to the user offering a more comfortable hand positioning. However, they still have built-in resistance adjustment controls and pulse sensors.
The moving arms also feature grips with a softer angle to provide a more comfortable arm positioning and posture. They have rock-climber grips at the top as well. They also have three height adjustment positions, which change the front angle of the pedals.
The pedal bars are pretty durable. The bars and the pedal trays are sturdy enough to support users up to 300 lbs (136 kg), a pretty impressive weight capacity for a machine made for home use.
Elliptical path, stride, and step-up height
The GoElliptical V-450X is a rear-drive elliptical trainer with a reasonably large crank wheel. Due to this fact, its elliptical path is slightly inclined forward. Therefore, the ride resembles a descent on a soft ramp.
The machine doesn't have an incline system. However, the angle of the pedals changes by adjusting the length of the moving arms. Not all ellipticals have this feature, so it is quite a plus.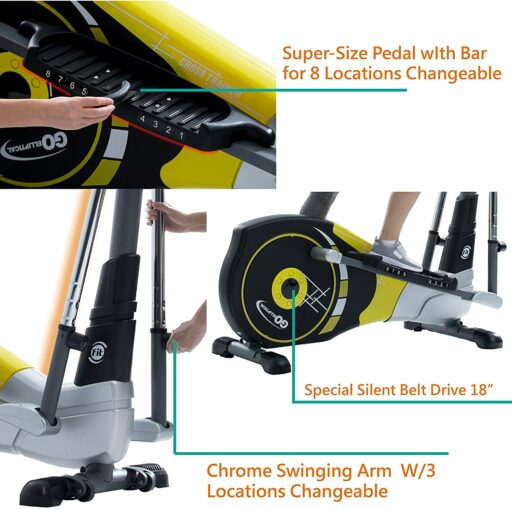 The trainer's pedals are large enough to accommodate athletic footwear of all sizes. They also come equipped with size adjusters, one for each pedal. These elements can attach to eight of the pedals' large ribs, four at the rear and four in the front. They act as supports or stoppers for your feet on the pedals, allowing a more stable footing closer to the pedal's front or rear.
This GoElliptical cross trainer offers a stride of 18″ (43 cm). Therefore, it accommodates users comfortably up to 6'2″ (188 cm), promoting a satisfying range of motion.
Lastly, the pedals are approximately 6″ (15 cm) above floor level when at their lowest position. Conversely, their highest point is at approx. 16″ (40 cm) above floor level.
Thus, the step-up pedal height is approximately 10″ (25 cm). Therefore, it's best to use the machine in a room with a ceiling at least 20″ (51 cm) higher than your height.
V-450X Drive and resistance
The GoElliptical V-450X trainer comes equipped with an eddy current resistance system. Therefore, it requires an external power source, and an adapter comes with the trainer.
It also means that the resistance adjustment is automatic; if one of the fitness monitor programs is in use, the machine will auto-adjust the load depending on the program's current segment.
The trainer's resistance consists of a magnetic brake and a servo motor. As you adjust the console's resistance or automatically adjust the resistance, the motor changes the magnets' pull on the flywheel, adding or reducing the machine's workout load.
The V-450X cross trainer model offers 24 resistance levels like the previous version. The first levels deliver a relatively light pedal tension, great for muscle toning or recovery training. The tension levels above 20 are reasonably robust, promoting a more intense workout for a higher burn.
The GoElliptical V-450X cross trainer integrates an inertia-enhanced flywheel offering a 44 lbs (20 kg) load and a speed ratio of 1:12.7. The wheel is also bi-directional. In other words, you can pedal reverse if you want more diversity in your workouts.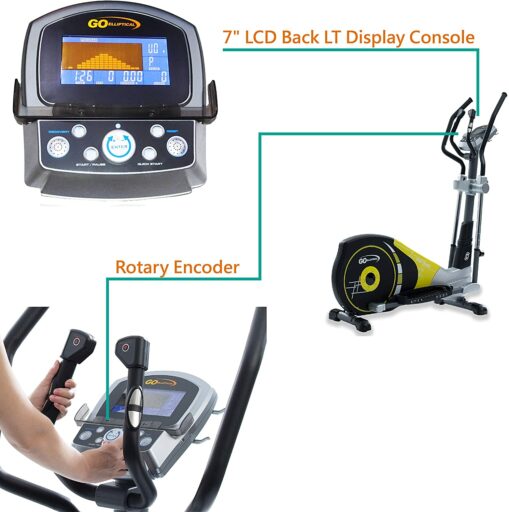 Like most other ellipticals or exercise bikes with a magnetic resistance system, the V-450X has a belt drive system. Therefore, you don't have to go through the hassle of lubricating its transmission. Also, the pedaling motion is very smooth and whisper-quiet.
Fitness monitor
The GoElliptical V-450X elliptical comes equipped with a relatively large fitness monitor. In addition, it has a rotary knob for tension adjustment and Pulse Recovery, Start/Stop, Restart, and QuickStart controls.
The monitor's display divides into several sub-sections to simultaneously show as many workout metrics, so you won't have to use a scan mode to rotate them. It tracks time, distance, speed, RPM, calories, and pulse. The larger display shows the grid of the program in use.
The monitor is not telemetric. Unfortunately, you can only track your pulse if you hold on to the sensors integrated into the fixed handlebars. In addition, it is not compatible with any wireless HR transmitter.
It also doesn't have online connectivity. However, unlike its older version, it has a USB port to connect your phone or tablet to recharge its battery.
Workout programs
The fitness monitor offers 24 preset programs. Each program has its own specific. For example, some help burns more calories, others are interval-based, and others focus on your heart rate. Plus, the Random program randomly provides a different profile when launched, offering something new for each one of your workouts.
A Recovery Function is also available and has a quick key on the monitor. It should be initiated at the end of your workout and requires you to hold on to the pulse sensors.
This way, the fitness monitor will count your pulse recovery after the exercise, and based on the result, it will give you a fitness rating between F1 (excellent) and F6 (poor).
Amenities
The integrated sound system and the tablet (or device) holder are two other notable monitor features. The sound system consists of two speakers at the monitor's bottom part. They allow you to play music from your smartphone, tablet, or MP3 player through the console for a slightly improved (stereo) sound quality. The tablet holder comprises a small shelf between the monitor controls and its LCD.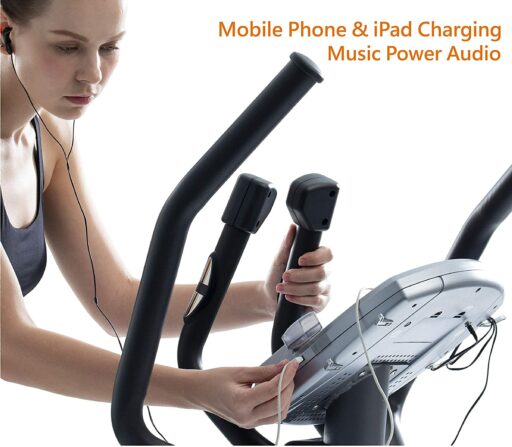 V-450X Assembly and Maintenance
The main body of the GoElliptical V-450X cross trainer comes pre-assembled. The drive and resistance elements are connected to the base frame and covered by the ABS side panels. However, the rest of the machine does require user assembly.
You will have to connect its base bars, the pedal bars, the front main mast, the moving arms, the fixed handlebars, and the fitness monitor.
Therefore, it may take up to two hours of your time, but the task is far from complicated. The manual provides clear assembly instructions and includes an essential toolkit.
Drive-train lubrication is not necessary for this elliptical trainer. You must only check for loose bolts and parts in maintenance and lubricate the joints if they begin to squeak.
Pros
Solid construction, excellent stability;
Can support users up to 300 lbs;
Transport wheels on the front base;
Fixed and mobile handlebars;
Rock-climber grips on top of the moving arms;
EKG pulse sensors are built-in fixed handlebars.
Resistance controls on the fixed handlebars;
Adjustable moving arms;
Balanced flywheel for a smooth pedaling motion;
Extra-large, adjustable pedals;
24 levels of eddy current resistance;
LCD fitness monitor with LED backlight;
24 workout programs;
Recovery function;
Tablet holder integrated into the fitness monitor;
The bottle holder included;
The sound system included;
USB charging port included;
Quiet operation;
Reasonably easy to assemble;
Little maintenance is required;
Decent warranty.
Cons
A tablet placed on the device holder will cover the fitness monitor LCD;
The fitness monitor does not have online connectivity.
GoElliptical V-450X Elliptical Summary
The GoElliptical V-450X is a mid-range cross trainer made for home use. It makes 24 eddy current resistance levels, 24 preset workout programs, and sturdy overall construction.
It offers adjustability for the pedals and moving arms, features that many other machines in this price range don't have. As a result, it's an excellent machine for light to medium-intensity cardio training, muscle toning, stamina development, and weight loss.
I hope you found this article helpful and informative. Would you please speak up if you have anything you'd like to share or any opinions about my website? I look forward to your comments, questions, and the sharing of ideas.
Please remember that you should consult your physician to determine if you have any medical or physical conditions that could risk your health and safety or prevent you from using the equipment properly. In addition, your physician's advice is essential if you are taking medication that affects your heart rate, blood pressure, or cholesterol level.