Take your intensity to the next level with the Stamina X Air Bike 15-1175. This bike is for elite athletes and serious fitness enthusiasts, and the X 15-1175 is outfitted with high-end components to accommodate even the most robust routine. In addition, the Stamina X Air Bike helps you achieve your fitness goals with built-in workouts designed specifically for seasoned athletes.
The 15-1175 rugged frame comes with features designed to keep you comfortable. The molded, padded seat has both adjustable height and distance, making it an excellent fit for users of nearly all sizes (fits 4'10" – 6'4"). Textured handlebars and heavy-duty foot pedals with adjustable straps all keep you aligned and stabilized during movement.
Dual-action arms provide an intense upper-body workout, working the shoulders, arms, back, chest, and core. Incorporating the upper body gets your heart rate up faster and makes your workouts more efficient. In addition, multiple grip positions let you target your upper body at different angles. For example, place your feet on the rests to focus solely on the upper body.
The Stamina X Air Bike 15-1175 comes equipped with an LCD monitor to set customizable workouts, including target distance, target time, target calories, target heart rate, interval 10/20, interval 20/10, and custom interval. In addition, the LCD monitor also tracks time, distance, calories, rotations per minute (RPM), speed, watts, and heart rate.
Learn more in my complete review below!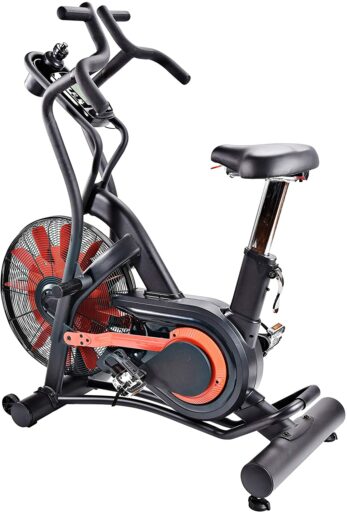 Product: Stamina X Air Bike 15-1175
Price: For a great deal on this bike, merely go here on Amazon
Warranty: Frame 5 years / Parts 90 days
My rating: 9.25/10
Affiliate Disclosure: As an Amazon Affiliate Program participant, I earn commissions on purchases made through links in this post. Full disclosure
Details and Specifications
Assembled dimensions: 53L x 22.75W x 54H inches (135L x 58W x 137H cm)
Assembled weight: 145 lbs (66 kg)
Supported weight: 350 lbs (159 kg)
Handlebars: Mobile
Seat: 4-way adjustable
Drive: Belt
Resistance: Air
Fitness console: Time, speed, distance, RPM, calories, watts, pulse, goals, three interval programs
Warranty: Frame 5 years / Parts 90 days
15-1175 Frame construction
The Stamina X air bike features thick steel tubing combining ovalized and round bars to construct improved sturdiness and aesthetics. The only ABS plastic element is the cover of the belt drive system.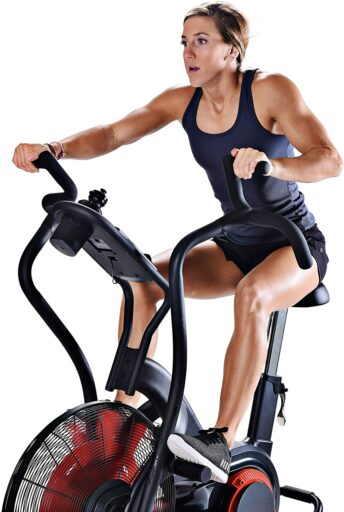 All the steel tubes in the frame construction come coated with a rust-resistant and abrasion-resistant paint finish. The color used is black; the only red bars link the pedals to the handlebars and the flywheel. Also, the seat post features a chrome finish.
This Stamina exercise bike isn't giant. It is approx. 53″ (135 cm) long and 22.75″ (58 cm) wide, while the top of the handlebars reaches approx. 54″ (137 cm) above floor level. It is advisable to allow at least two feet of clearance around the unit for safe access and usage.
The fully assembled bike is relatively heavy. It weighs approximately 145 lbs (66 kg), at least three times the average road bike's weight. Thus, its assembly may require two people. But on the other hand, all this weight provides superior stability.
Once assembled, its transport by only one person is possible. Its front base features transport wheels, while the rear base comes equipped with a lifting handle. In addition, the bike's rear base has two adjustable stabilizers, which allow you to level your bike on any floor.
It's important to mention that even though the bike has a short bar that connects the seat tube with the frame's oblique tube, this element is not step-up support. That's because of the plastic casing of the belt, which may crack under extreme pressure.
Seat
The Stamina X 15-1175 air bike includes a padded and contoured seat designed for extra comfort. It is also reasonably comprehensive, offering plenty of contact surfaces.
It is essential to mention that the seat's slider features a triangular metallic plate to which the saddle attaches via three screws. This isn't exactly a standard design, and if you ever need to replace it, compatible options may not be too widely available.
The seat offers four-way adjustability (up, down, forward, backward). In addition, its upright post has ten adjustment positions, while its horizontal slider also provides several inches of front-to-back movement. Therefore, the bike can accommodate users between 4'10" and 6'4″ (147 – 193 cm). It is also very durable, designed to support users up to a maximum of 350 lbs (159 kg).
One of the notable features of the bike's seat is the horizontal adjustment system. The seat's top slider comes with a small lever at the front, easily unlocked if you want to adjust the seat's position while seated. Unfortunately, not all exercise bikes have this feature; you have to dismount the bike to change the seat in most cases.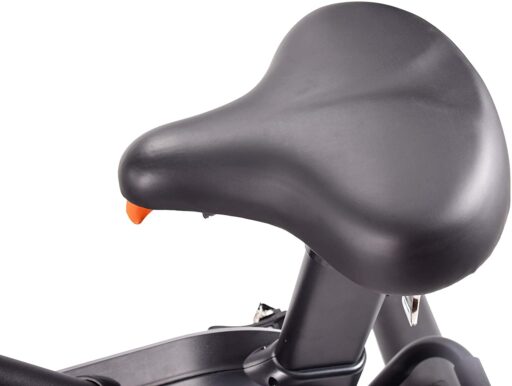 15-1175 Handlebars
Since it's an air bike, the Stamina X 15-1175 features a set of moving handlebars. In addition, they have a multi-grip design so you can focus on different upper body muscle groups during exercising. Unfortunately, the handgrips don't have pulse sensors. However, the bike's performance monitor is telemetric.
Similar to other air bikes, the Stamina X model doesn't have stationary handlebars. The performance monitor frame bar can serve as a fixed-grip, but this is not advisable, and the position is awkward anyway. So instead, the moving handlebars are directly attached to the pedals via two metallic bars.
Therefore, they cannot become stationary; they continue to move for as long as you pedal. But on the other hand, the bike integrates foot resting pegs on each side, which gives you the possibility to only work with your arms.
Drive and resistance
The Stamina X 15-1175 is an air resistance-only exercise bike. This means it doesn't have an additional magnetic brake for resistance micro-adjustment. Instead, the main resistance-generating element is a massive fan. Also, the bike doesn't require an external power source.
Even though it doesn't have a resistance adjustment system, this Stamina exercise bike delivers a dynamic response. Differently put, the faster you pedal, the more resistance you will get. This type of resistance is excellent for HIIT exercises and offers a quick and intense cardiovascular boost.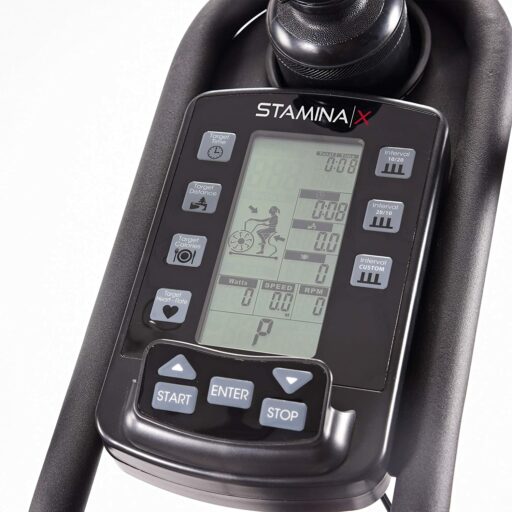 The bike's drive system uses a standard (690-J6) poly-v belt, and this type of drivetrain comes with several advantages. A belt drive doesn't need periodic lubrication. Also, the pedaling motion is very smooth.
The bike comes equipped with a durable crankset. Each crank arm has an outer plate to which the pedal attaches. The bike has a maximum user weight capacity of up to 350 lbs (159 kg), which applies to the pedals and crank arms.
The included pedals are metallic alloys. They have standard threads, so compatible options are widely available if you ever need to replace them. They don't have SPD elements, but they have toe cages with adjustable straps for improved foot stability.
15-1175 Console
The bike comes equipped with a fitness console. It's a unit designed for HIIT exercises. It features an LCD divided into several windows to show multiple workout metrics simultaneously, so you don't have to use a scan function to rotate them.
It tracks time, total time, distance, watts, speed, RPM, calories, and pulse. You can select either miles or kilometers for the distance display. You will have to wear a 5 kHz HR chest strap for the pulse reading, including the bike.
The console unit is straightforward to use. Each Target program and interval program has its button. The lower section of the console features arrow buttons for increasing or decreasing values when selecting goals. The Enter button allows you to confirm a particular purpose, while the Start and Stop buttons initiate or pause the programs.
The fitness console is battery-powered. It requires two AA batteries, which do not come included. It has a Standby mode, which it will enter after 60 seconds of inactivity on the bike. To power it on, you can either begin pedaling or press one of the buttons.
Workout Programs
The console doesn't have online connectivity, nor is it compatible with any fitness apps. However, it has several built-in workout programs. To begin with, it has three interval-based programs. These are 10/20 Interval, 20/10 Interval, and Custom. The 10/20 interval program requires ten seconds of work and 20 seconds of rest. The 20/10 interval program calls for 20 seconds of work and ten seconds of rest, while for the Custom interval, you can set your work and rest periods.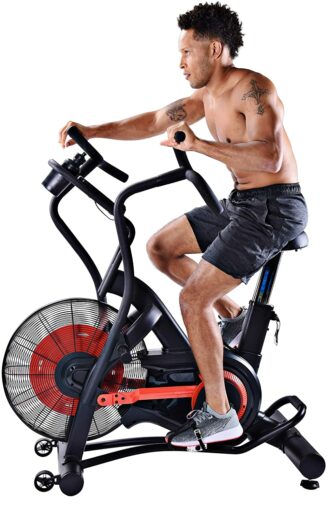 Target programs are also available. For example, you can set up a workout target for time, distance, calories, and heart rate. If a workout target is selected for time, distance, and calories, the console will countdown from the specified value until you complete your set up goal.
The Heart Rate goal (or Target Heart Rate) is a different type of program. It has two preset values of 65% of your HRC and 85% of your HRC. So, as the program starts, the monitor will beep if your pulse drops below 65%, prompting you to increase your workout speed, while if it exceeds 85%, it will remind you to reduce your workout intensity.
15-1175 Assembly and Maintenance
The bike's main body with the seat, fan, cranks, and other drive elements comes pre-assembled. Then, you only need to attach the two base tubes, the moving arms, the pedals, the monitor support bar, and the monitor. This shouldn't take more than an hour. A set of tools for the assembly comes included with the bike. Also, the manual provides clear assembly instructions and schematics.
Once assembled, maintenance doesn't require much. All you have to do is periodically check for loose or broken parts, re-tighten them or replace them before an accident happens. In addition, if the fan accumulates dust, you can vacuum it from the outside without removing its metal casing.
Pros
Sturdy and stable frame – can support users up to 350 lbs (159 kg);
Aesthetic design, an aspect that can serve as a good motivation factor;
Adjustable levelers on the rear base;
Transport wheels on the front base;
Multi-grip handlebars for engaging multiple muscle groups;
Ergonomic, large seat for superior comfort;
4-way adjustable seat;
Foot resting pegs;
Air resistance system, great for interval workouts;
Fitness console that tracks time, total time, RPM, speed, distance, pulse, watts, and calories;
Target settings for time, distance, calories, and heart rate;
Three interval programs – 10/20, 20/10, custom;
Telemetric console – compatible with a 5 kHz HR chest strap;
Bottle holder with a bottle included;
Phone holder included;
Little maintenance required;
Easy to assemble;
Excellent warranty.
Cons
An HR chest strap does not come with the bike;
No backlight on the LCD;
A smartphone or tablet placed on the device holder will cover the LCD.
Stamina X Air Bike 15-1175 Summary
The Stamina X 15-1175 is a heavy-duty air resistance exercise bike. It features a superior weight capacity (350 lbs), a 4-way adjustable seat, multi-grip handlebars, and a console with four target programs and three interval programs.
It's a great trainer for high-intensity cardio workouts, interval workouts, stamina development, muscle toning, and weight loss. It's not the most affordable air bike but offers excellent value for the price.
I hope you found this article helpful and informative. Would you please speak up if you have anything you'd like to share or any opinions about my website? I look forward to your comments, questions, and the sharing of ideas.