Row towards a better you with the Sunny Phantom Hydro SF-RW5910 Water Rowing Machine from Sunny Health and Fitness. Engage in a full-body workout with virtually infinite resistance provided by the water drum and 16 hydro blades. The heavy-duty frame includes a double arm structure that provides stability and supports a maximum user weight of up to 300 lbs.
The SF-RW5910 water drum is angled at 60 degrees to produce an authentic rowing experience. With this in mind, the 16 hydro blades' angled trajectory paddles through the water to provide a similar feel and experience to rowing on the lake.
The Sunny SF-RW5910 comes equipped with an advanced R2 monitor that tracks time, distance, strokes, total strokes, SPM (strokes per min), time/500m, calories, pulse, calendar, temperature & clock. For pulse, you'll need a wireless HR chest strap. However, it does not come included with the rower. The console has two workout modes, which are Manual and Race.
The cushioned, oversized seat gives users a comfortable rowing experience. Don't let discomfort stand in the way of reaching your wellness goals! Work out longer and get stronger. The SF-RW5910 comes equipped with a two-way adjustable footplate. Utilize the sliding heel pads to secure your heel and mid-foot to prevent slippage while you stroke.
Learn more in my complete review below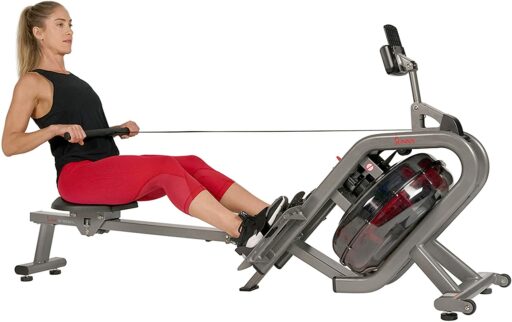 Product: Sunny Phantom Hydro SF-RW5910 Water Rowing Machine
Price: For a great deal on this rower, merely go here on Amazon
Warranty: Frame 3 years / Parts 180 days
My rating: 8/10
Amazon Affiliate Disclosure: I may earn commissions on purchases made through links in this post.
Details and Specifications
Assembled dimensions: 81.5L x 21.25W x 39.5H inches (207L x 55W x 100H cm)
Assembled weight: 88.2 lbs (40 kg)
Supported weight: 300 lbs (136 kg)
Frame: Steel
Footrests: Adjustable
Resistance type: Water
Fitness console: Time, time/500m, distance, SPM, total strokes, calories, heart rate, race program, recovery
Extras: Bottle holder and a device holder
Warranty: Frame 3 years / Parts 180 days
SF-RW5910 Frame construction
The Sunny Phantom Hydro SF-RW5910 features an all-steel frame with a durable monorail rated for a maximum user weight capacity of 300 lbs (136 kg). It combines ovalized and rectangular tubes in its construction for improved aesthetics.
All the steel parts are double-coated with a corrosion-resistant and abrasion-resistant paint finish. The color used is metallic gray with the "Sunny" logo in red.
The fully assembled machine is only 81.5″ (207 cm) long and 21.5″ (55 cm) wide. However, its rail measures 42″ (106.6 cm) and offers a complete range of motion for users with an inseam up to 40″ (101.6 cm). In other words, the rower should be able to accommodate users up to 6'5 ″ (196 cm) with no problem.
This Sunny rower features a folding frame. Its monorail with the seat folds up. With the rail folded up, the machine's length is reduced to 43″ (109 cm) while its height becomes approx—51″ (129.5 cm).
Compared to other rowers, the Phantom Hydro SF-RW5910 model is relatively heavy. Its net weight (without water inside the tank) is approx 88.2 lbs (40 kg). This weight provides superior stability.
The machine's front and rear stabilizers come equipped with adjustable levelers with large rubber pads. Therefore, you can perfectly level your rower on any floor.
Last but not least, the front stabilizer bar of the machine integrates a set of small wheels. Thus, you can quickly relocate it for storage if needed.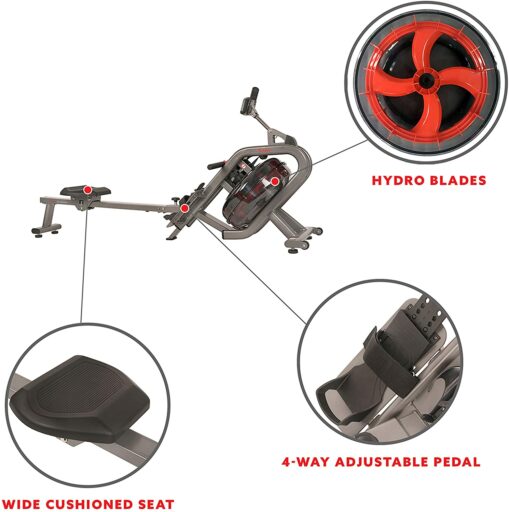 Seat and other parts
The Sunny SF-RW5910 rower features a seat similar to other Sunny models. Its top is high-density foam featuring a textured and concave surface for superior stability. It is approx. 11.5″ (29.2 cm) long and 14″ (35.5 cm) wide, offering plenty of contact surface.
The base of the seat is steel-made, similar to the rest of the frame. It integrates three sets of rollers. Two slides on top of the monorail, while the third one slides under it for improved stability.
Each roller features a rubberized outer layer to reduce noise and internal sealed ball bearings for a smooth motion. The side metallic panels of the seat frame conceal the rollers for improved safety.
The seat is at approx. 20″ (51 cm) above floor level. This can be a plus for users with specific disabilities as it offers more accessible entry and exit.
The machine's footrests don't have a pivoting design, as is the case for some other rowers. They are attached to two metallic plates, which welds to the frame. Their angle is approx—45 °.
The footrests feature an adjustable design. They have several length settings so they can accommodate athletic shoes of all sizes. They also have heel guards and adjustable straps for maximum foot stability.
This Sunny rower comes equipped with an ergonomic handle. Its grips are rubberized for improved comfort. They're also slightly curved towards the user to reduce the lateral stress on the wrists.
The handle is attached to a heavy-duty nylon strap, highly resistant to abrasion. This type of drive does not require any lubrication or maintenance. It also promotes a quieter usage for the rower.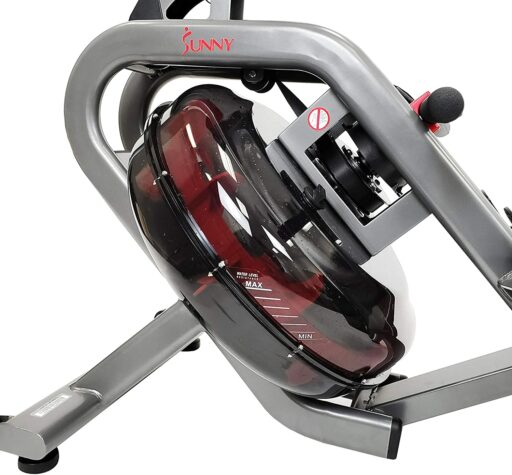 SF-RW5910 Resistance system
As its name suggests, the Sunny Phantom Hydro SF-RW5910  is a water resistance rower. It comes equipped with a heavy-duty polycarbonate tank. Its exact capacity is not specified, but it is similar to other rowers, so it should be between 3-4 gallons.
The main resistance generator is the water flywheel incorporated into the tank. It features 16 hydro blades that provide resistance when you pull the handle, and the wheel spins in the water inside the container.
The machine's water tank does not have a resistance adjustment mechanism, like the tank on the First Degree Fitness AR Pacific rower. Therefore, you cannot automatically adjust the water level inside the container. However, you can still manually add or remove water if you want to change the overall load.
It's important to mention, though, that the machine provides a dynamic response during rowing. This means the water flywheel's resistance is proportional to the strength you put behind each stroke; the harder you pull, the more resistance gets created.
Finally, the noise level generated by the spinning of the flywheel inside the water tank is far from being high or annoying. For example, machine usage should not cover the sound of a TV set at a low volume.
Console
The Sunny Phantom Hydro SF-RW5910 rower comes with a multi-function fitness console. First, it features an LCD divided into multiple sub-section to show as many workout metrics as possible at once. It tracks time, time/500m, strokes, strokes per minute, total strokes, distance, calories, and pulse.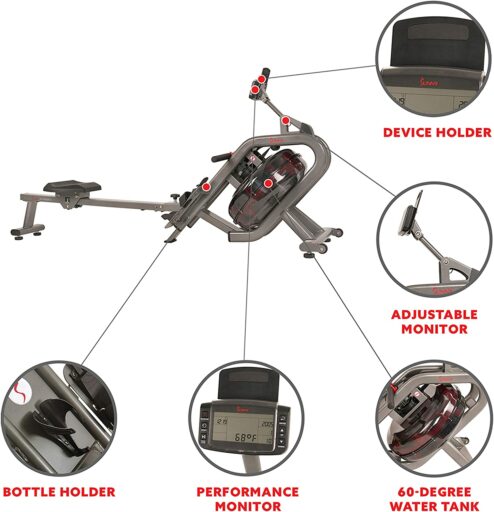 The distance value is in meters only. Thus, yards or miles are not available. For the console to read your pulse, you will need a wireless 5.3 kHz heart rate chest strap, which does not come included with the rower.
The fitness console also has a Pulse Recovery function. This requires you to wear an HR chest strap. Its purpose is to count the pulse recovery at the end of your workout and based on that count; it gives you a fitness rating between F1 (excellent) and F6 (poor).
The console also integrates a device holder. This is at the top of the console, so if you place a tablet or smartphone on it, it won't cover the LCD. However, there are no AUX or USB ports to connect your device to the console, and you cannot transfer workout data.
Workout modes
The fitness console has two workout modes, which are Manual and Race. The Manual mode offers two options. You can row for the first one, and the unit will record your completed strokes, strokes per minute, distance traveled, etc.
You can select goals for the second option for time, distance, strokes, calories, and pulse. By choosing a goal, the unit will indicate the remaining value from your goal and notify you when you have completed your goal.
The Race mode has 15 levels of difficulty. For level 1 (L1), the Time/500m is set at 8:00, while for level 15 (L15), it is 1:00. If the Race mode is on, you will race with the computer for the set time/distance.
The center display will indicate the user and the PC on two separate lanes. Each virtual boat advances towards the set goal, and the console will end when either your boat or the PC boat reaches the target.
SF-RW5910 Assembly and Maintenance
The machine's water tank comes pre-assembled and attached to the front part of the frame. Therefore, you only need to connect the rail with the seat, the front, rear stabilizers, and the fitness console.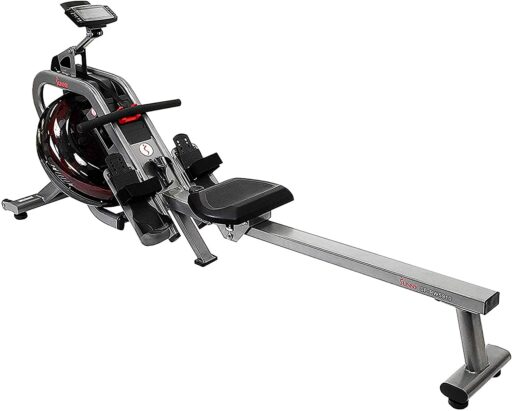 This shouldn't take more than 30-40 minutes. The manual provides all the necessary assembly instructions, and all the tools needed for the task come included with the machine.
For maintenance, the water inside the tank needs chlorine treatment. Therefore, a pack of chlorine pills comes included with the rower, and you should put one into the container every six months. Other than this, the machine's monorail needs cleaning to prevent any damage to the seat rollers.
And finally, it is advisable to periodically inspect the rower for any loose or damaged parts to re-tighten them or replace them if it's the case.
Pros
Sturdy frame – can support users up to 300 lbs (136 kg);
Aesthetic design;
Folding frame;
Transport wheels on the front base;
Adjustable stabilizers on both base bars;
Ergonomic, contoured seat;
Ergonomic, curved handle to minimize stress on the wrists;
Durable, adjustable footrests with heel guards and straps;
Long rail for users with an inseam up to 40″ (101.6 cm);
Water-resistance system, providing the most natural rowing feel that you can get;
Fitness console with a multi-window LCD that tracks time, 500m/time, pulse, distance, strokes per minute, total strokes, calories;
Two workout programs – Manual and Race;
Recovery function;
Angle-adjustable mount for performance monitor;
Device holder included;
Bottle holder included;
Smooth and quiet operation;
Little maintenance required;
Excellent warranty.
Easy to assemble.
Cons
The LCD does not have a backlight;
An HR chest strap does not come included.
Sunny Phantom Hydro SF-RW5910 Summary
The Sunny Phantom Hydro SF-RW5910 is a water resistance rower featuring a durable folding frame featuring a long monorail, a large contoured seat, a set of large, adjustable footrests, and a multi-function fitness console.
Moreover, it's an excellent machine for a full-body cardio workout, muscle toning, weight loss, and stamina development. It's not a commercial rowing machine. However, being close to a light-commercial model, it offers excellent value for the price.
I hope you found this article helpful and informative. If you have anything you would like to share or any opinions about my website, please speak up. I look forward to your comments, questions, and the sharing of ideas.