The LifeSpan TR1200-DT5 Treadmill Desk is a medium-duty treadmill with a built-in workstation desk to get work done while exercising. It is ideal for walking for hours while you work. You'll burn calories while keeping yourself occupied with work. In addition, it is tranquil, so you can get a job done and talk on the phone.
The TR1200-DT5 has a reliable 2.25 horsepower (hp) high torque motor (continuous duty), reaching 4 miles per hour. In addition, the motor lasts up to 6 hours of use per day. So walk slow, or at a faster path, for hours at a time while you get your work done.
The desk surface measures 38″ wide by 29″ depth and can accommodate a computer monitor, keyboard, phone, laptop, and other equipment. A cable management system allows cables to be uncluttered. The fitness monitor LCD is at the front of the desktop for easy access. It shows the essential readouts: Distance Traveled, Calories Burned, Time, and Step Count.
The deck of the LifeSpan TR1200-DT5 Treadmill Desk is a 20″ x 50″ area, which is perfect for walking. A bio-mechanically sound deck suspension system supports people up to 350 pounds. In addition, the Intelli-step step-counting feature works like a pedometer and keeps track of the number of steps you take.
Learn more in my complete review below!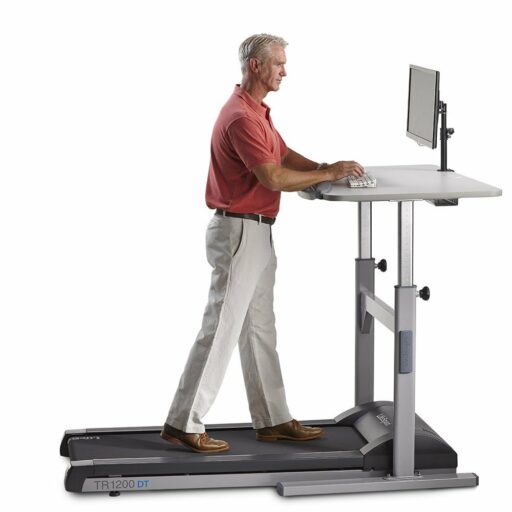 Product: LifeSpan TR1200-DT5 Treadmill Desk
Price: For a great deal on this treadmill/desk, merely go here on Amazon
Warranty: Frame lifetime / Motor 3 years / Parts 2 years / Labor 1 year
My rating: 8.25/10
Affiliate Disclosure: As an Amazon Affiliate Program participant, I earn commissions on purchases made through links in this post. Full disclosure
Details and Specifications
Assembled dimensions: 68.5D x 38W x 52.5H inches (174L x 96.5W x 133.3H cm)
Desk dimensions: 29D x 38W inches (73.6 x 96.5 cm)
Tread belt dimensions: 50L x 20W inches (127L x 51W cm)
Assembled weight: 174 lbs (78 kg)
Max. weight capacity: 350 lbs (158.7 kg)
Deck cushioning: 6 compressions shocks
Motor: 2.25 HP
Speed range: 0.4 – 4.0 MPH
Incline: No
Fitness Monitor: Time, step count, distance, calories, speed, Bluetooth
Warranty: Frame lifetime / Motor 3 years / Parts 2 years / Labor 1 year
TR1200-DT5 Frame
The LifeSpan TR1200-DT5 features a steel frame coated with a corrosion-resistant paint finish. The colors used are gray for the desk frame and black for the base frame of the deck. The deck comes with adjustable, rubberized stabilizers at the back and has two transport wheels at the front, facilitating its relocation if needed.
The treadmill integrates a durable, 3/4″ phenolic deck, supporting users up to 350 lbs (158.7 kg). Thus, it is pretty impressive for a walking treadmill. The cover of the motor and the deck's side rails are made of ABS material, though. The side rails also have a non-slip surface.
The unit's tread belt offers a walking surface of 50″L x 20″W (127 x 51 cm), which is more than enough for users up to 6'5″ (196 cm). In addition, it's a 2-ply rubber belt that provides superior adherence.
The assembled unit is relatively large. Its overall length is 68.5 (174 cm), while its width is 38″ (96.5 cm). Therefore, it's advisable to assign at least one foot of clearance on each side and at least two feet at the rear for safe operation.
This LifeSpan desk treadmill doesn't have a folding design. The deck can be easily removed from under the desk, though, and stored under a bed, for example.
In addition, this treadmill doesn't have an incline system. Also, the height of the walking belt is pretty close to the floor. Therefore, the unit's step-up height is approx — 4.6″ (11.6 cm).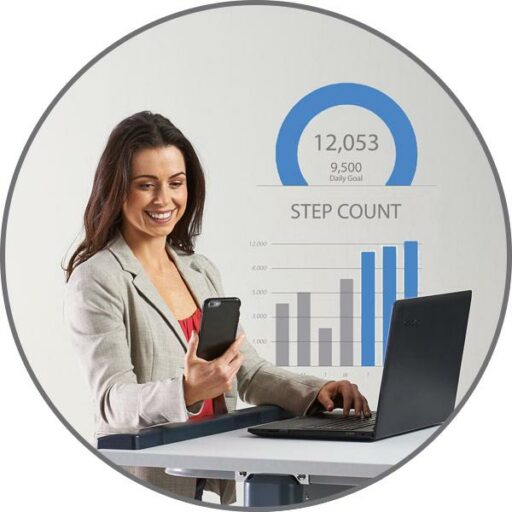 Deck
An essential aspect of the unit's deck construction is shock absorption technology. The deck integrates six independent compression shocks, reducing the cadence's sound and vibration and the overall walking impact on the joints.
In other words, walking on this treadmill will produce less joint pain than walking on asphalt or concrete.
Last but not least, the deck is relatively heavy. It weighs approx — 114 lbs (51.7 kg). However, its relocation or attachment to the desk is more accessible due to the integrated transport wheels.
Intelli-Step™ and Intelli-Guard™
Two other notable features regarding this treadmill are the Intelli-Step™ and Intelli-Guard™ features. Intelli-Step™, as its name suggests, is a step-counting feature with a sensor that can count every step you take.
Intelli-Guard™ is a feature in several other LifeSpan treadmills, such as the LifeSpan TR3000i. It's a safety feature that automatically stops the belt when you are no longer walking.
TR1200-DT5 Desk
The desk of the LifeSpan TR1200-DT5 features a steel frame just like the deck. Its height is adjustable, offering multiple adjustment positions. The minimum size is 33.5″ (85 cm), while its highest position is 52.5″ (133.5 cm). The desk's height adjustment is via the two knobs on each one of the upright posts.
Each base of the desk frame features a small adjustable stabilizer on its front part. Therefore, you should level the unit on any flooring perfectly.
The desktop surface has a 1″ (2.5 cm) thick HD composite material and durable laminate. It's 29″ (73.6 cm) deep and 38″ (96.5 cm) wide. Thus, it's large enough to accommodate your laptop and even a 2-monitor setup. In addition, its front part also features a cable management compartment.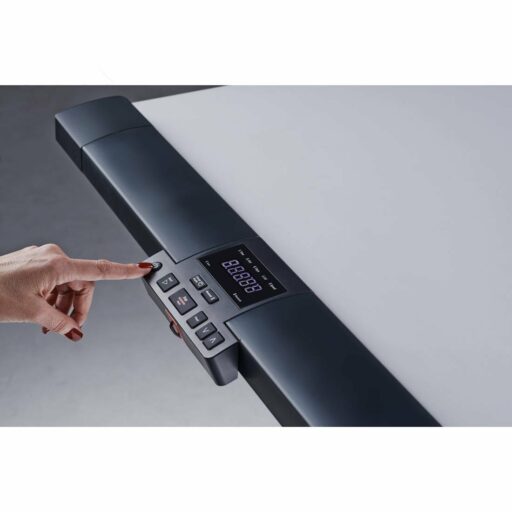 The structure of the desk is not extremely heavy. It weighs approx — 60 lbs (27 kg). Therefore, its relocation or assembly shouldn't be a problem for one person.
TR1200-DT5 Console
Like any other treadmill, the LifeSpan TR1200-DT5 has a fitness monitor. It integrates into the desktop. It features a small LCD with an LED backlight and relatively significant digits.
It tracks time, distance, speed, and calories burned. In addition, as I've mentioned above, the machine has the Intelli-Step™ feature, which counts your steps as you walk.
This monitor does not have a pulse reading function. Therefore, if you need to keep an eye on your pulse during exercising, you must use a separate device. The speed and distance are in either standard or metric units.
Unfortunately, there are no pre-set workout programs in the unit's memory. However, it is Bluetooth enabled and compatible with the free LifeSpan Active Trac app, available for Apple OS and Android systems. In addition, you can sync your device with the monitor to directly stream your workout data online and keep an eye on your progress.
The monitor is relatively easy to use. It has a SCAN function that rotates all the workout metrics showing each one for several seconds. The SCAN mode is disabled via the Change Display button. The unit's speed is adjustable via the arrow keys on the right.
The Stop / Start buttons allow you to quickly pause and resume your workout if necessary, while the Stop button also covers the unit's reset function. Like all other treadmills, this one also has a magnetic safety key. And finally, the Bluetooth feature has a button.
Motor
The LifeSpan TR1200-DT5 treadmill comes with a 2.25 HP High Torque Continuous Duty DC, heavy-duty motor. It delivers speeds up to 4.0 MPH (6.4 km/h), the starting speed of the belt being 0.4 MPH (0.64 km/h). The motor is powerful enough to deliver optimal performance for prolonged use, even if the user is close to the 350 lbs weight limit.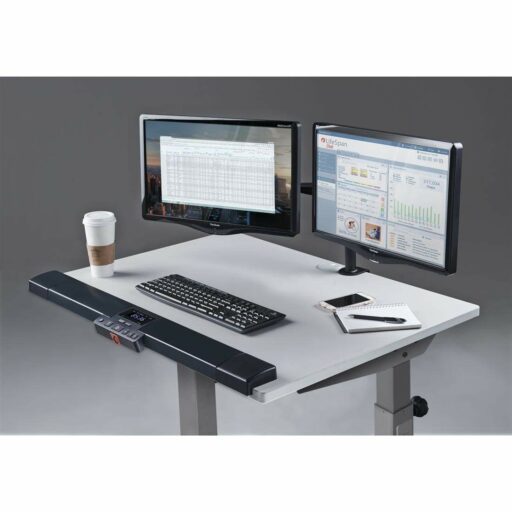 The speed adjustment increments are 0.1 MPH, allowing you to quickly find the perfect pace for your height or workout.
The motor is whisper-quiet, allowing you to be respectful toward your coworkers while you walk for miles each day without impacting office productivity. On top of that, the deck's high-quality internal components suppress mechanical noise and subdue vibration, keeping your focus on the task at hand.
TR1200-DT5 Assembly and Maintenance
The treadmill part comes pre-assembled. So, the only thing that requires assembly is the desk. Consequently, it shouldn't take more than 20-30 minutes. Once completed, all you have to do is attach the treadmill in-between its bases—the tools required for the assembly of the desk come included, and the manual provides precise assembly instructions.
Like any other treadmill, the primary maintenance aspect is the lubrication of the belt. Therefore, it is required to use the silicone-based lubricant periodically. Other than that, it's advisable to regularly check the machine's integrity, re-tighten any loose bolts, etc.
Pros
Heavy-duty construction;
Solid deck – can support users up to 350 lbs;
The deck integrates six independent compression shocks for noise and vibration reduction;
Intelli-Guard™ – a safety function that stops the belt automatically when you stop walking;
Intelli-Step™ – step counting function;
Durable, adjustable desk with a height between 33.5″ – 52.5″;
Whisper-quiet, 2.25 HP motor for prolonged workouts;
Speed increments of 0.1 MPH offer the possibility to find the perfect pace for your workout;
Bluetooth-enabled fitness monitor, compatible with the free LifeSpan Active Trac app for iOS and Android;
Minor assembly is required;
Little maintenance is needed;
Excellent warranty.
Cons
The fitness monitor does not have a pulse reading function.
LifeSpan TR1200-DT5 Treadmill Desk Summary
The LifeSpan TR1200-DT5 is a treadmill desk designed for walking workouts. It comes with a quiet, 2.25 HP motor, a heavy-duty deck with a weight capacity of 350 lbs, and an adjustable desk. The unit's fitness monitor tracks time, distance, speed, calories, and steps into the desk unit. It's also Bluetooth-enabled and compatible with the iOS and Android LifeSpan Active Trac app.
It's an excellent treadmill for walking and power walking and great for muscle toning, stamina development, and weight loss. Furthermore, it allows you to combine your work with your workout. And finally, it's one of the best office treadmills available, with an excellent price/quality ratio.
I hope you found this article helpful and informative. Would you please speak up if you have anything you'd like to share or opinions about my website? I look forward to your comments, questions, and the sharing of ideas.
Please remember that you should consult your physician to determine if you have any medical or physical conditions that could risk your health and safety or prevent you from using the equipment properly. In addition, your physician's advice is essential if you are taking medication that affects your heart rate, blood pressure, or cholesterol level.