The Body-Solid GPR378P300 Power Rack Package works with all benches and is engineered for extreme workouts. Freedom of movement combined with adjustable racking and safety positions make the Power Rack a must-have for those who want to train without compromise.
It's constructed from heavy-duty 11-gauge high tensile strength steel frames with all-4-side welded construction and oversized industrial strength hardware. Additionally, it has an electrostatically applied powder coat finish, which resists chipping and scratching through the most brutal routines. If you want to get bigger and stronger fast, a Body-Solid GPR378P300 Power Rack is what you need.
Undoubtedly, the cornerstone of all strength training equipment is the Flat/Incline/Decline Bench, and nothing comes close to the GFID71! The heavy-duty 2″ x 3″ steel frame can easily handle a load capacity of 1,000 Lbs.
Body-Solid Steel Grip OSB300S Olympic Weight Sets integrate a Quad-grip design, guaranteeing safer and easier performance than any other plate on the market. The weights are accurate within 2% or better of the stated weight. In addition, the Body-Solid Steel Grip Olympic plates are cast from the highest quality gray iron, creating a robust and durable product.
Learn more in my complete review below!
Product: Body-Solid GPR378P300 Power Rack Package
Price: For a great deal on this gym, merely go here on Amazon
Residential Warranty: Frame lifetime / Parts lifetime / Upholstery lifetime (see the commercial warranty below)
My rating: 9.7/10
Affiliate Disclosure: As an Amazon Affiliate Program participant, I earn commissions on purchases made through links in this post. Full disclosure
Details and Specifications
Rack Assembled dimensions: 49L x 46W x 80H inches (124.4L x 117W x 203H cm)
Bench Assembled dimensions: 70L x 28W x 20H (178 x 71 x 51 cm)
Assembled (total) weight: 680 lbs (308.4 kg)
Weight capacity (rack): 800 lbs (362.8 kg)
Weight capacity (bench): 1,000 lbs (453.5 kg)
Included weight set: Olympic bar + cast iron plates, 300 lbs (136 lbs)
Possible exercises: 30+
Warranty:

Commercial: Frame lifetime / Parts 3 years / Upholstery 1 year
Residential: Frame lifetime / Parts lifetime / Upholstery lifetime
GPR378 Power rack
The power rack included in this package is the Body-Solid GPR378 model. The frame of this rack is of 11-gauge high tensile strength, 2″ x 3″ (5.1  x 7.6 cm) steel tubing. All its steel parts have an electrostatically applied powder coat finish, highly resistant to rust and scratches. The colors used are silver for the frame bars, black for the safety bars, J-hooks, and a pull-up bar.
The heavy rack, weighing more than 220 lbs, offers excellent stability. So it's unnecessary to anchor it to the floor, and its bases don't have holes for that purpose. But if you want it attached to the floor, it's possible to drill holes in its plates. This will void the warranty, though. Placing it on a rubberized mat will also add stability.
The rack's footprint is not extremely large. Although it's advertised as a light commercial power rack, it's best suited for home use. Commercial power racks are usually much broader and taller. Anyway, the rack's footprint takes 49″L x 46″W (124.4 x 117 cm) of floor space.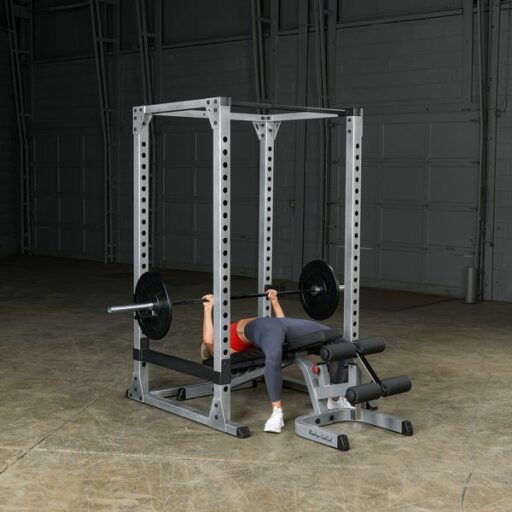 And considering that the upright steel tubes are 3″ x 3″, the width inside the cage is approx — 40″ (101.6 cm), offering enough space even for heavier users. However, don't forget that the overall width of the set includes the 7′ Olympic bar. Therefore you will need an area more extensive than 7′ lin to use this rack correctly and safely.
Regarding height, the top of the frame is 80″ (203 cm) above floor level. This means it can fit in a room with a 7′ ceiling, but it would be pretty tight. Also, in a room with a 7′ ceiling, the clearance above the frame will be only 4″ (10 cm), which may not be enough to execute various chin-ups or pull-ups properly.
Safety bars, J-hooks, and a pull-up bar
The Body-Solid GPR378P300 includes a set of two safety bars and two J-hooks. The recommended weight is 800 lbs (362.8 kg), although users have reported that it can hold up to 1,000 pounds (453.5 kg). Also, the frame features 20 adjustment positions for them.
The pull-up bar is attached to the top front of the frame. It measures 41″ (104 cm), it's 1.5″ (3.8 cm) thick, with knurled grips. It does not have a rubber foam coating on it. Also, this bar should support more than 400 lbs (181.4 kg) of user weight. In other words, it can withstand weighted pull-up exercises without any issues.
GPR378 included Bench
This Body-Solid weight training set contains the GFID71 bench. This is a heavy-duty flat/incline/ decline bench with a weight capacity of 1,000 lbs (453.5 kg). Its frame is made of the same 11-gauge steel tubing just as the power rack; however, the tubes are 2″ x 3″ (5 x 7.6 cm).
The upholstery on the bench is highly durable, made of 2¾" (7.2 cm) DuraFirm padding, offering all the comfort required for your workouts.
The Body-Solid GFID71 bench has a footprint of 70″L x 28″W (178 x 71 cm) and an assembled weight of approx. 101 lbs (45.8 kg).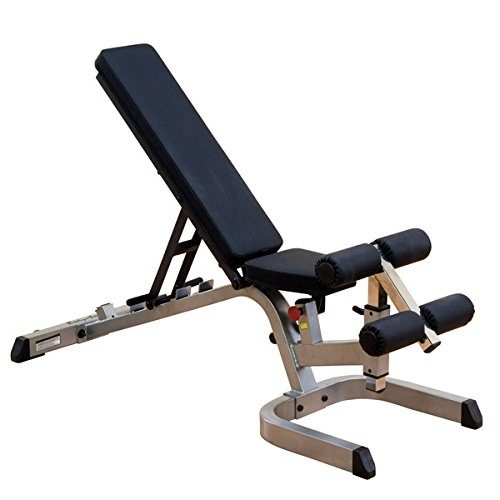 The backrest features six adjustment positions. It can go to an almost 90° setting for incline workouts while for a decline for 30°. It also has a flat (0°) setting. When the backrest is at 0° incline (flat), the floor's distance to the bench pad's top is approximately — 20″ (51 cm).
The seat is also adjustable, featuring several adjustment positions. For example, it tilts from its normal 0° position to support specific exercises. The seat pad's dimensions are 12″ x 10″ (30.4 x 25.4 cm), while the backrest dimensions are 35.5″ x 10″ (90 x 25.4 cm).
The front part of the bench is equipped with a T-Bar Leg to Hold Down accessory with oversized rollers for extra comfort and stability. However, this part is removable and is replaceable with a leg developer or a preacher curl pad.
GPR378 includes a Weight set
The included weight set for this weight training system is the Body-Solid OSB300S. This set consists of a 45 lb 7′ Olympic barbell and the following Olympic-type weight plates:
2 x 45 lbs (20.4 kg), 2 x 35 lbs (15.8 kg), 2 x 25 lbs (11.3 kg), 2 x 10 lbs (4.5 kg), 4 x 5 lbs (2.26 kg), and 2 x 2.5 lbs (1.13 kg)
The total weight of this weight set is 300 lbs (136 kg).
The weight plates are solid cast iron with a paint finish. However, they don't feature any rubber coating or vinyl. Instead, the barbell has a chrome finish with knurled grips to provide superior adherence. The weight set also includes two EZ collar springs to hold the plates safely on the bar.
This Power Rack Package is available with a 500-pound weight set for the more accomplished powerlifter. For pricing, I've provided this link Body-Solid GPR378 Power Rack with Heavy GFID71 Bench, 500lb. Weight Set
Optional accessories
There are four main optional accessories that you can acquire for the rack and the bench included in this set. These are lat attachment, leg developer,  preacher curl, and an Olympic plate tree bar holder.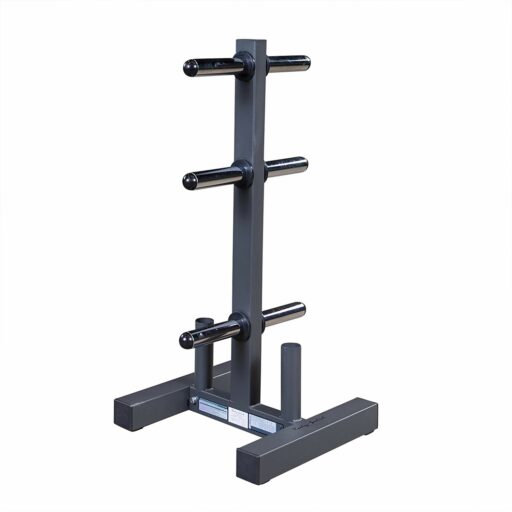 Lat attachment. The lat pull-down station available for the GPR378 power rack is the GLA378. It features 1″ diameter posts for Standard or Olympic weight plates. It integrates seven heavy-duty nylon pulleys, 2,200 lbs test, nylon-coated aircraft quality cables, the top frame tube, and the lat pull-down handle.
Preacher pad. This attachment is the Body-Solid model number GPCA1, compatible with the included bench. Also, it's the same DuraFirm cushioning as the bench. It consists of a bar saddle, and its vertical post features three height adjustment positions.
Leg developer. The leg attachment compatible with the GFID71 bench is the Body-Solid model GLDA3. In particular, this accessory integrates three 4″ (10.1 cm) thick padded rollers, each one of them 18″ (45.7 cm) long. Additionally, it has a 1″ (2.5 cm) diameter, 9″ (22.8 cm) long weight peg for Standard and Olympic plates.
Olympic Plate Tree Bar Holder. The WT46 has a heavy gauge 2″ x 3″ and 3″ x 3″ welded steel construction. Six triple chrome plated Olympic weight plate storage posts. Super-tough ABS plastic ball-end storage post caps provide quick and easy alignment for weight plate loading. Four rubber foot tabs are riveted onto the bottom of the base frame to protect your floor. Textured powder coat finishes hide dust, dirt, and fingerprints. 2 bar holders, 1,000 lbs — weight capacity.
Possible Exercises
Given the equipment included with this weight training set, the following exercises are possible:
Pull-ups
Wide grip pull-ups
Muscle pull-ups
Behind head pull-ups
Around the world, pull-ups
One-arm pull-ups
Cliffhangers
Weighted pull-ups
Chin-ups
Close grip chin-ups
Wide grip chin-ups
One hand chin-ups
Weighted chin-ups
Hanging knee raises
Hanging leg raises
Chest presses
Incline chest presses
Decline chest presses
Single-arm chest presses
Wide grip chest presses
Close grip chest presses
Military presses
Deadlifts
Stand-up leg curls
Calf raises
Squats
Single-leg squats
Wide squats
Twisting squats
Sit-ups
Decline sit-ups
and more
GPR378 Assembly and Maintenance
The Body-Solid GPR378P300 power rack and the GFID71 bench are relatively easy to put together. Also, each one comes with its assembly manual. However, due to the many parts required to be attached, the whole assembly process may take a few hours.
Maintenance requires periodic checks of the rack's and bench's bolts and joints to ensure they still hold tight in place. Moreover, this is to prevent any potential accidents or failures of the equipment.
Pros
It's an extremely sturdy frame of 11-ga steel, rated for loads up to 800 lbs.
20 adjustment holes for the j-hooks and safety bars;
Heavy-duty flat/incline/ decline bench included, with a weight capacity of 1,000 lbs;
Bench padded with 2¾" DuraFirm upholstery;
Leg stoppers on the bench for sit-up exercises;
Pull-up bar included;
7′ Olympic barbell set, with steel plates – 300 lbs, included;
Various attachment options are available: dip station, lat pull-down station, leg developer, and preacher pad (sold separately);
Over 30+ possible exercises;
Easy to assemble;
Little maintenance is required;
Excellent warranty.
Cons
The rack doesn't have storage pegs for weight plates.
Body-Solid Power Rack Gpr378P300 Summary
This Body-Solid weight training set includes the GPR378P300 power rack, the GFID71 adjustable bench, and a 300 lbs Olympic plate set with a 7′ bar. Specifically, it offers everything required for squats, chest presses, deadlifts, sit-ups, and pull-ups. Thus, it's an excellent set for users of all levels.
The included 300-pound barbell set may not suffice for a powerlifter. However, the rack can support up to 800 lbs of weight; therefore, there is room for upgrades. Additionally, there are several options available for the power rack and bench. And finally, although each included item is available separately, purchasing them as a set will save approximately $ 125.
I hope you found this article helpful and informative. Please speak up if you have anything you'd like to share on the topic or opinions about my website.? I look forward to your comments, questions, and the sharing of ideas.
Please remember that you should consult your physician to determine if you have any medical or physical conditions that could risk your health and safety or prevent you from using the equipment properly. In addition, your physician's advice is essential if you are taking medication that affects your heart rate, blood pressure, or cholesterol level.