The Schwinn 430 MY16 is an impressive elliptical for home use, combining an ergonomic design for comfort with plenty of features to keep your workouts varied, challenging, and motivating. The  430 utilizes a high-speed high-inertia perimeter weighted flywheel together with ECB resistance (20 levels) that provides smooth, quiet, and consistent momentum.
The Schwinn 430 MY16 Elliptical offers a 20" stride length combined with Precision Path Foot Motion Technology that simulates a natural running motion, while the large cushioned articulating footplates provide additional comfort to give you an overall effective yet low-impact workout.
There's lots of workout variety 22 preset programs, including nine profile, eight heart-rate, two custom, two fitness tests, and 1 Quickstart program.  There are 20 levels of computer-controlled resistance (with 10 Quick Keys for easy adjustments), so you can adjust the intensity of your workout, and for an additional challenge, you can adjust the incline up to 10 degrees (manual ramp with six positions).
The Schwinn 430 MY16 Elliptical features dual-action handlebars – manual and static. To work both your upper and lower body together for a more effective workout, hold the manual handlebars (moving) or hold onto the static handlebars (stationary) to work your lower body in isolation.
Learn more in my complete review below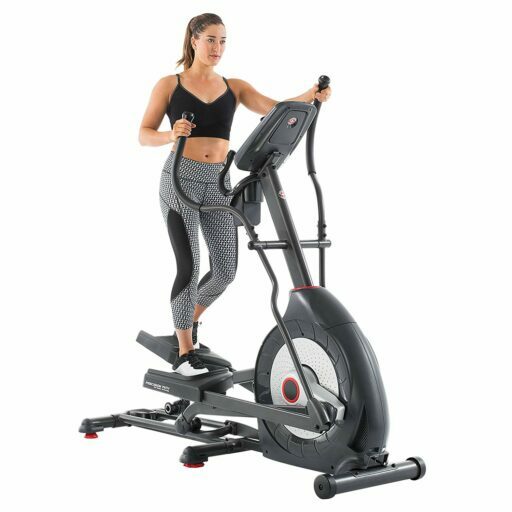 Product: Schwinn 430 MY16 Elliptical
Price: For a great deal on this elliptical, merely go here on Amazon
Warranty: Frame 10 years / Mechanical 2 years / Electronics 1 year / Labor 90 days
My rating: 7.75/10
Amazon Affiliate Disclosure: I may earn commissions from purchases made through links in this post.
Details and Specifications
Assembled dimensions: 70.1L x 28.2W x 63.2H inches (178L x 71.5W x 160.5H cm)
Assembled weight: 168.7 lbs (76.5 kg)
Weight capacity: 300 lbs (136 kg)
Stride: 20 inches (51 cm)
Incline: Manual, six positions, up to 10° incline
Footplates: Articulating, with cushioning
Handlebars: Both mobile and fixed (with pulse sensors)
Resistance system: Eddy current, 20 levels
Console: 22 workout programs, USB charging port, Schwinn Connect & MyFitnessPal compatible
Amenities: Bottle holder, media tray, sound system, cooling fan
Warranty: Frame 10 years / Mechanical 2 years / Electronics 1 year / Labor 90 days
430 Frame
This Schwinn elliptical trainer features a frame made of two main pieces, which connect in the middle. The front part is the largest, as it integrates the drive and resistance systems, while the rear section is the rail bars of the machine.
Most of its sustaining frame is steel tubing; the only PVC parts are the covers of the drive system, the pedals, and the console. All steel parts in the machine's construction come with corrosion and scratch-resistant paint. The frame rests on three bases. The rear and mid plates come with adjustable, rubberized stabilizers, while the front base features rotating caps, which serve as transport wheels for the machine.
This elliptical is not precisely light; it weighs approx 168 lbs (76 kg) when fully assembled. However, given the front wheels, it's easy to transport. By leaning it on its front wheels, you will handle less than half of its weight.
The Schwinn 430 MY16 is relatively large. It may not be the best choice for a fitness machine if storage and usage space are an issue. It takes approx. 70″L x 28″W (178 x 71 cm) of floor space, also requiring at least one foot of clearance on each side and one foot of space at the rear, for safe operation.
One last aspect to mention here regards the two accessory holders. The first one is placed between the fixed handlebars and offers the possibility to store a water bottle in it. The second one is in the protective case of the machine's drive system, and you can use it to keep your TV remote, phone, or other small accessories.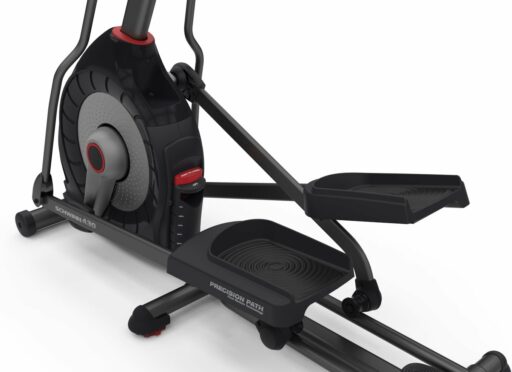 Pedals and handlebars
The machine is equipped with a set of large, articulating pedals. This means they're designed to absorb some of the stress on the angles, slightly adjusting position with each side.
This is a plus for users with specific joint disabilities or users who require recovery training. Also, they have a ribbed finish for maximum adherence to your footwear. The bars to which the pedals are attached are steel-made as well. They have a maximum user weight capacity of 300 lbs (136 kg).
This elliptical trainer has two sets of handlebars, mobile and fixed. They both feature rubberized grips for maximum comfort, and a multi-grip design, to support several workout postures. The fixed bars also integrate stainless steel pulse sensors so that the control unit can monitor your heart rate.
430 Incline, stride, and step-up height
To begin with, the Schwinn 430 MY16 elliptical trainer features a manual incline system. The rails on which the pedal bars glide connects at the front of the frame. Furthermore, to manually set the incline, there is a choice of six positions to lock the tracks into; thus, setting the slope with a maximum incline of approximately 10°.
Since the incline system is manual, you have to pause your workout to adjust the tracks. But still, having the possibility to select from 6 levels of incline, can put a lot of diversity into your workouts.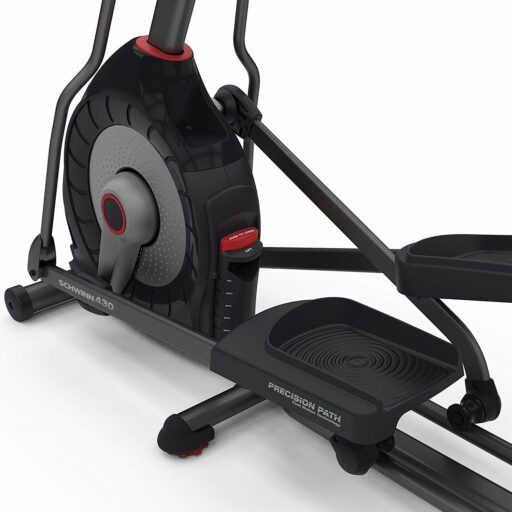 The elliptical's stride is non-adjustable, though. It has a mid-range stride length of 20″ (51 cm). This means it can accommodate users comfortably up to 6'3″ (190 cm). Of course, taller users should also use this machine, but stride may feel a bit too short for them.
At 0% incline, the lowest pedal stands at approx. 12″ (31 cm) above floor level, while the highest one raises to approx. 14″ (36 cm). By adding incline, you will get an elevation of a few extra inches.
Therefore, to avoid any ceiling height issues, make sure that the ceiling in the room where you will be using this machine is at least 21 – 22″ (53 – 56 cm) higher than your height.
Drive and resistance
The Schwinn 430 MY16 features a belt drive system, powered by a heavy-duty v-belt. It doesn't have a weighty flywheel, but it's perimeter-weighted, which means it provides a consistent momentum, rendering the stride extraordinarily smooth and stable.
The pedal bars come with large wheels, which integrate stainless steel, sealed ball bearings for smooth operation and a long lifespan. The joints of the arms also incorporate similar ball bearings.
In terms of resistance, this machine features an eddy current system. Thus, it requires a connection to a 120V circuit (9 volt DC adapter included). The adapter plugs into the machine near the front. The resistance is adjustable only from the machine's control unit.
Resistance can be adjusted as you pedal from the keys on the console. Or, if you choose to exercise by using one of the onboard programs, resistance will be adjusted automatically, depending on the current segment of the workout.
There is no contact between the resistance elements. Thus, not only that, the pedaling motion is tranquil, almost silent, the wear and tear of the resistance elements are minimal.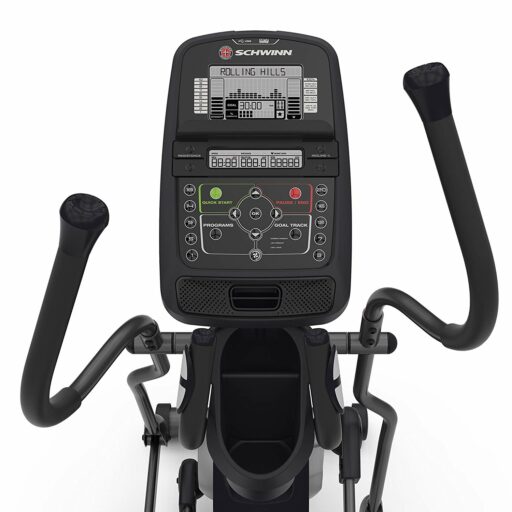 This Schwinn elliptical machine offers 20 levels of resistance. The lowest resistance levels promote light workouts, perfect for warmups, or recovery training. Conversely, the top resistance settings provide the possibility to undertake exercises for strength development, or high-intensity cardio workouts.
430 Console
The console is easy to operate. It offers direct keys for 10 resistance settings (1,3,5,7,9,12,14,16,18,20), for quick adjustment. However, resistance is also adjustable from the arrow keys, from 1-20. There are also keys on the console for QuickStart, Pause/End program, Goal Tracking, and Programs.
The top display shows your goal progression, the grid of the current workout program, and the user data. The lower, smaller screen keeps track of speed, time, distance, RPM, heart rate, calories, also indicating the selected resistance level.
The fitness console is not Bluetooth enabled and cannot read pulse via an HR chest strap. However, integrated pulse sensors in the fixed handlebars allow for tracking of your heart rate. Also, you cannot sync it directly with your mobile device or laptop for workout data transfer.
However, it does have a USB port that allows you to save your workout data on a USB stick, to transfer it to your Schwinn Connect or MyFitnessPal account. Using one of these online apps, you can keep a better track of your progress. You can also use the USB port to charge your device while exercising and using your tablet or phone.
430 Workout Programs
The console of the MY16 Schwinn elliptical offers a consistent array of applications. To begin with, it has 22 workout programs to choose from, nine profile-based, eight for heart rate, two fitness tests, two custom, and of course, the quick start program (or manual mode).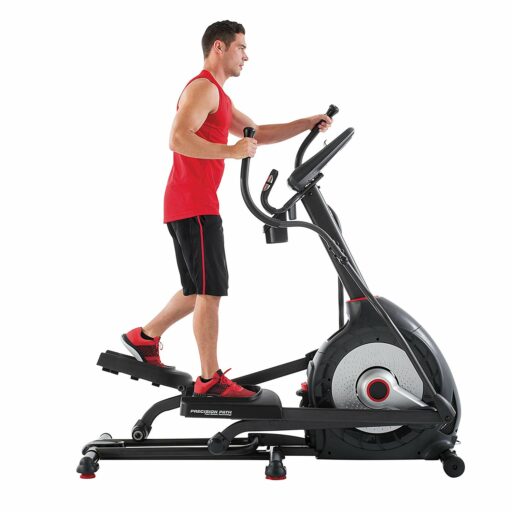 The profile-based programs are ready-made programs, each one focusing on various muscles. The heart rate programs have two categories, four advanced users, and four for beginners.
The two custom programs allow you to create your workout, save it, and re-use it as many times as you want. The unit also has two user profiles, which is an excellent feature if two people use the machine. The console also offers goal tracking functions for time, calories, and distance.
Amenities
The console integrates a sound system, a cooling fan, and a tablet holder. The sound system consists of two acoustic chambered speakers, which can render audio of excellent quality, considerably superior to the speakers of a tablet or phone.
The cooling fan offers three speeds; it's beneath the lower part of the console, between the speakers. It's not extremely powerful, but still, it does provide some cooling. Finally, the tablet or media holder is placed right under the full display, being large enough to accommodate any tablet.
430 Assembly and Maintenance
The assembly process of this elliptical trainer is not complicated but may take up to two hours. It's also recommended to be assembled by two people. The elements of the drive system and resistance system come pre-assembled.
Thus, assembly requires to connect the two main frame pieces, connect the front base tube, the console mast, the pedals and arms, and the console — all tools required for assembly are (included). Also, the supplied manual provides pretty clear assembly instructions.
For maintenance, you'll need to keep the rails free of any debris, as this can lead to damage either to the tracks or to the gliding wheels. You should also grease the rails from time to time, and maybe the joints of the arms and pedals, in case it may begin to squeak. Other than this, make sure you don't spill any liquids on the console and the flywheel case.
Pros
Sturdy construction, similar to commercial machines;
Adjustable levelers;
Articulating pedals, for minimum impact on your joints;
Perimeter weighted flywheel for a consistent momentum and smooth pedaling;
Quiet operation, ideal for apartment use;
20 levels of eddy current resistance;
22 workout programs;
Six levels of incline which can considerably diversify your workouts;
Goal tracking functions for time, distance and calories;
DualTrack monitor system that allows you to see your workout data even if you have a tablet on top of the console;
Pulse sensors integrated into the fixed handlebars;
Cooling fan included;
Sound system included;
A USB port for workout data transfer to Schwinn Connect and MyFitness Pal, which also doubles as a charging port for your device;
Media tray included;
Bottle/accessory holders included;
Little maintenance required;
Great warranty plan.
Cons
No backlight for the displays;
A tablet placed on the media tray will cover the top screen.
Schwinn 430 MY16 Summary
The Schwinn 430 MY16 is an elliptical trainer with sturdy construction, similar to the commercial models. It comes with a motor-assisted magnetic resistance system, offering 20 resistance levels. Its console has 22 workout applications and provides the possibility to transfer your workout data to your MyFitnessPal or Schwinn Connect account.
It's a machine for users of all levels, great for light to intense cardio workouts, interval workouts, recovery training, muscle toning, stamina and strength building, and weight loss. In all, it's a machine with an excellent price/value ratio.
I hope you found this article helpful and informative. If you have anything that you'd like to share or opinions about the content on my website, please do speak up. I look forward to your comments, questions, and the sharing of ideas.
Related articles: