The 3G Cardio Pro Runner Folding Treadmill comes with a folding design that is convenient and easy to use. 3G Cardio offers quite a few well-built treadmills for gym and home use. The Elite model that I reviewed a while ago is the gym model, while the 3G Cardio Pro Runner model that I'm going to focus on here is one of the models intended for home use.
However, even though it's for home use, the 3G Cardio Pro folding treadmill still features gym-quality construction, offering a medium range of features. For under $2,000, users can get this super reliable treadmill with the Ortho-Flex Shock(TM) Suspension System for added comfort.
Furthermore, the orthopedic running belt runs on large 2″ rollers for a smooth, quiet experience, and users can comfortably incline to 15% and run speeds up to 12 mph. And to adjust speed/incline, users can easily make changes with the One Touch speed/incline keys via the console.
The 3.0 HP continuous-duty motor keeps this treadmill running smoothly and can withstand weights up to 350 pounds. Its dimensions are 74″ long, 35″ wide, and 58.5″ high, and after being folded, its dimensions change to 40″ long, 35″ wide, and 65″ tall, so it is perfect if you are a bit tight on space.
Learn more in my complete review below!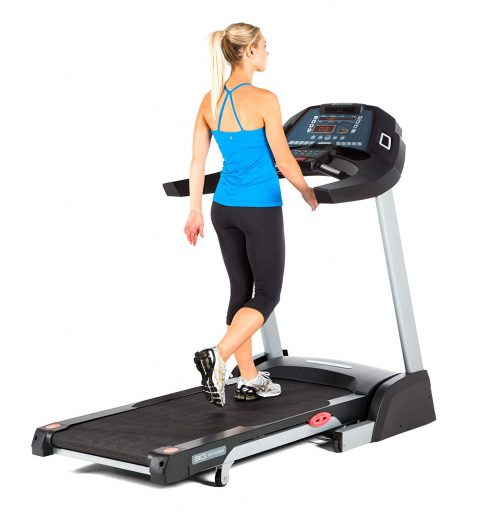 Product: 3G Cardio Pro Runner Folding Treadmill
Price: For a great deal on this treadmill, merely go here on Amazon
Warranty: Frame lifetime / Motor lifetime / Parts 5 years / Labor 1 years
My rating: 8.25/10
Affiliate Disclosure: As an Amazon Affiliate Program participant, I earn commissions on purchases made through links in this post. Full disclosure
Details and Specifications
Assembled dimensions: 74L x 35W x 58.5H inches (188L x 89W x 149H cm)
Assembled weight: 216 lbs (98 kg)
Tread belt dimensions: 58L x 20.5W inches (147L x 52W cm)
Maximum user weight: 350 lbs (158.7 kg)
Motor: 3.0 CHP
Incline: Automatic, 0%-15%
Deck cushioning: Yes
Speed levels: 0.5-12, MPH.
Training programs: 8 courses, two custom, two fit tests, one fat burn, one aerobic, one body index, one manual
Pulse sensors: Yes
Amenities: Accessory holders, cooling fan
Warranty: Frame lifetime / Motor lifetime / Parts 5 years / Labor 1 years
Pro Runner Frame and deck
The 3G Cardio Pro Runner folding treadmill features a folding deck. It folds and locks up with a small mechanism near the right base bar. In addition, the deck features a hydraulic cylinder on the left, meant to soften the drop as you unfold it.
With the deck folded up, you will save approx. 34″ (86 cm) lengthwise, its footprint remaining at 40″L x 35″W (101.6 x 89 cm). Conversely, with the deck unfolded, the machine takes approx. 74″L x 35″W (188 x 89 cm) of floor space. Differently put, it's not the biggest treadmill, but it's not exactly small either.
The frame is steel. The front part of the structure features four wheels, two integrated into the front base and the other two at its rear. These ease transport for the treadmill with its deck folded up. The back of the deck includes a set of two wheels. However, they are for support rather than for moving the machine.
The deck is also extremely sturdy, with a maximum weight of 350 lbs (159.7 kg). It integrates 2″ rollers for a smooth and stable operation. In addition, it uses a 2-ply belt, similar to the one equipped on the Elite model.
However, this belt is smaller, the machine only offering a running surface of 58″L x 20.5″W (147 x 52 cm). In other words, this treadmill can support running, accommodating users up to 6'5″ (196 cm) comfortably.
The deck also integrated one rubber cushioning cell, which alleviates the running impact. Therefore, it is essential for anyone who has joint problems or must undergo rehabilitation training. In addition, running on this treadmill is considerably more forgiving than running on asphalt or concrete.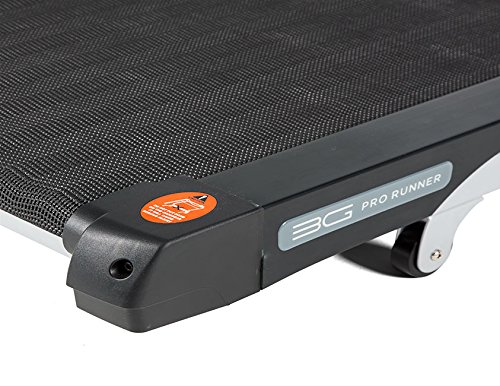 Motor and incline
The 3G Cardio Pro Runner folding treadmill is a 3.0 CHP heavy-duty motor. This motor is powerful enough to support prolonged workouts at the highest speed settings without overheating, even if the user is near the maximum specified weight capacity.
It can supply speeds up to 12 MPH and starts at 0.5 MPH. The speed is adjustable in increments of 0.1, though. As a result, the transition from one level to another is smooth, and you can select the most comfortable pace for you.
This treadmill also offers a motorized incline system. The incline ranges between 0% and 15%. Thus, it can provide a maximum slope of approx — 11 °. The incline is also adjustable in increments of 1%.
Even though the incline supplied by this treadmill isn't exactly close to the power incline offered by commercial treadmills, it still diversifies the number of possible workouts by a lot.
Also, keep in mind that running at 10 MPH, and using the maximum incline setting of 15% on this machine, will offer quite a challenge. A non-professional runner shouldn't last more than a couple of minutes with these settings.
Since this treadmill features a series of onboard programs, speed and incline will adjust automatically by using one of them.
This fitness machine requires a power connection to a standard three-prong outlet on a 110v power circuit, at least 15 amps and preferably 20 amps. It comes with a power cord with a standard plug, not an adapter. The power cord connects to the motor case near the front base.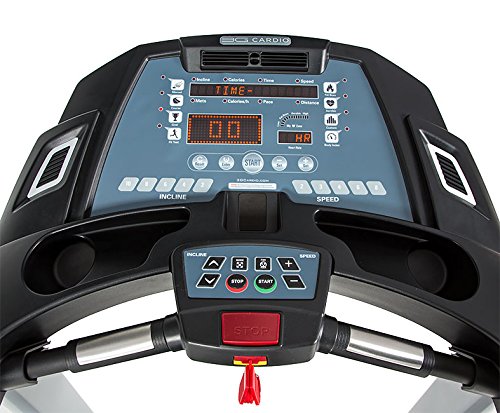 Pro Runner Console
Since it's a medium-range treadmill, this 3G Cardio Pro Runner folding treadmill features quite an inclusive console. First of all, it has a 3-panel LED-based display system. One of the displays keeps track of incline, calories, calories burned/per hour, speed, distance, pace, and METS.
The second one is wider and displays the current workout program's grid, while the third and the smallest one show heart rate.
The top part of the console features eight keys, covering various programs. These are Manual, Course, Goal, Fit Test, Fat Burn, Aerobic, Custom, and Body Index.
The speed and incline adjust gradually from the + / – and Up/Down keys. However, the console also features access for selecting the direct speed and incline adjustment. So, for example, you can quickly choose 2,4,6,8,10 for incline or 2,3,4,6,8 for speed.
The console integrates a cooling fan situated at the console's top in terms of amenities. In addition, the mid-part features three compartments that serve as accessory holders. The plastic piece with the molded accessory holders doubles as a tablet or reading rack.
Finally, the console is telemetry enabled, which means it can read your pulse via a wireless HR strap. Unfortunately, this accessory does not come with the treadmill. Therefore, if you don't have one, you will have to use the stainless steel sensors integrated into the machine's front handlebars to read your pulse.
Pro Runner Assembly and Maintenance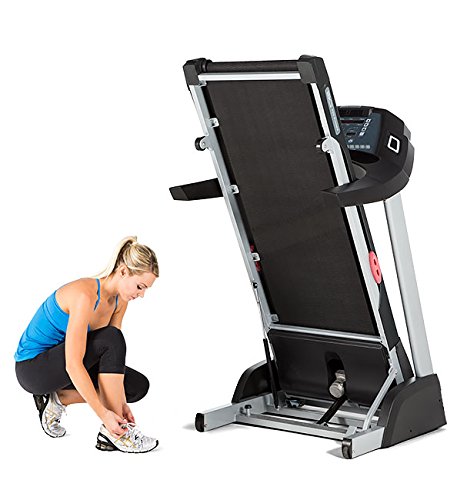 This 3G Cardio Pro Runner folding treadmill comes partially assembled. The deck with its motors, rollers, and belts is already attached to the steel frame. Therefore, assembly requires you to mount the vertical posts, connect handles to the console and the wires, and finally add the covers of the posts' joints.
Like most treadmills, the belt requires lubrication from time to time, and a tube of silicone lubricant comes with the machine. In addition, it would be best to wipe off the belt periodically with a damp cloth to remove any dirt or small objects caught in the rollers or motor. And last, you should regularly check the nuts and bolts to make sure they remain tight.
Pros
Solid frame and deck;
Folding design;
High user capacity for a folding treadmill – 350 lbs;
The deck incorporates suspensions and shock-absorbing elements;
Motorized incline, with up to 15% ramp;
3.0 CHP, heavy-duty motor, fit for running, not just jogging or walking;
Offer speeds up to 12 MPH;
16 workout applications;
Easy to use, comprehensive controls on the console;
Pulse sensors on lateral grips;
Quiet and smooth operation;
Easy to assemble;
Little maintenance is required;
Excellent warranty plan.
Cons
No sound system;
A tablet or magazine placed on the rack will cover some of the controls and displays;
An HR chest strap does not come with the machine.
3G Cardio Pro Runner Folding Treadmill Summary
The 3G Cardio Pro is a medium-range home-use treadmill but with a deck and frame construction similar to commercial use. Thus, it's an incredibly sturdy treadmill. Specifically, it has a motorized incline and a 3.0 CHP motor for the running belt, which can supply speeds up to 12 MPH.
Furthermore, it offers an impressive range of workout applications, providing an adequate training setting for users. Moreover, it's not exactly the most affordable model, but the quality matches its price.
I hope you found this article helpful and informative. Would you please speak up if you'd like to share on the topic or any opinions about my website? I look forward to your comments, questions, and the sharing of ideas.
Please note: Before starting any exercise program, you should consult your physician to determine if you have any medical or physical conditions that could put your health and safety at risk or prevent you from using the equipment properly. In addition, your physician's advice is essential if you are taking medication that affects your heart rate, blood pressure, or cholesterol level.