The Concept2 BikeErg Stationary Exercise Bike brings enough features to easily justify its price tag at around $1,200. In addition, this bike provides one of the smoothest rides and supports all skill levels. Furthermore, it has an adjustable and dynamic air resistance system, an impressive 300-pound user weight capacity, fully adjustable handlebars, and a freewheel drivetrain for a road bike feel.
The Concept2 BikeErg uses the same air resistance system as the Concept2 Model D rower, featuring an air turbine with a damper system for overall adjustment. It's an exercise bike that isn't a spin or upright bike. Most users have also stated that it provides a different workout and pedaling feel than other air resistance bikes.
The Concept2 BikeErg also features a battery-operated backlit fitness monitor with built-in programs. Additionally, it features a USB port, Bluetooth, and ANT+ wireless connectivity to connect the bike to your smart devices, download/upload, track, and save your workouts. Designed and targeted for elite cyclists, the PM5 monitor accurately measures the Watts, RPM, Distance, Time, and other superior performance results.
Concept2 has applied its intuitive and straightforward touch to the handlebar and seat height adjusters. Just pull the seat to raise it, and it will remain locked at the required height; a lever flick lowers it — no fiddly pulling of pins or twisting of knobs here. In addition, the platform pedals are replaceable with cycling-specific SPD clip-in pedals.
Learn more in my complete review below!
Product: Concept2 BikeErg Stationary Exercise Bike
Price: For a great deal on this bike, merely go here on Amazon
Warranty: Frame five years/parts two years
My rating: 9.8/10
Affiliate Disclosure: As an Amazon Affiliate Program participant, I earn commissions on purchases made through links in this post. Full disclosure
Details and Specifications
Assembled dimensions: 48L x 24W x 48H inches (122L x 61W x 122H cm)
Assembled weight: 58 lbs (26 kg)
Supported weight: 300 lbs (136 kg)
Handlebars: 4-way adjustable
Seat: 2-way adjustable
Drive: Belt
Resistance: Air, ten levels
Fitness Monitor: Manual program, target program, games, USB port, wireless connectivity
Warranty: Frame parts five years / Other parts two years
BikeErg Frame construction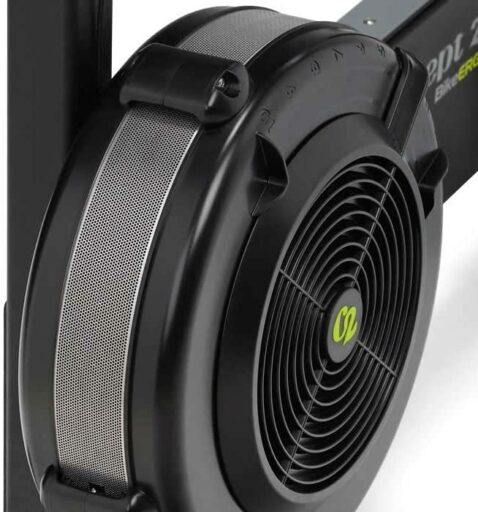 The Concept2 BikeErg is relatively light compared to other air bikes due to its aluminum frame construction. It only weighs 58 lbs (26 kg). Thus, one person can carry and assemble the bike. In addition, its front base has large silicone wheels to facilitate its relocation once completed.
The base bars of the bike are steel-made for added sturdiness. In addition, they come with rubberized stability pads. Finally, the rear stabilizers are adjustable, allowing you to perfectly level the unit on any floor.
The casing of the drivetrain has extruded aluminum plates. However, the flywheel enclosure is a hi-impact ABS thermoplastic material.
The bike's mainframe and base bars feature a black paint finish, while the handlebar, seat posts, and sliders have a light gray finish. The unit's paint finish is highly resistant to corrosion and abrasion.
The fully assembled bike is not extremely large compared to other fitness machines. Its footprint is 48″L x 24″W (122 x 61 cm), while its highest point is the top of the fitness monitor, which reaches approximately 48″ (122 cm) above the floor level. Also, Concept2 advises a usage area for this exercise bike of at least 60″L x 48″W (152 x 122 cm).
Seat
The Concept2 exercise bike features a pretty standard saddle design and adjustment system. Thus, compatible replacements are widely available if you're not satisfied. Unfortunately, it's not as slim as a spin seat and does not integrate air cushioning.
However, it has an internal foam padding layer, while its top is durable vinyl. So, as a small conclusion, the included saddle offers optimal comfort.
The BikeErg offers only 2-way adjustability (up, down). Its vertical post offers an adjustment span of 9.5″ (24 cm); the seat-to-pedal range varies between 31″ (~78 cm) and 40.5″ (~103 cm).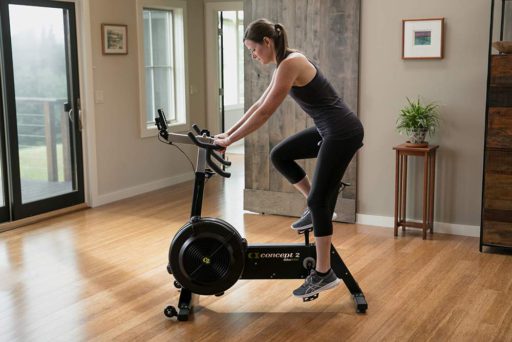 Thus, the bike comfortably accommodates users between 5'4″ and 6'6″ (162 – 198 cm), and it has a maximum user weight limit of 300 lbs (136 kg).
Although the seat doesn't have a horizontal slider for other exercise bikes, the handlebar compensates with a long slider. Therefore, you can bring the handlebar grips close to you and assume the most comfortable position. Of course, the handlebar post also offers several inches of up/down adjustment.
Handlebars
The handlebar assembly has a multi-grip design. It's similar to the average cycling bike handlebar, featuring drop-down and curved-up grips. It does not have aero bars, but you can permanently attach a set.
Both the handlebar assembly and the seat are straightforward to adjust. The seat adjustment system is lever-based; to change it, you only have to press the lever, and once you bring it to the desired position, it will lock into place.
The vertical post of the handlebar and its horizontal slider have large turn knobs to adjust, which you can comfortably grip and turn. Therefore, changing the bike for your size shouldn't take more than 30 seconds, and you can do this while you are already on it.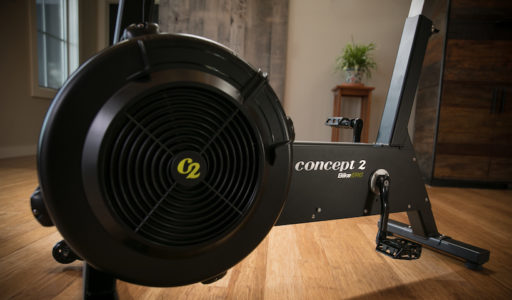 BikeErg Resistance
The BikeErg has the same resistance system as the Concept2 Model D rower or the SkiErg. The internal steel and fiberglass reinforced ABS centrifugal fan is the main resistance-generating element.
The bike has no magnetic resistance elements; however, the fan casing has a damper. Therefore, you can adjust the air entering the fan casing to increase or decrease the overall resistance.
There are ten settings for the damper. The difference between the first setting and the 10th setting is quite noticeable. The drag factor range is approximately 60 to 210. Also, since it's an air resistance system, it is designed to provide a dynamic response during pedaling. For instance, the harder you pedal, the more resistance you will get.
Another essential aspect that I must mention is the unit's inertial load. Compared to a spin bike, the workout on the BikeErg delivers an entirely different feel.
For example, the flywheel of a spin bike spins somewhat freely when you pedal at high RPM, while for the Concept2 BikeErg, you have to apply constant pressure on the pedals for each rotation. Thus, it results in a significantly more consistent workout for your legs.
Drive System
Unlike many other air bikes, this one uses a belt drive system. It integrates a set of high-strength poly groove belts, which are self-tensioning, so you don't have to go through the hassle of any adjustments or lubrication. Also, a belt drive is considerably quieter than a chain drive and produces less vibration.
The bike has a durable crankset. In addition, the seat and the overall frame construction can support loads up to 300 lbs (136 kg). So, as long as you don't exceed this limit, you should pedal while standing up with no problem.
The included pedals are metallic alloys; they're highly durable as well. Unfortunately, they do not have toe cages, straps, or SPD clips. However, they have standard 9/16 threads, so you can always replace them with caged or SPD pedals.
Lastly, the bike's Q-Factor (spacing between the pedals) is relatively narrow. It measures only 155 mm. Thus, your feet' positioning on the pedals is natural, so the pedaling motion does not generate any lateral stress on your knees and ankles.
BikeErg Console
The BikeErg includes a Concept2 PM5 fitness monitor version, similar to the Concept2 Model D rower. In addition, it features an LCD that tracks distance, pace, speed, calories burned, watts, and heart rate.
Thus, it allows you to choose between five display options: bar chart, force curve, large print, and pace bike. It also has a backlight for increased visibility.
The fitness monitor has three distinct workout modes: manual mode, workout goals, and games. The display counts your workout metrics using the manual method (Just Ride). For the goals mode (Select Workout), you can select a specific target for time, distance or interval or choose from other preset programs.
The third workout mode makes three games available: a Fish Game, a Darts Game, and a Target Game with two levels, advanced or beginner. Again, these are specific to Concept2. Most other fitness monitors do not have similar features.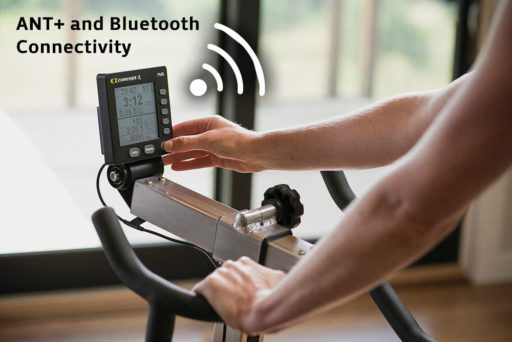 Along with these workout programs, the fitness monitor is ANT+ and Bluetooth capable, which allows it to connect and communicate with various devices. For example, it can receive data from a Bluetooth Smart, ANT+, Garmin, or Suunto chest belt, to display your heart rate.
You can sync it with your smartphone or tablet via the Concept2 ErgData app for iOS and Android to record your workout data online or to compete with other users.
The monitor has a USB flash drive port for workout data transfer and a USB-B port for PC connection. Plus, it has two race system jacks to interconnect multiple bikes to compete with other users.
The monitor requires two D-Cell batteries (included) as a power source. However, it draws power from the spinning flywheel to extend battery life for your workout duration.
BikeErg Assembly and Maintenance
The bike's resistance and drive elements come pre-assembled; the fan is already inside its protective casing, and the drive belts and the crankset are already attached to it. However, you still must connect the front and rear legs, base bars, handlebar unit, fitness monitor, and pedals.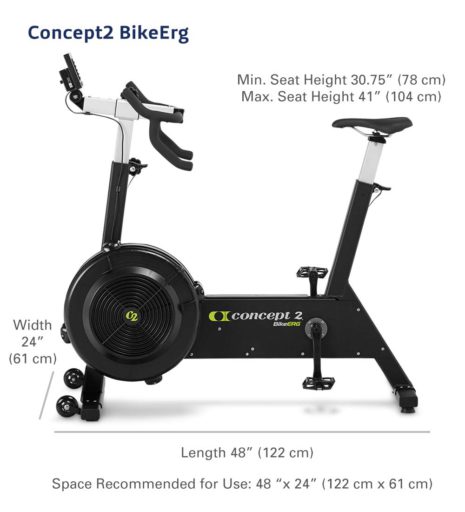 Consequently, it may take up to an hour of your time. However, the manual provides clear assembly instructions, and the tools required for assembly come with the bike.
Once assembled, maintenance doesn't require much. All you have to do is keep it clean, periodically check for loose parts and retighten it if necessary.
Pros
Sturdy construction – can support users up to 300 lbs;
The light frame (only 58 lbs) is easy to assemble and move by one person;
Adjustable levelers on the rear base;
Caster wheels on the front base;
Standard seat with a lever-based adjustment system;
4-way adjustable, multi-grip handlebar;
Quiet, self-adjusting, and maintenance-free belt drive system;
Air resistance system for a dynamic response during pedaling;
It offers a more consistent workout for the leg muscles than a spin bike;
A 10-level damper on the flywheel casing for adjusting the overall drag;
Narrow (155 mm) Q-Factor to eliminate any lateral stress on the knees;
Heavy-duty cranks and pedal;
Multi-function fitness monitor with LED backlight;
Three distinct workout modes on the monitor, including "Just Ride," "Selective Mode," and "Games";
ANT+ and Bluetooth capable monitor, compatible with the ErgData app for iOS and Android;
Batteries for the console included;
Easy to assemble;
Little maintenance is required;
Excellent warranty.
Cons
An HR chest strap does not come with the bike;
No cages or SPD clips on the pedals.
Concept2 BikeErg Stationary Exercise Bike Summary
The Concept2 BikeErg is a heavy-duty exercise bike with a 10-level air resistance system and a multi-function fitness monitor. It offers superior micro-adjustability, especially for the handlebar, a long slider, and a multi-grip design. In addition, it has a durable aluminum frame with steel base bars that can hold users up to 300 lbs.
It's a commercial-grade trainer, great for stamina and leg muscle strength development, interval workouts, high-intensity cardio, and weight loss. Overall, it's a top-quality cycle that offers excellent value for the price.
I hope you found this article helpful and informative. Would you please speak up if you'd like to share on the topic or any opinions about my website? I look forward to your comments, questions, and the sharing of ideas.
Please remember that you should consult your physician to determine if you have any medical or physical conditions that could risk your health and safety or prevent you from using the equipment properly. In addition, your physician's advice is essential if you are taking medication that affects your heart rate, blood pressure, or cholesterol level.