The Bi-Angular press arms of the Body-Solid G6BR Home Gym guide you through the optimal natural range-of-motion while applying resistance from two directions simultaneously. This smooth, fluid, multi-directional resistance system automatically produces 25% more muscle interaction by eliminating the ability to rest your chest muscles.
Thus, you increase exercise intensity through a full range of safe, convergent, multi-joint, multi-plane movement patterns. Now you can enjoy the benefits of Bi-Angular® Technology when doing chest presses, incline presses, and shoulder presses. It's like working out with free weights.
The Body-Solid G6BR home gym also comes with the Perfect Pec™ Station. Equipped with swivel arms, adjustable range of motion, and designed for both unilateral and bilateral movements, you get the maximum stretch for deep muscle toning and the most incredible upper body development possible.
The G6BR is jam-packed with exercises. Lat pulldowns, triceps presses, concentrated curls, leg adduction, leg abduction, and abdominal crunches. If you're looking for a home gym and love the feel of free weights, then you'll want the consumers' choice, Body-Solid's G6BR.
Learn more in my complete review below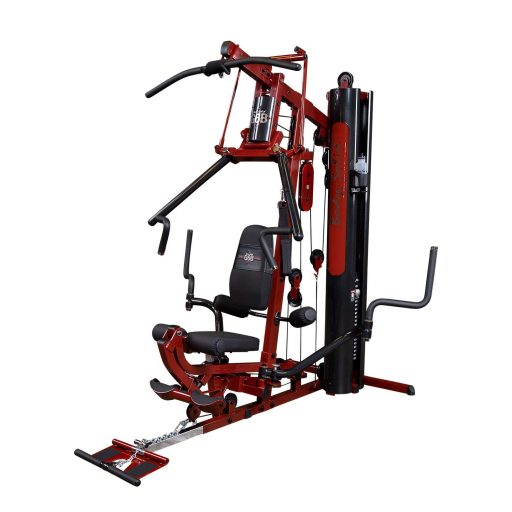 Product: Body-Solid G6BR Bi-Angular Home Gym
Price: For a great deal on this gym, merely go here on Amazon
Warranty: In-home Lifetime on everything (see commercial warranty below)
My Rating: 10/10
Amazon Affiliate Disclosure: I may earn commissions from purchases made through links in this post.
Details and Specifications
Assembled dimensions: 85L x 50W x 84H inches (216L x 127W x 213H cm)
Assembled weight: 547 lbs (248 kg)
Weight stack: 210 lbs (95.2 kg)
Weight plates: Cast iron
Possible exercises: 50+
Warranty: Frame lifetime / Parts 3 years / Wear parts 1 year
G6BR Overview
If you're looking for a way to work for your upper and lower body muscle groups from a wider variety of angles than free weights can offer, it's worth taking a look at a home gym system.  The pressing arm of the G6BR is where most of the development time has been spent to create a wide range of exercise options and a more natural range of motion.
The bi-angular design means that this pressing arm not only moves forward and backward for pressing and rowing exercises but also causes the arms to converge as you reach the mid-point of each rep.
This is particularly useful during the chest press. Being able to bring the arms closer together at the top of the press leads to a more excellent range of motion.
With some different angle settings to choose from, you can also rotate the pressing arm back towards the weight stack. Thus, creating more free space for pulldowns and ab exercises.
Moving away from the pressing arm, it's also important to point out the design of the various padded rollers and back support. The Body-Solid G6BR features enhanced lumbar support to help prevent stress on your lower back. Also, a set of foam rollers acts as anchor points for your legs when performing the lat pulldowns.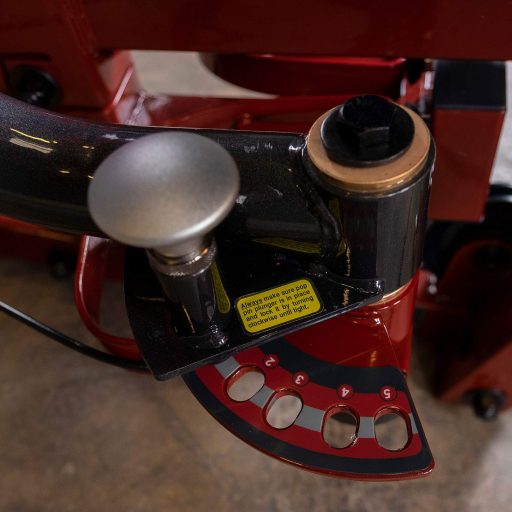 Frame construction
The Body-Solid G6BR gym system features a heavy-duty frame made of 2″ x 3″, 11-gauge steel tubing. All the steel parts have a corrosion-resistant, and abrasion-resistance powder coat finish. The primary color used is red; there are several parts painted black, while the top logo plate and the cover of the front base bar have a chrome-plating finish.
With the frame fully set up and the weight stack attached, the unit is considerably heavy. It weighs approx. 547 lbs (248 kg), which means it is not moved easily. But on the other hand, all this weight leads to superior stability. The unit won't move or wobble even if you perform fast-moving exercises, using a heavy load.
The machine does not have any adjustable stabilizers. Therefore, it's recommended to assemble and use it on a rubber mat — however, the mat (is not included) with the unit.
The fully assembled machine is relatively large. It is approx — 85″ (216 cm) long, and 50″ (127 cm) wide. Therefore, you should assign a usage area of at least 9′ x 6′ (275 x 183 cm) for it. Also, its height is approx. 84″ (213 cm) so it won't fit in a room with a 7′ ceiling.
G6BR Pulleys and Cables
The Body-Solid G6BR integrates multiple pulleys. They're all 4 1/2″ in diameter and made of fiberglass reinforced nylon material, which is highly resistant to abrasion and wears. Each pulley has a precision-machined steel ball bearing to deliver a very smooth rotating motion.
The machine's cables are military spec, steel ropes with swivels at their ends to eliminate torsion, and for ease of use. They're all rated for 2,200 lbs tensile strength and should support the 210 lbs weight provided by the machine's stack with no problem.
Seat and Backrest
The unit's seat and backrest feature high-density DuraFirm™ pads, integrating a generous layer of foam cushioning. Their upholstery is a durable, double-stitched faux leather. Both the seat and the backrest are adjustable, offering several adjustment positions each. The seat has a telescopic, gas-assisted adjustment system that allows you to select the perfect height while you are already seated comfortably.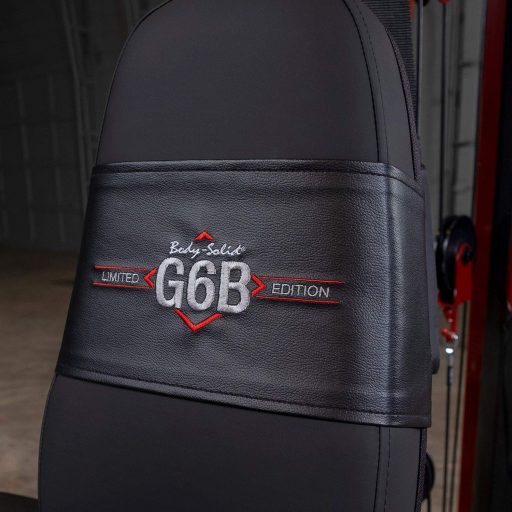 Accessories
Last but not least, this Body-Solid gym system includes several accessories. Among them, I count the revolving lat bar, the short revolving bar, an ankle strap, an abs/triceps strap, a water bottle with holder, a towel holder, a full exercise chart for quick reference. It also includes a Total Body Workout DVD, which covers the main exercises available on this machine.
G6BR Workout stations
The Body-Solid G6BR features six main workout stations. These are:
Front press
This workout station features two articulated arms with curved down grips. It has several adjustment positions and gives you the possibility to perform seated chest presses with vertical or horizontal hold, and shoulder presses.
Due to the bi-angular design, it replicates the free weight dumbbell press motion, eliminating the restriction of a regular press and producing up to 25% more muscle interaction.
Fly press
As we've mentioned above, the G6BR has its fly press attached to its base, completely independent from the main press. Each arm features several adjustment positions and extended grips to accommodate a wide range of users. It gives you the possibility to perform fly press exercises with vertical grips, simulating a dumbbell fly.
High-pulley station
It offers the possibility to perform all the high pulley exercises. It includes a 48″ curved lat bar with a rubberized cover. Also, the machine has two knee stoppers with 4″ foam rollers, which provide support when executing pulldowns with heavier loads.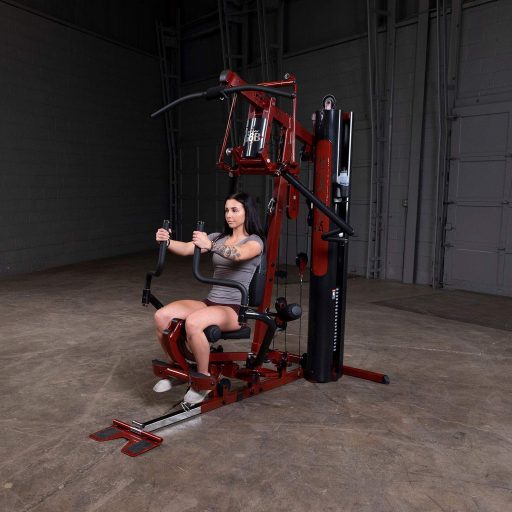 Mid-pulley station
This workout station consists of a pulley integrated into the backbone of the machine. It allows you to perform various exercises, including ab crunches, middle rows, or triceps extensions. The ab crunch strap (is included) with the machine.
Low-pulley station
The unit's low-station makes available several exercises such as seated rows, bent-over rows, leg abductions, and more. A short bar with an extension chain is (included) with the machine. It connects to the cable of the low pulley for the execution of these exercises.
Leg developer
This attachment works in conjunction with the low pulley. It has a different design than the leg developers of other home gyms; it only has foam rollers (4″) at the top, while the lower cushions are curved, providing better stability for the legs during extensions.
Also, the leg developer CAM prevents resistance drop-off at the end of the extension motion, which results in a more consistent resistance for the duration of the exercise.
G6BR Weight Resistance
The Body-Solid G6BR features an all-metal, selectorized weight stack. The plates are made of heavy-duty cast iron and can take a lot of abuse before breaking. They are considered superior to the vinyl/cement plates included with cheaper home gyms.
The total weight of the included stack is 210 lbs (92.5 kg). It integrates 20 weight plates 10 pounds (4.5 kg) each, plus the top stopper plate, which also weighs 10 lbs. The plates glide on two durable rods with a chrome finish, providing an exceptionally smooth glide. The weight stack has a metallic cover, which also reduces some of the generated noise during exercises.
The included weight stack is upgradeable. There is a 50 lb (22.6 kg) stack option for it, which contains five more plates (10 lbs each), for a total weight of 260 pounds (118 kg).
Upper body workouts
One of the main goals of any home gym is to be able to perform the highest amount of exercises in the smallest space possible.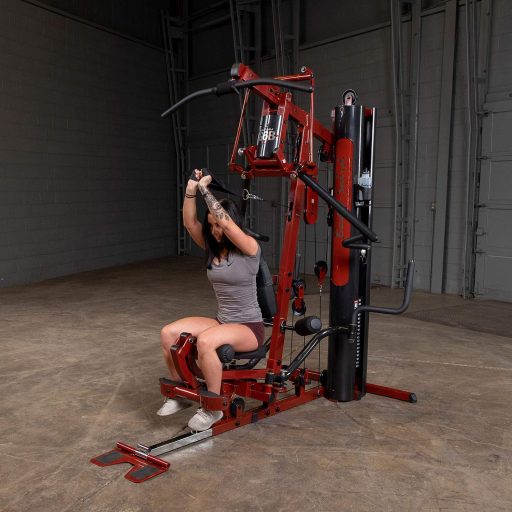 The Body-Solid G6BR manages to provide enough upper body exercise options to isolate every dominant muscle group.
Back workouts
The G6BR provides you with a high cable pulley for pulldown variations, pec flies arms for rear delt flys, pressing arm for seated rows, and low cable pulley for bent-over rows and shrugs.
Although there are many more exercises available, these will provide the most significant gains regarding strength and muscle size.
Chest workouts
Despite being a smaller muscle group, you still want to train chest from a variety of angles.
The central pressing arm can be used for both flat and incline presses, with the pec fly arms being ideal for chest flys.
Arm workouts
Featuring a high and low cable pulley, the G6BR makes it easier to put together some useful isolation exercises for your biceps and triceps.
The low cable is perfect for a variety of curls (depending on the attachment used), while the high pulley is best for tricep pushdowns, pulldowns, and overhead extensions.
Shoulder workouts
If you want to put together a productive shoulder workout that doesn't involve free weights, you need to have access to a low cable.
This lets you include a variety of front and lateral raises, upright rows and shrugs. When rotated to one of its higher settings, the pressing arm can even be used for shoulder presses to target all three heads of the deltoid.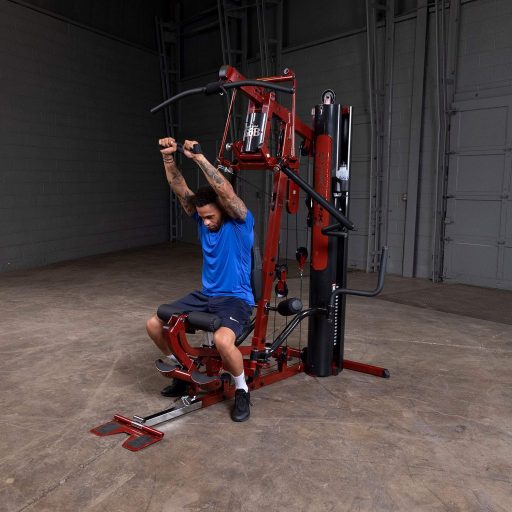 Core workouts
To develop a balanced physique and maintain your balance on free weight exercises or even day to day activities, you need to build a core strengthening workout.
The cable pulley positioned behind the seat is ideally placed to allow you to include weighted crunches in your ab workouts.
Training your lower body
Although many design features are similar to the later G10B, the main difference with the Body-Solid G6BR is that the leg developer is integrated.
Also, the versatility of the pressing and pec fly arms allows them to be rotated out of the way if you find you don't have enough space for your leg workouts.
Furthermore, you can perform leg extensions and hamstring curls on the leg developer, and a variety of tasks using the low cable pulley and ankle attachment.
 It includes hip abductions, lunges, split squats, and leg raises.
G6BR Upgrade options
Listed below are a few of the upgrade options: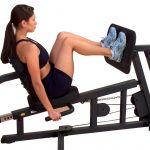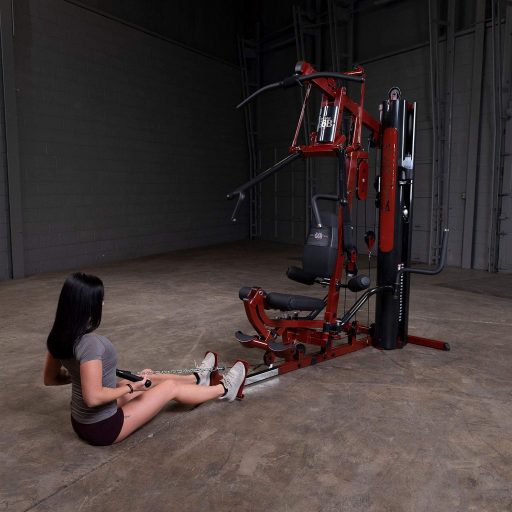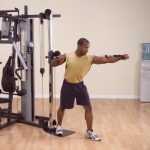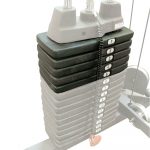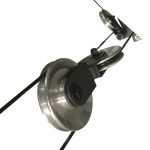 G6BR Assembly and Maintenance
The Body-Solid G6BR requires full assembly. It comes in several boxes, and due to its total weight, it is recommended to be assembled by at least two people. The assembly task will take at least 4-5 hours; however, the manual provides pretty clear, step-by-step assembly instruction. Tools for assembly (are not included). You will need a set of Allen wrenches, two adjustable wrenches, and a rubber mallet. Also, during the construction, it is recommended to lubricate every pulley so that it will perform smoothly for a long time.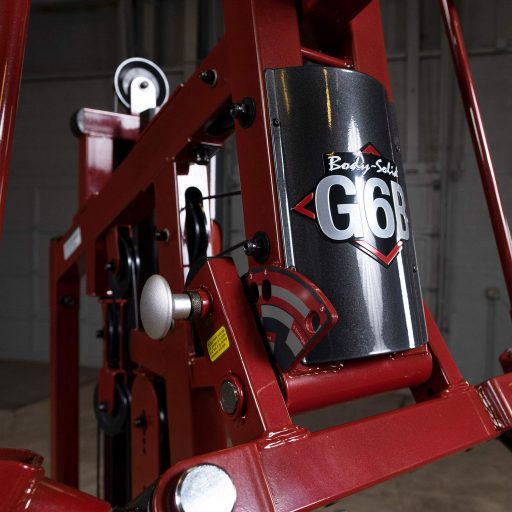 Once assembled, the machine doesn't require much maintenance. The guide rods of the weight stack may require periodic lubrication. Other than this, it is recommended to inspect the machine for loose bolts and parts periodically.
Pros
Sturdy construction – can support users of all sizes;
Air-assisted adjustable seat;
Adjustable backrest;
DuraFirm™ cushions on seat and backrest;
4″ foam rollers for the knee stoppers and leg developer;
Six main workout stations: high pulley station, mid pulley station, press station, fly press station, low pulley station, and leg developer;
The chest press has a bi-angular design and replicates free weight presses providing up to 25% more muscle interaction;
SmoothGlide Bearing System™ for the chest press and leg developer;
Several adjustment positions on the press station and fly arms;
Durable cast iron weight plates;
210 lbs weight stack;
The weight stack is upgradable by up to 50 lbs;
Upright guards for the weight stack (are included);
Lat bar included;
Short bar included;
Ankle strap included;
Ab harness included;
Total Body Workout™ DVD and exercise chart included;
Over 50+ exercises available;
Little maintenance required;
Lifetime warranty for home users.
Cons
Fairly difficult to assemble.
Body-Solid G6BR Home Gym Summary
The Body-Solid G6BR is a light-commercial strength training system. It features six workout stations, a high-comfort adjustable seat, and overall heavy-duty construction. It also includes several accessories, such as lat bar, short bar, ab crunch harness, ankle cuff, exercise DVD and chart, etc.
The Bi-Angular Press Arm combines with the three levels of cable pulleys to create a natural range of motion for over 50+ different exercises. The leg developer also features some unique design features, with the SmoothGlide Bearing System combining with the self-aligning leg cuffs to ensure you always get the best range of out of every rep.
After taking into account the quality of the design, the range of exercise options, upgrade options, the impressive reputation of Body-Solid, and lifetime warranty, I feel it represents excellent value for the money.
I hope you found this article helpful and informative. If you have anything that you'd like to share or opinions about the content on my site, please do speak up. I look forward to your comments, questions, and the sharing of ideas.
Recommended articles:
MiM USA SM+FT Combo 1001 – belongs in your gym!