I like the Inspire Fitness FT2 Functional Trainer (with bench) because it is for really serious weight lifters. It comes with dual independent 160-pound weight stacks. The fact that they are separate is fantastic because you can use both stacks at once or just work on one side of your body. Moreover, the weight stacks are upgradeable from 160 pounds to 210 pounds each.
There is even a force multiplier feature that allows you to double the amount of resistance. In other words, the maximum weight that the Inspire Fitness FT2 Functional Trainer will enable you to lift is 800 pounds (including the upgrade and force multiplier).
The Inspire Fitness FT2 Functional Trainer also features a Smith bar that connects with a weight stack. Most Smith bars use free weights, which can be quite a pain, but not with the Inspire Fitness FT2 Functional Trainer. The Smith bar connects to the weight stack to make doing presses as easy as can be. The Smith bar also features a top lockout feature so you can keep it out of the way when not in use.
Moreover, it also comes with various safety catches in case you drop it. When it comes to doing presses, the Inspire Fitness FT2 Functional Trainer is one of the safest machines around. To do your incline and bench presses, the FT2 also comes with a highly adjustable bench.
Learn more in my complete review below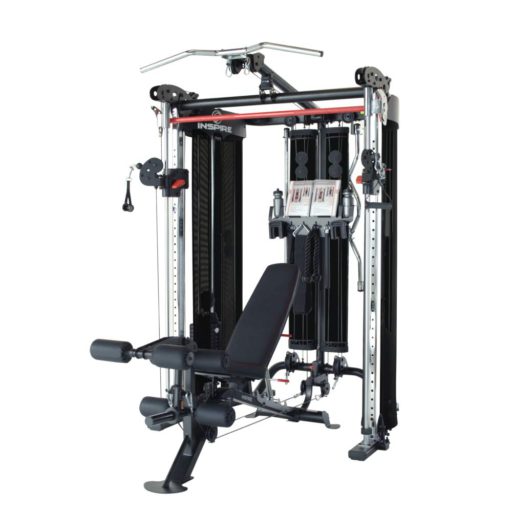 Product: Inspire Fitness FT2 Functional Trainer (with bench)
Price: For a great deal on this gym, merely go here on Amazon
Warranty: In-home: Frame lifetime / Cables 2 years / Labor 1 year (see the light commercial warranty below?
My rating: 9.8/10
Amazon Affiliate Disclosure: I may earn commissions from purchases made through links in this post.
Details and Specifications
Assembled dimensions: 58″D x 61″W x 88″H inches (147D x 155W x 224H cm)
Assembled weight: 563 lbs (256 kg)
Weight capacity: 330 lbs (150 kg)
Weight resistance system: Steel plate stacks
Max. weight resistance: 2x 160 lbs (72.5 kg)
Possible exercises: 40+
Warranty:
– In-home: Frame lifetime / Cables 2 years / Labor 1 year
– Light-commercial: Frame 10 years, Parts 1 year
FT2 Frame construction
To begin with, the Inspire Fitness FT2 is quite a well-built trainer. It features light-commercial quality construction, and also comes with a light commercial warranty, in case it's in a commercial gym. It has an extremely durable frame, made of heavy-duty rectangular and round 11-ga steel tubing.
The frame construction features a two-layer electrostatically applied powder coating, which is rust-resistant and scratch-resistant.
This Inspire Fitness functional trainer is slightly larger than the FT1 model. It's 58″ (147 cm) deep and 61″ (155 cm) wide. The machine has an adjustable pull-up bar. The minimum height setting of this pull-up bar is 83″ (211 cm), while its highest setting is 88″ (224 cm).
It's also recommended to install the machine in a room with slightly higher ceiling height, to have some clearance above the pull-up bar, to avoid hitting the ceiling during pull-up exercises.
This fitness machine is weighty. With the frame fully assembled, it weighs over 500 lbs. And with the bench and the extra (optional) weight plates, it exceeds 700 lbs. Therefore, although it comes packaged in several boxes, it's recommended to be transported and assembled by two people. But on the other hand, all this weight plays an essential role in its stability. The unit doesn't require attaching to the floor; it doesn't wobble or move during exercises.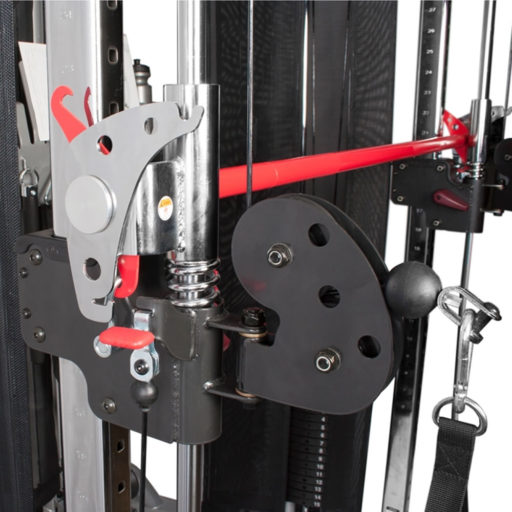 Although the machine is very sturdy, there's a user weight capacity specified for it. This is 330 lbs (150 kg) but refers only to the pull-up bar station. The other exercises involving the Smith section or the pulleys have nothing to do with the user's weight.
Pulleys
The machine has highly durable pulleys. They're made of fiberglass reinforced nylon and integrate precision steel ball bearings for smooth usage. The cables rate for 2,000 lbs tensile strength; they're steel ropes featuring a tough nylon coating to promote a more seamless ride over the pulleys and prevent the deterioration of the lifts.
There are eight pull points available consisting of 2 wide adjustable pulleys, two high narrow pulley points, and four low points. The four low pulley points are great for seated rows, curls, etc. The two wide pulleys give you the possibility to quickly swap between an incline fly exercise an incline/decline chest press.
They offer 31 adjustment positions, and they pivot 180° on their axis. And the high narrow pulleys allow you to perform lat pull-down exercises.
FT2 Smith Machine included
As I mentioned earlier, the Inspire Fitness FT2 comes with a Smith machine. The Smith section consists of a (red) bar and a set of safety elements and attaches to cables that go over the low front pulleys.
It works just like any conventional Smith machine, but instead of wasting time with loading and unloading of weight plates onto the barbell, you adjust the pins on the weight stacks.
Just like any other Smith machine, the FT2 offers extra safety during stacks, but since the bar connects onto the vertical guides, you don't have to make any efforts in stabilizing the weight. Some users prefer standard barbell squats, as they consider it a more regular exercise as the stabilization of each squat involves extra muscles.
The Smith bar also goes pretty low, its minimum height above the floor level being 6″ (15 cm). Thus, you can also perform deadlifts with it.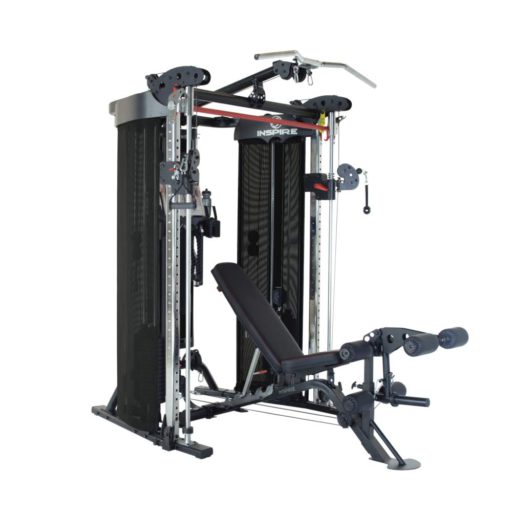 Accessories
One last aspect to mention here regards the accessories included with the Inspire FT2. This functional trainer consists of an SCS Bench, Leg Extension Attachment, and Leg Kit (required for leg extension attachment), Straight Bar, EZ curl bar, Multi-Function Belt, Swing Handle, Tricep Rope & Ankle Cuff, and the two D-Handles, Water Bottles, and two – 5lbs add-on weights.
Among other optional (not included accessories), I can count the 50 lbs weight stack upgrades (requires 1 for each weight stack), a preacher curl pad (shown with SCS bench), and a Leg Curl/Extension Home Gym Attachment Leg Extension and conversion kit (required).
FT2 Weight resistance
The Inspire FT2 functional trainer has two weight stacks. Each stack consists of 16 highly-durable weight plates made of metallic alloy. Each plate weighs 10 lbs (4.5 kg), which results in the total weight for each stack of 160 lbs (72.5 kg). Also, the set includes two 5 lbs (2.26 kg) weight add-ons to help with micro-adjustability.
The weight system multiplier of the Smith machine (1:1 ratio) has a 430lb capacity, which is perfect for squats, deadlifts, and bench presses by utilizing the SCS bench.
Each weight stack has a standard pop-pin adjustment system. You insert the pin into the weight plate with the desired weight for each stack. Adjustment takes seconds so you won't have to waste a lot of time between exercises, as for a regular Smith machine or other fitness machines that require loading and unloading Olympic-type weight plates.
As I've mentioned earlier, each weight stack is upgradable. You can opt for five extra plates (50 lbs total) for each stack, which will give you a total weight of 210 lbs (95.25 kg) per stack.
Possible Exercises
Since it's a cable cross trainer, the Inspire Fitness FT2 leaves a lot of room for improvisation when it comes to exercises. Not only that, changing from one activity to another takes seconds. For example, if you use the front pulleys, you can quickly change from stand-up chest press to a chest fly.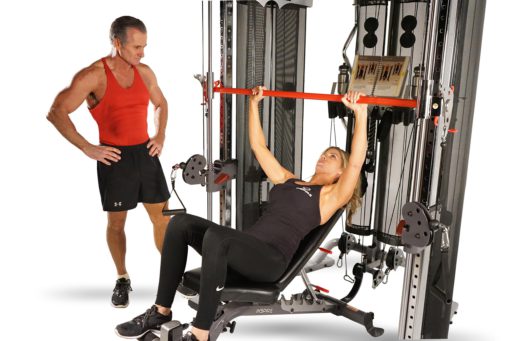 The trainer permits the execution of over 40+ regular exercises. The package includes a booklet with the main activities. They include:
Arm exercises
Abdominal Exercises
Back Exercises
Chest Exercises
Leg Exercises
Shoulder Exercises
Of course, some of these exercises require the accessories that (are not included) in this package.
FT2 Assembly and Maintenance
The Inspire Fitness FT2 involves a lot of assembling. It comes packaged in several boxes, and their transport is recommended to be done by two people. The included manual provides clear, step-by-step assembly instructions, but due to the many parts and bolts, the process will most likely take several hours.
The tools required for the assembly do not come included, so you will need a set of wrenches or two adjustable wrenches, a Phillips screwdriver, and a rubber mallet. Also, it is advisable to add a bit of grease on each pulley to promote its complete functionality for a long time.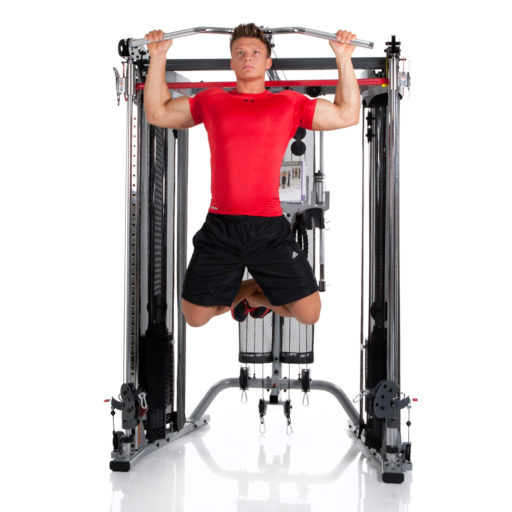 Once assembled, its maintenance doesn't require much. The guide rods of the weight stack may require a bit of lubrication from time to time so that the plates move smoothly on them. The pulley may also need lubrication.
Pros
Extremely sturdy and stable frame;
Heavy-duty construction, excellent stability;
Smooth pulley and cable movement;
31 adjustment positions for its mobile pulleys;
180° pivoting adjustable pulleys allowing a natural, healthy range of motion for all exercises;
Smith machine included – it allows the execution of squats and deadlifts;
Ergonomic, adjustable pull-up bar with knurled grips for maximum adherence;
160 lbs weight for each stack;
5 lbs addons included increments;
Upgradable weight stacks by up to 50 lbs each;
Over 40+ exercises available;
Several accessories included. These are Multi-Function Belt, Easy Curl Bar, Straight Bar, Ankle Cuff, Swing Handle, Tricep Rope, Two D-Handles, Water Bottles, Exercise Booklet;
Accessory rack included;
Little maintenance required;
Quiet operation;
Great warranty plan.
Cons
Heavy structure machine, difficult to move once assembled;
Assembly takes several hours and may not be an easy task for everyone.
Inspire Fitness FT2 Summary
The Inspire Fitness FT2 is a dual-stack functional trainer, offering 160 lbs (+5 lbs addon) for each stack, and 31 adjustment positions for its front pulleys. It also has a Smith machine and an adjustable pull-up bar.
It's a light commercial trainer featuring a very sturdy, reliable construction. It comes with a wide array of accessories, including a curl bar, straight bar, two handles, ankle cuff, tricep rope, and several others.
It offers the possibility to perform more than 40+ exercises. In all, it's one of the best functional trainers out there, and even though it costs more than $4,000, its quality and versatility match the price.
I hope you found this article helpful and informative. If you have anything that you'd like to share or opinions about the content on my website, please do speak up. I look forward to your comments, questions, and the sharing of ideas.
Recommended articles:
Is the Marcy MKM-81010 Home Gym excellent for beginners?